The last time we were in Rome was in 2003. Alex was two; Fiona wasn't around yet. We flew there on a Wednesday, and came back on a Sunday. We probably booked the flights by phoning the Trailfinders travel agency and getting tickets posted to us, and booked the hotel by calling and making ourselves understood in broken Italian. There were no smartphones, no map apps, no Google Translate. We got around with guidebooks and dictionaries. The word "selfie" had only just been coined, but hadn't gained traction. And yet we were travelling with not just one but two digital cameras.
The first was an Olympus C-3000Z, our very first digital camera (which we'd bought with the money from winning and then selling a car), and a Casio Exilim EX-S2, for lighter-weight snapshots. We came back with 212 pictures. (They're all still in my photos library. A few years ago I even went back and geo-tagged them.)
My hair was just growing out of a bleached-blonde phase.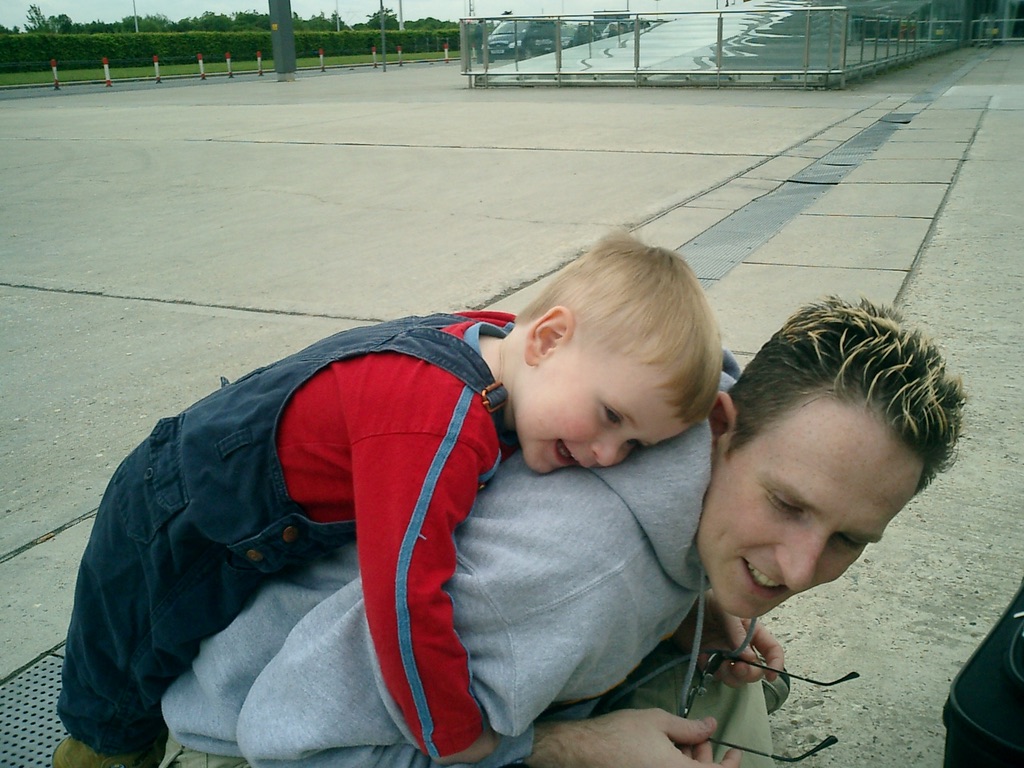 This year Abi and I were travelling alone (although with plans to meet up with Patrick & Teresa when we got there). Alex stayed at home in Oostzaan, while Fiona has moved out already and is living in Scotland. We'd booked the flights with ITA Airways through Skyscanner, and our stay at Hotel Nardizzi through booking.com. We both have smartphones with ubiquitous, fast, wireless internet. Geolocation means we're never lost We can point our phones' built-in cameras at text, and have them render translations instantly.
I only brought one digital camera with me, my Fuji X-T20, with three lenses: a XF 10-24 f/4 (which I'd bought in anticipation of this trip), a XF 16-80 f/4, and a XF 35 f/2 prime (which I didn't use very much). I took 4587 shots with the camera, weighing in at 98.7GB of data. If I\d started with a fresh one, it could have all fit on a single tiny, cheap, 128GB SD card.
My hair is just growing back from a bleached-blonde phase. The roots are grey now.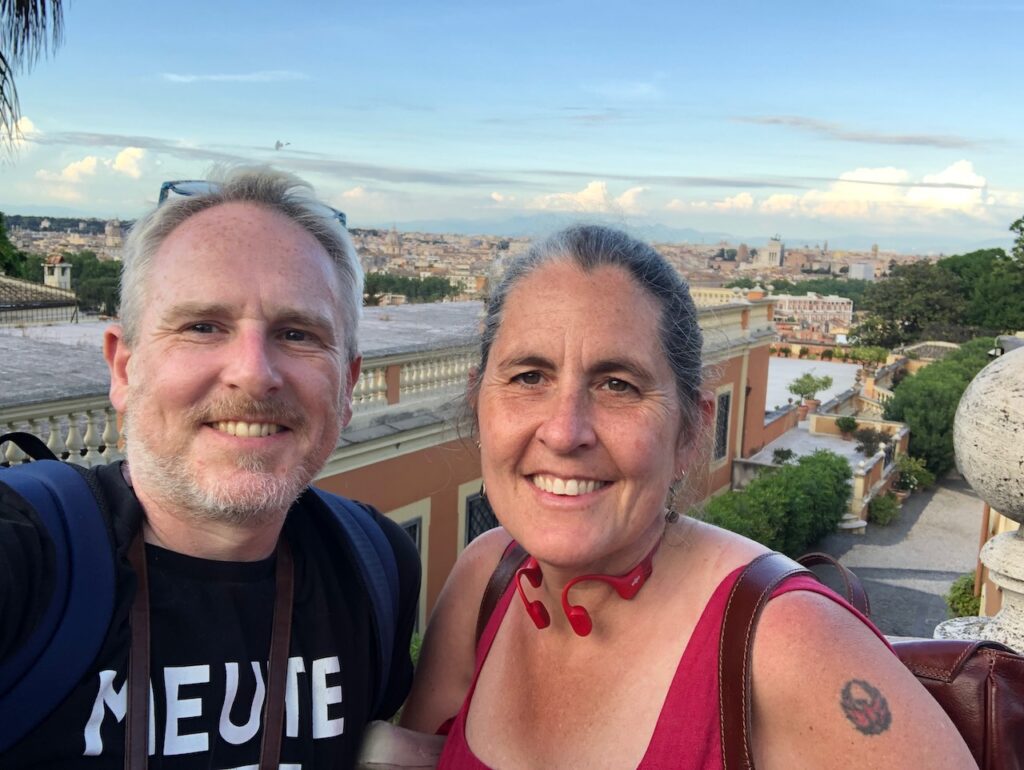 Day 1, Wednesday 3 May
Got up and left the house at a very reasonable hour. Parked at Schiphol P3 & took the bus to the terminal. We'd bought some new luggage the weekend before (a large green case, and a smaller cabin-sized blue one), and using four-wheeled cases rather than two-wheeled cases is definitely an upgrade. Schiphol was unremarkable, and the flight with ITA was fine. Abi had bought some new neck pillow sleep aid technology to try out on this flight before her long flights to the US next month.
Landed in Rome just after 14:00. Walked from terminal T1 to T3, where we got the Leonardo Express train to Termini. (Ticket machines: slow & clunky.) The hotel was not too far away, and we just walked. At the front door to the building it wasn't clear whether the lift was for guest use, so we took the stairs up to the fourth floor. A bit out of breath when we got there, and the chap on reception was curious why we hadn't taken the lift. We'll know better next time.
We took some time to settle into the lovely room. Nice size, good bathroom, shuttered windows looking out on the street below and a Ministry of Defence building opposite. Then we went out for a walk to explore. We headed north into Villa Borghese, where Abi wanted to see if people were using the park for running, and what kind of routes she could use. (Foreshadowing!) We walked up through Pincio, and took in the view out over Spagna. We had dinner at Pasta In Corso on the Via della Maddalena, just a couple of streets north of the Pantheon. Abi had pasta with mushrooms, and I had gnocchi with a tomato and mozzarella sauce. It was lovely.
After dinner we walked past the Pantheon, which was closed by that time, and round by Trevi, which was still packed. The toys of the season are (1) a small plastic light-up thing that you can launch vertically upwards with an elastic band, and which will then gradually float back own again, (2) a weird squishy slime thing that makes a sheep-like sound when you splat it against the ground and it pulls itself back into a ball, (3) pre-loaded USB battery charger packs with built-in laser pointers. We stopped in at a Pam supermarket just off Piazza Barberini on the way back to the hotel to get a supply of room snacks (bananas, abbracci, crisps, chocolate) and cola. (We're not addicted, but we're strongly habituated.)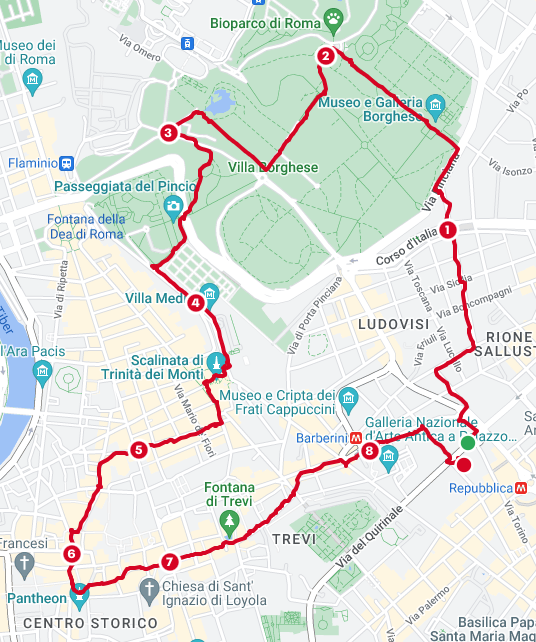 Day 2, Thursday 4 May
A few years ago when I was visiting our pension adviser, I got served a tiny cup of coffee that I hadn't asked for, but which I drank out of politeness, and actually enjoyed. I've always described myself as liking coffee-flavoured things, but not the coffee beverage itself. But I wanted to put that to the test, and try some holiday espresso. We took our time getting up in the morning, and walked in the direction of the Forum. On our way there we stopped at a small caffe and ordered a cappuccino for Abi, an espresso for me, and two fruit tarts (because we were too late for cornetti, the sweet Italian croissants). I enjoyed the espresso! And resolved to try more of it to see if this was just a one-off.
We walked past the Forum, but didn't go in to the museum part. I'd been using my new XF 10-24mm f/4 wide-angle lens, but just outside the Colosseum I tried my XF 35mm f/2 for a bit, and was somewhat stunned by how crisp and sharp the images were, and how much background blur I can get at f/2. On a sunny day in Rome I also have to use crazy fast shutter speeds to get the right exposure. (I think that for the first time I viscerally understood the need for ND filters. I also think I "get it" about bright, fast primes now.)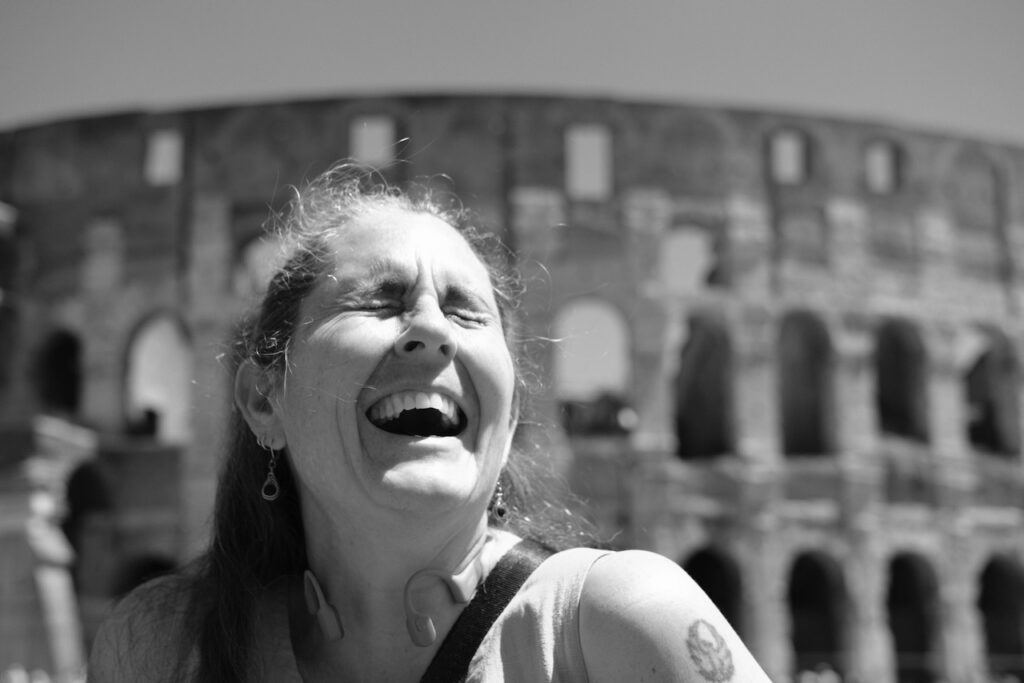 While sitting down outside the Colosseum we got hustled by a vendor for some cheap armbands. We paid the dude, and were able to wave the armbands at subsequent vendors as "we've already got one" amulets of protection. Onwards towards the Circus Maximus. At one end of the Circus, there was a tent village set up for a "Race for the Cure" event taking place. We admired some of the local bird life. Rome has black-and-grey hooded crows, whereas we're used to the local all-black carrion crows. They're gorgeous. Slightly smaller than our local crows, I think? Also less bold, and they stay further away from the humans.
We got chased away from a monument whose open gate was apparently not an invitation, and crossed the Tiber on the Ponte Palatino. We wandered through the narrow alleys of Trastevere for a bit, then followed the big Viale di Trastevere for a while until we came across a Billy Tacos restaurant where I tried a French Taco for the first time. (A day of firsts!) It was amazing. Abi had a (cold) burrito. Abi also suggested that French Tacos might be a good way to use up left-over frites after a Frites Friday. 🤔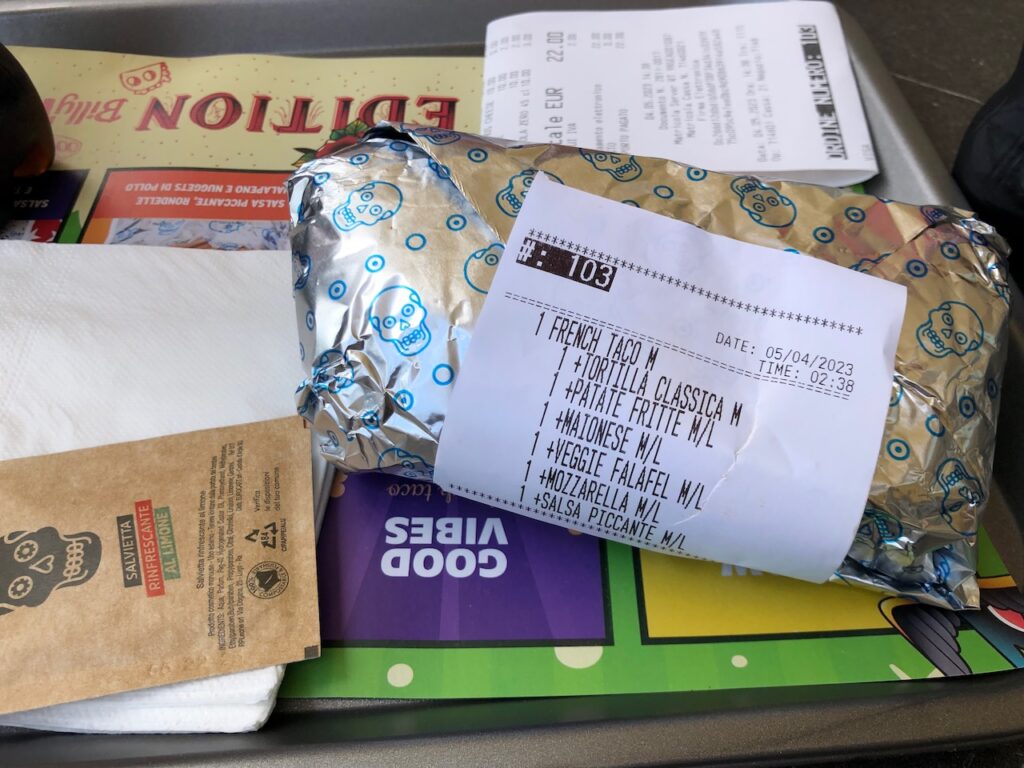 Refreshed after lunch, we found a walking and cycle path down the side of the river. We came across a tiny and well-hidden geocache at the foot of the Ponte della Scienzia. Does not require climbing. But I did a bit anyway, and was able to get some nice photo angles.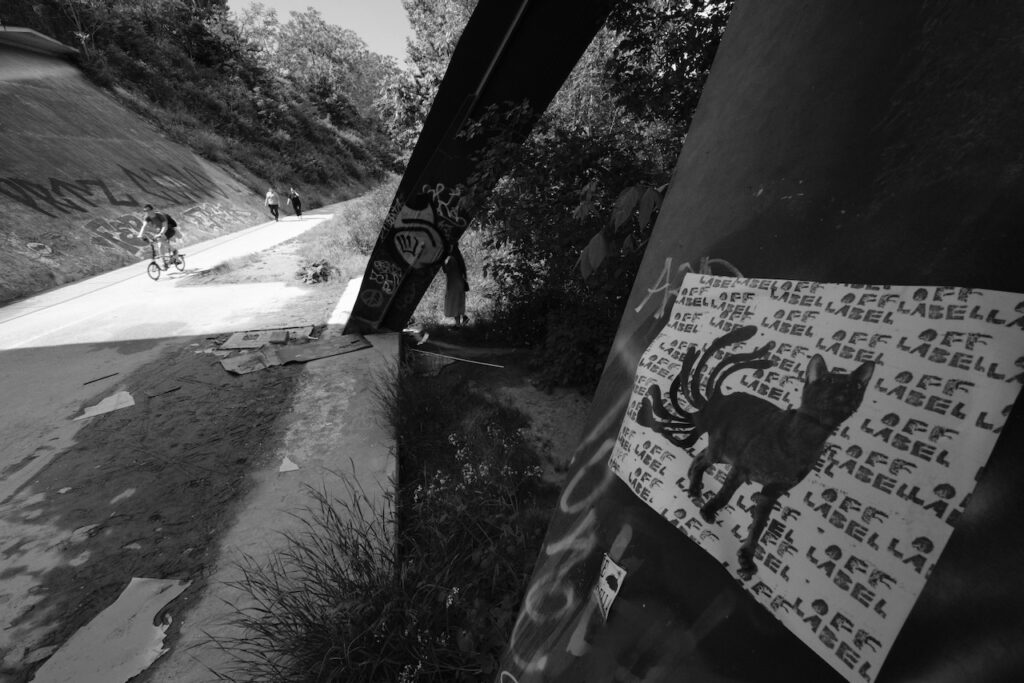 We carried on and stopped for a rest and a drink in Parco Marconi, a new and lovely little park near Ponte Marconi. It's out of the way of the main tourist routes, so the people in the park seemed to be all locals: teens having out with their friends, parents with their young kids, middle-aged folk like us taking in the day. Sitting at the cafe, we watched as a trio of parakeets harvested thistle heads from the overgrown slope up to the street, and carried them back to a large tree. Were they using them for a nest? Are thistle heads particularly rich in seeds or insects? Not sure. It was a curious sight, seeing them fly with these large purple flowers.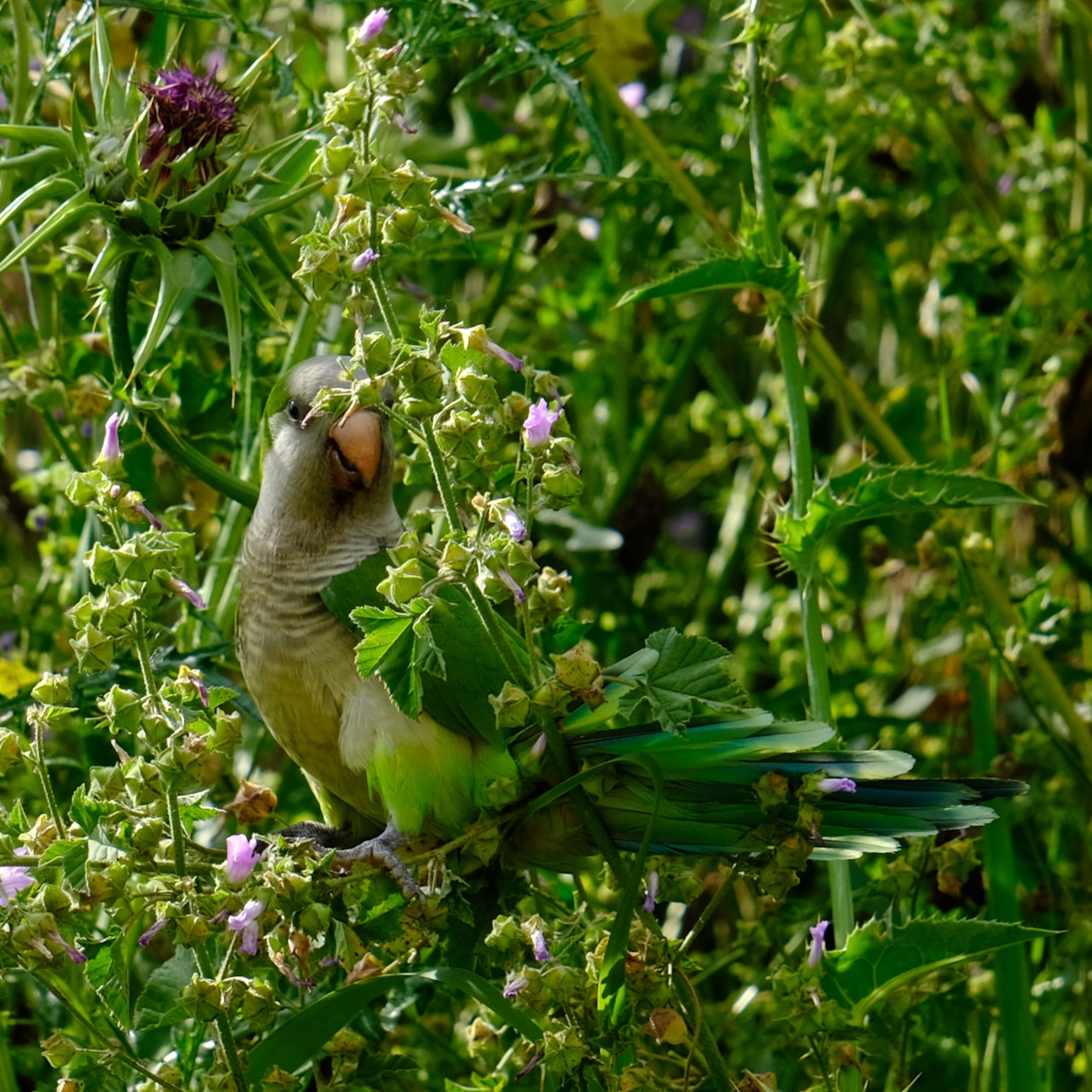 We crossed back to the East side of the Tiber at Ponte Marconi. Spotted a cute little lizard at the other end of the bridge, and it was willing to sit still enough for me to take its picture. This was as far south as we'd go. We walked north along the Via Ostiense, talking about living in different countries and imagining what we might do in the future, perhaps after retirement. We passed the Pyramid of Cestius and arrived at the gates of the Baths of Caracalla just before they closed. (We figured we'd save that for another day.)
As we were crossing the road in front of the Baths, we had to sprint to avoid some traffic, and Abi felt a pain in her leg. Thinking it might be just a cramp, we sat down for a while to see if it would pass, but it didn't. We were still about 5km from the hotel, and Abi wasn't going to make it back on foot. We could have called a taxi…I suppose…but instead we swallowed our dislike for capitalism making things better for people who can afford it and worse for everyone else, and took two of the ubiquitous Bird electric scooters. The app onboarding process was very easy; navigating our way back through the city centre along Rome's busy streets was a mix of exhilarating and terrifying.
Abi was able to stand on the scooter while it was moving, and able to hobble along where we had to jump up on the pavement and push it on foot to avoid the worst of the traffic hot spots. We made it back to the hotel. I went back out to the supermarket to get some crusty rolls and cheese that we made into a room picnic dinner.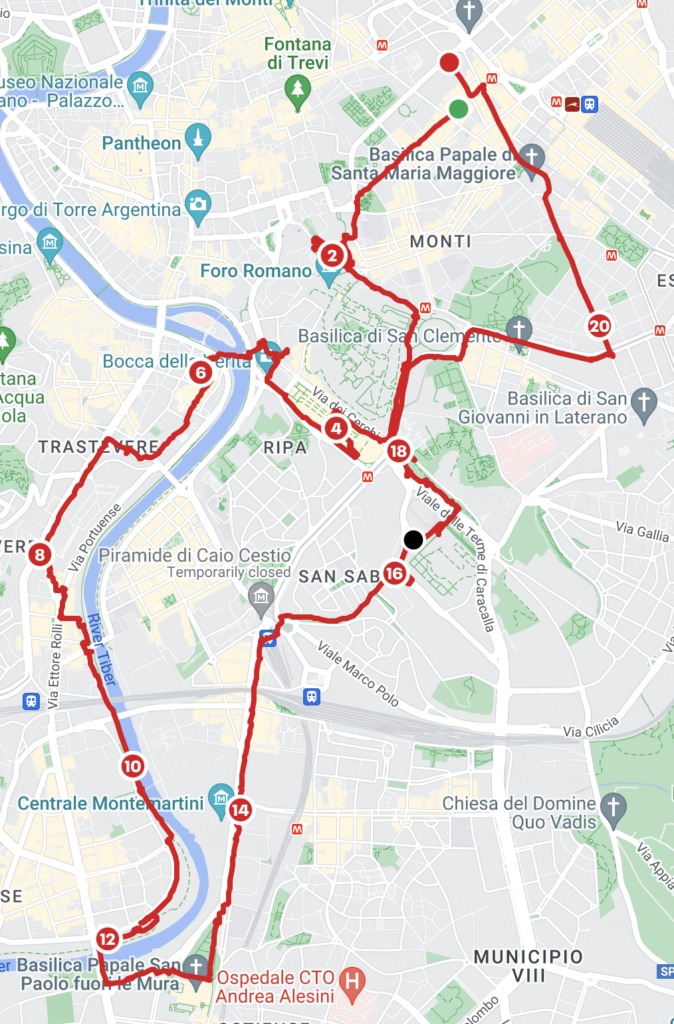 Day 3, Friday 5 May
We'd hoped that Abi's leg would be better this morning, but it wasn't. Abi had consulted the internet and found that the pain she'd experienced ("like being kicked in the calf") was consistent with an Achilles tendon injury. Abi identified some medical centres that would take walk-in tourists, but decided that she wasn't completely out of the game, and could still hobble along and take the scooters again. We resolved to make it a quiet and restful day.
We started with coffee and cornetti at the hotel. The hotel doesn't do breakfasts as such (although when we were checking out on the last day they said that they might start), but they do have two seating areas at reception, a basket of fresh cornetti every day for guests to grab for free, and a self-service coffee machine. This was my second espresso. It seemed perfectly nice!
The Bird scooters were still where we'd left them the previous night. We re-hired them and scooted to the park at Trajan's baths. The park was a scooter no-parking zone, so we left the scooters at the gates, and hobbled through the park until we came across the Piazza Martin Luther, which had some nice places to sit, with some sun for Abi and some shade for me. A film production company was shooting a scene a hundred meters or so away. We ate leftover bread and cheese from the previous night's room picnic, read our books, watched the birds, and the locals eating their lunches.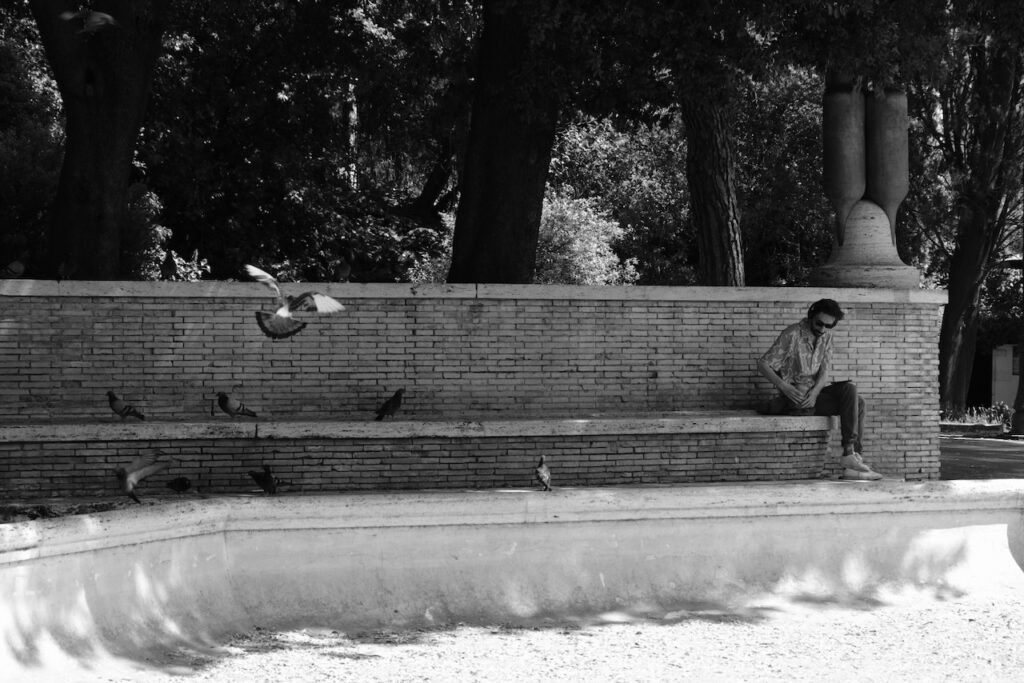 Mid-afternoon we got up and walked the short distance to the Colosseum, where we figured out the metro system. Just like the Dutch OV-Pay system, you can tap in to the metro with a credit card and be on your way. At least, it worked easily enough for me. It didn't like one of Abi's cards. We took the metro to Barberini, and then walked to the Centro Storico (which I've dubbed "Romeland" to distinguish it from the rest of the city). Abi wanted to have a look at leather bags to use as a new backpack while we were there. We found one on Via in Arcioni, and Abi also picked up some postcards and weird non-standard "stamps" in a shop on Via della Panetteria.
We bought some cola from a Coop supermarket, then got some expensive gelato from a surprisingly quiet gelateria just round the corner from the enormously crowded Trevi Fountain – our first of the trip. We walked back along the Via del Tritone to Barberini and stopped that the Pam supermarket again for more room picnic bread and cheese. This time we also bought some olive oil and balsamic vinegar (in a spray bottle?) to liven things up. The room didn't have any plates or bowls, so we used the left-over plastic tray from our bananas as a dish for dipping our bread in the oil and vinegar. Despite the intention to take it easy, we'd been out for most of the day, and had covered over 5km on foot. In the evening Abi wrote postcards, while I read a book.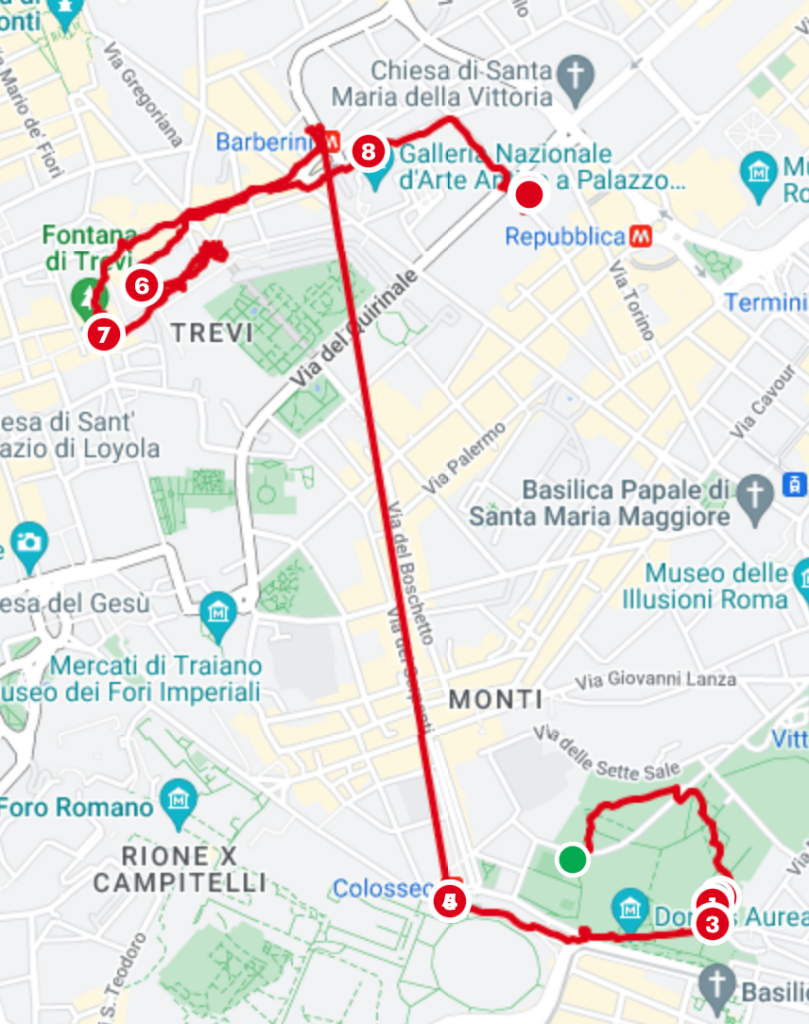 Day 4, Saturday 6 May
I wanted to get out of the city this trip, to see some of the surrounding area. I remembered that on my high school trip to Rome in 1987 we had gone to Villa D'Este in Tivoli to see the Renaissance buildings and gardens. Abi scouted a medical supplies shop in advance that might supply her with a crutch, and we identified the right train to get us there. We got up early (by holiday standards) and took Bird scooters to Termini. We rushed to buy our tickets, and made the 09:00-ish train. (There's only one direct train every hour and a half or so.)
The train ride was lovely, with some great views. We walked over a delightful modern wooden bridge into town, and stopped at the first available farmacia to see if they had a crutch (stampella). They did, but only the forearm kind, not the under-arm kind that Abi was looking for. They gave us directions to a different store closer to the town centre. We walked on to another farmacia, but when we described what we were looking for the shop assistant quickly waved us on to the Sanitaria further down the road, which turned out to be an orthopaedic shoe shop. They had one under-arm crutch that looked like a rental, but which they were willing to sell us for €45.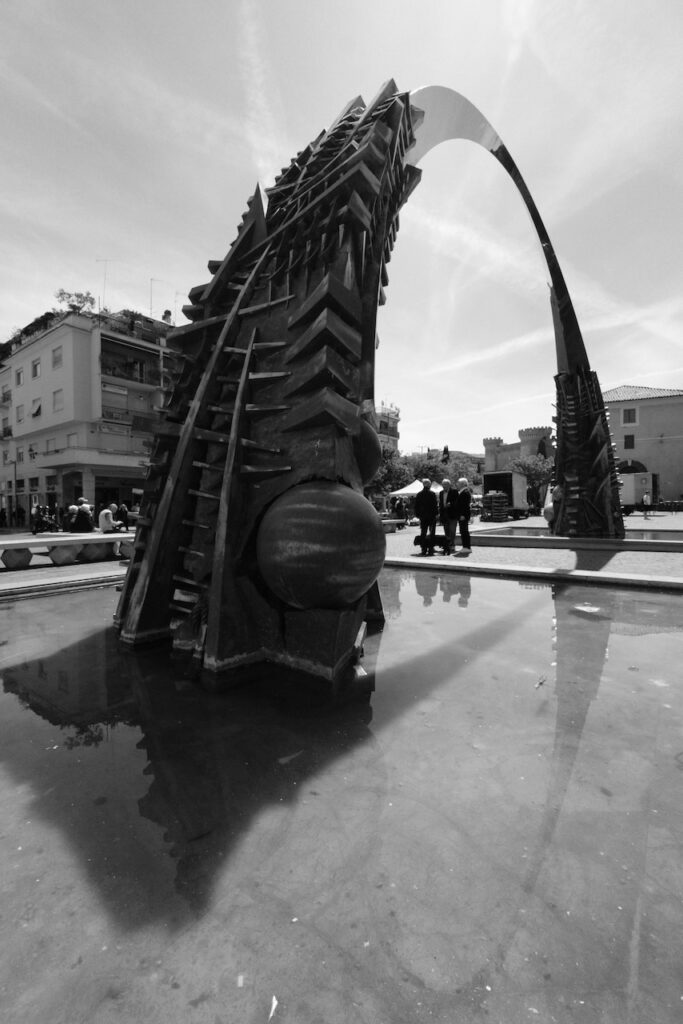 Abi spent some time adjusting the crutch until it was comfortable, and then we walked on to the Piazza Giuseppe Garibaldi, where we sat down at a caffe for our now-traditional coffee and cornetti. We had a little look at the views from the square, and found the entrance to the Villa. The first set of rooms we encountered were a modern art exhibition of the works of Pino Pascali. Very cool, but not quite the Renaissance vibe we had expected. Downstairs we did get into the Cardinal's chambers, and then out into the gorgeous gardens. Beautiful sights and views, but lots of stairs, and not terribly well set up for going around on crutches. We munched on some bread and cheese in the gardens, saw our fill of fountains, and walked back to the station to catch the 15:30 train back to Rome. At Termini we spent some time hunting around for a letter box where we could drop the custom postcards with their custom QR-code stamps. We also tapped a street vendor for some scarves that Abi turned into strapping to mount the crutch on her back while we took Bird scooters back to the hotel.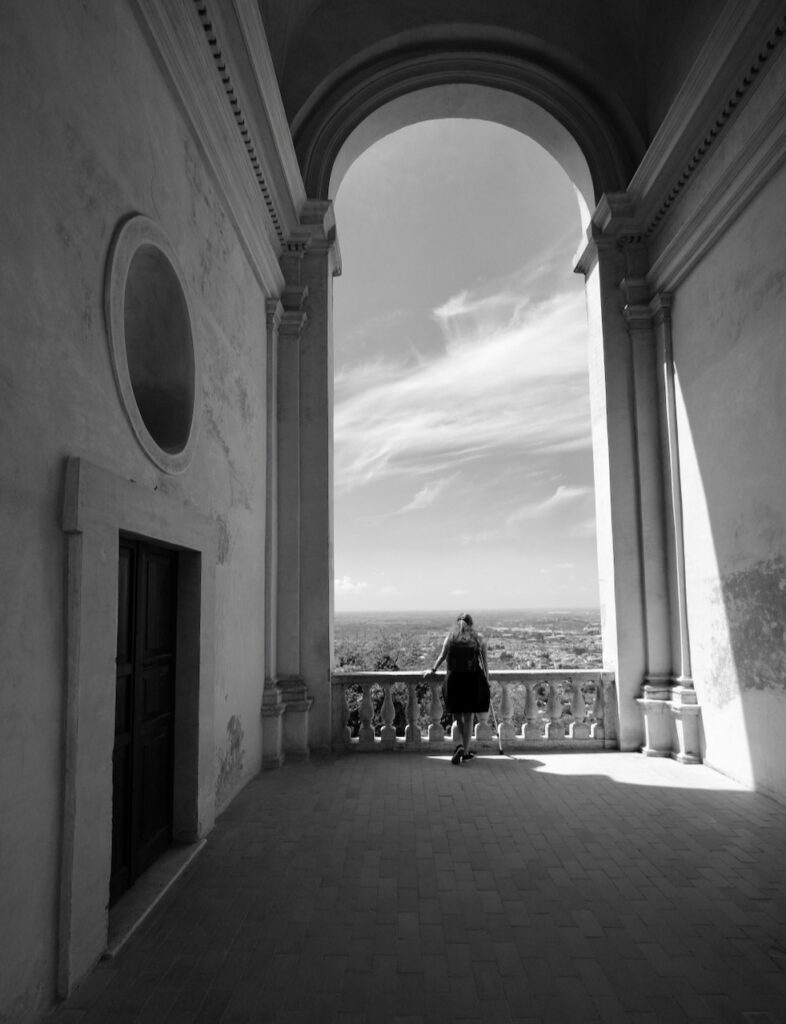 We rested at the hotel for a bit before heading back out to meet up with Patrick and Teresa for dinner. They were staying in a different part of town. We walked to Barberini and took the metro to Lepanto, and walked to their hotel, where we ate at the hotel's restaurant downstairs. Abi had Carbonara, I had Cacio e Pepe. After dinner we took the metro back to Barberini. It was part 22:00 and our trusty Pam supermarket would have been closed, so we walked up the Via delle Quattro Fontane to buy some room drinks from a mini market there. As we turned up the street, we were faces with a GIANT MOON, perfectly positioned at the top of the street. I tried to take some photos while Abi blocked traffic for me. Although they capture a bit of the scale of what it looked like, I didn't catch any detail in the moon itself. It was an amazing sight, though.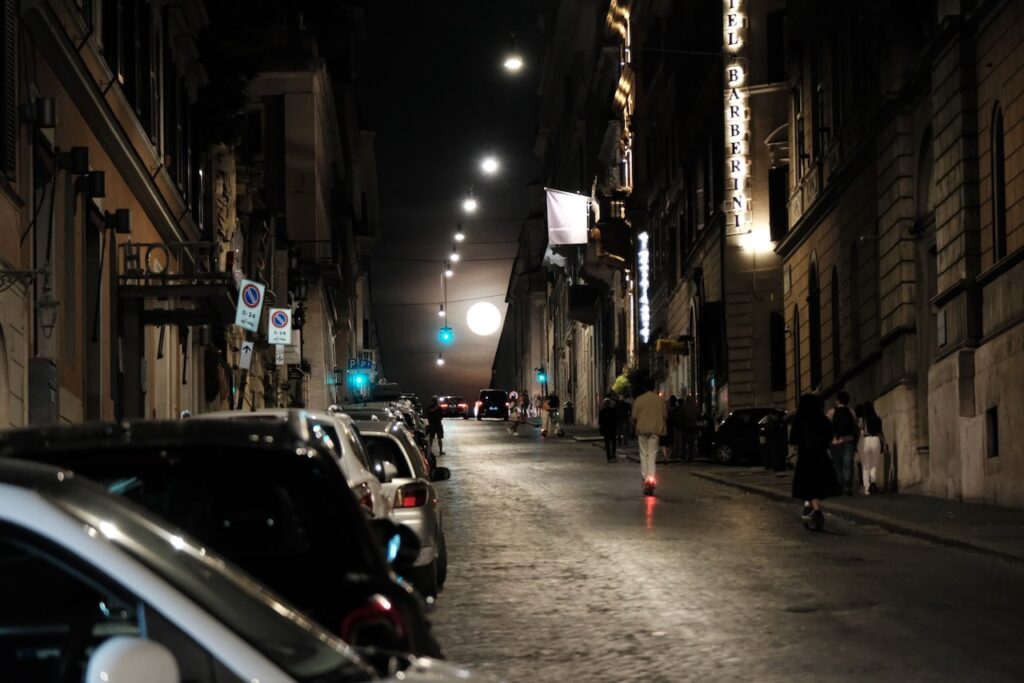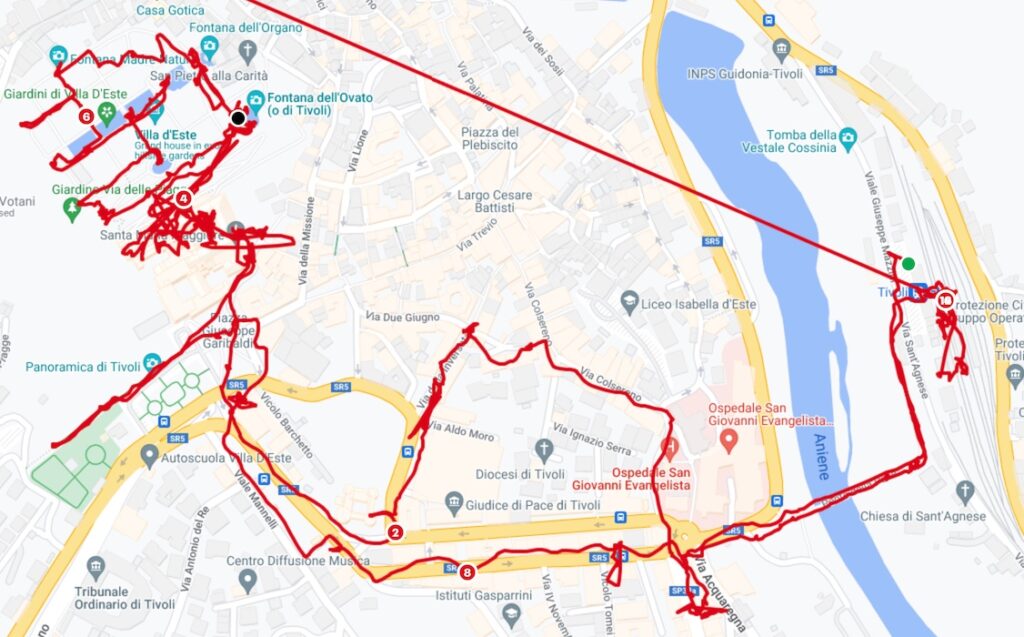 Day 5, Sunday 7 May
On Sunday we wanted to take the metro for a distance out of the central area to go to a park. We walked to Barberini and took the metro to Lepanto, where we'd been the previous evening. It looked nice, and we thought it would be a good place to stop and get our morning coffee and pastry snacks. We were right. We had coffees and fruit tartlets at Fabric Coffee Bistrot on Via Marcantonio Colonna before taking the metro another few stations to Valle Aurelia.
We walked through some lovely residential areas in the direction of the Villa Doria Pamphili (also written as Pamphilj with a "j" to represent an end-of-word "i"). What we thought was an entrance to the park turned out to be the way in to a residential area, where people were hanging out and grilling. We eventually found our way to what looked like a motorway off-ramp, but people were parking there, and it was actually right next to a park entrance. It's a lovely park, far away from the tourist zones. We heard very few non-Italian voices as we walked around.
We passed some fountains, and water courses filled with turtles. At the edge of a large pond some people were throwing bread into the water and watching the carp and turtles fight it out for the scraps. (The carp mostly won.) We found a quiet spot to sit for a while and ate some of the snacks we'd brought. After we'd rested we walked further through the park, past the actual Villa and its amphitheatre, fountains, statues, weird relief sculptures, and gardens. I spent some time taking pictures of a gorgeous pigeon who was done for the day, and had no interest in moving from its out-of-the-way perch.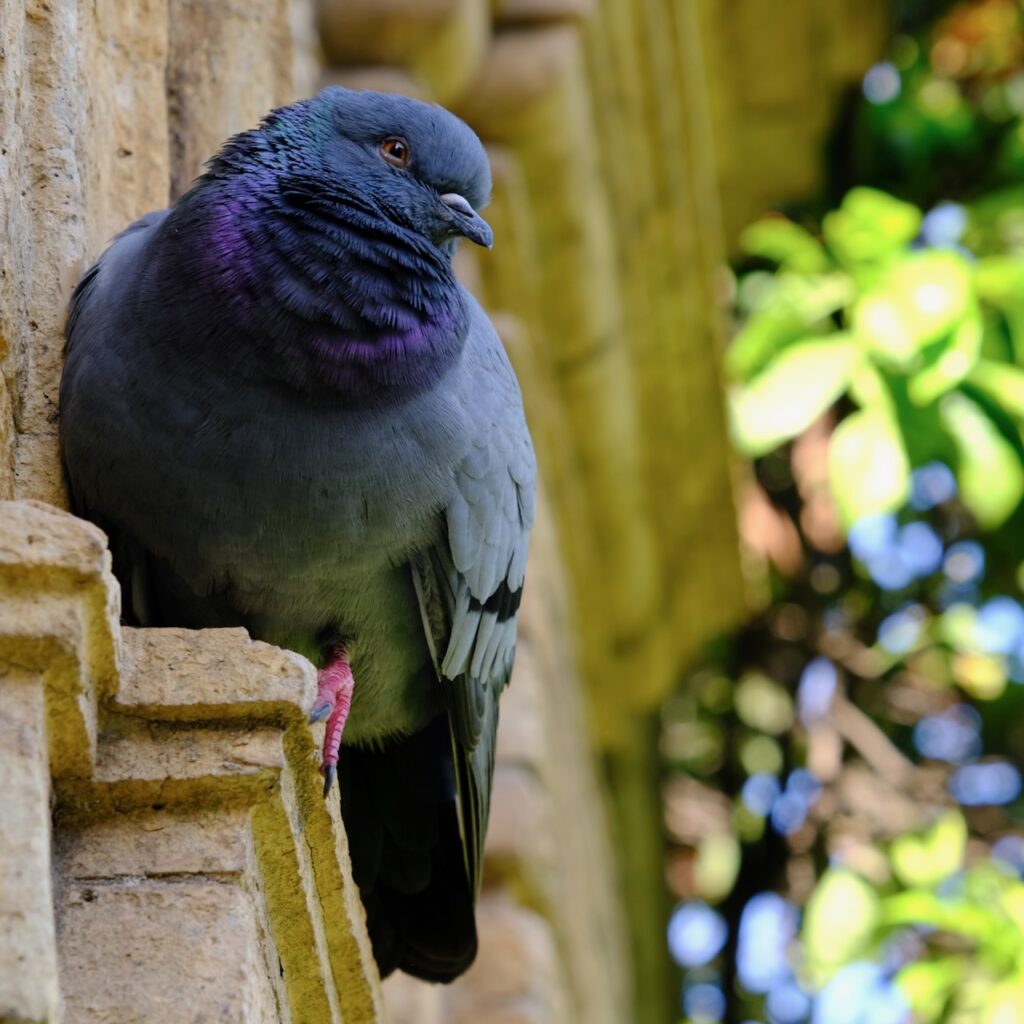 We left the park through the north-east entrance. We walked to the Fontana dell'Acqua Paola and enjoyed some great views of the city. We descended into Trastevere and had dinner at Ristorante La Piazzetta on Via di San Francesco a Ripa. This was, after five days, our first pizza of the trip. After the meal we stopped at a farmacia on Viale di Trastevere to pick up some more (extremely expensive) ibuprofen, and crossed the Ponte Garibaldi back into the historic centre. We passed the Largo di Torre Argentina and its cats, and had some more gelato. We passed the Pantheon and Trevi on our way back to the hotel, and made our daily stop at the Pam supermarket for additional room snacks.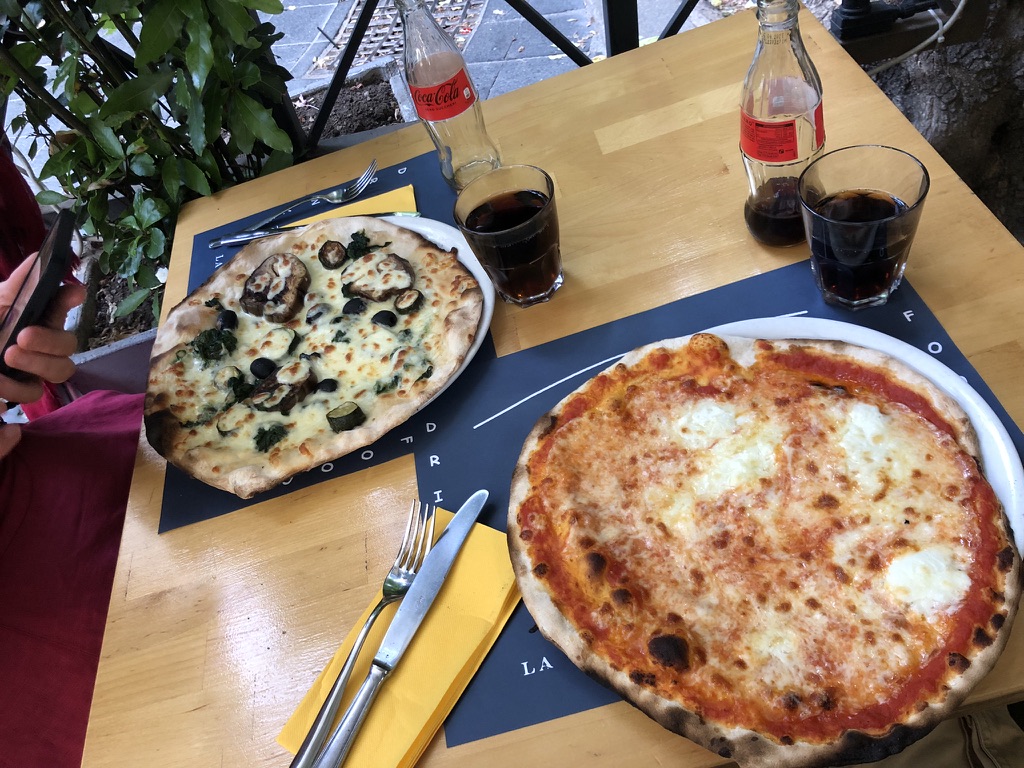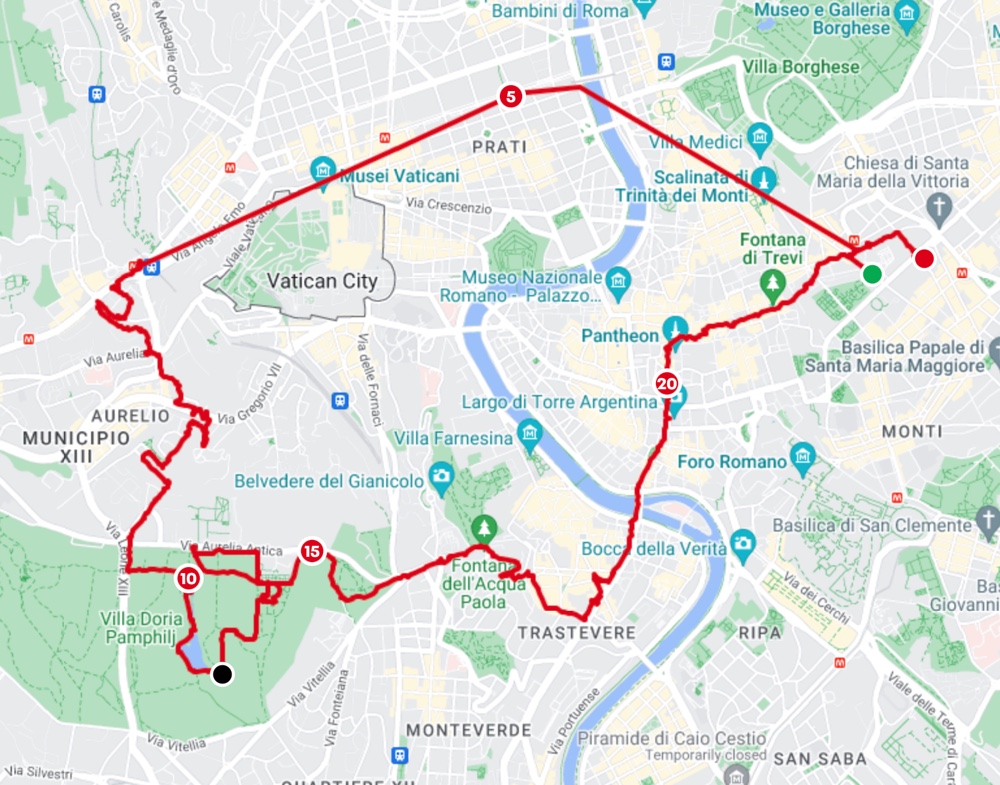 Day 6, Monday 8 May
The weather forecast for Monday was not great. It would still be warm, but we'd see some rain in the middle of the day. We thought we'd do the Pantheon and then the baths of Caracalla, which we'd missed on an earlier day. We walked past the presidential palace on the Quirinale. We had our morning coffee and cornetti at a caffe on the east side of the Pantheon. (I noted that the espresso tasted more burned than on previous days, and the taste didn't linger the way others had done.) Unfortunately by that time the queues for the Pantheon were also hideously long. We were approached by a guide who asked if we want to join a tour and get in without waiting, but we preferred to go our own way. We decided we'd get up early one morning and get there at opening time.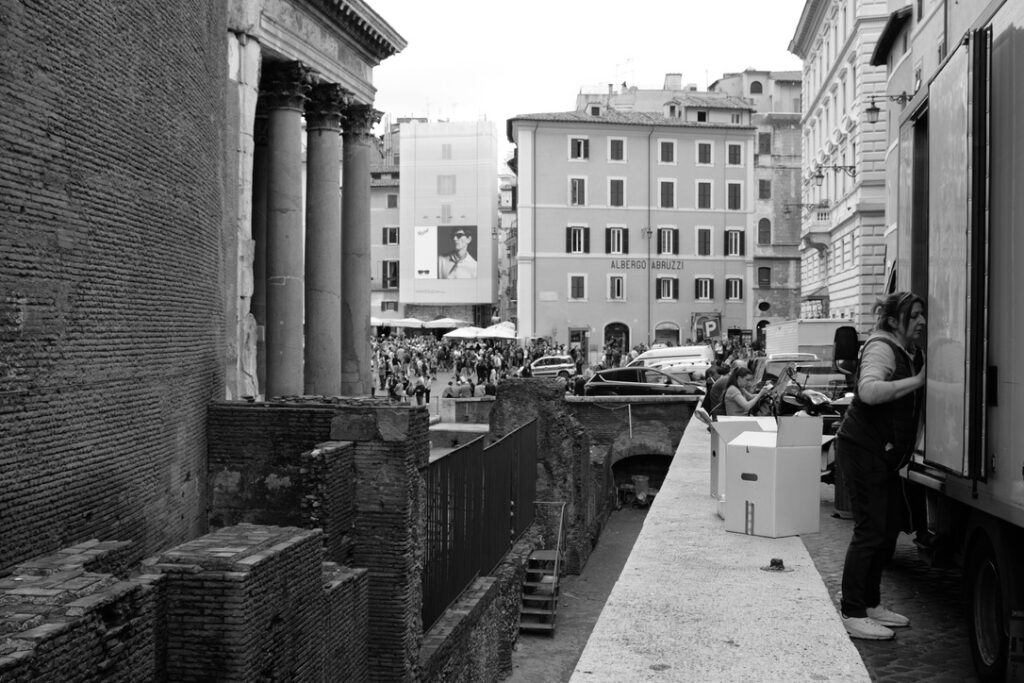 We walked on past the south edge of Piazza Navona, and stopped at Campo de Fiori to browse the market. We continued towards the Tiber and took steps down to the path down by the river itself, where we followed the path for a stretch. I wasn't sure where we'd be able to get back up to street level again, but there are stairs next to pretty much every bridge. We came back up at the Ponte Palatino, near the Bocca Della Verita and the Circus.
The weather was starting to turn, and there was a bit of warm drizzle as we walked the length of the Circus to the Baths of Caracalla. When we got there we found that they were closed on Mondays. We checked the short-term weather forecast and radar on our phones — not something we could have done twenty years ago. It didn't look promising, but we decided to wait under a tree on the path to the entrance of the Baths to see if there would be any change at ground level. We finished off a crossword while munching on some biscuits, but the drizzle persisted, so we called it off. We walked over to the nearby Circo Massimo metro station (getting the entrance on the wrong side of the road at first) and took the metro to Repubblica.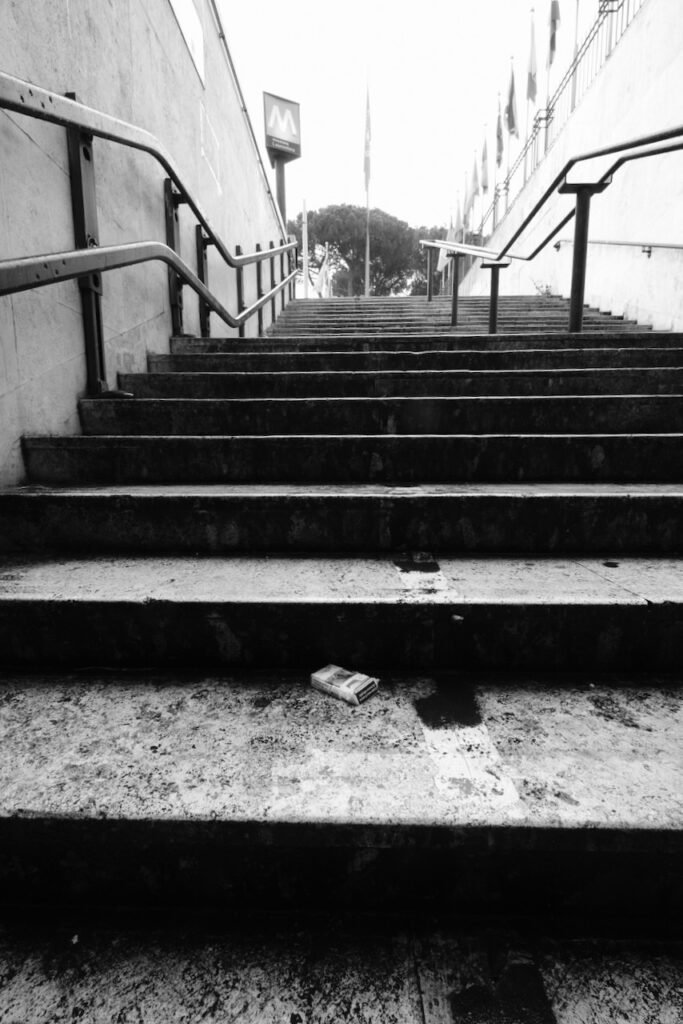 Just round the corner from Repubblica, at the foot of the road to our hotel was a McDonalds where we'd hoped to find our late lunch, but it turns out that McDonalds in Italy doesn't carry the McPlant burger, or any other vegetarian options (beyond fries, or the egg McMuffin at breakfast). Disappointed! Our memories of Rome from when Alex was tiny include McDonalds. Instead, we hit up the Coop a little further down Via Nazionale for some more cheese, and then the Pam a little further back for more bread. We spent the rest of the day relaxing in our room with another room picnic.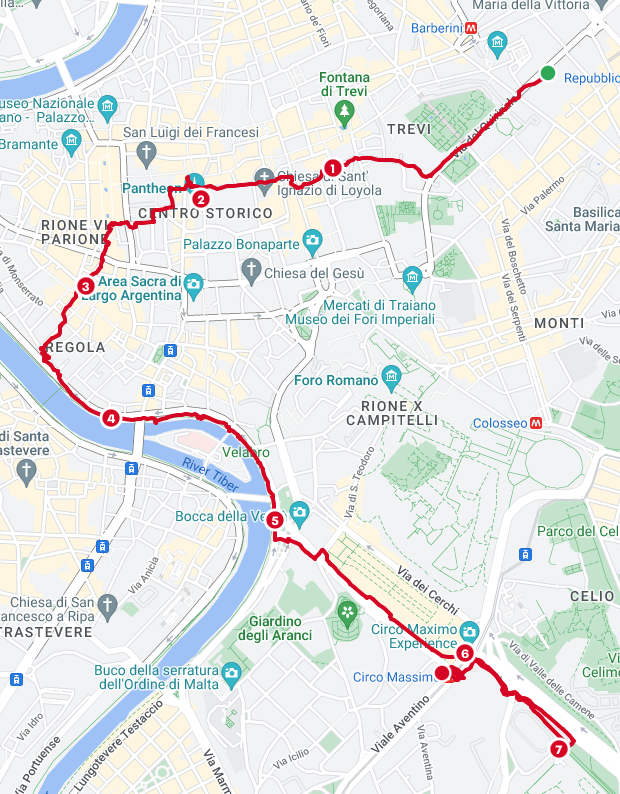 Day 7, Tuesday 9 May
A day of Ostia with Patrick and Teresa. We got up and took the Metro over to Lepanto again and had our morning coffees at Fabric Coffee Bistrot again, this time with cornetti instead of the fruit tarts. We caught up with Patrick & Teresa at their hotel, where Patrick had booked an Uber to take us out of town. Ostia was beautiful. We wandered around the ruins, stopping here and there. I took some nice photographs. Down in the Mithraeum I tried to take some pics at unusual angles, not just the standard shots looking straight at the statue, but they didn't come out as well as I'd hoped.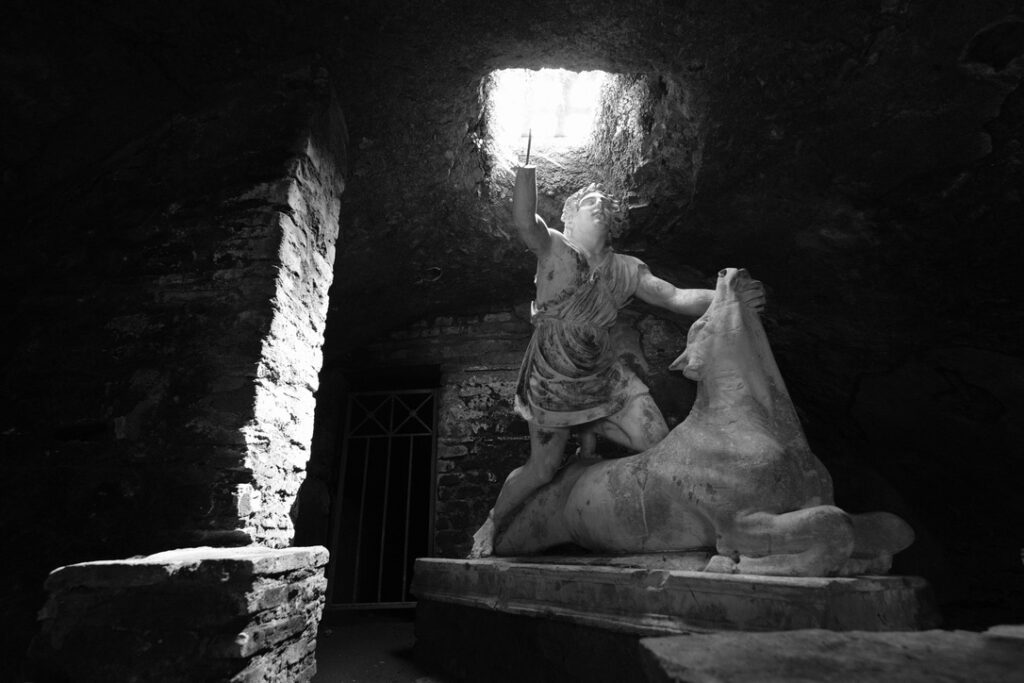 We had lunch at the restaurant at the visitor centre, right at the same time as a school party of teens. It was busy. Towards the end of our time there, as I was taking some portrait shots, I leaned back against a tree and got the back of my T-shirt covered in sticky resin. (Just a few minutes before I leaned against it, I remember looking at the tree and thinking to myself "gosh, that's a lot of resin running down its trunk.") Fortunately I had a denim shirt with me to change into, so I wouldn't stick to the chair on the way back.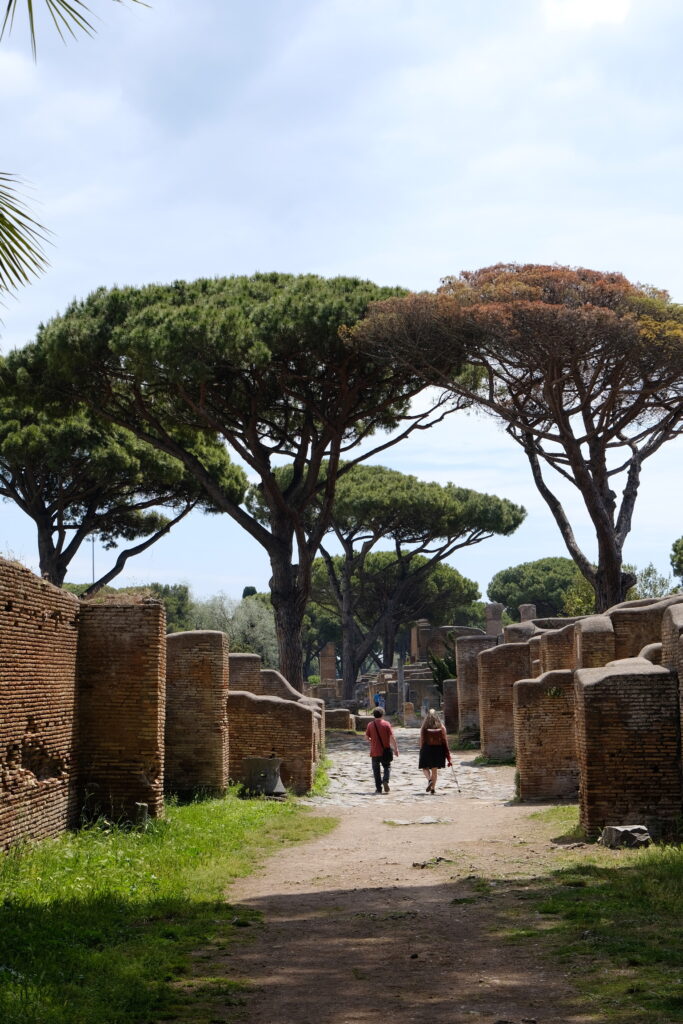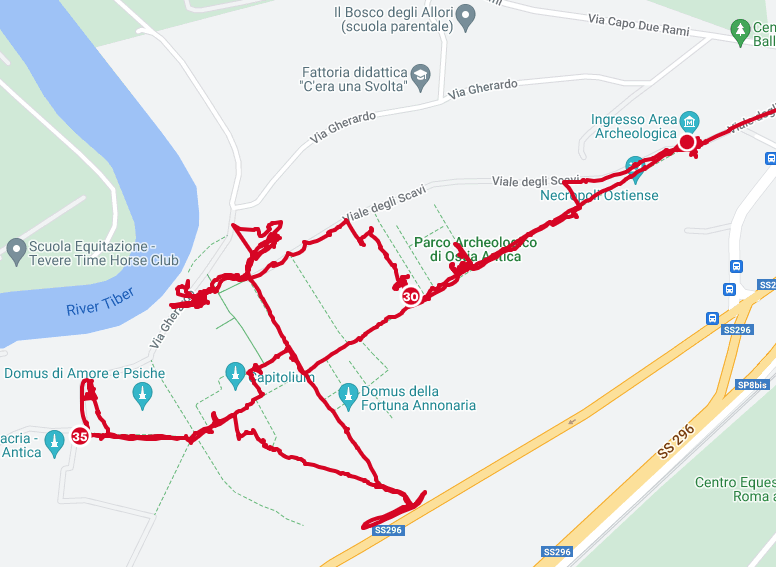 At the end of the day we called another Uber to take us back. We left Patrick and Teresa at their hotel while we walked a bit further up Via Cola di Rienzo and found a delightful restaurant where I had parmigiana di melanzane for the first time on the trip. It was amazing. Abi had gnocchi, and we split some (very crusty) bread a salad with cheese and a primo sale salad, with rocket, spinach, olives, and pomegranate seeds. The restaurant was Bar & Ristorante Marco Ciampini, which we later discovered is the sister restaurant of the much more famous and exclusive Caffe Ciampini just above Spagna.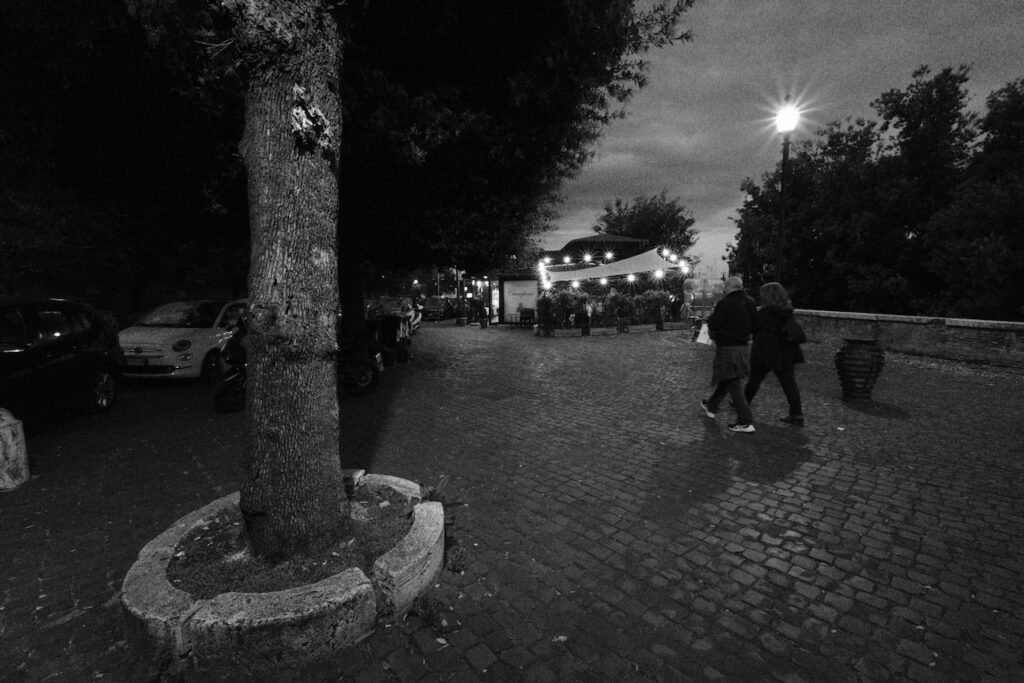 After dinner we crossed the Tiber on Ponte Regina Margherita. We stopped for (slightly disappointing) gelato just off Piazza del Popolo, and climbed the hill behind the Piazza towards Pincio just as the sun was setting and the street lights were starting to come on. We stopped for a bit to listen to a busker singing on Terrazza del Pincio, and tossed him some coin. We walked along Viale della Trinita dei Monti, past Ciampini (before we realized the connection with our dinner), and then along Via Sistina to Barberini. As usual, we stopped off at the Pam supermarket to pick up some bananas and cola just before getting back to the hotel.
Day 8, Wednesday 10 May
The forecast for the day was rain, and so it turned out. This was the day we wanted to hit the Pantheon early. We got out the door just before 9, bought a temporary umbrella for me (Abi already had one). We zigged and zagged through the streets to the Pantheon. As expected, there were no queues at that time on a wet Wednesday morning. We looked around for a bit, then set off in the direction of the Vatican, where Abi wanted to locate some hard-to-find Saints medals. We took our time, taking photos along the way, and having our morning coffees (and egg McMuffins) at the McDonalds just off Navona.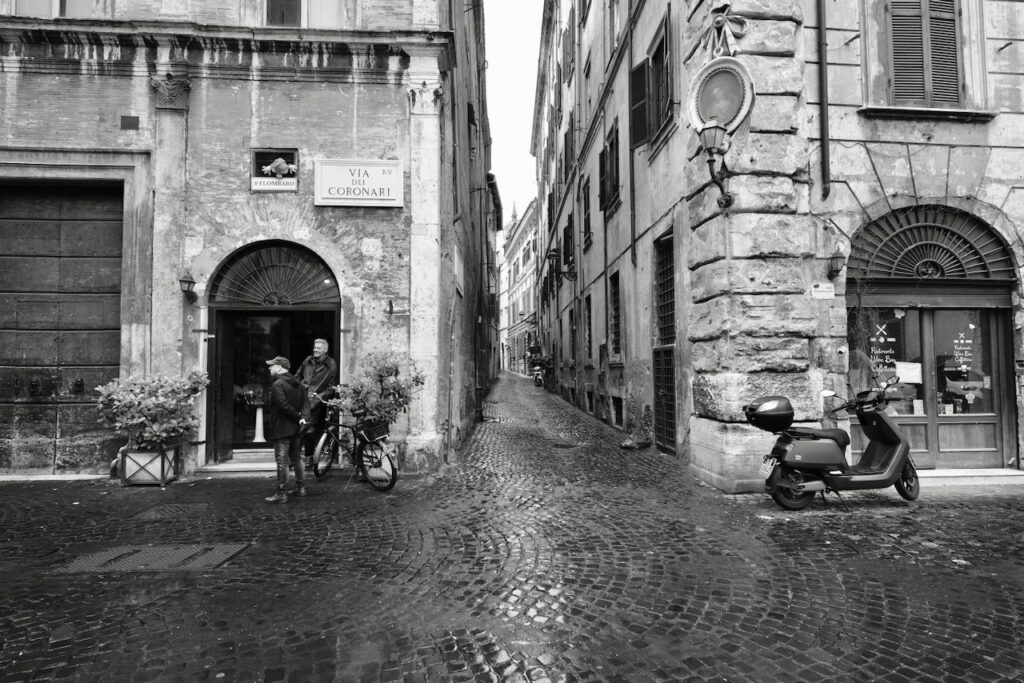 After we crossed the Tiber at Ponte Sant'Angelo we didn't go into the Vatican. We just orbited it, with Abi diligently combing the Articoli Religiosi shops for the exact medals she was looking for. (She came up empty in the end. But knowing that it wasn't for lack of trying.) We stopped for lunch at Hostaria Ago e Lillo on Piazza Risorgimento, where I had another parmigiana di melanzane. (It was good, but not as exceptional as the one at Ciampini the evening before.)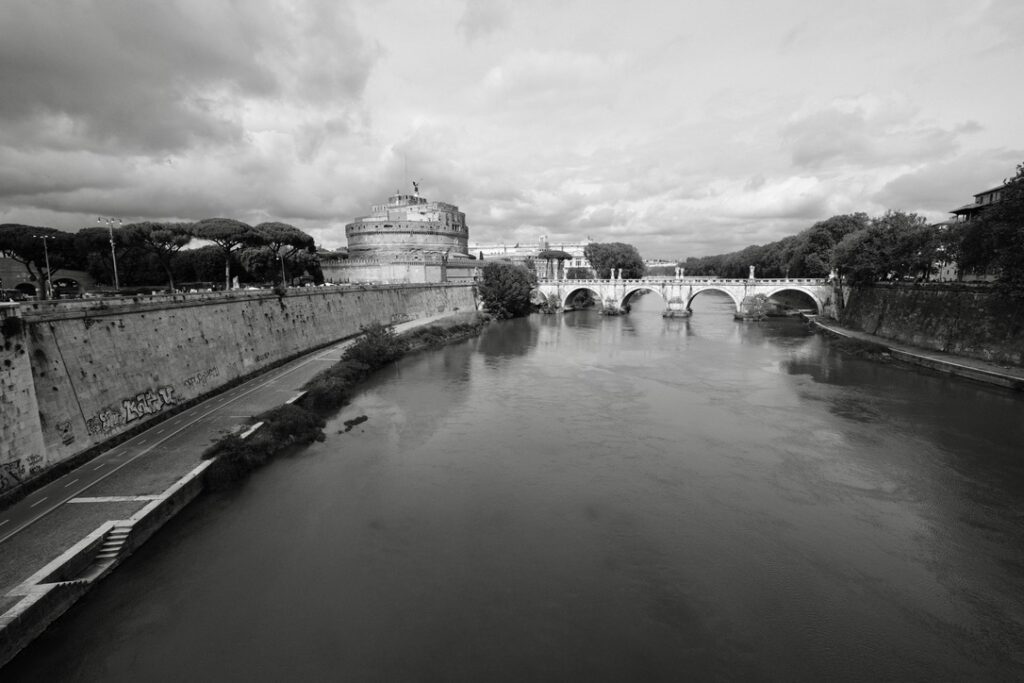 Our walk around the outside permiter of the Vatican was pleasant. All the tourists hang out at the "front" of the Vatican, to the south-east. Beyond the north-west walls it's all residential Rome rather than Romeland. The rain had mostly stopped by the time our route curved around the south. We stopped at a street vendor and also at the Leonardo museum just off St. Peter's Square to pick up some souvenirs for Alex & Fiona. Then a long wander back through the Centro Storico, stopping off at The Gelatist on Via del Tritone for some very good gelato, and Pam (again) for a final top-up of room drinks.

Day 9, Thursday 11 May
We'd originally thought that we might go out for one final morning coffee before packing up and checking out, but we decided not to force ourselves into any kind of hurry, and we just enjoyed coffee and cornetti and a crossword on the terrace at reception instead. At checkout, the manager wanted to show us one of the newly renovated rooms before we left, so we could see what it might look like if (when) we come back. It was very nicely done, but it was perhaps a little less characterful than the room we had. We like our hotels a little quirky.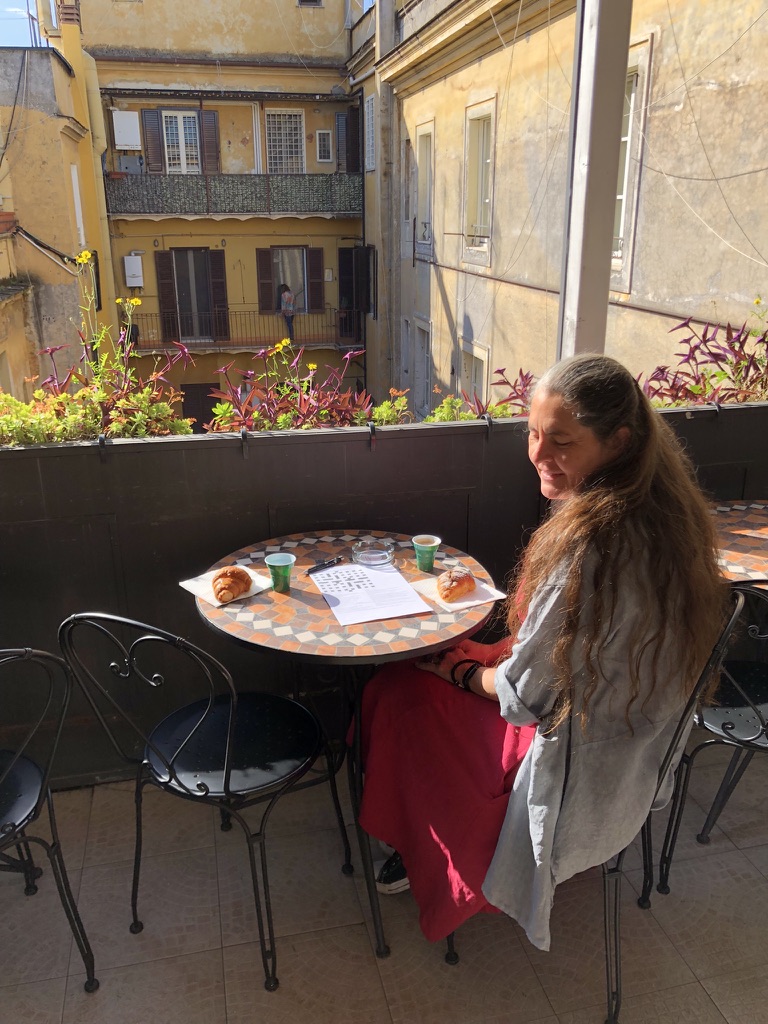 No rushing. We walked to Termini, got the express train to the airport, and found that because we were flying with ITA Airways we could drop our checked bag right at the exit of the train, rather than having to stand in a queue later. There was a funny moment at security, where I had gone through the gate already, but got fished back out of the system because the staff insisted that Abi (and me, by association) go through the fast-track line because she was still walking with the crutch. Our flight was at 14:35, on time. The crutch got us onto the plane in the pre-boarding queue, which was nice. Uneventful flight. Back at Schiphol we took the bus back to the car park, and drove back home.
Good holiday. Lots of walking, even with Abi's injury. We've been to Rome before, and seen a lot of the sights already, so what we wanted out of the trip was to just be there, and soak up the atmosphere. That's exactly what we got.