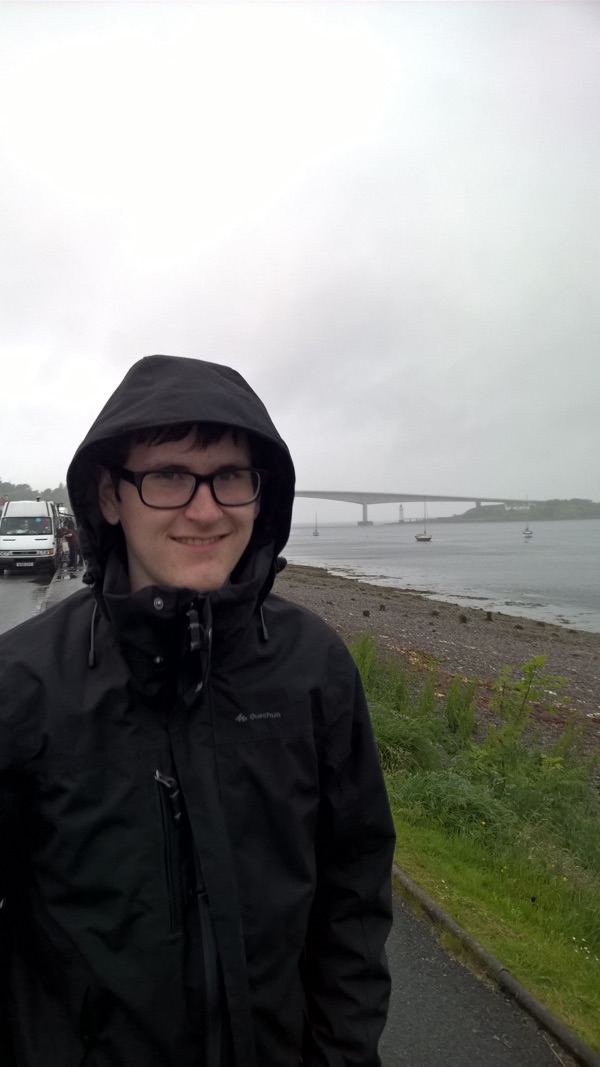 On Friday 16 June Alex took his first solo (passenger) flight, from Amsterdam to Edinburgh. I had been in Edinburgh that week, and I was there to pick him up after border control. Our original idea for the weekend had included trips to Stirling and Aberdeen, but plans change, and we decided to take a road trip to the hilly bits instead.
We set out around 11:00 and drove up the A9 to Inverness. We stopped there for lunch and a wander around. On our quest for fish and chips, we found a spot just opposite a game store (Ellerium Games). Alex has been on the lookout for a specific Commander deck for Magic The Gathering, so we stuck our head in there after we had eaten. Nice shop, with a friendly bunch of people playing board games upstairs, but they didn't have what we were after. We walked up to Inverness Castle, decided not to go up the tower, and returned to the car to figure out where to go next.
We still hadn't seen much satisfyingly craggy mountains on the drive up the A9, so we headed further towards Kinlochewe. The further west we got, the wetter it was. We pulled off the road at a parking spot just short of Kinlochewe for view down towards Loch Maree, but most of it was obscured by low clouds and misty rain. We stopped for petrol just after the village. The shopkeeper told me that the weather had been much the same all day, and wasn't any better further west. The Celtman extreme triathlon was taking place that day as well. (3.4km swim in Loch Shieldaig, 202km cycle, full 42km marathon including two munros.) He told us to watch out for soggy runners on the road.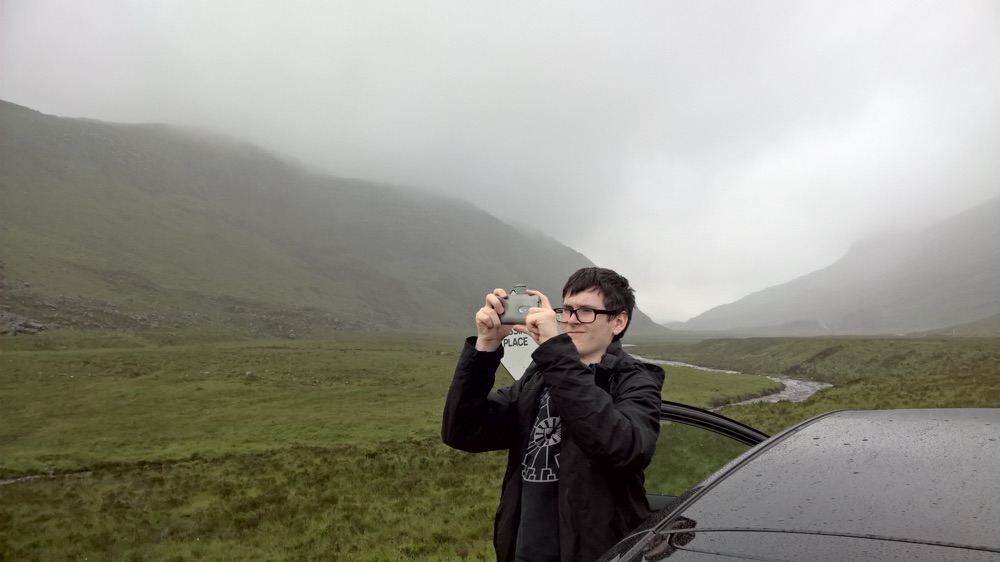 Despite the weather and the low clouds, the scenery was still beautiful. We drove along Loch Maree, over to Gairloch, and stopped for a photo and to decide where to go next. We turned back to Kinlochewe and cut across to Shieldaig. Then we took the winding coastal road all the way to Applecross, and came back east again up over the Applecross pass. I remember doing that road as a kid in the back of my parents car, and finding it really exciting and scary. As we were heading over the pass, the low clouds meant that we could hardly see twenty meters ahead or to the side. We couldn't decide if that made it more or less terrifying. Despite the lack of scenery, it's still a nifty little road. Must go back again in better conditions.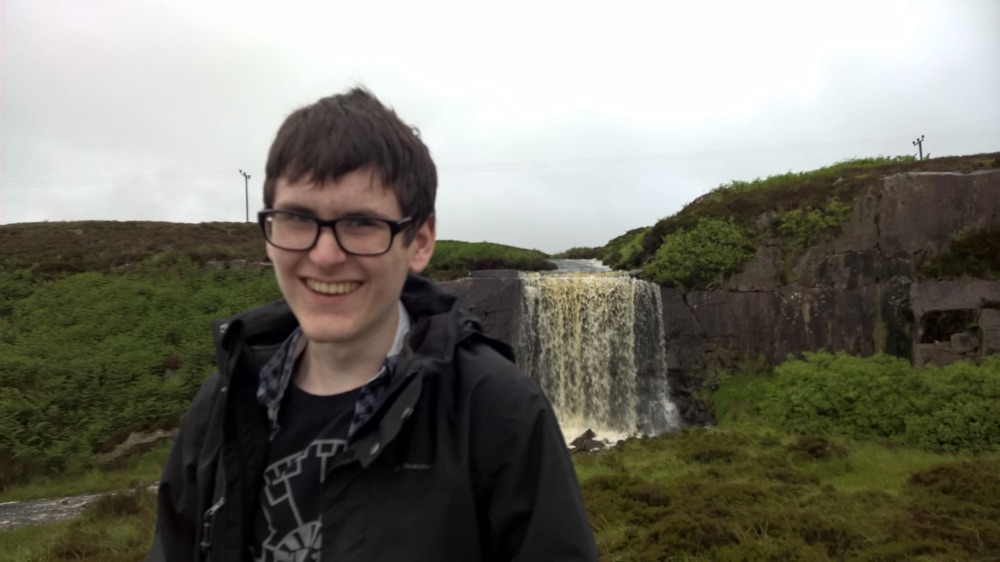 At Strathcarron we could have gone north-east or south-west to start the big drive home. We went south-west and took a minor detour to Kyleakin on Skye, just so we could say we'd been there. (I had never been to Skybe before.) It was 9 o'clock by that time, and we hadn't had anything substantial to eat since lunchtime. We pressed our nose against the glass of a restaurant, but the menu didn't really appeal to Alex, and taking a long sit-down break would mean it would be really late before we got back home again. Instead, we turned back around and stopped for road snacks at the Co-op in Kyle of Lochalsch. We stopped against shortly after that as we passed Eilean Donan. Even though the light was fading, you can't pass it and not take some pictures. But after that it was pretty much just a hard drive back to Pethshire. We got back around 01:00, and staggered straight to bed.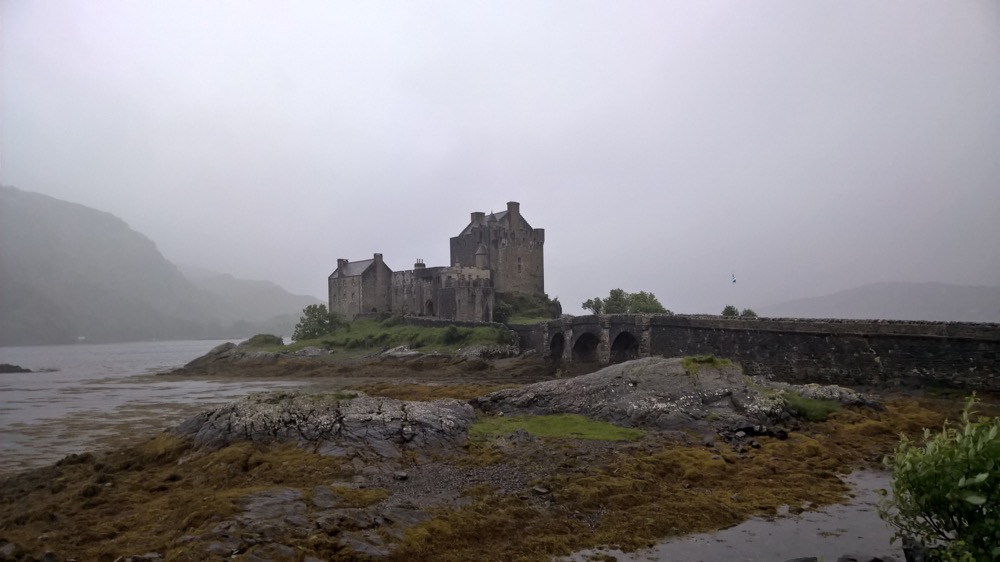 It was a great trip. Alex and I spent a lot of time talking, and listening to music and podcasts. Alex played us a bunch of videogame theme music, and he introduced me to the Daft Souls podcast. My choices were some Hello Internet and the "Detonating the C-bomb" episode of the Allusionist. I did some estimating with Google Maps, and I reckon we did about 650km that day. It was a long drive, but I'd happily do it all again.