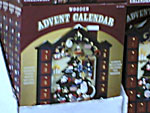 Walked through Costco this afternoon, and the Christmas decorations are already in the aisles. It's still August. Hot damn.
Okay, so here's the new rule: The only people who are allowed to buy me anything this Christmas are Alex and Fiona. That's it.
It's not that I don't want anything–there are plenty of things I'd like to have. I just don't want anything for Christmas. Not anything from my wishlist, not "just somethig small", and not a charitable donation in my name. Just nothing. Please.