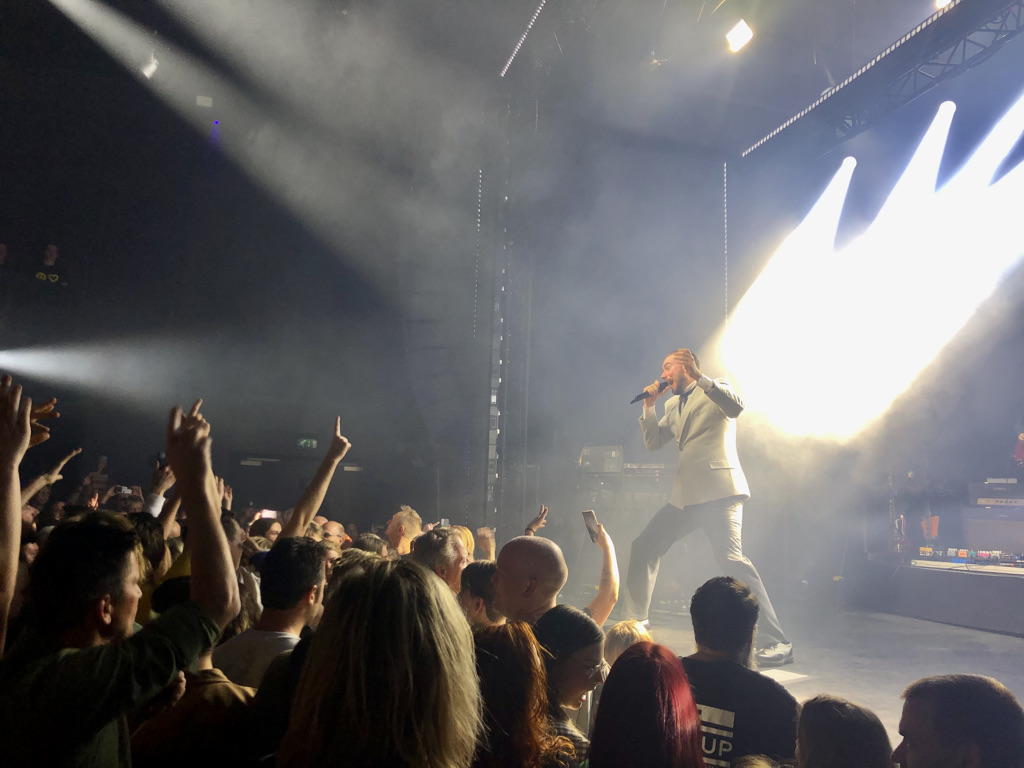 I only discovered De Staat in September this year. My excuse is that I don't listen to the radio much, and my music discovery experience has been fairly narrow in the last several years. When I was younger I was afraid that my musical taste would get stuck in the 1980s or 1990s, and I'd end up listening to golden oldies for the rest of my days. That's not happening, but I do need the occasional prod out of my comfort zone to go and find new things.
Seeing live music is a good opportunity to see new bands in support of acts I already know and like. For example, Bleu supporting Toad The Wet Sprocket; Thumpers supporting Chvrches.) I follow some shared playlists on Spotify, and get recommendations from music channels at work. I occasionally dip into the Stereogum blog, which is where I found MUNA this year (just too late to catch their European tour). I find that podcasts have taken the place of music radio when I'm driving these days. Although I enjoy the podcasts, I do think I'm missing out a bit there. If I'd been tuning in to Dutch radio (e.g. Kink.fm) at all in the last five years I would have heard De Staat and known that they're huge here.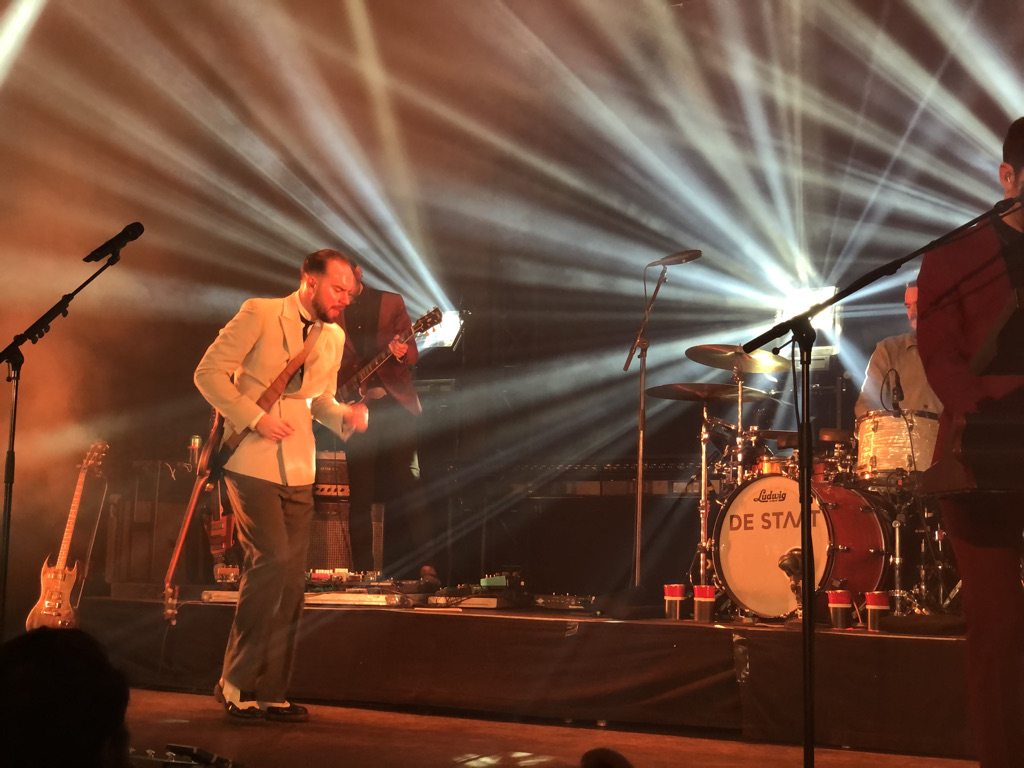 They've been touring Europe this year, and have just kicked off a string of completely sold-out gigs here in the Netherlands. The secondary market for tickets seemed to run through TicketSwap. I signed up for alerts to a handful of dates relatively nearby. TicketSwap send out push notifications through their app whenever a ticket for a gig you're interested in comes up for sale. From my experience at work, I know that push notifications don't reach every target at exactly the same time. Depending on how big the batch is, it can take seconds or minutes for all the notifications to be delivered. In the case of these gigs, the TicketSwap app showed that there were hundreds of other people also wanting to buy tickets for them.
But I got lucky, and a few weeks ago I happened to respond quickly enough to bag a ticket for their concert in Zwolle on 24 November: the opening night of their Dutch tour, even!
After last week's experience with resale tickets, I was feeling somewhat apprehensive about using this ticket for De Staat. However, it looks like TicketSwap have actual integrations with ticketing platforms, and when someone wants to sell their (digital) ticket, they have the ability to invalidate the original ticket and issue a brand new one for the buyer. Inside the TicketSwap app, the ticket had had my name on it. The app also seemed to make it a very easy operation if I wanted to sell the ticket on again. TicketSwap have a policy of not allowing more than a 20% markup over the original price when reselling tickets, which is impressive and admirable.
Zwolle is about an hour and a half away by car. Late Thursday afternoon I got caught up in a production incident at work, and left later than I'd intended, but I made it there shortly before 20:00. I parked nearby, walked to the venue, and got in without a problem. I think I'd been holding my breath a bit when my ticket was scanned, but it was all OK first time round. YAY.
My first thought on entering the foyer was: wow, this is a very different crowd than last Sunday. Let's say that if I could be uniquely identified as "the old guy with the blue hair" at the Set It Off gig; here I was just "the guy with the blue hair". I'd say the audience was mostly in their 30s and 40s. At Set It Off I'd heard lots of English voices; here it was all Dutch. Relaxed vibe. My hair got a few looks, but I didn't feel out of place.
I'd arrived just a little late to see the whole opening act, but I caught the last twenty minutes of Personal Trainer, and enjoyed them. De Staat came on at 21:05.
Look At Me
Danger
Blues Is Dead
Input Source Select
Numbers Up
Old Macdonald Don't Have No Farm No More
Peace, Love & Profit
One Day
Refugee
Who's Gonna Be The GOAT?
Make Way For The Passenger
Pikachu
Mona Lisa
Head On The Block
Witch Doctor
Encore:
Phoenix
Paying Attention
Kitty Kitty
They played all the tracks from their latest releases RED and YELLOW, but only "One Day" from BLUE. That makes sense, because it's a live event, and they wanted to keep the energy going, and the BLUE songs are the more down-tempo ones. Overall, they chose a ton of crowd-pleasers ("Input Source Select", "Make Way For The Passenger") from their back catalogue, although they did include a couple of moodier tracks as well.
I've got to say: wow. This was an astonishingly good gig. The band were tight, and the songs were made to get the audience jumping. Singer Torre Florim is visually striking, and he's a gripping showman on stage. His physical performance reminded me a bit of Duncan Wallis of Dutch Uncles. He has completely different moves, but he's similarly mesmerising. For the song "Pikachu" keyboardist Rocco Hueting joined him on centre stage for their ridiculously simple but brilliantly staged dance-off. That alone was worth the price of entry.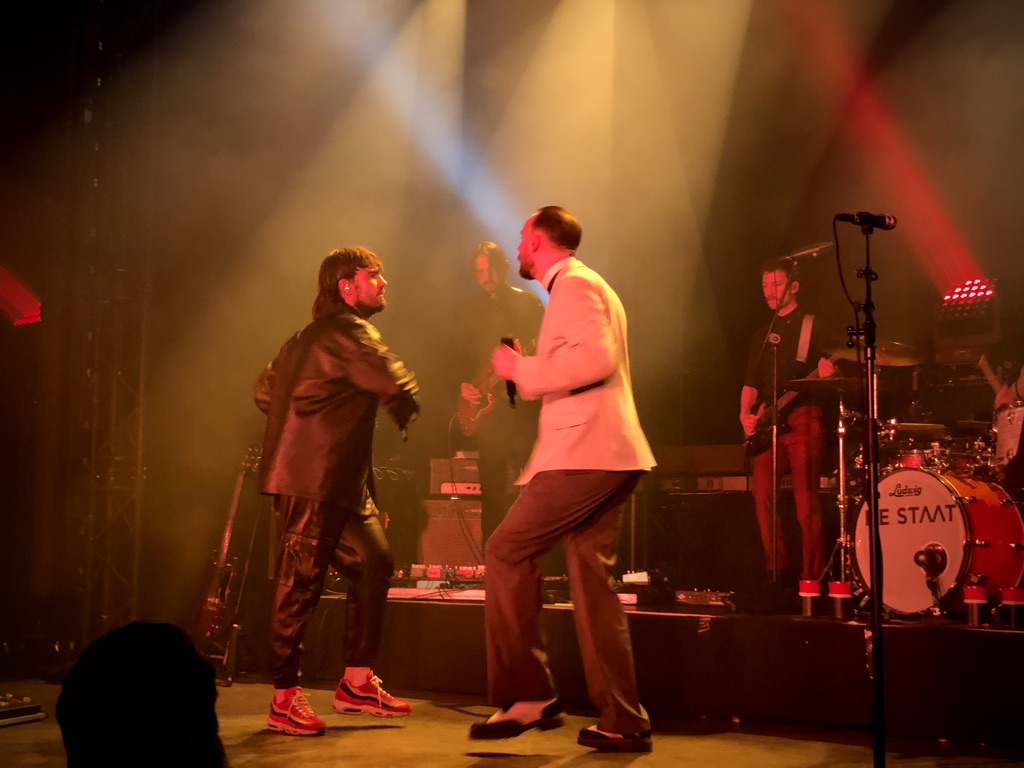 The audience knew what they were doing. In their best-known music video (although the band have got an amazing overall track record) for the song "Witch Doctor", a giant crowd of computer-animated figures jump and dance in a whirling circle around Torre as he performs the song. At their gigs, where they build up to this as the last song in the main set, this translates into a moshing maelstrom in front of the stage, as the audience turns into a human gyre in front of the stage. (I was just outside it. If you attend one of their shows, it's worth knowing about!)
They closed out the show with a 3-track encore, ending on the hefty dramatic beats of "Kitty Kitty", which made full use of their colourful lighting rigs. Aside from being a stormingly good performance by the band, the light show was clever and complemented the songs brilliantly.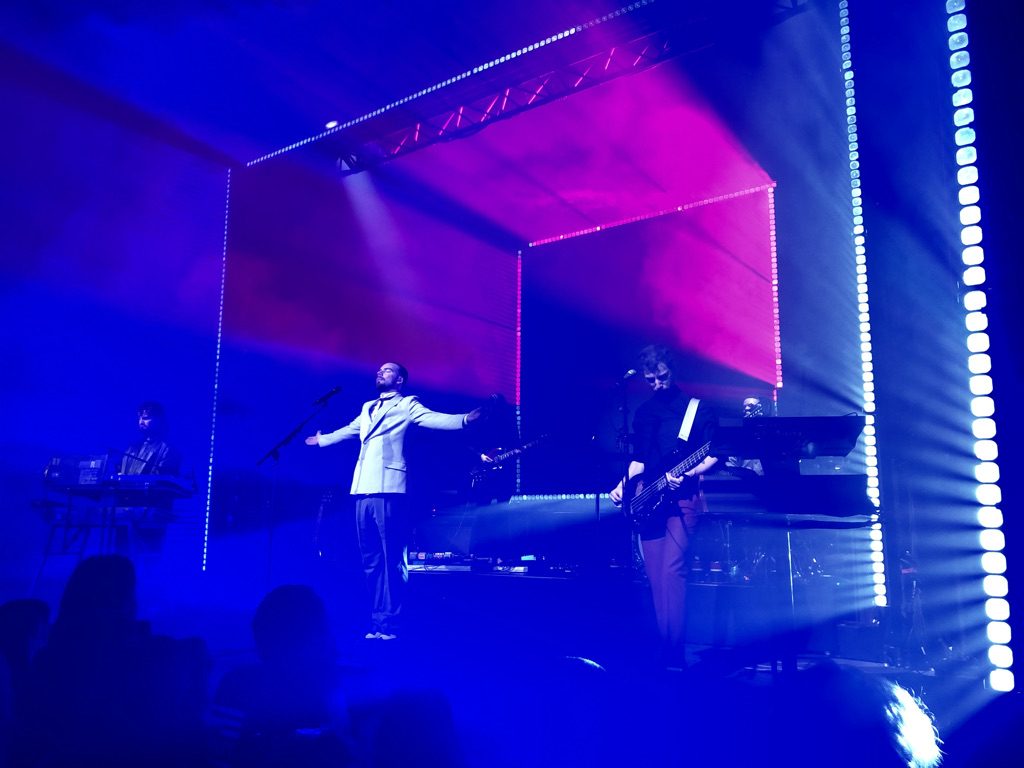 Definitely one of the best shows I've seen in recent years. I'll be keeping an eye out for future tours, because I'd love to see them again.