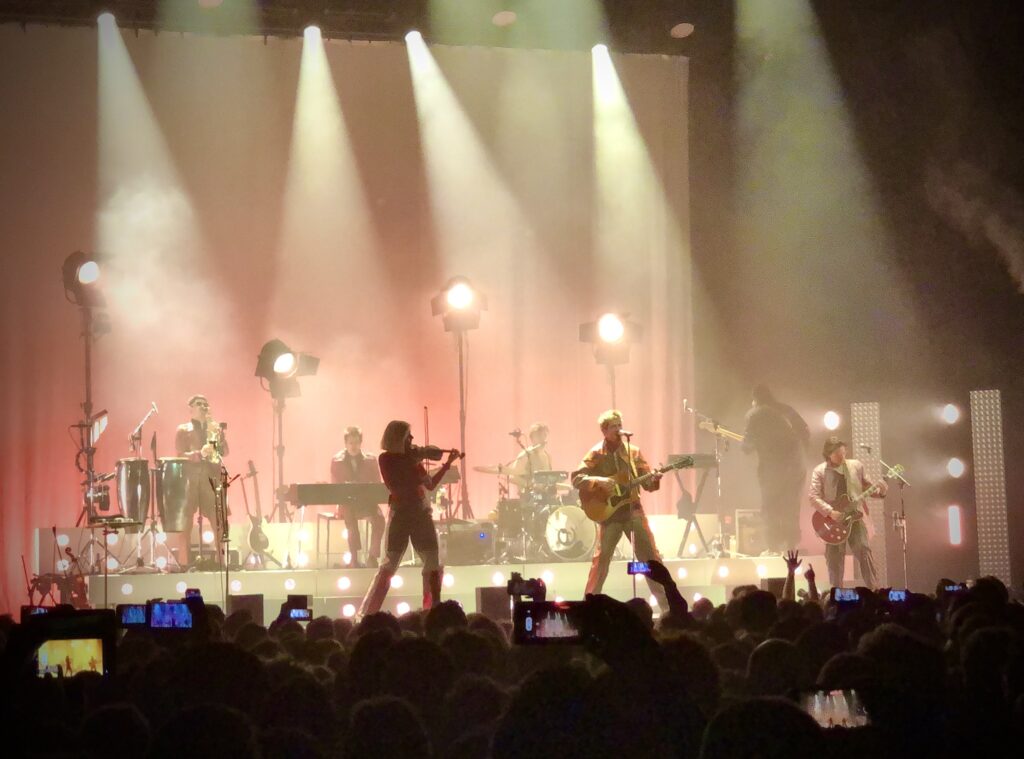 Mid-week gigs where I have to travel a bit to get to the venue often feel a bit weird. Taking the metro in to the centre of Amsterdam to see a show at Melkweg or Paradiso? Fine. Finishing up early at work, doing something for dinner, taking the metro to Centraal, then a train to 's Hertogenbosch, & a change to another train to Tilburg? Felt weird. (Even driving an hour and a half to Zwolle didn't ring these same bells.)
My train was late in to Den Bosch, so I missed the short connection, and I ended up arriving at the venue just a minute before the show started. It was a sell-out gig, and I could only just get in the door and find a spot at the edge of the crowd. 013 is a bit of a barn. It can take about 3000 people, most of them at ground level, some on a balcony. Lead singer Camiel Meiresonne mentioned that apart from festivals, this was the biggest crowd they'd played to so far. They had another two nights at the 6000-capacity AFAS Live in Amsterdam coming up in a few weeks, so that would soon be superseded, but the audience gave them a great cheer anyway. It's fun to be part of a band's big moment.
Apart from the travel to get there, the gig itself also felt a bit weird. They played their biggest hit to date, last year's "Multicolor", as fifth in the set. They ended the main set with a slow rendition of the already downtempo "Heavy Water", and during the song the band seemed to all just drift off the stage one at a time, leaving Meiresonne and the guitarist on their own…then they they left, too. The recorded version of "Heavy Water" rises to a decent outro, but the live version didn't have the same energy, and it just faded out, leaving the audience confused about what was happening. Was it all over?
When the house lights didn't come back up, the crowd got the message, and summoned the band back to the stage with enthusiastic applause, calls, and whistles. They gave a good encore, ending with profuse thanks and an extended version of their second-biggest hit, "Dancing at the Doors of Heaven".
The one advantage of being right at the edge of the crowd, just inside the door was that I was also first out, and first to the merch stand where I picked up a vinyl copy of their album The Mustard Seed. Not that I have a record player; but if a band doesn't have a tour poster on sale, I might buy their LP and stick it up on my wall as a substitute. LPs make decent posters; CDs don't. (I do still sometimes buy tour T-shirts, but their quality and sizing can be so variable that I often find myself not wearing them much.)
This is the Moment
1992
Drive
Everything
Multicolor
Tell Me More
Tuesday
Can't Get Enough
Will (Part 1)
Will (Part 2)
The Mustard Seed
Heavy Water
Encore:
Nothing
Dancing at the Doors of Heaven