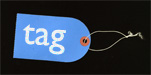 In their write-ups of @Media 2006, Eric Meyer and Peter-Paul Koch have both spoken out to discourage the use of the "atmedia" tag for photos on Flickr which have no (apparent) relevance to the event itself. Personally, I'm with Russ Weakley in the opposite camp.
The whole point of tags on Flickr (and elsewhere) is that they are not rigid categories decided by the site owners. Everyone uses them differently, and most people pay no heed whatsoever to the global namespace. For example, when I tag pictures of my family, I use "family", and the first names of whoever appears in the photo, e.g. "family martin fiona". This is because I'm thinking about the relevance of these tags in the context of my personal space on Flickr. I'm tagging these photos for my benefit, and for my friends and family–not to provide the entire Flickr user base with a convenient way of reaching these photos via a global search.
Tags are descriptive rather than prescriptive metadata. With tags, you can throw as much or as little description as you like at an item. This allows for enormous flexibility, which encourages people to actually attach metadata in the first place. This is a good thing. However, the metadata is also likely to be incomplete, imprecise, and highly subjective. But this subjectivity is actually a strength when it comes to "social" tagging schemes.
The reason tags are gaining ground on traditional fixed classification schemes is that people like being able to create their own labels, with their own personal relevance. People like not having to ponder whether they should file a photo of Westminster Abbey under "Places:UK:London" or "Architecture:Churches:Gothic". Would Flickr contain even a tenth of the metadata if it provided a set of categories instead, and asked people to classify their photos accordingly? I don't think so. Aside from the cognitive overhead involved in making those decisions, there's the usability aspect to consider, too: repeatedly navigating a categories is going to be more difficult than just throwing a bunch of tags into a textbox.
So although it may be frustrating for one person to search for the tag "atmedia" and be confronted with photos of Big Ben instead of Big Veen, someone else is sitting in front of their computer perfectly delighted with Flickr for allowing him to group all the pictures from his trip with a single convenient, and–for him–highly specific and descriptive tag.
It's fine to suggest a canonical tag for use in classifying photos or other data (blog posts, links, etc.). But trying to specify exactly what that tag should and shouldn't be used for, goes against the grain of the system. It's a futile effort at best.
In fact, Flickr already has a mechanism for grouping photos with a narrow set of common criteria: groups. It takes a few more steps to submit a photo to a group than it does to tag it, but that's the price you have pay for increased relevance in this case. There was a group for @Media 2005, but there doesn't seem to be one for this year's event yet. If anyone is interested, I'll create one.
(As a final note, I have to say that I'm absolutely gagging for the new Tags feature in Movable Type 3.3. It's about time…)