Growing up Limburg in the 1980s, Paradiso in Amsterdam held a special musical mystique: it's where all the cool bands played when they came to the Netherlands. Whenever pop radio or TV shows rattled off gig listings, Paradiso was top of the list. But Amsterdam was the big city, two and a half hours away by train, and I was such a nerdy teenager that making a pilgrimage northwards to see my favourite artists was practically unimaginable. So I'm glad that my first visit — at age 37, and now living within cycling distance of Amsterdam — was suitably awesome.
Malcolm Middleton, with his introspective and self-pitying lyrics, was an appropriate choice given how I was feeling that day. I had had a traumatic operation to extract a wisdom tooth the week before, and I had been back to see my dentist that afternoon to find out how the gaping wound was healing:
Me: Is it normal for it still to hurt this much after a week?

Dentist: Dude! I can see your jawbone right through the hole! No wonder you're in pain. Here, let me squirt some ice cold saline solution on it.

Me: Aaaaauuuugh!
I had taken a healthy dose of ibuprofen before I left the house, but by the time I got to Paradiso my jaw was still throbbing painfully. Still, the buzz of excitement in line for the doors lifted my spirits. Most people seemed to be there to see The Jesus Lizard, who were playing the main stage later that evening, but all the 30-something Scottish ex-pats were clearly there to see Malcolm upstairs in the "kleine zaal".
Because I had got lost a couple of times on my cycle ride into town, Johnny Lynch (The Pictish Trail) was about half-way through his warm-up set already. Malcolm himself was selling CDs and merch at the back of the room, and I got myself a "Happy Medium" T-shirt and a copy of Secret Soundz, vol. 1 before slinking off to the bar for a beer to help numb the pain.
I don't know what the last song was in Lynch's set, but it was a belter — it started off quiet, and built up an insistent electronic beat to a thrashing crescendo with synthesized bagpipes skirling away in the background. The sound system is enormous for such a small space, and my ears were ringing when he finished.
I love loud music — like, really loud. There's something about having my eardrums assaulted by the supercharged amps of a live band that fills me with euphoria. (I get the same feeling from extraordinarily hot food.) For some reason I had got it into my head that this gig was going to be a quiet affair — Malcolm alone with an acoustic guitar plucking away at acoustic versions of his quieter songs — but this opening act (as well as the drums, keyboards, and electric guitars sitting around on the stage) made it clear that we were in for a full-on experience.
And sure enough, when Malcolm took to the stage with Johnny Lynch back on guitar next to him, he opened with two songs that positively bathed the audience in sound. It was as if all the oxygen had been sucked out of the room and replaced with pure music. "Crappo The Clown" started slowly, its slow beat plodding on inexorably, rising in power with every verse, eventually crashing down in a tidal wave of wailing guitars. "Choir", a song I had never thought of as particularly loud before, took on a pulsing new intensity played live.
By this point, I didn't care about my toothache any more. The painkillers, the beer, and the CPR-strength bass frequencies had blasted me into a state of bliss where all I could do was sway to the beat and let the guitars flush out my head.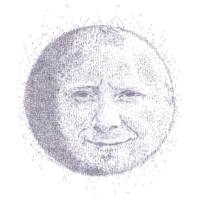 "Subset of The World" was the first of four songs they played from the new album Waxing Gibbous. Malcolm's performance was controlled rather then energetic, his face intense and concentrated even on the frenzied "A Brighter Beat" when the drummer got his chance to go wild. Johnny Lynch's light vocals, also present on the new album, are a good fit live, never more so than on "Don't Want To Sleep Tonight" which they played as a very brief encore. I hadn't made an emotional connection with that song before the gig; now it is one of my favourites (even if they did fluff the ending).
It was all over too fast. There was another act on later that evening, so they were under a tight curfew, and were only on stage for an hour and a bit. (Also, I think they wanted to catch The Jesus Lizard next door.) I drifted out of Paradiso on a cloud of contentment, my face plastered with a silly grin. As cycled home through the centre of Amsterdam, bustling with nightlife even on a Monday evening in mid-September, I was struck by how beautiful the city is…
…and I didn't think about my toothache until I got back home an hour later.
Set list:
Crappo the Clown (514)
Choir (ITW)
Love Comes In Waves (SOH)
Subset of the World (WG)
New song? "Sitting on my fat arse on a Tuesday"? (See also Manic Pop Thrills)
Zero (WG)
Stay Close Sit Tight (ABB)
**? Another one I didn't recognize, but really liked.
Box & Knife (WG)
Blue Plastic Bags (SOH)
A Brighter Beat (ABB)
Very brief encore:
Don't Want To Sleep Tonight (WG)
WG = Waxing Gibbous, SOH = Sleight of Heart, ABB = A Brighter Beat, ITW = Into The Woods, 514 = 5:14 Fluoxytine Seagull Alcohol John Nicotine