Abi and I enjoy taking weekend breaks at Van Der Valk hotels. They have locations all around the Netherlands, mostly just outside towns and cities, but near main roads. They're all easily accessible by car, and they're often close to the countryside walks and cycle routes. Most of them have a large, family-friendly restaurant. The facilities are typically modern, elegant, and very comfortable. And somehow they manage to do this at very decent prices. Especially if you don't have a specific destination in mind, but rather just want to "go somewhere," you can usually find a multi-day or last-minute special offer.
Last year, for example, we went to the Valk hotel at Spier-Dwingeloo, which is right on the Dwingelderveld National Park, and we had some wonderful walks. Around Black Friday in November the Valk marketing teams kept bombarding us with special offers. Although we like getting out into the countryside, this time we decided to go for a city break, and Abi booked us a weekend at hotel Rotterdam-Blijdorp in February.
I had taken the day off work. We took a leisurely morning, and set out for Rotterdam mid-afternoonish. (For future note: the hotel only has minimal parking of its own – only a dozen spaces or so – but they have a deal with the Zoo next door, which has hundreds of spaces. We were able to find a space on-street close by, and then we got lucky with an open spot in front of the hotel later.)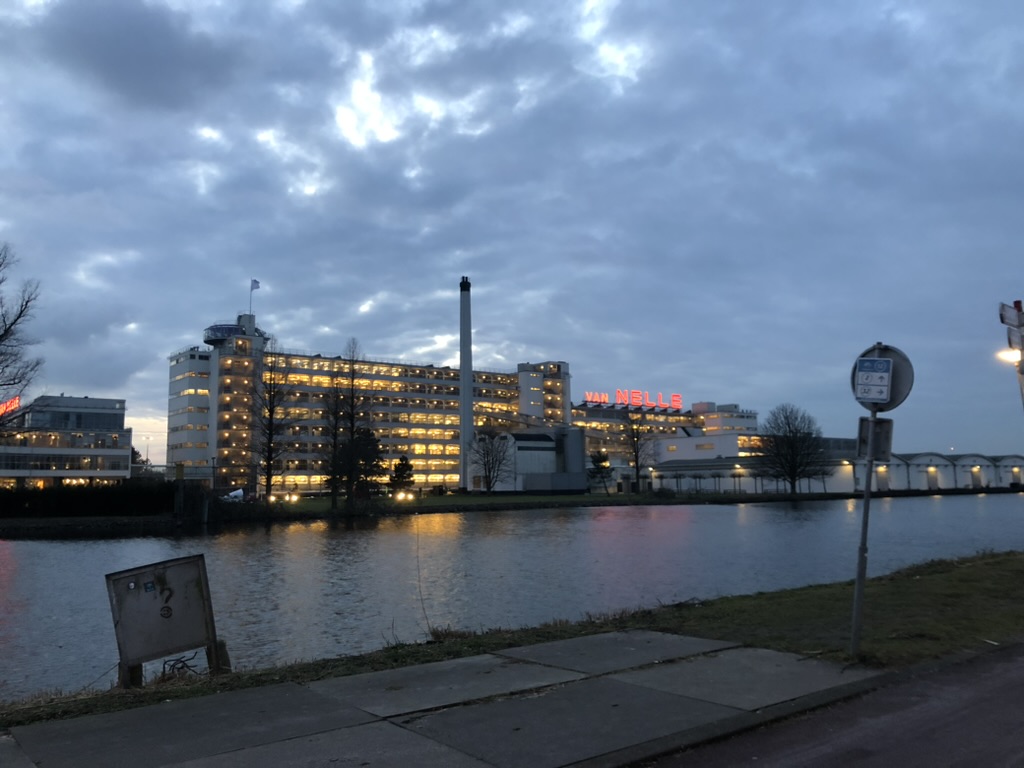 After checking in and dropping our bags, we wanted to go our for a walk while there was still a bit of light, and then come back and order room service. We walked to Coolsingel along the Delfshavense Schie, past the old Van Nelle factory. It was cold. We walked back to the hotel through the Heemraadspark and past the Blijdorp Zoo. On the way, we stopped at a Jumbo supermarket for room snacks, and at the Turkish bakery next door to it for some amazing baklava. What we didn't realize was that room service stopped at 20:00, and we got back to the room about ten minutes too late to order. So we just made do with the (large quantity of) snacks we'd brought back with us.
The next morning we got up and had breakfast in the hotel to set us up for a big day of walking. We reversed the previous evening's route and walked back south through the Heemraadspark, where I took photos of some odd-looking ducks that I later found were actually Egyptian Geese. They were characteristically aggressive and territorial.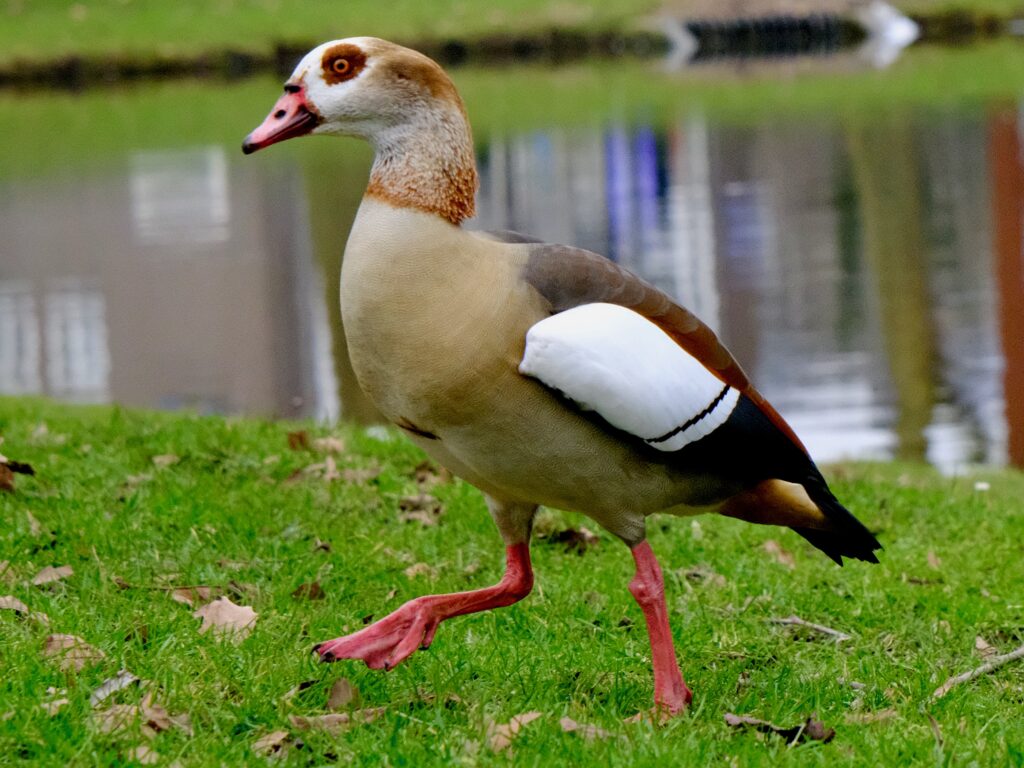 We continued south past the Euromast. We stopped at an Asian supermarket just nearby, where Abi bought some cream of tartar (hard to find in mainstream NL supermarkets) for making snickerdoodles, and some root-beer-adjacent sarsaparilla beverage. A little further south we found that the Maastunnel under the river has a tube dedicated for cyclists and pedestrians, and that it's accessible by classic wooden escalators. We couldn't resist.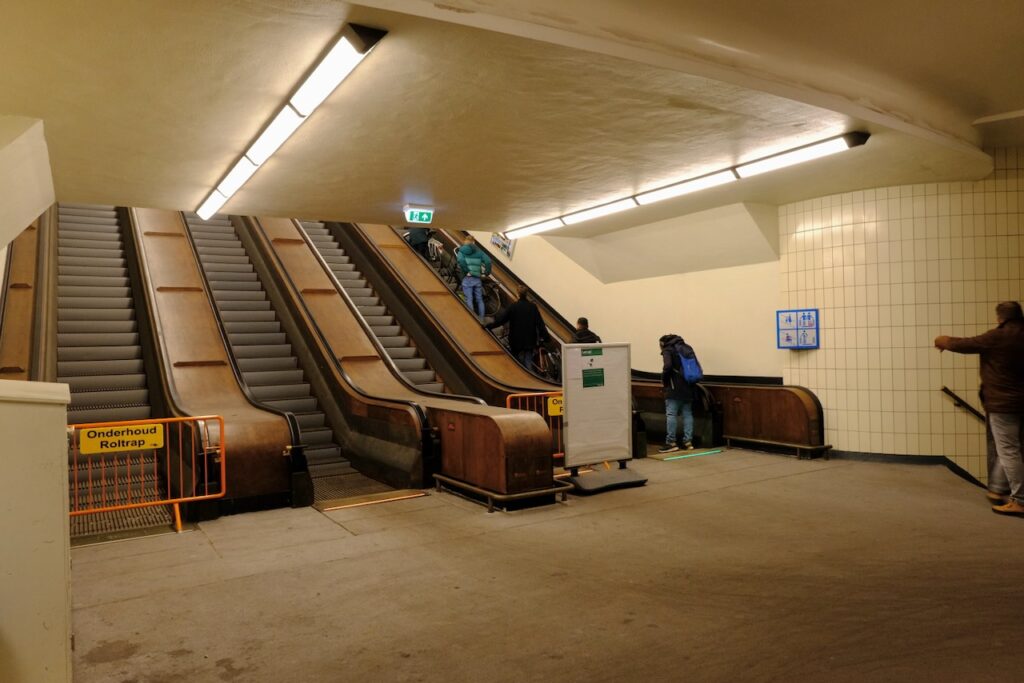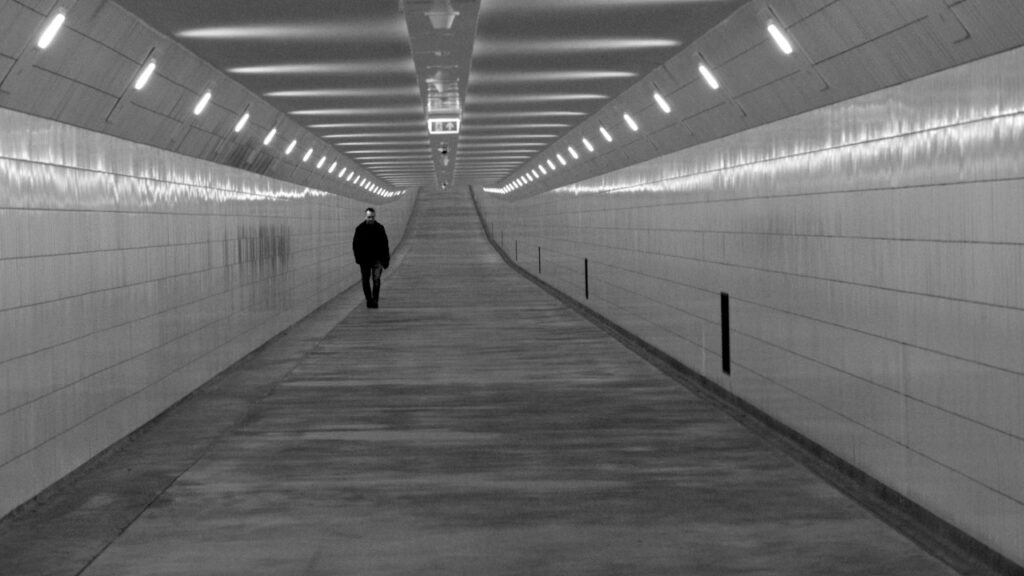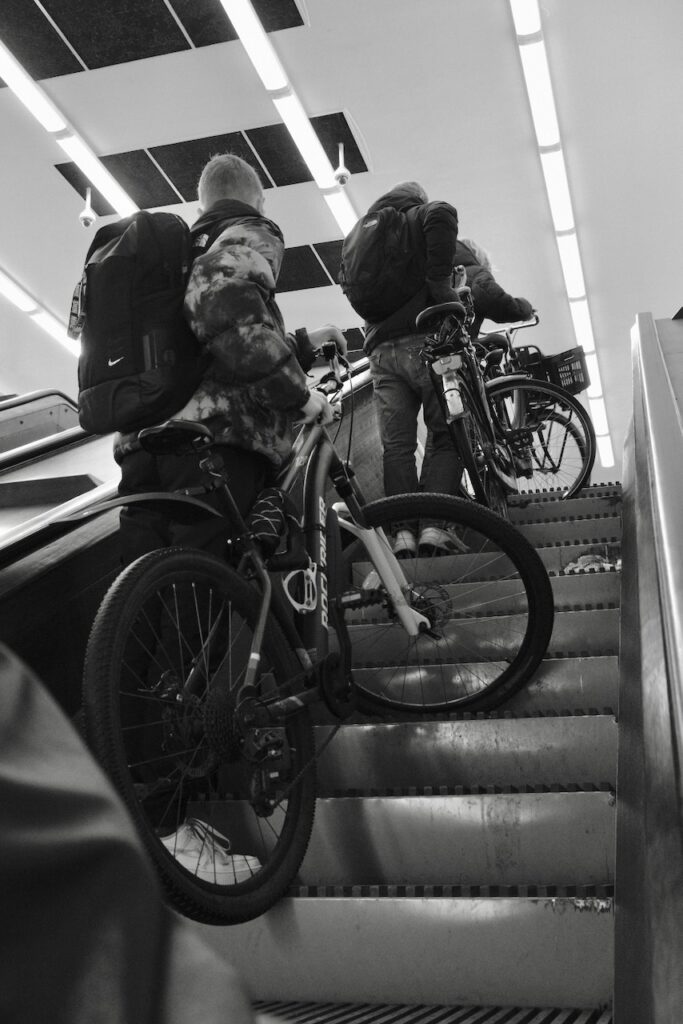 We continued our walk on the industrial south side of the Maas. We stopped for a rest and a bite to eat at the Foodhallen. Afterwards we crossed the Erasmusbrug and walked past the Maritime Museum and the Cube Houses to the Coolblue shop where Abi had placed an order to collect some new bone conduction headphones. We were coming to the end of the day by this point, and we were getting tired. We headed for the Markthal to get some dinner, but I'd got to the point of tiredness and hunger that nothing really seemed right. (This is, regrettably, a habit.)
I felt like some pizza, but the options were limited. When I finally found a place that would sell me a simple slice they were happy enough to take my order, but then they discovered that they didn't actually have any margherita. All their other options had meat on them, and their payment terminal didn't allow them to do refunds. This did not make me any happier. I had seen a New York Pizza shack nearby, but they weren't selling by the slice, and because it was a busy Saturday it would take them an hour to make a whole pie. Boo. Fortunately Abi was able to find some nice ramen, and in the end I bought some peanuts at the AH in the Markthal to get my energy back up, and resolved to get room service when we got back to the hotel. (We also got more baklava from a stall in the Markthal, although it wasn't nearly as good as the pieces we'd had from the bakery the previous evening.)
It was getting dark, and we'd seen all the things we wanted to see that day, so we just made a relatively straight line back. We got back in plenty of time to order me a pizza and Abi a glass of wine. We clocked just over 20 meandering kilometers in the course of the day, and we slept well that night.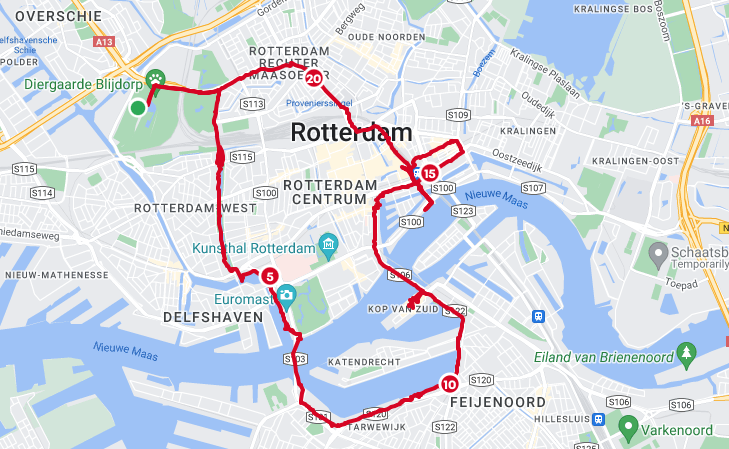 On Sunday we got up, had breakfast in the hotel again, checked out, and drove to the water taxi stop at the Marconistraat. The Rotterdam water taxis are very cool. They're not sedate cruise vehicles, they're point-to-point speedboats. You do have to book them well in advance, though – you don't just flag them down. We took one to the stop just outside the Maritime museum, and walked from there to the Kunsthal.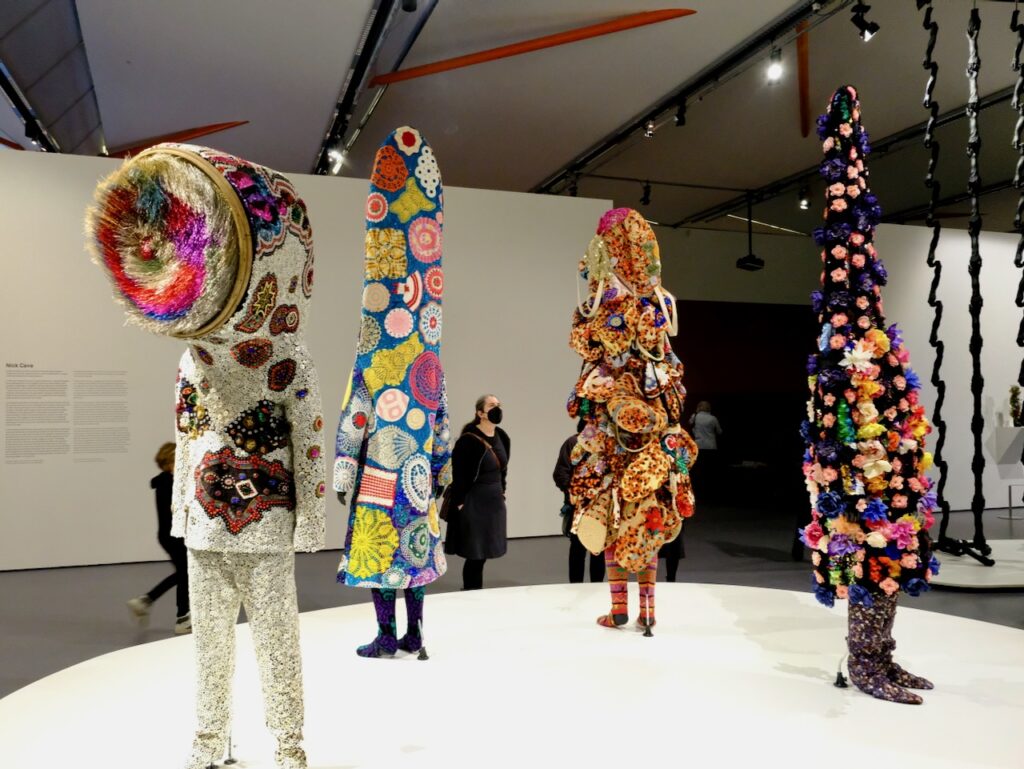 The main exhibit was "In the Black Fantastic" which featured several of Nick Cave's Soundsuits. We also enjoyed the "Women's Palette 1900-1950" exhibit, which featured groundbreaking art by women who were overshadowed by male artists at the time (and also since). There were some amazing pieces on display, but overall the Kunsthal felt a bit unwelcoming and clinical to me. I appreciated the art, but the vibe of the place made me want to get back to the Stedelijk here in Amsterdam.
Afterwards we walked across the museum park, which was under heavy construction. The the monstrously mirrored Boijmans Van Beuningen Depot dominated the view, but it was fenced off and the light was drab, so it lost some of its impact. (Although it's still quite a sight.)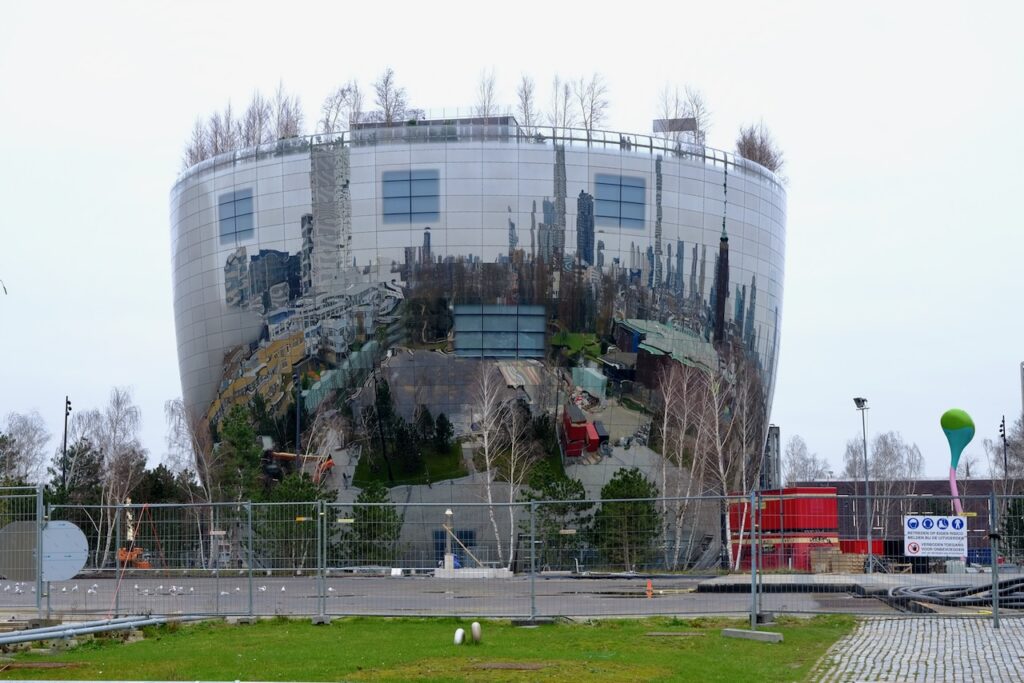 We wandered through the city centre a bit, and had lunch at McDonalds, sitting outdoors despite the chill. The rest of the country has abandoned masking, but we're still keeping ours on in most indoor spaces, and taking care around crowds. (Just because we take some risks doesn't mean we take all the risks.) We stopped in at the Bever outdoors shop opposite, and Abi bought some socks. We walked around the centre a bit more, through the Koopgoot, and finally back to the Maritime museum where we got the water taxi back to the car.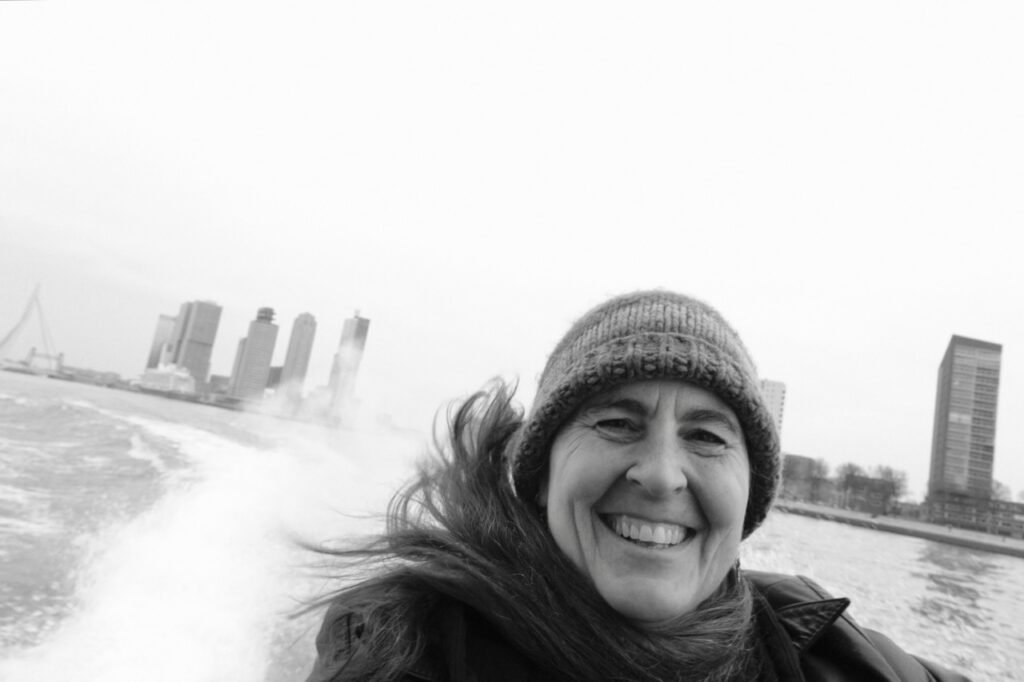 On the drive back, we discussed the notion of replacing the build-in car radio on our 2007 Ford Fusion with a screen unit that supports Apple Carplay. This is a thing that one can do! (And we did. I expect this will come up in my future "Nice things 2023" post at the end of this year.)