After eight years of faithful service, our old car Turty gave up the ghost. It didn't die completely; it just would have needed €1,400 of work to pass its annual APK check. That was more than its resale value, so we decided to pass. Because I had naively left the APK check until just a few days before it was due (trusting that everything would be fine with a few hundred euros of minor repairs), we didn't even have Turty available to us for the whole time we were scouting out a replacement. I rented a car for a single day last week to drive Alex to an appointment in Amstelveen, and we got one for a whole week this week. Coincidentally, and quite conveniently, this is the school herfstvakantie, and Abi and I both had a few days off.
On Saturday 10th October (Turty's last weekend), we went to Heerhugowaard and spent the afternoon looking around the used car showrooms there. We discovered that we liked the 2003-2007 era Mazda 2, with its boxy butt. When we got home, we found that it shared the same chassis as the (European) Ford Fusion. The Ford Fusions are cheaper than the (approximately) equivalent Mazdas, so we started looking at Fusions. We thought we had found a nice-looking bargain last weekend, but when we drove to Maarssen on the morning of Monday 12th, someone had just beaten us to it.
The rest of last week was crazy with work, and I had no time for more showroom visits. In between it all we were still keeping dozens of tabs open with used car searches, and at the start of this week we found a good candidate at a garage in Rijsburg, just outside Leiden. We went for a test drive on Wednesday, and liked it. Because neither of us has much expertise with used cars, I took it for an ANWB inspection on Thursday. The inspection revealed a few issues. The garage was open to a discussion about what repairs would be included in the selling price, and we came to a satisfactory agreement. This morning we drove back down to Rijsburg to pick it up.
We had considered whether the car was another Pokémon. I had been through the entire Pokédex to see if it felt like any of them (the way Turty was obviously a Turtwig), but none of them felt right. Alex had though it might be an Umbreon, but Abi found the right name on the way there this morning: Toothless.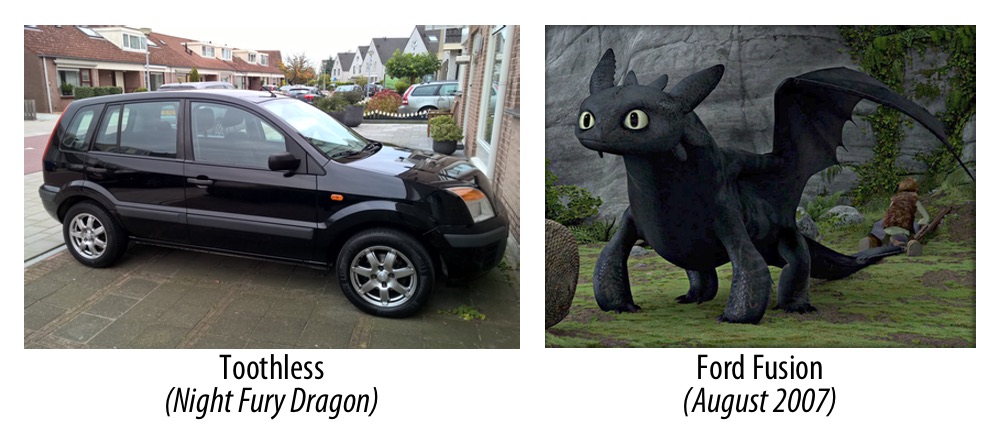 Perhaps appropriately given its name, Toothless is having some early issues. One of the pieces of maintenance the garage did for us before we picked it up was to replace the distributor belt (tail fin?: without it no flying?). On our way out of Rijnsburg, Abi experienced a few micro-stalls while going round roundabouts. We took it back straight away and got them to have a look at it. Our salesman came out for a spin with us, and observed the problem first hand. The mechanics looked at it when we got back to the garage, but they didn't take the car apart again. They reckoned that the new distrubutor belt needs a little time to settle in. (Toothless needs a little time to adjust to its new fin.)
The problem didn't manifest on our test drive, and the ANWB didn't find anything like this wrong in their inspection, so the idea that it's the distributor belt sounds plausible. At least it does to me, who didn't even know that such a thing as a distrubutor belt even existed before this week.) The car is under warranty, so we agreed to give it a week or so, and take it back if it doesn't get any better.
I'm going to take it out this afternoon for a bit of a drive and see what happens.