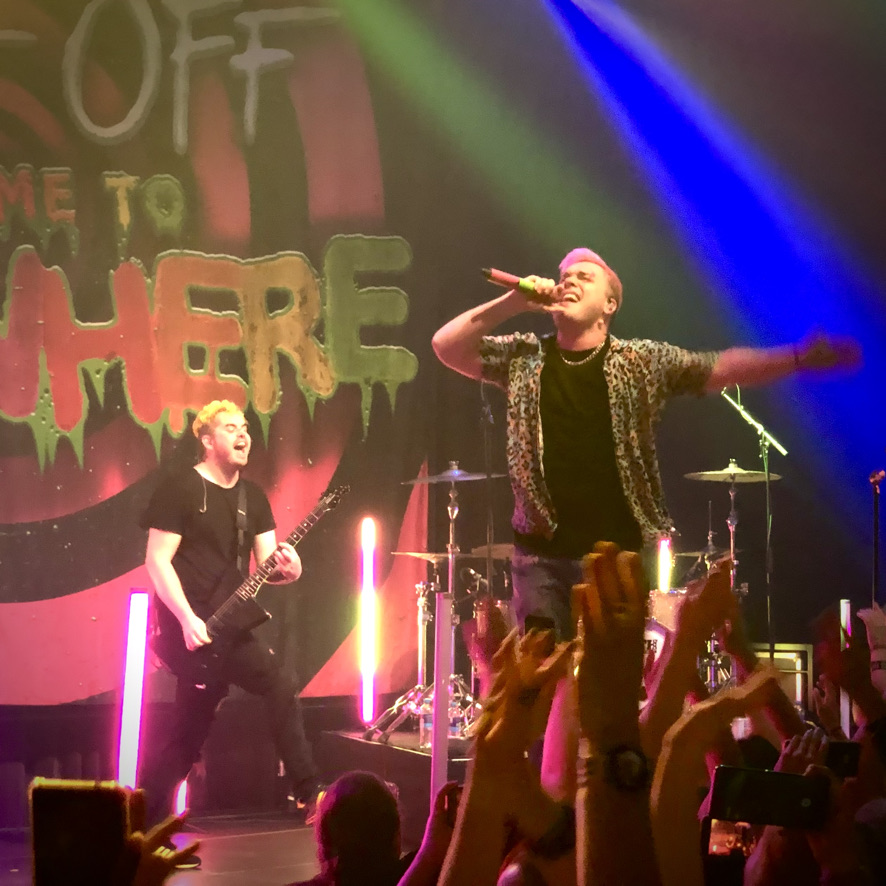 This gig was cursed.
Fiona got into Set It Off back in the 2018-2019 era. (Quick count…3-4 years ago.) The band released their album Midnight in early 2019, and they toured the US and Europe in March and April (including Melkweg in Amsterdam on 23 April, in the Upstairs space, which has a capacity of about 250). After the sold-out April gigs, they announced more European dates in the autumn, and would be at De Helling in Utrecht on 17 October 2019. I think it was shortly after this that Fiona spotted the event, and by that point it was sold out. Luckily I managed to get two tickets on the resale market Viagogo.
At this point Fiona had played the band's music for me on our drives to and from school and various appointments, but I hadn't paid it much attention. Fiona was into them, and it would be fun to go to a gig together. Little did we know how this would play out.
In early September the band's singer Cody Carson had to undergo vocal surgery, and they had to postpone that leg of their tour. The Utrecht gig was rescheduled for 6 April 2020, and moved from the 450-capacity venue of De Helling to the 650-capacity Pandora room at Tivoli Vredenburg. Looking good, guys!
Hmm, April 2020. Yeah, that didn't happen. The band announced in March that the April dates would be moved. In early April they rescheduled the dates, and the Utrecht one was moved to 8th September 2020. How hopeful we were back then!
Sooo…the pandemic lasted a while. In July 2020 the band recognized that September wasn't going to happen, and they rescheduled the dates for May 2021, now calling it "Midnight World Tour: Part Four the love of god don't make us reschedule this again"
How charming that we all though 2021 would happen. In April 2021 the European dates were rescheduled again (again), this time for March 2022 (Utrecht on 6th March). Surely by 2022 everything nothing else would kick it off schedule. Right?
By the start of March Tivoli Vredenburg had a "postponed" notice up on their website for the gig — perhaps unsurprising because the band was right in the middle of the launch of their new album Welcome to Elsewhere on 11 March. I called Tivoli to double-check and confirm that it wasn't going ahead. It wasn't until later in the month that the new (new (new)) dates were announced. This time… 20 November 2022.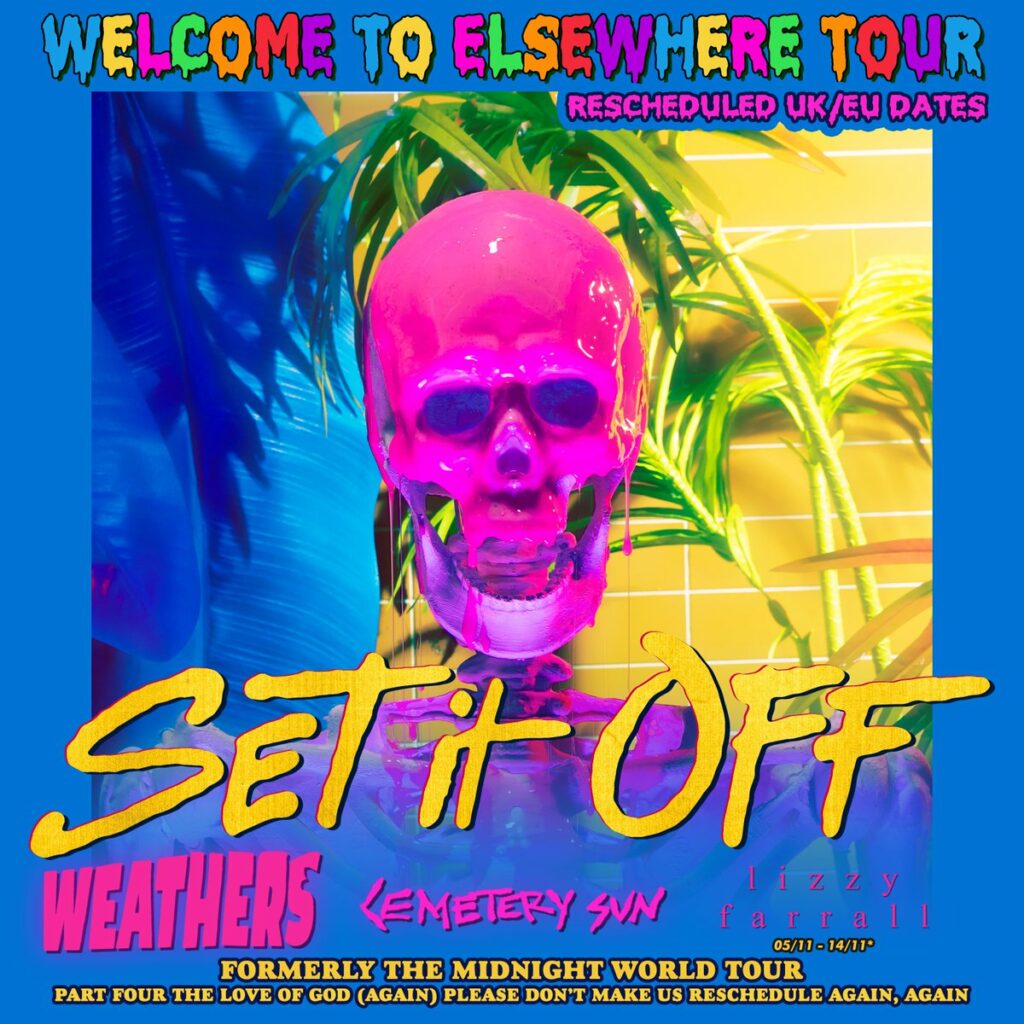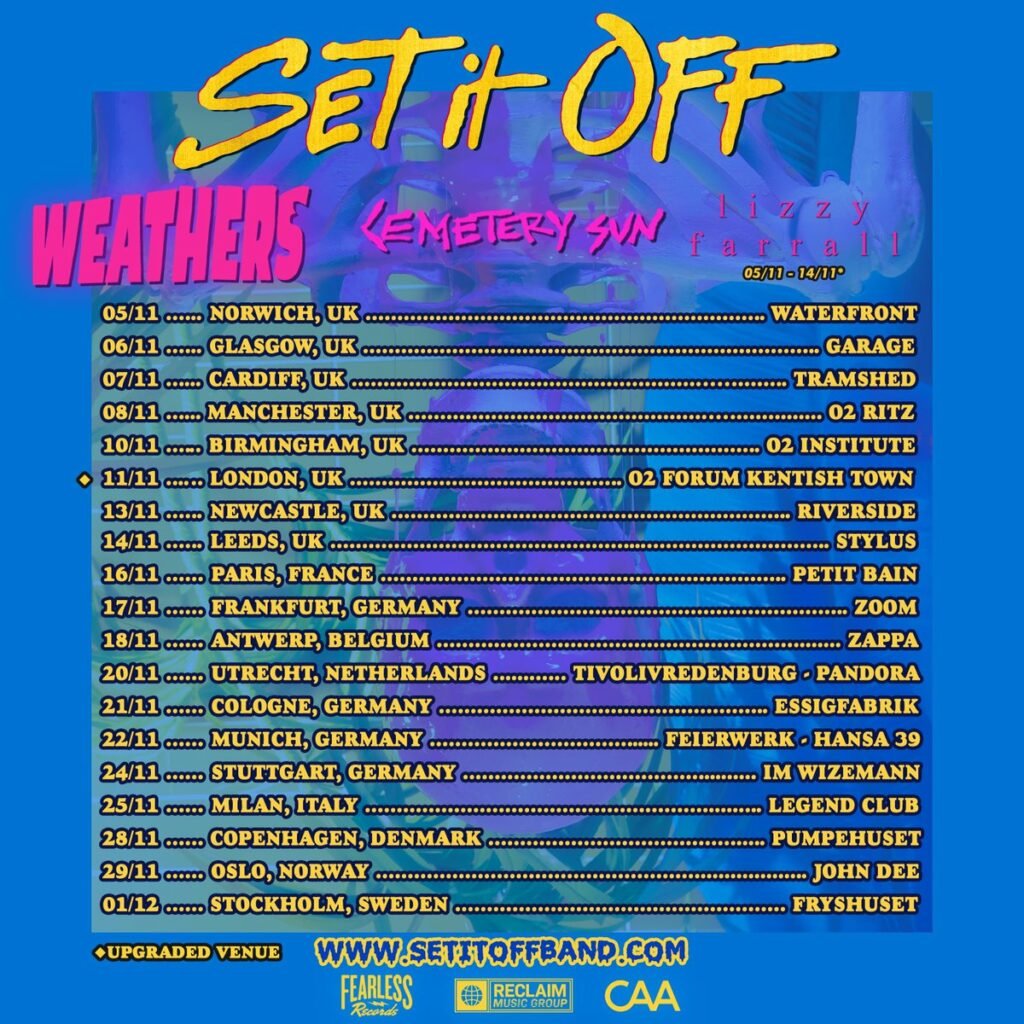 Okay, here's the problem: by the summer of 2022 Fiona had turned 18 and had moved to Scotland, so she wasn't going to be around in the Netherlands for a November gig.
But wait! The band was playing the Garage in Glasgow on 6 November! That would be much easier for Fiona to reach. Except…that gig was sold out as well.
Nevertheless, she persisted. When Fiona came back to Oostzaan for her mid-term break in October, we made plans. I still had a KLM flight voucher from a cancelled trip back in the early days of the pandemic. We used this to book flights for Fiona to fly back for the weekend of 19 & 20 November, so we could finally get to see the band together. But also, Fiona kept checking TicketMaster to see if any resale tickets came up for the Glasgow gig. Belt-and-braces approach. We'd been waiting so long that we weren't going to miss it.
And fortune smiled! The week before the Glasgow gig, Fiona was able to score a single ticket. By coincidence, I was in Scotland the weekend of 6th November as well, and I took the train over to Glasgow to meet up for a bite to eat before the gig. Fiona had bought a VIP upgrade, and I dropped her off at the doors just before she and a couple of dozen others got invited in for a meet-and-greet and photo session before the show.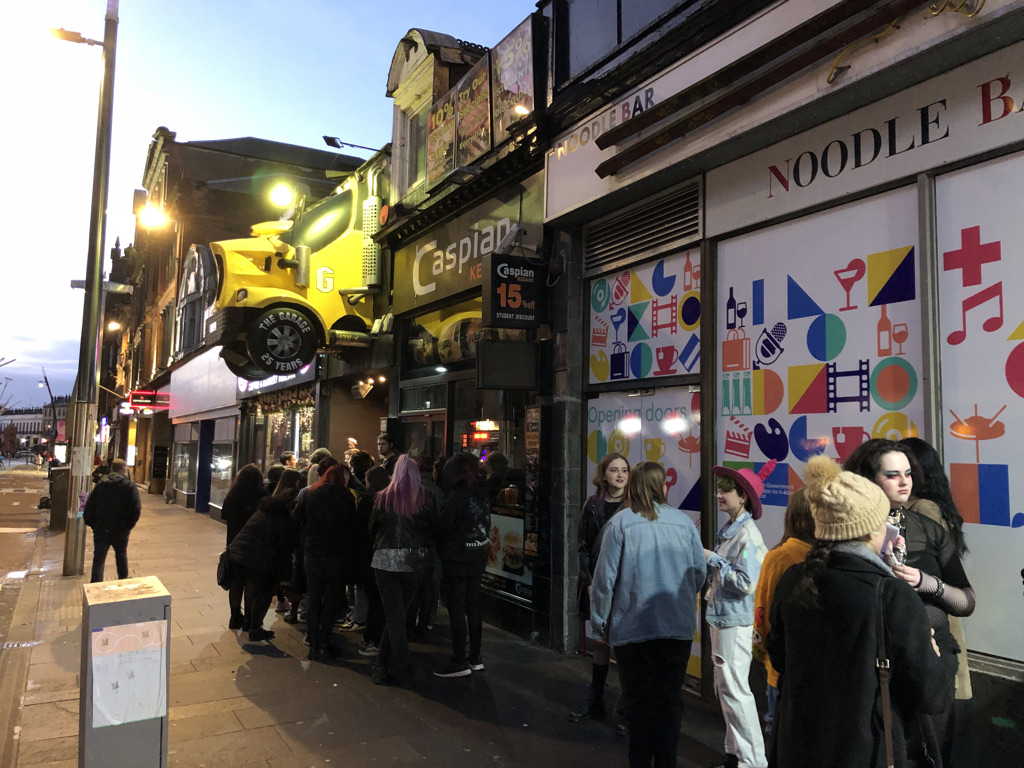 Mission accomplished! After a three year wait Fiona finally got to see one of her favourite bands, and she had a great time. The critical dependency on everything going right for the flights later in the month was gone.
Which was just as well, because the week after the Glasgow gig and just days before she was due to fly back to the Netherlands Fiona tested positive for Covid, and she couldn't come over after all. But at least she had got to see them once.
All's well that ends well, right? Well…the story doesn't end here.
By this time, I had also got really into the band, and I was super excited about seeing them live. Their latest album Welcome To Elsewhere is a slight departure from Midnight: a little less emo and a little more power-pop-punk; a little less Panic! At The Disco and a little more Marianas Trench. The music videos and promotional material for the tour feature the band with vibrant backdrops and multi-coloured hair. I found myself with the desire to do something a bit off-the-wall for myself…
Long time ago, I used to dye my hair spiky blonde. Fiona and I had hatched a plan to dye my hair a bold colour for the gig. Before she got sick we thought we'd do it in secret just the two of us, so it would be a surprise for Abi. But when Fiona couldn't make it over after all, I brought Abi in on the plan. Abi helped me select the necessary hair products, and we bleached and then coloured my locks a bright indigo blue last Saturday.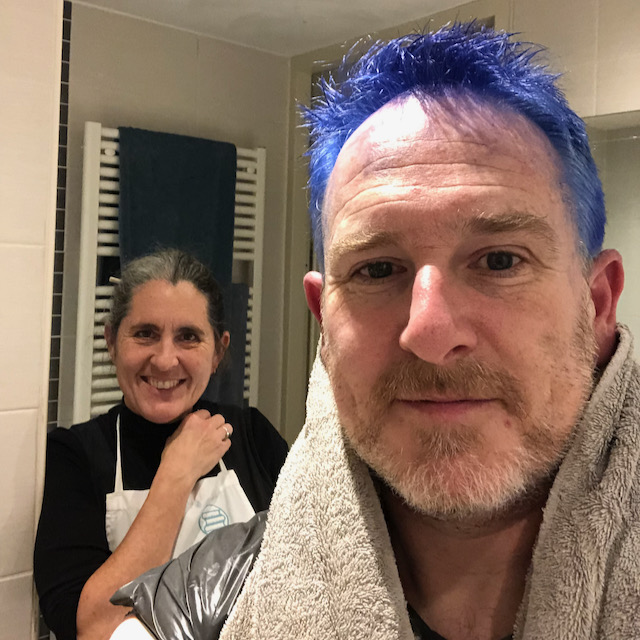 Fiona joined us on a video call while it was all in progress. It was great fun, and I look fabulous.
It's still not over.
Inspired by Fiona's VIP experience, I bought a VIP upgrade package for myself. The top tier package was sold out for Utrecht, but the "ordinary" upgrade, with a signed poster, a souvenir flag, and a photo op with the band was still available. (If Fiona had been able to come across, I would have got this for both of us, but that didn't work out.) On Sunday evening I set out for Utrecht just after 16:00. Doors were at 19:00, but the advance email said to be there an hour and a half before. It was raining heavily and the drive was slower than expected, but I still got parked near the venue at about 17:15, and then had a short walk over to Tivoli Vredenburg.
Inside, there was a group of about 20-30 people waiting in a marked-off area. Judging by their appearance (Set It Off shirts and hoodies, coloured hair) I figured this was the queue for the gig and VIP entry. I checked with a staffer, and they said, "Oh the VIP experience? That started half an hour ago." They pointed me over to the ticket check by the escalator, and I rushed over, hoping I wasn't too late.
When they scanned my printed ticket (from back in 2019, remember – and still marked as for "De Helling") the scanner beeped and flashed red. Barcode not recognized. Sorry. The other ticket (I'd brought both) was the same.
I've bought concert resale concert tickets before, and this was the first time I've had a problem. The tickets weren't old-fashioned physical pre-printed tickets, but rather PDFs downloaded from TicketMaster, uploaded to Viagogo by the buyer, and re-sold to me. (Like NFTs, only without the cryptographic guarantee of a blockchain. Don't worry, I'm not going there.) They still had the original buyer's name on them, but that has never been a problem for me before. Maybe it was because the gig had gone through a venue change and so many reschedulings? I walked over to the ticket counter and queued up there to ask for help.
The ticket counter was not terribly helpful. They checked the barcode, and found it wasn't in their system. They don't have access to the back-end ticketing system for TicketMaster or De Helling. Sorry. Nothing they could do.
I think I'd been mentally preparing myself for things to go wrong on the way to this concert, so although I was disappointed, I wasn't feeling angry or tearful. At least Fiona had got to see them two weeks ago! And if she had not caught Covid, and had in fact flown over for the weekend only to be stopped at this hurdle – I think I would have been more upset because I would have felt responsible for it.
But I didn't give up yet. There were more avenues to explore. I retreated to a quiet corner of the foyer and looked up the customer support number for Viagogo. To be honest, I was pleasantly surprised when I found that they had a live customer support number, and that it was staffed late on a Sunday afternoon. The person I spoke to was clearly reading from a script. They asked me if I had any evidence that I'd failed to get in with the ticket they'd sold me. At the time I thought this was weird — they want me to take a selfie with the guy scanning the tickets? — but on reflection makes sense. But I'd left the queue already, and it would have been hard to do while I was talking on the phone.
Their first approach was to see if I wanted a refund. No. I'd paid for the tickets (including their 30% "processing fee") three years ago, and the money was (fortunately) no longer relevant. I wanted to see if they could do something about the tickets, but I didn't see what they could do. They said they'd escalate my call, and promised to call me back in 10 minutes.
After getting off the phone I spent a good fifteen minutes resetting my password and trying to log in to my Viagogo account on both their website and their app. Eventually I got in and tried to re-download my tickets, in case the versions I'd printed off previously (at least a year ago) had been updated. The site and the app showed me a link to the tickets, but clicking on it only gave me an error.
It was about 18:30 by this point. I wasn't giving up yet. While waiting for a callback from Viagogo, I called De Helling to see if there was anything they could do. A very helpful staffer took my details, and said he'd call the ticket desk at Tivoli and see what was up. A few minutes later he called back and said that he couldn't get through, and asked if I could give my phone to someone at the ticket desk. Fortunately the queue was relatively short, and I handed him over to the staffer I'd spoken to earlier.
After they conferred for a while, the outcome was this: it's possible that the person who originally sold their ticket (issued by TicketMaster) to me (through Viagogo) had requested a refund from TicketMaster at some point during the postponement and rescheduling. Viagogo isn't integrated with TicketMaster, so when TicketMaster sent out email updates about the gig, they would have been sending them to the original buyer, who may have seen a "click here to get a refund" link and taken advantage of it, even though he'd already sold the ticket. If so, [REDACTED], you're a dick. What the hell, dude. Not cool.
However, another possibility was that the ticket reseller (Viagogo) still had to send through last-minute adjustments. Apparently Tivoli were expecting a "new batch of barcodes" at 19:00, so as a last resort I could try scanning my tickets again after that time.
I sat down for a while and watched the queue stream through past when they opened up admission at about 18:50. When the initial rush had passed twenty minutes later, I went up to try my tickets again, but still no joy. The staffer with the scanner was totally cool about me taking a busted-ass ticket selfie. This wasn't the first time he'd seen this.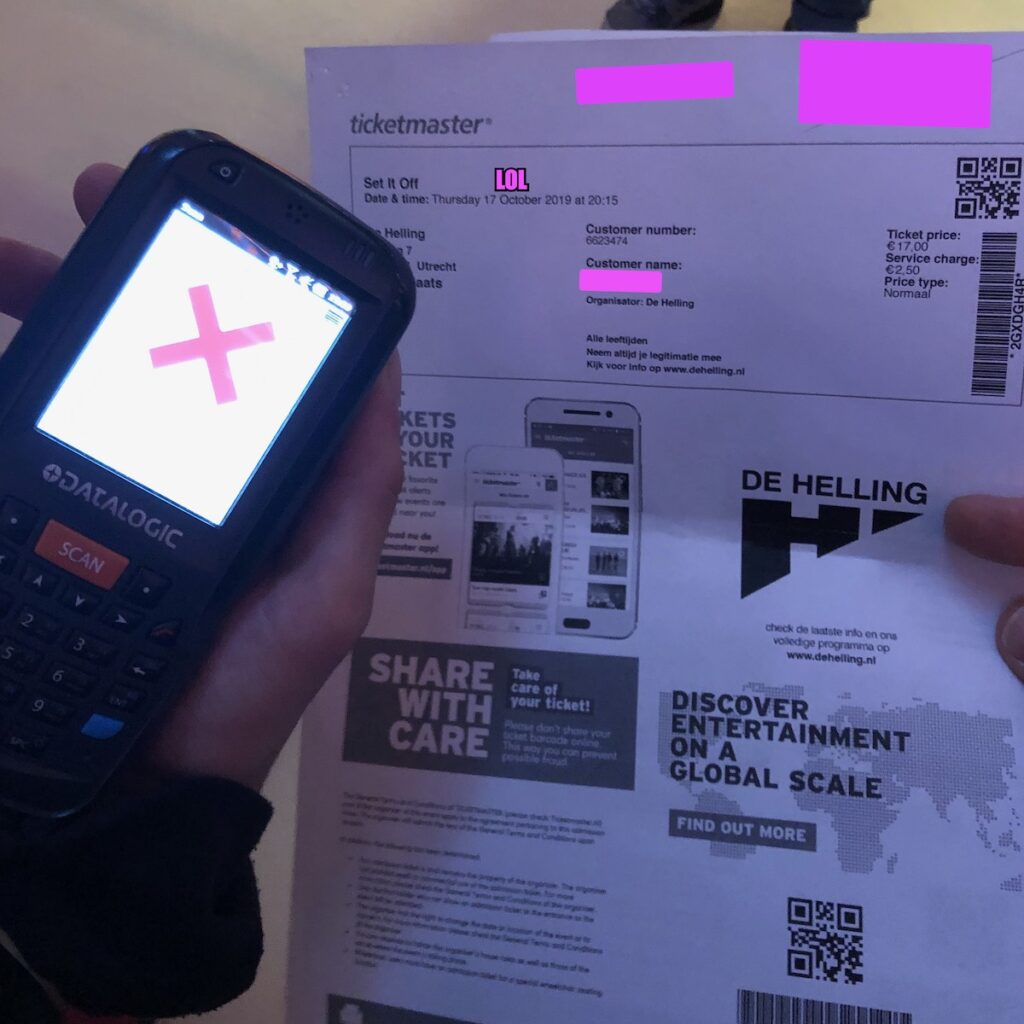 Viagogo still hadn't called back. I retreated to a quiet corner of the foyer and was tucking everything back in my bag when a Tivoli staffer came up to me and said that they liked my hair colour. Aww. I must have been looking sad, and that was a really nice thing to do. (In general, Tivoli is a fantastic venue.)
I left the building and started walking back to the car. I'd parked in one of the multi-storeys of the Hoog Catherijne complex, and had to pass through the shopping centre to get back. Given some of the negative reviews I'd read while I was waiting, I didn't have much hope of Viagogo calling me back after an hour and a half of nothing. But I had come this far, and I would regret getting home without having given it one more try. So I found a quiet spot and called Viagogo again.
And this time, after about ten minutes on the line to a different person, they somehow found a pair of replacement tickets (even though I only needed one). I was flabbergasted and delighted, and not just a little apprehensive. These tickets were, again, PDFs that had made their way through the Viagogo system, but they were issued by Tivoli, for the 6 March 2022 version of the gig.
It was about 19:35. I hurried back to Tivoli and made my way to the foot of the escalator where the tickets were being scanned. While I was waiting in a short queue, another Tivoli staffer came over and asked if I was okay, because she'd seen me rushing back and forth, looking frantic. (And I guess with bright blue hair at my age I may have been somewhat memorable?) I gave her a super brief recap of what had just happened, and she walked with me while I held up my phone to the staffer with the scanner. And after turning up the brightness on my screen to get a good reading…I got in! I turned and beamed at the staffer who'd stood with me, and she gave me a big smile back. Lovely people.
(Kudos to Viagogo: they came through in the end…after repeated calls. That said, this experience has dampened my enthusiasm for resale tickets that are just second-hand PDFs.)
I'd blown past the time slot for the VIP experience, but I didn't care any more. I took the escalator upstairs to the 6th floor. There was a long queue for the merch stand in the foyer there, probably about 60-80 people long. The Pandora room was up one more flight of stairs. Trembling ever so slightly with relief, I waited in the merch line while the sound of the opening act, Weathers, drifted down.
It was about 20:25 by the time I got to the stand. I picked out a T-shirt, and asked the merch guy if there were any posters. "Nah," he said.
"They were just for the VIP experience?" I asked. "I was on the list, but I had a problem with my ticket and didn't get in on time."
"Oh okay," he said. "Let me check for you." He rummaged around behind the screen behind the stand, and came back with a banner and a signed poster.
"Oh wow," I said. "Do you need to see my ticket to prove I was on the list?"
"Nah, mate, you're good."
Flabbergasted and delighted again, I paid for the goods, then grabbed a locker and stashed my bag and jacket and merch haul. I went up the stairs to the 7th floor, and I opened the doors to my first concert since February 2020.
Skeleton
Projector
Killer In The Mirror
Why Do I
Ancient History
Lonely Dance
Who's In Control
Unopened Windows
The Haunting
Nightmare
Loose Cannon
Dangerous
9-song medley: Dream Catcher, No Disrespect, Upside Down, Uncontainable, Third Wheel, Different Songs, Bleak December, Admit It, Partners In Crime
Bad Guy (with drummer Maxx taking a turn on vocals and ukulele, while Cody took over on drums)
N.M.E.
Hypnotized
Why Worry
Encore:
Wolf In Sheep's Clothing
(I was happy to find that my memory palace technique for remembering set lists still worked. I was a bit shaky on the songs in the medley, though, because some of them were from their older albums, and I've spent most of my time listening to Elsewhere, Midnight, and Duality.)
The show was wonderul, and not just because it was my first live music in two and a half years. The band looked like they were having a ton of fun on stage. Singer Cody Carson has and infectious smile and terrific charisma, and he easily got the adoring crowd chanting and jumping and waving in unison. It was a well-rehearsed set, full of energy, swelling chords, and heavy guitar riffs. I was glad I'd brought hearing protection.
Was I the oldest person there at the gig? Yeah, maybe. Do I care? No. Was I glad I'd dyed my hair for the event? Damn right.
I've missed live music a lot.