Yeah, it's been a while. My notes document where I track all of this first got big, then got oppressive. You know when you leave a chore for so long that you dread tackling it? And you have to figure out what feels worse, the guilt of ignoring it for so long, or the work involved in getting down to it. It's not like I'm contractually obliged to keep track of my media consumption; I do this to myself. This is why I'm often wary of "traditions". You do something fun or nice once, and it feels good. You do it a second time to recapture the vibe. Do it a third time, and it becomes an expectation.
(Whose expectation? My own? That of other people? Of the unrealistic perception I have of other people?)
Books
⭐️ Becky Chambers – A Psalm for the Wild-Built || A gift from former colleague and ongoing buddy Drew. I'd enjoyed her Wayfarers series. This is different, not quite my usual fare, but pleasant and calming.
Michael E. Mann – The New Climate War || Good, but should have been shorter.
⭐️ Douglas Adams and Mark Carwardine – Last Chance to See || This is thirty years old now, but still very relevant. I used to be a big Douglas Adams fan. I listened to the radio plays of the Hitchhiker's Guide on BFBS when I was very young; I bought Dirk Gently's Holistic Detective Agency in hardback as soon as it came out. I'd known about Last Chance To See for a long time, but just never got round to it. Around this time last year I was contemplating buying a new camera, and I found myself watching a lot of videos about bird and wildlife photography on YouTube. This included Mark Carwardine's BBC Wildlife Photography Masterclass series. After watching the series (and rekindling a life-long ambition to go to Antarctica, possibly as part of a photography workshop) I finally bought and read this book. Douglas Adams' writing is irreverent in a way that I now sometimes find slightly annoying, but it's still a very good read. Environmentalism has come a long way since 1990, but the pace of global ecological destruction is still accelerating. As Michael Mann points out in his book, it's easy to fall into despair because there seems to be so little we can do as individuals. That kind of false consciousness and learned helplessness suits the established interests of the fossil fuel industry. We can rage against the machine. I have hope.
⭐️ Naomi Kritzer – Catfishing on Catnet || YA near-future adventure about a girl who discovers that the internet forum she's part of is actually moderated by a sentient AI.
⭐️ Jamie Mason – Three Graves Full || We've had this book on our shelves for a decade, and I only just got round to reading it. Sharply written mystery romp about a man who finds that the body he buried in his back garden isn't the only one there.
⭐️ Richard Osman – The Thursday Murder Club || Cozy murder mystery set in a retirement community, with a group of retirees playing detective and trying to hide their own secrets from each other at the same time. Perhaps not great literature, but definitely great fun.
⭐️ Richard Osman – The Man Who Died Twice || More of the same. Keep it coming.
⭐️ Herminia Ibarra – Working Identity || Ibarra's work on provisional selves posits that we don't so much plan our careers and working lives so much as we try things out and see what works. We don't really know what we want until we experience it. We're constantly working to evaluate our working identity in the light of role models, our own experiments, and feedback from others. This book is a set of case studies, primarily among white-collar, affluent Western professionals, which Ibarra herself acknowledges as a limitation. Given that's a class to which I belong, it has relevance for me. I read this during covid isolation, at a time when I was going through a lot of soul-searching about my own career.
Yevgeniy Brikman – Terraform Up and Running || Work stuff. Has a good opening chapter covering the importance of infrastructure-as-code.
⭐️ Christopher Fowler – London Bridge is Falling Down || Bryant and May mystery, brilliant as always. Unfortunately this one ends the series.
Alastair Reynolds – Inhibitor Phase || Fine, but not super-memorable.
Denzil Meyrick – The Last Witness || I wanted to start this series on the first book (Whisky from Small Glasses), but I couldn't find it in any of the bookshops I hit during our holiday in Scotland in the summer. This is the second book, and still early enough that I feel like I hadn't missed too much. Good rural Scottish police thriller. Very Scottish. Would happily read more of this.
⭐️ Harry Connolly – The Iron Gate || A new book in the Twenty Palaces series! Kick-started and self-published. Ray Lilly finds himself ensnared inside an artificial world, robbed of his memory, and bound by magic to act out scenarios of someone else's making. Can he break free and save the other people caught up in this nightmare? Hard-boiled urban fantasy. The Twenty Palaces series hits just the right notes for me, and I loved this new one.
⭐️ Fiona Staples and Brian K. Vaughan – Saga vol 10 || Back after a long hiatus. Still amazing. I've been following Saga for a long time. Definitely since 2014, but I don't remember when I picked up the first volumes. I think it was at a comics shop in Brighton when I was there for a dConstruct conference. (This could make it Dave's Comics.) I blogged about going to dConstruct in September 2012, which is also when I started my hobby of marathon-length urban walks. Or was it 2013? According to my records of that year I bought a ticket, but unlike 2012 I don't have any strong memories of being there. The conference was on Friday 6 September 2013. I have three photos from Jules & Becca's house dated 7th September, so that's consistent with me being in Brighton then. But while I remember Becca's courgettes, I don't remember the conference. I do remember giving Jeremy Keith a copy of Bob Shaw's Other Days, Other Eyes, because of an earlier conversation, but was that 2012 or 2013? Ugh. The book I'm currently reading, Stumbling on Happiness by Daniel Gilbert talks about how our memories are more like a reweaving of experiences rather than a retrieving of them (p79), and how what we think we remember is often very different from what actually happened. I've started using LogSeq at work, and been thinking a lot about memory recently. Hmm. Anyway – me buying the first collected edition(s) of Saga in September 2013 is more consistent with their publishing history. So let's go with 2013.
Films
⭐️ Army of Thieves || Fun heist romp. Prequel to Army of the Dead, focusing on just one character from that film, safecracker Sebastian/Ludwig. I'm always up for a heist flick.
⭐️ Shang-Chi and the Legend of the Ten Rings || Fun Marvel superhero romp. Good review of the San Francisco bus fight scene from an actual San Francisco bus driver.
⭐️ The Suicide Squad || Much better than the first one.
⭐️ No Time To Die || As Bond films go, this one is totally out of left field. Nasty villain, check; big globe-trotting set-pieces, check; hard-boiled Bond quips and fight scenes, check. But way more angst, emotional expression, and character growth? I digged it.
The Matrix Resurrections || Good, but uneven. Shines a light on the characters and especially the themes of the original, but leaves a lot hanging.
⭐️ Don't Look Up || Satire so sharp it's hard to watch.
The Tomorrow War || Time travel invasion kill bugs protect humanity. It passes the time.
Encanto || The first five songs are burned into my skull from driving Fiona back and forth to AICS and appointments, and listening to the start of the soundtrack over and over again. This isn't a bad thing. The film is fine.
The Kingsman || Meh.
⭐️ Kimi || Tight, claustrophobic Soderbergh thriller that properly acknowledges the pandemic.
💩 Red Notice || I said I'm always up for a heist flick, didn't I? I'm generally always up for Ryan Reynolds, too. This was just disappointing all round.
⭐️ The Adam Project || Ryan Reynolds. Time travel. Okay, this one works for me. Walker Scobell playing young Adam is fantastic.
⭐️ The Protégé || Heist/assassin mentor/mentee revenge thriller thing. Pretty good.
⭐️ Spider-Man: No Way Home || Multiple Spider-Men. Multiverse. Marvel. They're good at this.
💩 The Bubble || Awful. The opposite of funny.
Kong: Skull Island || Big monsters. Fine.
Godzilla vs Kong || More big monsters. Also fine.
The Batman || Small monsters, the human kind. Fine.
💩 The Hitman's Wife's Bodyguard || Awful. Just awful. Yeah, I know I said I'm always up for Ryan Reynolds.
⭐️ Ford vs Ferrari || Gorgeous, intense film about the passion of racing and rivalries.
⭐️ The Wall: Climb For Gold || Documentary following climbers on their way to the Tokyo Olympics, where climbing debuts on the programme. Remember that the Tokyo Olympics were postponed by a year because of the pandemic? That plays havoc with training and performance schedules. Nail-biting, emotional.
💩 Venom: Let There Be Carnage || Dumb.
⭐️ Dawn of the Planet of the Apes || Good.
⭐️ War for the Planet of the Apes || Also good.
💩 All The Old Knives || I do like a low-key espionage thriller that focuses on the people rather than on the action, but this was dull. So dull.
Cash Truck || Grim. Kept hoping it would become less grim. It didn't.
⭐️ Last Night In Soho || I hadn't seen a trailer and didn't know what to expect of this. Charming and exciting, cleverly filmed, with a bunch of unexpected twists. Very good!
⭐️ Hustlers || Engaging story about a group of exotic dancers who find ways to exploit back.
⭐️ Murder on the Orient Express (2017) || Sumptuous, gorgeously filmed, meticulously performed. Branagh as Poirot brings a completely different energy to the character.
⭐️ Death on the Nile (2022) || See above. Also very good.
⭐️ Everything Everywhere All At Once || Weird and amazing.
The Princess || Tough-as-nails princess fights her way out of the tower and saves the kingdom. Good fight choreography, but otherwise forgettable.
Ghostbusters Afterlife || I don't think this is a particularly good film, and it tries too hard to echo the elements of the original without literally repeating them. Buuuuut… I found it kinda charming nonetheless.
The Gray Man || Big, epic, JasonBourne-ish, CaptainAmericaWinterSoldier-ish. Lots of action, and some fantastic set pieces, but I felt that it lacked heart.
Thor: Love and Thunder || First film I saw in the cinema since the start of the Pandemic. Fiona and I watched it in the Spey Valley Cinema in Aviemore when we were in the Highlands in the summer. It's good, but I felt that it often leaned too heavily on jokes and character beats already established in previous films.
Joker || Well-made, but grim. It doesn't make Joker a sympathetic character. Rather, it shows more clearly where he might be coming from. "Some men just want to watch the world burn." Watched this with Mum & Dad while I was staying with them last month. Not exactly a family movie, but hey.
DC League of Superpets || Just because Fiona lives in Perth now doesn't mean we can't go out to the cinema together every now and then and watch silly kids' movies. Ach, it's fine. Would have been better if I'd remembered to pay for my parking before leaving the car park, though. £60 ticket. (Reduced to £30 for paying within 14 days.)
Samaritan || Fairly straightforward ageing superhero in retirement (hidden) story. Not bad.
Episodic Video ("TV")
⭐️ Ted Lasso season 2 || Proves that the excellent first season wasn't a fluke. I got a bit confused by the timing of the Christmas episode, though.
⭐️ Hawkeye season 1 || I enjoy the Hawkeye character. I love the Matt Fraction/David Aja incarnation, and this show picks up many elements from that run, including the tracksuit mafia.
Star Trek Discovery season 4 || Uneven, but still good.
⭐️ The Witcher season 2 || Excellent.
La Casa de Papel season 5 ("Money Heist") || Not as compelling as earlier seasons, but rounds off the story well enough.
Reacher season 1 || Hmm. This incarnation of the character is closer to the books than the Tom Cruise version, and the story is fine…but I just didn't care for the characters all that much.
⭐️ The Expanse seasons 5 and 6 || Excellent.
⭐️ Severance season 1 || Amazing. I wrote a whole separate post about it.
⭐️ Moon Knight season 1 || Uneven, but good and interesting. Oscar Isaac's performance is excellent; made me think of Tatiana Maslany in Orphan Black.
⭐️ Slow Horses season 1 || I love Mick Herron's Slough House books, and I was excited about them being turned into a show. I was initially unconvinced by Gary Oldman as Jackson Lamb, because he didn't match the picture I had in my head. But he grew on me. Looking forward to more seasons of this.
⭐️ Beforeigners season 1 || Out of nowhere, people from different eras of the past (1800s, viking times, prehistoric times) start showing up in the present. The story follows one Viking woman, Alfhildr on her first case as a police detective, matched up with another cop who has become addicted to a drug used to treat temporal displacement issues. They fight crime! I heard about this on the Imaginary Worlds podcast. Although I enjoyed season 1, I couldn't find my way into season 2. In season 1, the characters from the past felt larger than life, but grounded. In season 2 they just felt a bit over the top?
⭐️ Better Call Saul season 6 || Excellent.
⭐️ Love, Death, & Robots season 3 || Excellent, snackable, SF short stories for the small screen.
⭐️ Locke & Key seasons 2 and 3 || Excellent. After season 1 I'd been afraid they would get cancelled and leave things hanging, but they round out the whole story to a satisfying conclusion. I thoroughly enjoyed the comics, and the TV show does them justice.
⭐️ Stranger Things season 4 || I still enjoy this, but it's definitely dragging things out.
⭐️ Russian Doll season 2 || I wasn't sure where they could take this after the original season, but instead of a time loop, they do an interesting time bridge thing instead. It's still very funny, but it also turns its gaze on more serious themes.
⭐️ The Flight Attendant seasons 1 and 2 || Like Russian Doll, this is a great blend of funny and serious. Digging into relationships and alcoholism and despair while keeping things light with a humorous murder and espionage story is a fine line, but it works.
⭐️ Only Murders In The Building seasons 1 and 2 || Genius. I'd seen big billboards advertising it as we drove through London on our way to and from Jules & Becca's wedding in early July. Abi & I watched season 1 while we were in Covid isolation afterwards.
⭐️ Our Flag Means Death season 1 || Excellent. More Covid isolation viewing.
⭐️ Sandman season 1 || A bit slow-moving in parts. Updates the characters to be more diverse, while remaining faithful to the original comics.
⭐️ Brooklyn Nine-Nine season 6, 7, and 8 || I stopped watching this in mid-2020, after the George Floyd murder, when the term "copaganda" entered my vocabulary, and many of the show's japes suddenly seemed a lot less funny. The showrunners did a lot of soul-searching as well. Season 8 is shorter than previous seasons, and it performs an interesting feat of critically examining what has come before, and reflecting on their portrayal of police behaviour. And it does this while staying funny.
⭐️ Peacemaker season 1 || I'd heard good things about this. Wasn't sure if I would like it, because the Peacemaker as shown in The Suicide Squad is not a likeable character, and not someone I really wanted to watch joking around. But the show acknowledges this, and takes the time to steer him round. The supporting cast is good. And the opening title sequence? I normally skip opening sequences, but I found myself mesmerized by this one every single time.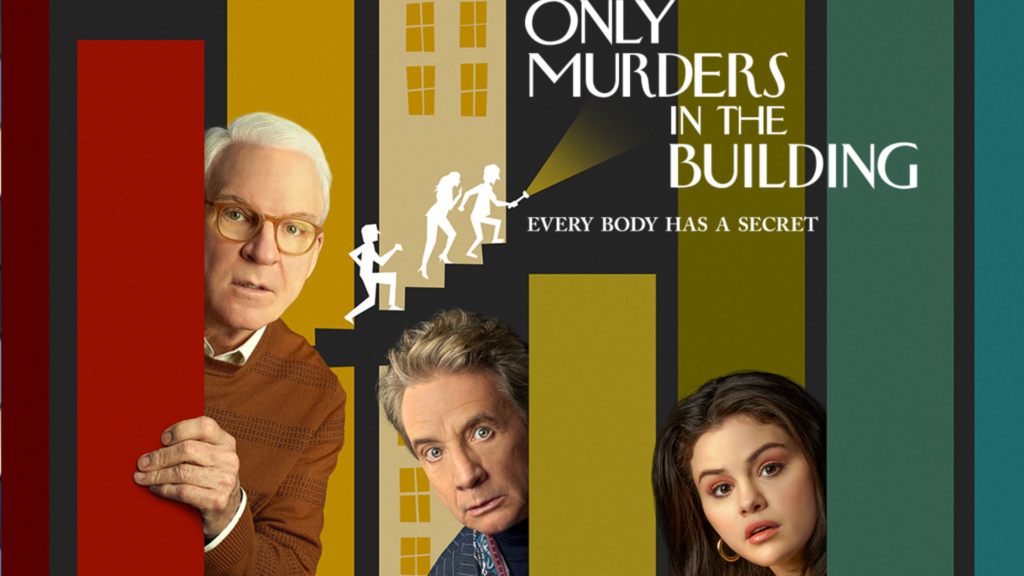 Okay, backlog cleared. That wasn't so bad. But still don't want to let it get so long again. Promises, promises…