I'm quite excited about the next couple of days: flying to London this afternoon, followed by a late supper with Jules & Becca; dConstruct conference tomorrow; walking across London on Saturday.
dConstruct is a conference I've heard lots about, and have often envied people for attending, especially because it is (relatively speaking) nearby and inexpensive. So I'm taking the plunge this year. The line-up of speakers is terrific: James Burke would be worth the ticket price alone, but having watched recordings of some of Jason Scott's talks and enjoyed his Get Lamp and BBS documentaries, I'm sure he'll deliver something amazing. Scott Jenson gave my favourite presentation at Mobilism earlier this year, and I've been using Seb Lee-Delisle's canvas examples from his talk at Fronteers last year as a starting point for teaching my kids some JavaScript. I've admired Ben Hammersley since the very early days of personal blogging over a decade ago, and Tom Armitage's blog Infovore is another long time favourite. It's going to be fantastic.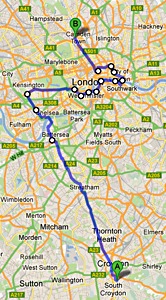 Then on Saturday I plan to get up before sunrise, and watch dawn break as I walk some 25km across London. I'm staying at a hotel in Crawley, and I'm going to try and catch the 05:33 train from Three Bridges to East Croydon. From East Croydon I'll head north-west through Streatham and Clapham to Battersea. Cross Battersea Bridge, north through Kensington towards Hyde Park. From Hyde Park across to Westminster Bridge, and along the South Bank to cross the river again at London Bridge. West again past St. Paul's towards Holborn, and then finally up north-west to Camden Market.
My original idea had been to just take a train to just inside the M25 and then head north without a plan, and I'd still like to do that some time. But on this trip I want to spend more time winding through the centre of London.
Of course, the hardest part of preparing for a trip is deciding what computing power to bring with me. Just for reference, let me note what we (as a family) brought with us for our three-week holiday in France, so you can see how bad it can get with us:
Four laptops
Four iPads
Two Nintendo 3DSs
Three phones (2x Android, 1x iPhone)
Two Kindles
Two cameras
One 2TB ext hard drive containing our video library
One Apple TV
For this trip, I'm going to be so busy with actual activities that I won't have the time & concentration to sit down with a laptop, so that's an easy one to leave behind. So I reckon it'll "just" be my iPad, kindle, and two phones: one with my normal SIM, and one with my UK SIM for data to use as a personal hotspot. I've put the Nokia N9 back in the general pool for now, and am back on the Motorola Defy+ because it is nicely rugged for travelling, and (unlike the N9) it can sync all of my contacts. The secondary phone for data and hotspot usage will be the "Internet Puppy", aka the Samsung Galaxy Y. Small and lightweight, running Android 2.3, it is the least fussy of my devices about wireless tethering.
Clothes? What do you mean?