We were at a wedding two weekends ago, and used the busy Eurostar from Amsterdam to London to get there. The train journey was lovely, but that's probably where I picked up the disease. When we got back on the Sunday evening I had a sore throat. The following morning it was worse, and I tested positive for the coronavirus: an angry red T line that appeared even before the liquid had crept up to the C. We've been very cautious over for the last two years, and attending the wedding was a calculated risk. We masked as much as we could, but the dice rolled against us.
Fortunately we have a guest room with an en-suite bathroom that allows us to isolate from the rest of the household. Although Abi's test on the Monday morning was negative, she wasn't feeling great. As a precaution to shield Alex and Fiona, Abi joined me in the isolation chamber on Tuesday evening, and by Thursday she was testing positive as well. We've used Albert Heijn home delivery to keep the groceries flowing. Without a fridge, we've been living mostly on mueslibollen, cheese, and dry Kellogg's cereal straight from the packet.
This was a rough ride. It's only in the last couple of days that I've been starting to feel like myself again. After a week of nothing, my sense of smell has partly returned. Yesterday I actually felt bored, which was interesting. Until then I'd had a hard time concentrating on anything for any length of time. I've had a couple of books in here with me, but I only managed to finish one of them. We've watched some movies & TV shows together in the evenings, but mostly I've been feeling too exhausted to move or think.
Yesterday was a psychological low point. As well as feeling bored, I was starting to despair that this would ever end. We've been testing every day, and although my T line was fainter than the C line, I wasn't seeing much change from day to day. I was scared that my immune system just wasn't up to the task of clearing the virus, and that I'd still be in this state for weeks: the line getting slowly fainter, asymptotically approaching invisibility. Fiona is moving out next week. I'm upset that I haven't been around with them for the last two weeks, and the thought of seeing them off to the airport in a taxi on Tuesday morning was painful. I had wanted these last couple of weeks at home to play out very differently.
Today, however, I tested and it was negative. I hardly dared to get my hopes up when a few minutes passed and there was still no line. But when 15 and 30 minutes went by and the T was still clear, I felt cautious relief. I'm still coughing, but that's normal for me. (I have shitty lungs. I've never met a respiratory infection that didn't love them.) My sense of smell isn't all the way back, but at least it's recovering.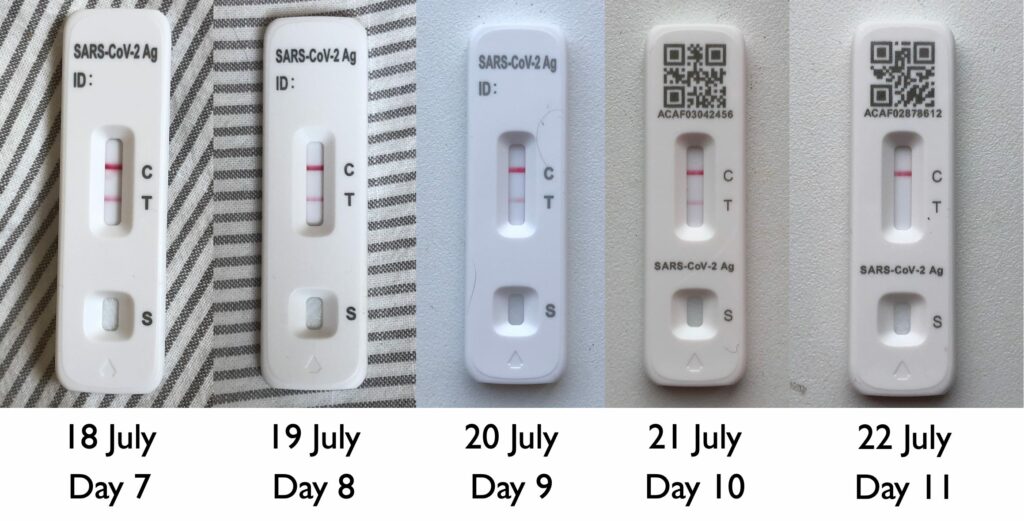 Abi is still testing positive, but her line is faint now as well, and today her C line appeared before the T line did. Also progress! But because we really don't want to run the risk of Fiona testing positive on Tuesday morning before their flight, or Alex testing positive on Friday before we head off on our big road trip, I'm going to stay in isolation until tomorrow. If tomorrow's test is negative as well, though, I'll exit. I'll probably keep wearing a mask around the house. Risk management is all about impact assessments and trade-offs. The impact of Alex or Fiona getting infected in the next few days would be really high, so extra caution is warranted.