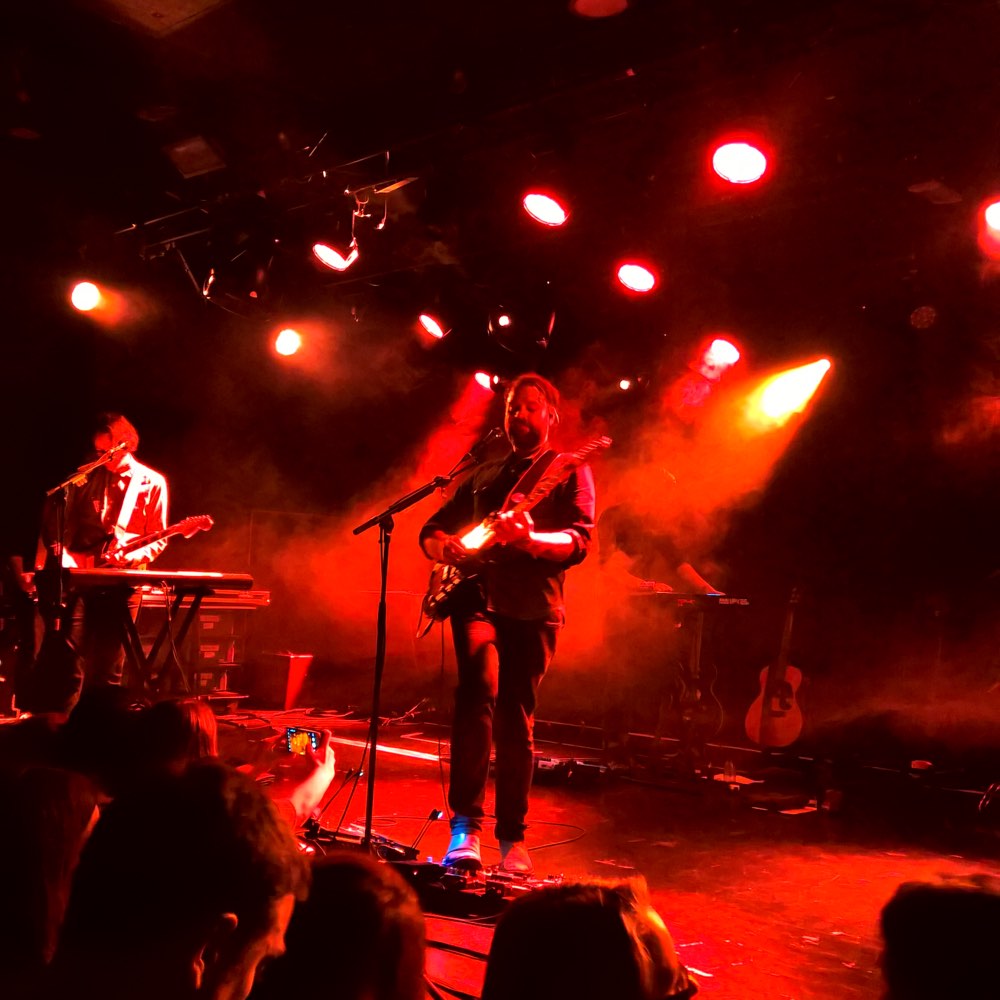 Funny story about my memory: after seeing The Joy Formidable in May I had a drink with my colleague Mike, and we talked about music and concerts. Turns out he loves Frightened Rabbit, too! We said how much we would love to see them live some time. Except I did see them in the Kleine Zaal of Paradiso in 2012, and had forgotten about the gig entirely. If I dig far enough I can come up with the vague recollection that they didn't have any merch on sale, and that I was disappointed by that fact. But apart from that? Nothing.
This lapse doesn't bother me because it's a symptom of the inevitable slide into old age and where did I put my teeth. It's more that if I don't remember the experience of seeing my favourite bands live, what is the point of going in the first place?
Of course, I don't remember every single meal I have eaten or every walk I have taken, either, and that doesn't mean those things were useless. Taking the time to feed one's soul is important as a regular activity even when it doesn't turn out to be a life-changing experience.
This gap in my memory makes an interesting contrast with the well-formed memories I have of concerts that I have written about here on my blog. Back in 2012 I may have held their set list in memory long enough to write it down, but without any more context, it faded very quickly. In the last couple of years I have got in the habit of taking pictures at gigs and writing about them. Even if the pictures are blurry and the words are minimal, the practice of spending time thinking about what I am going to say and what photographs I will choose to represent it, fixes the event more firmly in my memory. (Which is actually the whole point of this blog nowadays anyway. The strapline I maintained until recently was "I'm doing this for me, not you." I used to write things in the hope they would get read; now I write to remember.)
To be honest, sometimes this feels like a burden. Every gig has a certain amount of overhead and homework to do after I come home. Also, I think I've overdosed on concerts this year. Large arena gigs in particular are starting to feel like work rather than an exciting evening out.
So there were a number of factors that made me less enthusiastic that I could have been going to Tolhuistuin last Monday evening. Gig fatigue, general day-to-day tiredness (it's winter) and work exhaustion, embarrassment over having forgotten their last gig, and a feeling that I didn't like their new album Painting of a Panic Attack as much as their earlier efforts.
Spoiler: it all worked out fine, and I had a great time.
Paradiso Noord, aka Tolhuistuin is actually really easy to get to from here. It's on the right (North) side of the IJ, and the car parking for the A'DAM Tower is plentiful and close by. If I was less lazy (or maybe if I had finished work earlier), I would have cycled, but there you go. I didn't get there in time to see all of PAWS' opening set, but they have never really been my taste anyway. (Sorry guys.)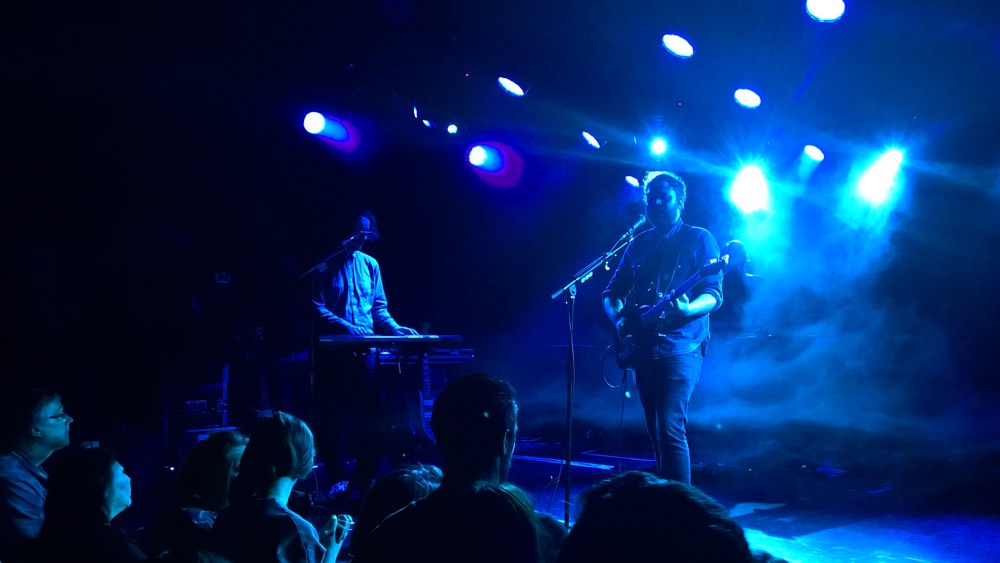 Frightened Rabbit opened with "Get Out", which I think is still my favourite track from Painting of a Panic Attack. (Haunting video.). There was a knot of folk right in front of the stage who were very excited and adoring, and kept clamoring for particular songs. Scott Hutchison appreciated the excitement, but he was a bit put off by the interruptions. "We're not your wedding band!" he declared. This didn't stop the fans from passing him a birthday card they wanted him to sign after the gig, and from placing down a line of shots on the stage in front of him just as the band were playing "I Wish I Was Sober". "I've no idea what's in this," Scott said, shrugging it off. (He did bravely down one later in the gig, though.) I think it was "Head Rolls Off" they wanted him to play, because when the band played it they all went a bit wild. It has a line that resonates very strongly with me, too: "While I'm alive, I'll make tiny changes to Earth."
The rest of the set was fantastic, too, with a mix of slower numbers and foot-stompers like "Nothing Like You" and "The Loneliness and the Scream". I really should stick to small venues. There is nothing like being so close to the stage.
Before the gig I had checked out the merch stand, as I always do. Aside from the lovely T-shirts and posters, they also had a one-of-a-kind item on the table. A used drum head, signed by the whole band, and illustrated by Scott. It was being auctoned off for charity, with proceeds going to the Scottish Refugee Council. There was a bid sheet next to it, and no-one had made an offer on it yet. "Hmm," I thought to myself.
Throughout the evening I loved watching Grant Hutchison on the drums. He keeps up a fantastic rhythm on the pedals, which was something I always struggled with when I was still playing. (It's being close to the stage at a gig that makes me miss having a kit.) When the gig was over I moseyed over to the merch table again, and was surprised to see that still no-one had bid on the drum head. I asked how the auction worked: put your name, phone number, and a bid down, and the highest bid gets it. The woman behind the table said that they'd probably finish it up in about ten or fifteen minutes. What else could I do? I bought the T-shirt and poster I wanted, counted how much cash I had left (€40), and wrote it down. Fifteen minutes later, as they were packing up the merch stand, I was the only one who had bid, so I got it. I'm delighted to have got a unique souvenir, and to have given some money to a great charity.
I think it's fair to say that this gig won't slip from my memory like the last one did.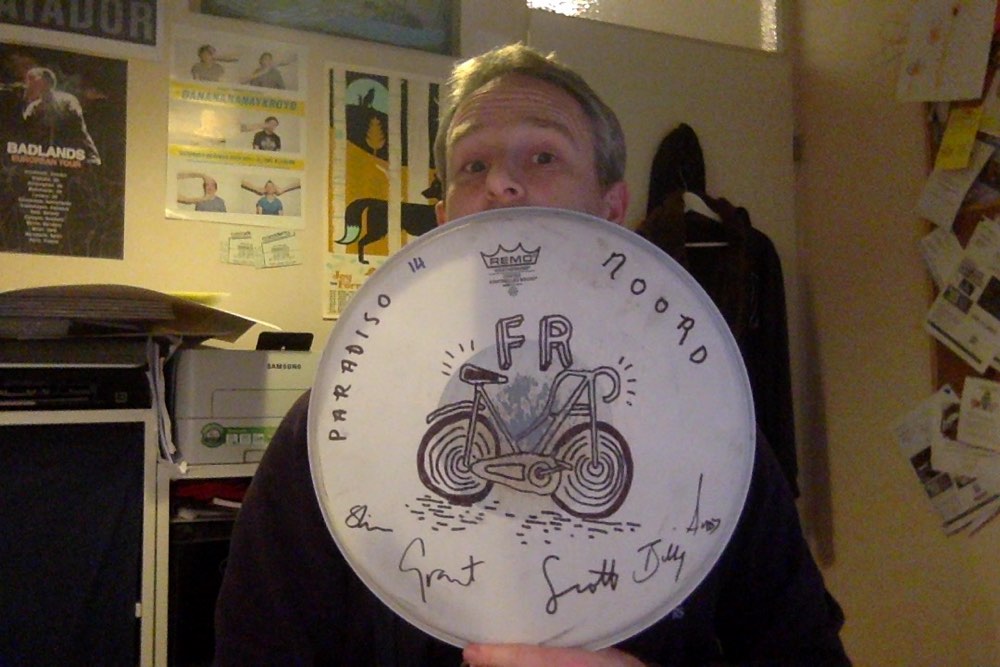 Set list (also):
Get Out
Holy
The Modern Leper
Living In Colour
I Wish I Was Sober
Head Rolls Off
Little Drum
Fast Blood
An Otherwise Disappointing Life
Blood Under The Bridge
Nothing Like You
Woke Up Hurting
Floating In The Forth
The Oil Slick
Lump Street
Encore:
Death Dream
The Woodpile
The Loneliness And The Scream