Mark was in Amsterdam over the weekend for a conference and workshop. On Sunday evening I met up with him in town for dinner and a gig at Paradiso.
We got there at about 20:45, stashed our coats, and checked out the merch. The support act was Dutch electronic/vocal duo Cut_. They were already well into their act when we opened the door and walked into the wall of bone-shaking bass. They put on a terrific show with infectious beats and very cool lighting effects that used projectors and shadows to make the most of the tall wall behind the Paradiso stage. I've listened to their debut EP Patterns since then. It's impressive, but their live act was even better. I'd definitely go back to see them as a headline act.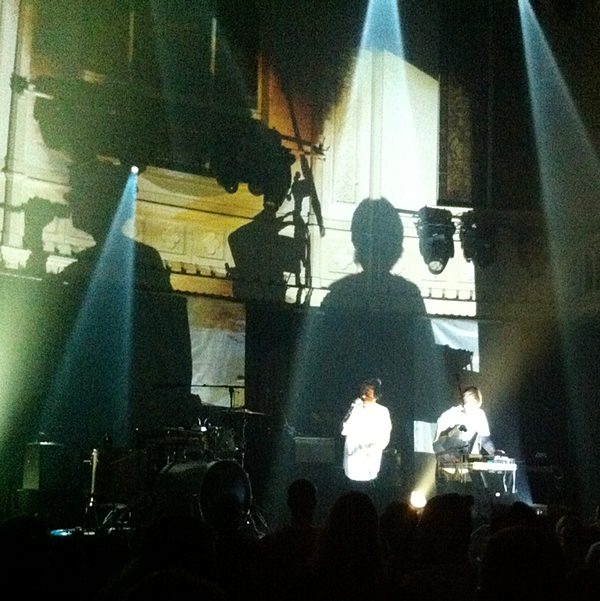 The Ting Tings — Jules on drums, Katie on guitar, and a DJ at the rear of the stage — came on at about 21:30 and launched into a drum-led version of "Wrong Club" that started slow and easy, and built up to a frantic climax. They then cut straight into "Do It Again" which had the audience bouncing, and followed with "Shut up and let me go" to get us all punching the air and shouting "Hey!"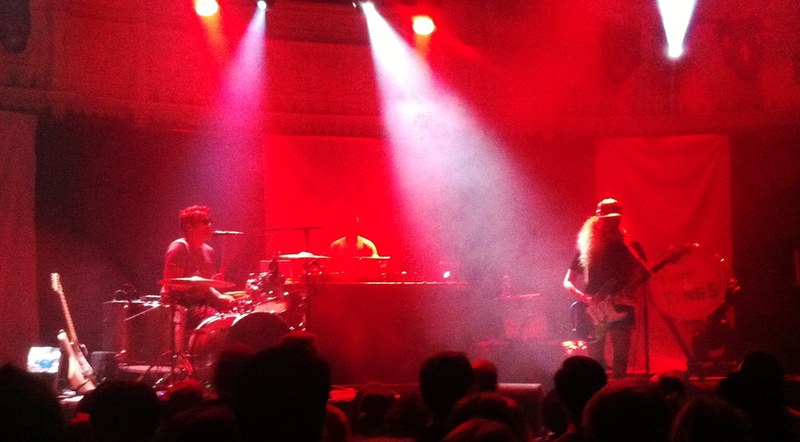 Now, I'm a huge fan of the drums, and I loved the grooves Jules was laying down — using quite different arrangements from the album versions — but towards the end they overpowered the mix. Jules's gestures in the direction of the sound desk, and occasional hollers of "down" gave me the impression they were not entirely happy with the levels. Katie's guitar was fine, but throughout "That's Not My Name", which came at the end of a relatively short set, her vocals were drowned out by the thumping bass drum.
Set list:
Wrong Club
Do It Again
Shut Up and Let Me Go
Only Love
Great DJ
Communication
Give It Back
Fruit Machine
That's Not My Name
Encore:
A mad monster 10-minute DJ-led dance remix of "Hands"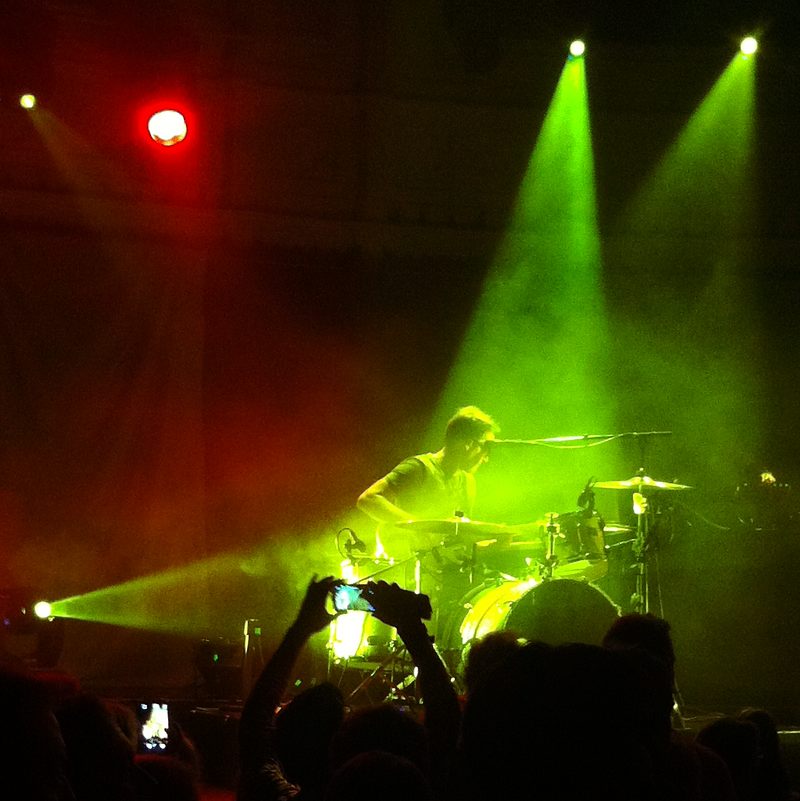 On stage they were energetic but shy. Jules seemed to take refuge behind his big dark glasses, and Katie's face was mostly hidden behind her big hair and shiny baseball cap. After the gig, though, they came out to the front of the house, and signed posters and shirts, and posed for selfies with fans.