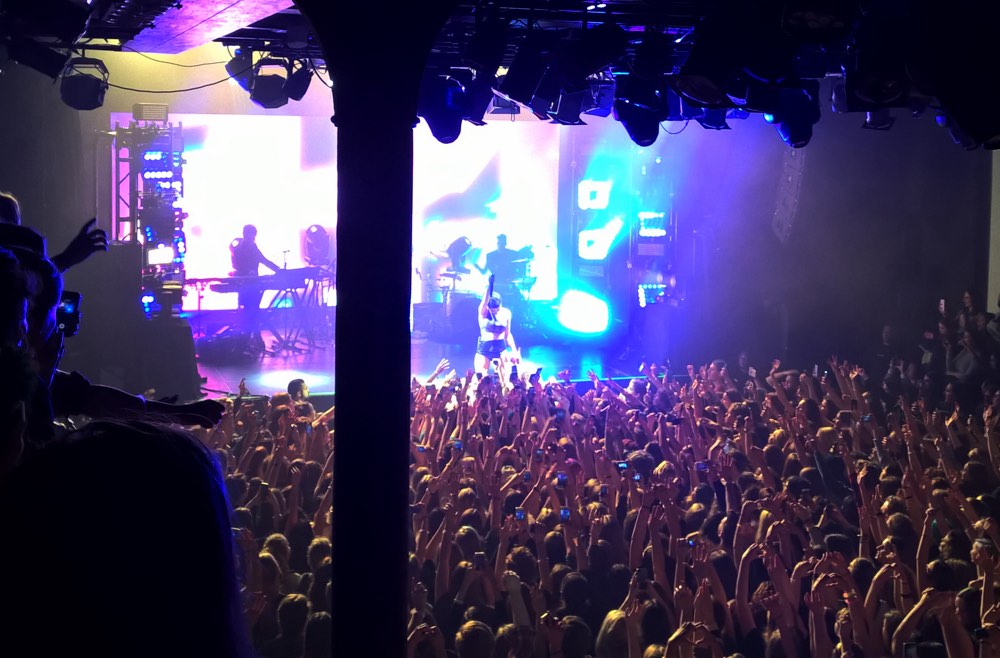 I first heard Halsey on Zane Lowe's show on Beats 1 in September of last year. In the CET time zone, we get the show early in the morning, between 7 and 8. I listen to it while I'm preparing Alex and Fiona's lunch boxes. I have my iPad mini perched on top of Abi's red coffee machine while I'm bagging up sandwiches and snacks. "Drive" came on, with the sounds of a car starting and a haunting six-note theme that repeats throughout the song and is never resolved. I was entranced. There are only a few songs that bring back such a strong memory of the time I first heard them: Loneliness Shines by Malcolm Middleton on a late night drive through Dollar in Scotland; Hide and Seek by Imogen Heap on a drive home from work along the Edinburgh bypass from the Gyle to Gilmerton, just past the ski slope. I'm amused by the fact that "Drive" is another one, when those others happened while I was driving.
So I started listening to the rest of the album Badlands and pointed it out to Fiona, who listened to it and loved it as well. By the time we were both completely sucked in, and checked to see if she was touring near us, it was too late – her gig at Melkweg (which had already been moved from the Oude Zaal to the larger-capacity The Max) was sold out. So once again I got us after-market tickets. After the fun experience of bringing one of Fiona's friends with us to see Taylor Swift, I got three tickets for Halsey so that Fiona could bring someone along again.
Fiona's last few concerts (Imagine Dragons, Dotan, Fall Out Boy, Taylor Swift) have all been at huge venues. The great thing about smaller venues like Melkweg is how close you are to the artists. We were keen to get to the gig early (doors open at 19:00, opening act Børns at 19:30, Halsey at 20:40) so that we could be very close to the front. (Fiona is stretching out as a teenager, but we're in the land of the Tall People.) We picked up her friend at 18:30 and drove to Amsterdam. I had booked a parking place at Byzantium, just near the Leidseplein.
After parking just after 19:00, the three of us walked to Leidseplein where I stopped at an ATM. I noticed a long line of people stretching past the front of the Stadsschouwburg. I assumed that they were queueing up for the theatre, but no. As we crossed the square in the direction of Melkweg, we noticed people wearing Halsey shirts, and discovered that the line went all the way from Melkweg to the far side of the Stadsschouwburg. I was shocked, because I'm used to places like Melkweg and Paradiso still being half-empty while the opening act is on stage, but Fiona really had the wind knocked out of her. The queue was moving very slowly, and she wasn't convinced we would even make it inside by the time of the concert, let alone get a place where a non-tall person could get a good view. With that size of a crowd, there was no way we would have been at the front even if we had arrived twenty minutes earlier.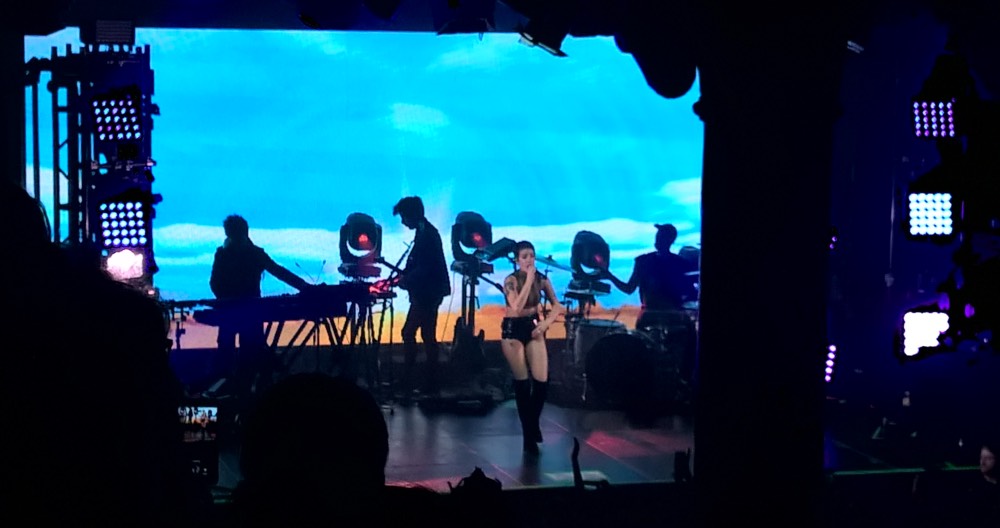 We stood around quietly in the cold for a while, shuffling forward a few meters every few minutes. I was sure we'd get in, but when 19:25 passed and we had only just rounded the corner of the Schouwburg, I didn't think we'd catch any of Børns' set. To our great relief, that was when Melkweg crowd control showed up. Turns out that Taylor Davis was playing the Sugar Factory opposite Melkweg that night, and the two queues trying to squeeze down a crowded Lijnbaansgracht had merged into one confused whole. They moved the Taylor Davis crowd to the other side of the street so that the Halsey crowd could get through. It only took us a couple of minutes to get in after that. Judging by the mounds of food and drink debris near the railings outside the Melkweg doors, I think some fans must have been queueing up there all afternoon to get in as soon as the doors opened.
Fiona and her friend brightened with excitement as soon as crowd control cleared our way. We had a tense couple of minutes when we discovered there was no way we'd get a good view from the back of the crowd at ground level. We made our way up to the left balcony, and found a few spaces where the girls could push themselves up high enough to see over the people who had bagged the premium balcony spots, and have a reasonable sight line to the stage. I'm a head taller, so it was easier for me. It still wasn't great, but it would do.
Børns came on at about 19:50. They played "Seeing Stars" as an opener, which has a solid pop beat and made a good impression. The rest of the set, of which I only recognized "American Money" and "Electric Love" also seemed to go down well. With Børns' tall, skinny, long-haired looks, I couldn't get away from the impression that Dr. Spencer Reid had got his groove together and formed a band.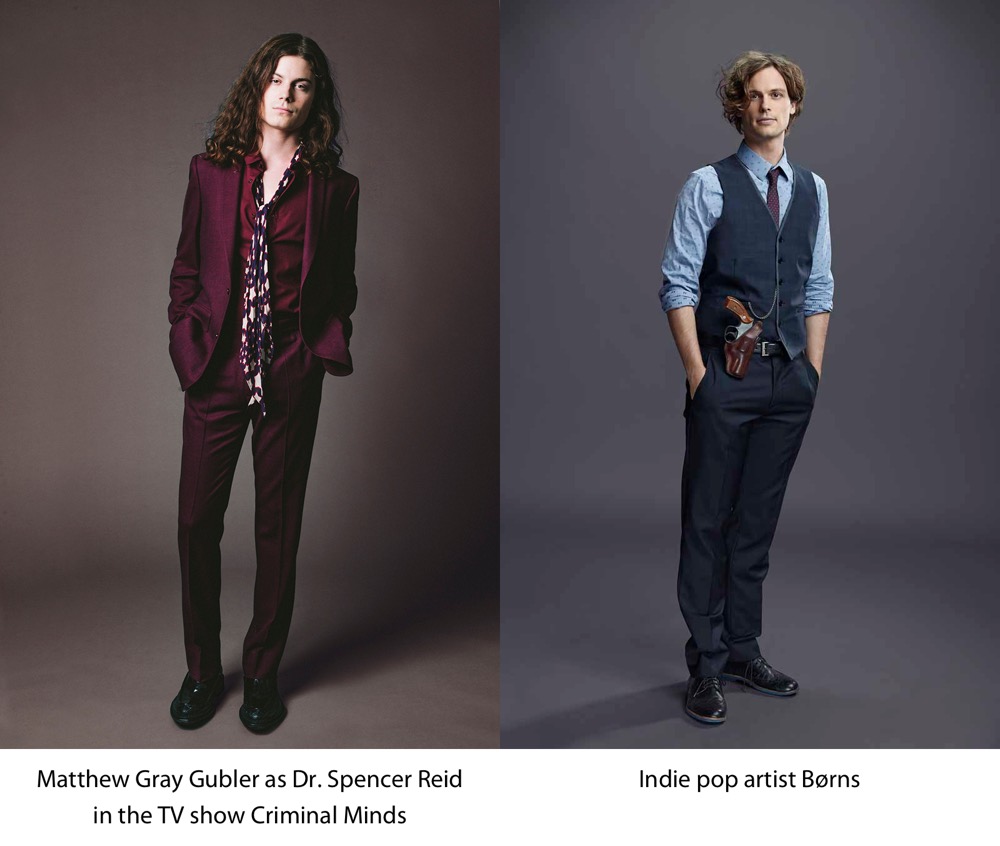 After Børns there was a break for the crew to set up the stage, and for us to visit the super-quiet merch stand. (We didn't all go at once — we didn't want to lose our places. Neither did anyone else.) Ten minutes before 21:00, the lights went down to much excitement, but Halsey didn't come on quite yet. The sound desk played a couple of anthem songs that the crowd sang along to: "Tear in my Heart" by Twenty One Pilots and "Sorry" by Justin Bieber. (Note: I didn't recognize these songs at all. I had to ask Fiona for advice here!) And finally, shortly after 21:00: Halsey.
Wow. I've been to a fair few concerts at Melkweg and Paradiso, but I've never seen that level of fan adulation at such a small venue. Almost everyone sang along to almost every lyric. Every song was greeted with rapturous screams. Her songs speak to her fans in a deeply personal way. One of the biggest cheers came between songs, when she told the audience, "I see all of you." When the gig was over, I saw young women crying as they walked to the exit. On our way out, we saw at least a hundred fans surrounding the tour buses parked on the Lijnbaansgracht, waiting around to catch a glimpse of Halsey on her way to her next gig. I don't think I'll see her in a venue of this size again.
She put on a great show. Halsey projects a magnetic, powerful, yet relatable personality in a self-confidend package on stage. She doesn't have many moves, but she has enormous presence. Her supporting band stuck to the background, with no spotlight or attention. They were almost as much part of the backdrop as the excellent video wall behind the stage. In fact, some of the most memorable visuals were when the band was silhouetted against the hard blue light of the video wall during "Colors II", which they played as the warm-up to the big finale "Colors". It was one of the best concerts I've been to where I've had such a poor view. (The photos are from me holding my arm out as far as I could.)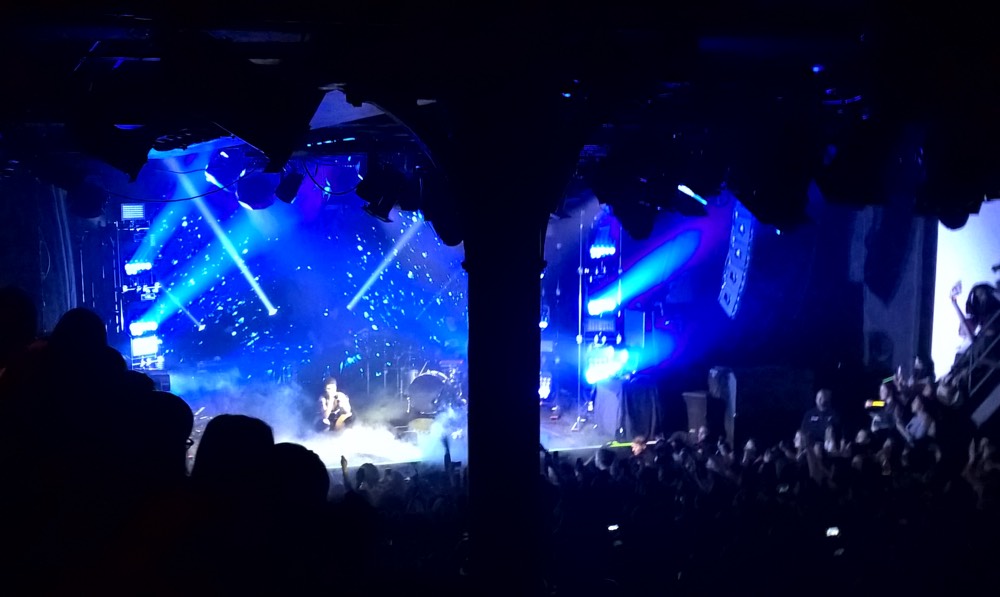 Set list:
Gasoline
Hold me Down
Castle
Strange Love
Haunting
Roman Holiday
Control
Drive
Ghost
Is There Somewhere
Hurricane
New Americana
Colors pt II
Colors
Young God