As in previous years (2006, 2005, 2004), Radio Sunpig is a collection of songs that represent the best of what I've been listening to over the last year. The songs weren't necessarily released in 2007, but that's when I first heard them. And as usual, its about two months late for a traditional end-of-year roundup. Oh well.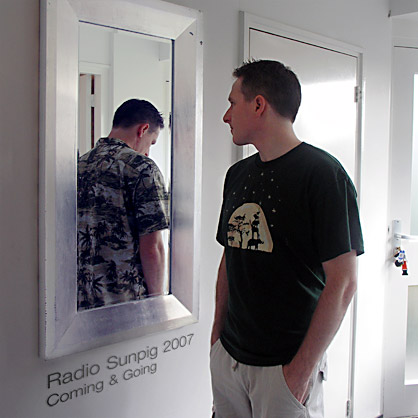 The Dynamites – Body Snatcher

The Dynamites are a modern big band funk group, with a classic 60s vibe. "Body Snatcher" is the opening track of their album "Kaboom!", and it really does sound like an explosion in a funk factory. Horns and drums all over the place.
Shitdisco – I Know Kung Fu
It takes a big song to follow on from "Body Snatcher", but this does the trick: fierce drums, mean bassline, and a shouty chorus that makes you want to get up and jump around.
The Pigeon Detectives – I'm Not Sorry
Their later single Take Her Back got more airplay, but I prefer this one. The whole album seems to be about going out, shallow relationships, and dumping or getting dumped. It has too much energy to be depressing, though.
The Go! Team – The Power Is On
This is from their 2005 album Thunder, Lightning, Strike, which I found much more powerful than the 2007 follow-up, Proof Of Youth.
Tragically Hip – In View
From the album World Container, which totally rocks.
Malcolm Middleton – Fight Like The Night
I never got into Arab Strap; my listening habits weren't indie enough when they were active. I first heard Malcolm Middleton solo on Steve Lamacq's late night Radio 1 show, one evening in 2005 when I was driving back to Edinburgh from Perth. There were roadworks on the bridge, so I decided to take a detour through the back roads of Fife to cross at Kincardine instead. Should have brought a map…. I heard Loneliness Shines on my way through Dollar. It wasn't until this year that I caught up with the whole album (Into The Woods), and his latest, A Brighter Beat. Fight Like The Night is from the latter, and it features the heavenly voice of Jenny Reeve.. It also has the most extraordinary intro that passes through five distinct phases of increasing intensity over a full minute. (If you get the album, try to get the extended version, with the bonus tracks "Black Marks" and "Cheer Down" on it.)
The Dykeenies – Stitches
Great new Scottish band. Stitches is a woefully overlooked guitar-driven anthem.
Biffy Clyro – The Conversation Is…
From Puzzle, one of my favourite albums of the year. This is one of the few songs from it they didn't release as a single.
The Arcade Fire – Keep The Car Running
I didn't like Neon Bible nearly as much as Funeral; in fact, this is the only song from it that did anything for me at all. But I would gladly buy the album again for just this one track.
Eagles Of Death Metal – I Want You So Hard (Boy's Bad News)
They're not a comedy band, they just look that way sometimes. Ignore the "Death Metal" in the name – they are all about fun, ironic, sleazy garage rock. And yes, that's Josh Homme on drums.
Cajun Dance Party – Amylase
New band from London whose members have only just finished school. Amylase is a perfect little pop record that had a tiny CD/vinyl-only limited release. Consequently, it got completely overlooked. But they're building up a good following, and will have their first album out later this year.
Blonde Redhead – Silently
From the gorgeously moody album 23, this is a light, sweet interlude.
The New Pornographers – Adventures In Solitude
I found the New Pornographers (and through them, Neko Case) at the end of 2006. They released the album Challengers in 2007. I didn't enjoy it quite as much as Twin Cinema, but if you like your pop intricate, varied, and melodic this is definitely one to look out for.
Siobhan Donaghy – Halcyon Days
This comes from her second album, Ghosts, to which I had been looking forward for a long time, especially after hearing the haunting title track way back in 2006. Unfortunately, it doesn't have the same bite as her solo debut. It's full of pretty little pop songs, but only a few leave a lasting impression. This is one of them.
Isobel Campbell & Mark Lanegan – It's Hard To Kill A Bad Thing
Peaceful, melancholy little instrumental from a smoky, understated alt-folk-country gem of an album: Ballad Of The Broken Seas.
Lindsey Buckingham – Shut Us Down
Under The Skin is Lindsey Buckingham's first solo album since Out Of The Cradle, and it's a very different beast, full of subdued, almost whispered vocals and intricate acoustic guitars.
Ebony Bones – We Know All About U
A dark bassline and funky hand-claps. I picked this up from Zane Lowe on Radio 1 at the beginning of December, and I'm still amazed that it never saw a proper single release.
Serj Tankian – Empty Walls
Start with a boom, end with a bang. Serj Tankian normally does vocals for System Of A Down. Elect The Dead is his first solo album, and might be best described as "piano metal". He still cranks out the noise, though.
Update (2 Mar 2008): Here are links to videos for many (unfortunately not all) of the tracks on YouTube:
(Not found)
(Not found)
(Not found)