Kev tagged me with the "5 things you don't know about me" meme last week. I considered doing an "Amazing…But False!" selection (as the set of things that people don't know about me encompasses more than just true facts), but I eventually decided on a David Cronenberg body horror version.
1. My thumb bends back at an abnormally large angle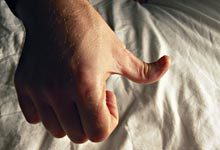 I used to think that everyone's thumbs did this. Apparently they don't.
2. I can make freaky zombie hands by bending just the top joints of my fingers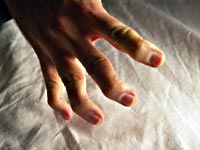 Many people find the sight of this to be the visual equivalent of nails scratching down a blackboard.
3. I can manipulate my eyebrows to an unusual extent.
I can do left and right independently, and an extreme innner raise. This is not too uncommon, but can you raise the outer edges of both eyebrows together? I can.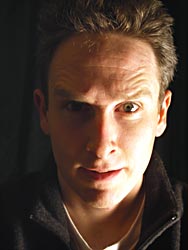 (Note: eyebrows + sneer = rather sinister!)
4. I can turn my left and right eyeballs inwards independently.
Last year Liza showed me a trick for making the eyeballs look outwards rather than inwards, but I haven't put in the necessary practice to pull this off yet. (What, you think maybe this kind of thing comes naturally?)
5. I can do a respectable impression of a Cardassian without any make-up or prosthetics.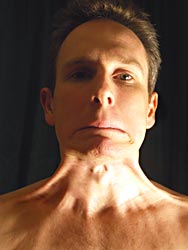 Okay, that's enough flesh for the moment. Out of spite, I shall now tag: