Although I may have been slacking off on books and films in 2006, it was an excellent year for new music coming my way. I've already posted a selection of my favourite tracks of the year as Radio Sunpig, so now it's time to talk about artists and albums. I'm not going do this in a "Top 10" format, because trying to come up with some kind of ranking made my brain hurt.
Instead I'm just going to take a meander through the year. Because I'm a bit anal about tagging my iTunes library with stuff like the date on which I ripped/downloaded songs, I can actually come up with a timeline of what I've been listening to over the year–working on the rough assumption that I spend most of my time listening to an album fairly soon after I get it.
(In case you're wondering, the trick to this is to use the "Comments" field in the iTunes' song info. This is a free text field, so you can write whatever you like there, but I prefer to stick to a fixed format: "sunpig:acquired=YYYYMMDD;sunpig:source=ACBDEF". By making sure the date is always the first piece of information in the field, and written as YYYYMMDD, I can sort my library by the comments field, and have everything nicely ordered. I can also create a Smart Playlist that includes everything I got this year by making a selection based on comments that contain the string "sunpig:acquired=2006".)


One of the first notable albums I came across this year was Funeral by Arcade Fire. My cousin Cameron recommended them to me, and Kev told me not to give up when it didn't resonate with me straight away. It's a slow burner, though, and I'm glad I stuck with it.
January was also the month for Black Star (Mos Def and Talib Kweli), Eye To The Telescope by KT Tunstall, the fabulously energetic Whatever People Say I Am, That's What I'm Not by the Arctic Monkeys, and Hypnotize by System Of A Down. Hypnotize is the second part of their Mezmerize/Hypnotize diptych, but the weaker of the two, I feel. It rocks hard, but has fewer easy hooks than its predecessor. (And goodness knows I'm a sucker for easy hooks.)

Imogen Heap appeared on my radar in 2005 with the song "Hide And Seek" and the album Speak For Yourself. In January I bought tickets to see her on tour later in the year, and also stocked up on her back catalogue: I, Megaphone, her debut album, and Details under the guise of Frou Frou, which was a collaboration between her and producer Guy Sigsworth. I, Megaphone is quirky, spiky, and full of melancholy romanticism. With Details, the quirkiness remains, but the spikes are polished down to a perfect blend of electronic beats and Heap's clear and airy voice.
Skipping ahead to the end of April (because it took me quite some time to digest everything I bought and downloaded in January), the Imogen Heap concert was a very stange affair. The venue was The Arches in Glasgow, and the crowd was raucous, rowdy, and unafraid to whoop and holler in a half-drunken West Coast way. Zoe Keating was the opening act, and we could hardly hear her fabulous cello work. When Imogen Heap came on, she looked tentative, genteel, and completely out of place. She nonetheless managed to shut the crowd up with a solo a capella rendition of "Just For Now".
The rest of her performance was a mixture of the refined and the uncomfortable. She was at her best when she was alone with her laptop and keyboard, looping her voice and showing off the fact that she is a classically trained pianist. But for some of the livelier tracks from the album such as "Daylight Robbery", she let a background recording take care of the guitar-laden music while she danced around the stage with just a microphone, trying hard to work the crowd. Unfortunately, she just looked awkward, gangly, and somewhat embarrassed at the lack of a full-size backing band. I'd like to go and see her again, but only at a more intimate venue, with a quieter and more attentive audience.

I had never heard of Zoe Keating before seeing her name on the bill. Because I like having a sense of who I'm going to see, I bought her album One Cello x 16: Natoma beforehand, and loved it. It's cello music, but not like you've heard before. She builds up the songs by recording and playing back multiple loops, so that it sounds like there's a stage full of artists playing the song, when in fact it's just one person. And she does this live. If you get the chance to go and see her in concert, take it.
It was around this time that I started listening to the stack of Tragically Hip albums that Woody had given me, and I think there was about a month where I listened to nothing else. They rock. In amongst awesome albums like In Violet Light and Day For Night were a couple of live performances, too. This is a band I must get to see.

I bagged another large batch of tunes in late May, including Fishscale by Ghostface Killah, At War With The Mystics by the Flaming Lips, and How We Operate by Gomez. Fishscale is a fantastic example of modern gangsta rap: it's full of guns, drugs, and misogyny, but also features clever storytelling, sly pastiche and odd moments of thoughtul nostalgia. The beats are fat, and the rhymes are slick.
At War With The Mystics is a worthy follow-up to Yoshimi Battles The Pink Robots, and was the soundtrack to my trip to the @Media conference in London in June. Every time I listen to it, I get flashbacks to walking the streets from Victoria to the QEII conference centre. The Gomez album is full of great songs and great melodies that you find yourself humming along to by the time the second chorus rolls around.
July saw me listening to a lot of Muse. Black Holes And Revelations hits the sweet spot between ridiculously overblown prog rock and radio-friendly tunes. August brought The Misery Index: Notes From The Plague Years by Boysetsfire, which is also magnificently loud and energetic, but in a much more straightforward way.
In September new album Barenaked Ladies album was released: Barenaked Ladies Are Me. Selected download locations allowed you to grab the "deluxe" edition, which had 27 tracks on it rather than the 13 on the standard version. (I believe the extra tracks are being released on a follow-up album, Barenaked Ladies Are Men some time this year.) Although I liked some of the tracks on their previous effort Everything To Everyone, it was a weak album compared to their earlier work. BLAM, however, sees them back at full strength. The lyrics are everything I expect from the BNL– playful, insightful, sad, and political–while the melodies are strong, singable, and delightful. Now if only I could get to see them in concert again! I'm holding out a slim hope that they'll do some a few more dates in Europe later in 2007.

Finally, in the week before I started to compile Radio Sunpig, I stumbled across the album Twin Cinemas by The New Pornographers. Now, taken on its own this would probably stand up as my favourite album for the year: it's pure perfect pop. But this album was also my introduction to Neko Case, whom I am now declaring as my favourite artist of 2006.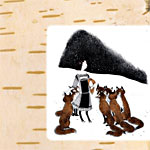 After falling in love with her voice on Twin Cinemas, I downloaded her 2002 album Blacklisted, followed by Fox Confessor Brings The Flood from 2006, and more recently Furnace Room Lullaby (from 2000). Now, I don't listen to a lot of country/alt-country/folk music, but Neko Case could change all that. Her most recent work (Fox Confessor) is the least traditional of the three I've listened to, but Furnace Room Lullaby is unmistakably country. And I like it. Hell, I love it. It's sweet, melancholy, and soul-wipingly emotional. I'm disappointed that I missed her UK tour in November, but at the time I'd never even heard of her. She's doing some touring around the West Coast of the US and Canada in February, and just like with the BNL, I'm hoping that maybe she'll add some dates I could make (like in March/April, when we'll be in California).
So there you have it–my year in music. You've got alt-classical, hardcore rock, gangsta rap, lots of alt-pop-rock, and a healthy portion of alt-country to top it all off. At the risk of sounding smug, sometimes I love the way I love music. 2006 was a damn fine year for tunes.