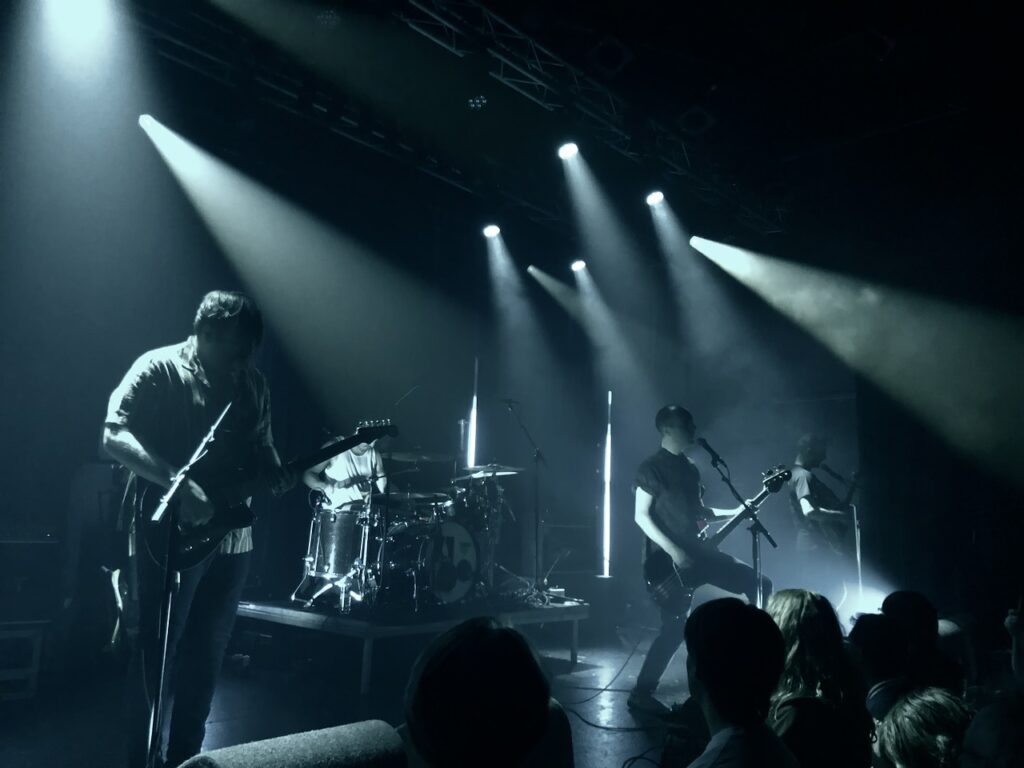 The last gig Alex and I went to together was an odd 65daysofstatic date on their Decomposition Theory tour. Alex enjoys a lot of jazz & prog & math rock, and I thought he would enjoy ASIWYFA. I sent him links on Spotify, he had a bit of a listen, and decided to give it a go. The show in Utrecht wasn't sold out, so it was easy to grab another ticket for him. He checked to see if any of his friends wanted to come along as well, but they weren't available. Abi was in Scotland with Fiona. We just went the two of us, driving to Utrecht and parking at the Vaartsche Rijn car park just round the corner from the venue.
It was my first time at De Helling! It's a nice little venue just outside the city centre, with a capacity of just over 400. Little bar in the foyer, and a chunky box with a stage. I was glad we both had earplugs for hearing protection, because the sound was a bit rough. We didn't get there in time for the opening act (A Burial At Sea), but with it not being sold out, we were still able to claim a good spot close to the stage. (And the stage was clear enough that I could get up close and snap a picture of the set list lying there; see below.)
The band came on and played nice set, with plenty of fan favourite tracks, and two new ones. (For the second one, they said it was the first time they had played it live… and then added "…in Utrecht" to finish the joke.) After the show, bassist Ewen Friers was staffing the merch stand, and he said that they had recorded all the material for a new album, and that it should be coming once they've put the finishing touches to it. Exciting!
(If they ever tour their concept album Jettison again, I'll be first in line for tickets.)
Three Triangles
A Slow Unfolding of Wings
Mullally
Heft Sulk
Dying Giants
New Track – possibly "Herman Mor", on subsequent gigs on setlist.fm it's indicated in this position.
A Beacon, A Compass, An Anchor
A Little Bit of Solidarity Goes A Long Way
Terrors of Pleasure
Set Guitars To Kill
7 Billion People All Alive At Once
Big Thinks Do Remarkable
Encore:
VIII Jettison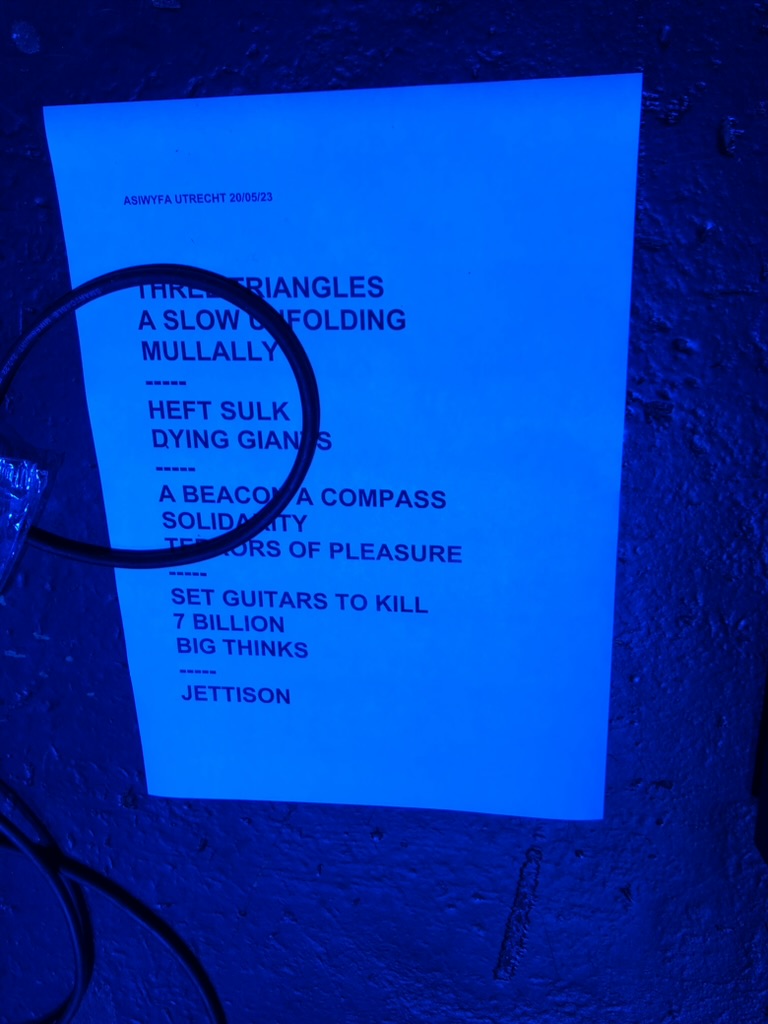 Merch notes: Alex got an "Extended Childhood" shirt, and I got a huge and gorgeous limited edition poster for the (cancelled) Red Forest Festival in Berlin and Dortmund.