Yay! I've got my luggage back! It arived this morning. Unfortunately it wasn't here in time for the Toad concert last night, so I was forced to buy some new clothes yesterday afternoon (trousers, t-shirt, sweater, socks), and let my travel insurance pick up the tab. Damn.

The concert was excellent. On the Glen Phillips message board, a few folks were complaining that the venue and the crowd were rubbish, but I thought it rocked. (Perhaps having flown five thousand miles to get here has something to do with that? Maybe.)

We did have a scary moment before the gig, though. After we'd walked all over the landscape and located the Avalon (right next to Fenway Park), we took the subway (the "T") back to downtown. We split up to do some shopping, and met back at the hotel. The idea was that we'd rest up for a bit, then head out at about 6 or 6:30, and have something to eat near the venue before actually going in at 8.
At about five minutes to six, with both of us slobbed out on our beds, watching the World Matchplay Championship golf on TV, I pulled the concert tickets out of my bag to have a look at them.
"Er, Scott…"
"Hmm?"
"It says here that the concert starts at 6:30. And that the doors opened at 5:30."
"Shit!"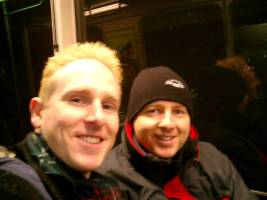 A mad dash ensued. We got changed in no time flat, and were out the door by 5 past 6. Fortunately Boston is quite small. The T station was only a couple of blocks from our hotel, and it was only a 15 minute trip on the train to get to the stop closest to the Avalon. We knew that Toad wouldn't be on stage at 6:30, but I do like catching opening acts, and I had a dread worry that they might not let us in if we arrived late.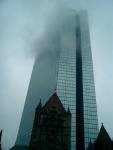 All was cool, though. We got there at dead on 6:30, and there were plenty of people who arrived even later. Wheat had already started playing, but we took the time to stow our coats and have a beer. We then wandered through to the main hall, and enjoyed the music.
Wheat were pretty good, but Bleu absolutely rocked. They both played about five or six songs, followed by half hour breaks for breaking down and setting up again. Toad came on at around 8:30, and the crowd went wild. They played eighteen songs, followed by two encores:
Whatever I fear
Something's always wrong
Dam would break
The longest day
Fly from heaven
Crowing
All I want
Always changing probably (? I've never been too sure about the titles from Bread and Circus
Come back down
Nightingale song
Political Science (Randy Newman song, Glen acoustic)
? (Another Glen acoustic song, but I didn't recognise it)
See you again (A Lapdog song. Johnny Hawthorne accompanied them on a lot of the material this evening, but he stayed at the back of the stage. They let him up front on this one, and he rocked some electric guitar ass.)
Windmills
? (A new Toad song? "Everybody's Cool"? Glen chewed the mike and mumbled most of the way through it, so I didn't catch most of the lyrics.)
Hold her down
Brother
Fall down
---
Crazy Life
Amnesia
Walk on the Ocean
---
I will not take these things for granted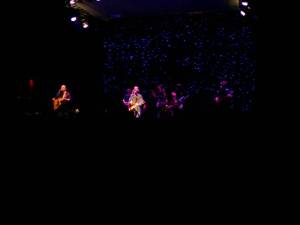 Man, oh man, that was fantastic. Despite the camera ban, I managed to snap a few pictures. (I didn't want to use a flash, though, so they've come out a bit blurry.) On our way back to the hotel we were feeling a bit peckish, so we stopped to grab a couple of chicken and pepper sandwiches just outside Quincy Market. It was after-pub food, but it just hit the spot for us. Lovely.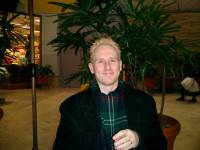 Today we had breakfast in the hotel, and went out to do a bit of shopping. After yesterday's cold, crisp, but sunny weather, today is utter rubbish. It's pissing down with rain, and despite the hotel's complimentary umbrella, we're both soaked to the skin. We've just had a slice of apple cinnamon loaf at the Prudential arcade, but now we're probably going to head back to the hotel. Plan is to pick up some beers on the way, and watch the rest of the final of the golf. If it's not too rainy this evening, we might go out and catch a movie. Otherwise, it'll be just up to Quincy for some delicious deep-fried Chinese food. Yum!