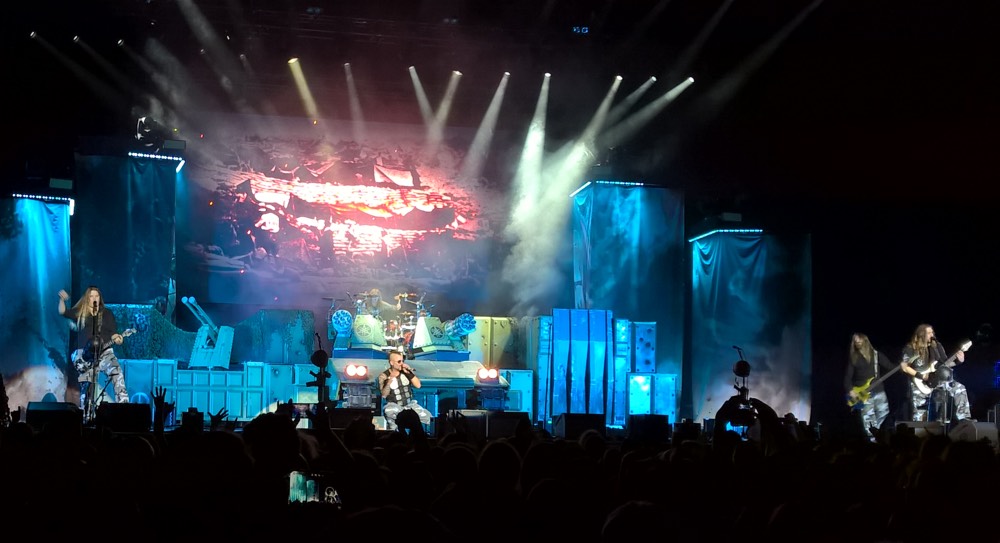 Just as I don't go to many hip-hop gigs, I don't go to many metal gigs, either. In fact…I can't think of any. The closest I've got to metal is Rush, and which is hard rock, but not metal. So I wasn't really sure what to expect at a Sabaton gig, other than some very loud music about war and heroic violence. Fiona is into them, and had played me some of their songs, but my response is kinda "meh".
Since we were last there to see The Lumineers in November, the Heineken Music Hall has rebranded itself as AFAS Live (sponsored by AFAS software). The vibe around the venue was excellent, and the merch stand had more T-shirts than you could shake a stick at. I wonder if this is a cultural thing for metal concerts? I'd say that about half of the people in the audience were wearing Sabaton gear of some kind — a far greater percentage of people than I normally see wearing a band's merch. I suggested that Fiona should have been wearing her black lipstick, and she rolled her eyes at me.
I've taken Fiona to a few concerts over the last couple of years, but this was the first time I felt felt like a stereotypical Concert Dad. The mood in the crowd was happy, but I felt cautious about being too close to the front and centre in case we got caught in a mosh. I tensed up whenever a half-empty plastic beer cup would fly overhead and shower us with malty rain. I don't think Fiona felt entirely at ease, either.
The first opening act, Twilight Force was an over-the-top power-metal excursion into epic fantasy, and we both loved them. The second opener was Accept, who played for a whole hour. We left the hall after a few songs, though, because they were really loud and also kinda boring. By the time Sabaton finally came on at 21:30, we had already been standing around for about two and a half hours, and we were starting to feel tired. (Again, is this a metal thing, having multiple warm-up acts that play really long sets?) We listened for an hour, but left before the end. Fiona was exhausted, as was I. This was one of the loudest gigs I have ever been to. Even without standing directly in front of a speaker stack, and even though we were both wearing ear plugs, my ears were gummy and ringing as we left the venue.
One advantage of leaving early is that we had no delay in exiting the car park under the Arena, which is usually a massive bottleneck.
Overall: I think they put on a great show. The set dressing was amazing, and the band were having tons of fun romping around on stage and feeding off the energy of the adoring crowd. I don't think I would go again, because their actual music still leaves me cold. But if you enjoy Sabaton, I'm sure you would love seeing them live.