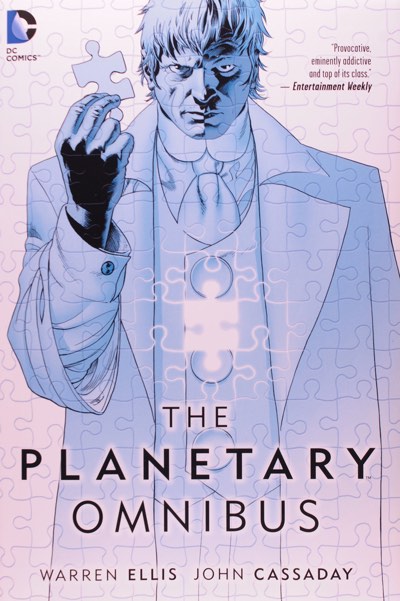 The Planetary Omnibus edition is a huge book – it literally weighs 2.5kg, and is hard to read in bed. You need to be sitting down at a table to let the pages sprad open comfortably. But it's really good. I read my first Warren Ellis book — volume 1 of Transmetropolitan — a few years ago, and I've slowly been catching up on his work. His recent series Trees and Injection are firm favourites, and now I'm digging back into older stuff. (I still need to finish the whole Transmetropolitan run.)
The Planetary Omnibus contains the whole 27-issue run of the series, and three one-shot specials at the end. The story follows Elijah Snow as he gets drafted into "Planetary," a global organization dedicated to uncovering the secret history of the 20th century. That secret history contains monsters, superheroes, and fictional characters, all warped beyond the point of familiarity, but not quite beyond the point of recognition. As I read through the book's hundreds of pages, I found myself constantly having flashes of insight, flipping back to earlier chapters, and going "Ohhhhh!" as I saw that the hooks had been planted right from the beginning. It's an amazingly rich and dense work, with artwork from John Cassaday that matches the story and characters beautifully. The series was published intermittently from 1998 to 2009, and keeping a story like that together over such a long timespan is a terrific feat.
Also read:
Vision vol 2: Little Better Than A Beast concludes Tom King's run on Vision. He ends it in just as dark and disturbing a way as it started. Volume 2 doesn't feel quite as strong, though. It's pretty hard to top the emotional gut-punches he delivered in Volume 1. Highly recommended overall, though.
Patsy Walker, AKA Hellcat! vol 2: Don't Stop Me-Ow has one Civil War II issue with some far-ranging consequences for the story (Patsy's best friend She-Hulk has been in a huge fight that put her in a coma), but for the most part stays lightweight and fun while it deals with smaller-scale personal issues of friendship and relationships.
I wanted to read The Immortal Iron Fist (The Complete Collection, volume 1) because it's Matt Fraction, but at the same time I was apprehensive, because of the troubling race issues around the character of Danny Rand: a white American guy as the hero and saviour of an ancient mystical oriental heritage. It avoids the matter of race for the most part. When unavoidable, it focuses on Danny as just an outsider, and chooses to bury most of the hard questions with his predecessor Orson Randall. I still enjoyed it. The story twists and turns and takes some stops in the history of the Iron Fist along the way. David Aja's art is also a pleasure.
Films: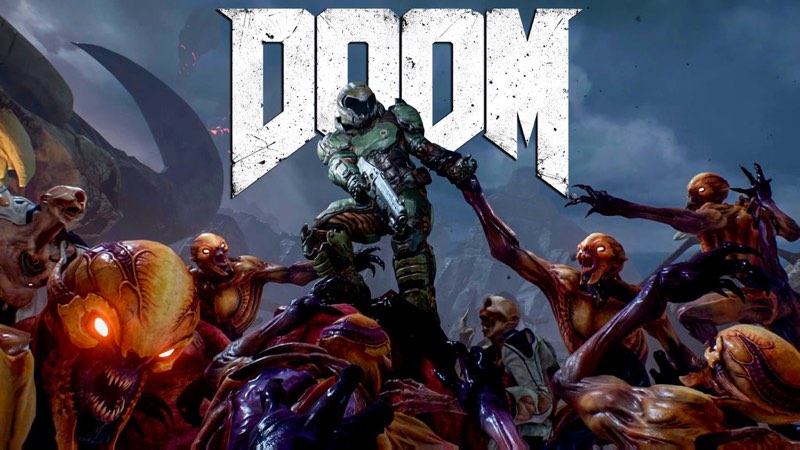 At Dave's suggestion, I bought Doom (2016) for the PS4 over the Christmas holiday, and finished it last week. I don't tend to play many first-person shooters, but I loved it. The action is fast and unsubtle, favouring running around and spraying demons with as much firepower as you can, rather than on carefully hoarding resources. It's pure videogame fun. I was also impressed by how well it played on the PS4 with a console controller instead of a keyboard and mouse. I don't think I'll be trying my hand at the online multiplayer, though. Judging by how quickly Alex was able to zip through Rune Challenges that took me dozens of run-throughs to succeed at, I'd get slaughtered. Repeatedly.
I've been listening to as much of English electro-pop band Dive In as I can find on Spotify. It isn't much, but what there is is excellent. They remind me of the Studio Killers, with a twist of The Naked and Famous. I had come across their song "Let Go" way back in 2013 already, around the time I discovered the Studio Killers as well. The new version of the song on Spotify is mostly the same, but with a few extra guitar licks in the middle. I still love it. Terribly weak music video, though. (Sorry chaps.)