For a long time, my standard trip to Edinburgh was out late on a Tuesday evening (EasyJet flight 6924, departing 21:40), and back early on a Friday evening (flight 6923, departing 18:40 depending on the season), giving me three days in the office. This year I've been trying to shake things up a bit, sometimes flying out on a Sunday afternoon and back on a Wednesday evening, or even extending the trip to four days. For my recent trips in April and May, though, I tried something even more radical: flying during the day! I tried EasyJet's Monday lunchtime flight at 13:15 twice. It allows me a couple of hours of work in the morning before I leave, and I can get to the office by about 15:00 to finish off the afternoon there. I also tried KLM's 07:10 morning flight once, which gets me to the office at just after 09:00.
These variations were a successful experiment in the sense that they showed me I prefer to do my work travel in the evenings. Schiphol is busy in the middle of the the day. Everything felt rushed, from getting out of the house, to catching the airport bus into Edinburgh, and speed-walking from Haymarket to Quartermile. And the first hours of the morning and last hours of the afternoon didn't make up for it in terms of productivity.
As for getting up in time to catch a 07:10 flight from Schiphol: no. Just no.
So it was a pleasant relief to be back on the evening flight the other week. Even though my previous trip had only been two weeks before that, it felt like my first time in ages. I was back in the groove. Even better: I was staying at Pollock Halls again, for the first time this year. I'm so familiar with the place now that it almost feels like coming home. The price of an overnight is noticeably higher now than when I first stayed there in 2014, but it's still good, reliable, peaceful, with a great location, and a breakfast buffet to die for. It also has the best wi-fi of any accommodation I've tried in Edinburgh.
On a whim, just before Abi drove me to the airport, I took some photos of Alex and Fiona. Work is pretty tense and stressful right now, and I found myself occasionally pulling my phone out and just flipping through those photos to remind me of life outside the office. If I can get them to cooperate, I might make a habit of taking snaps of them before every trip.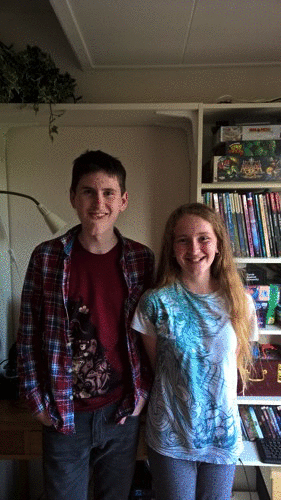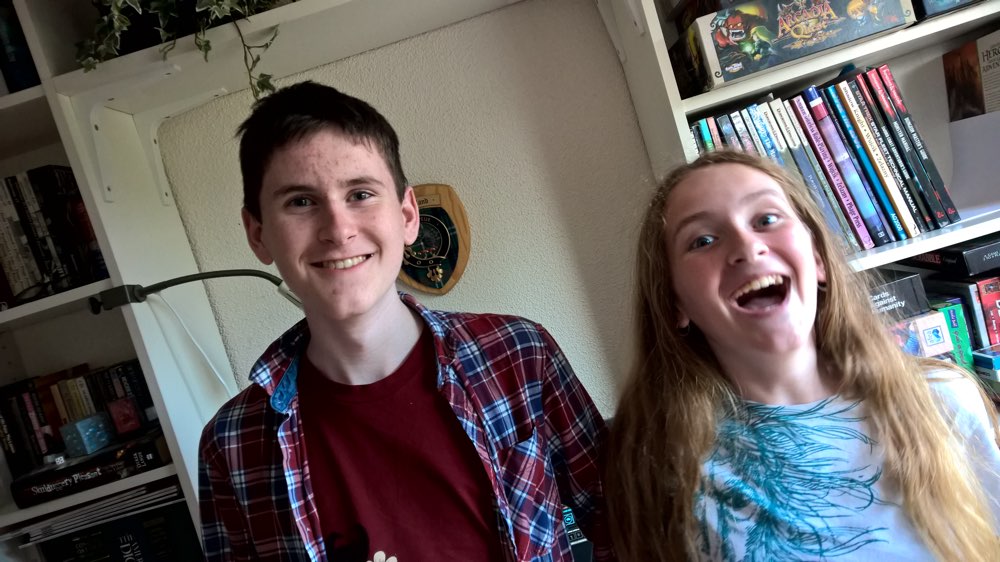 On the Thursday I got up early to go to the Glasgow office, where we were having a team lunch to celebrate a big release. On the Friday I finished work and headed up to visit Mum & Dad for the weekend. When I travel back home from Edinburgh, I always walk to catch the airport bus from Waverley Station, and I know exactly how much time I have to allow myself to get there. I thought I had it all timed to catch the 17:47 train to Perth…except that it was actually a 17:43 train. Fortunately there was another one twenty minutes after that, but I would have to change at Stirling. Not a problem.
On the train, I was still catching up with work emails, and every time we pulled into a station I looked up to check if it was Stirling yet. Mustn't forget to get off the train! That would be bad! So when we did arrive at Stirling, I shut my laptop, stuffed it in my satchel, and made a prompt exit. I checked the departure monitor, and found that I had another twenty minutes before my connecting train. I could go and have a seat somewhere and pull out that bottle of cola I had tucked away in my suitcase…suitcase…suitcase…
Suitcase that was pulling out of the station on the train to Dunblane. I had put it up on the luggage rack above my seat, and I had been trying so hard to remember to get off at Stirling that I hadn't set a mental reminder to take the suitcase with me as well. My usual train journey in Scotland is on the Edinburgh-Glasgow route, and I don't normally have a suitcase with me. Nonetheless, I felt like a complete idiot.
I spoke to the station staff, and they were very helpful. At that time of the evening, the train terminates at Dunblane station, turns back around, and gets back to Stirling less than an hour later. The Dunblane station isn't staffed at that time either, so the conductor wouldn't have anywhere to drop off any lost property. They said that in all likelihood the conductor would spot my bag when he walked the carriages at the end of the route, and I'd be able to get it when it passed through Stirling again. Which I did. Apparently this happens pretty regularly. Of all the trains I could have left my bag on, this was one of the best: the turnaround from Stirling to Dunblane was only fifty minutes, so I was on my way again without too much delay. Mum & Dad laughed at me, of course, but they kept dinner warm until I got there.
On Saturday we had originally thought of driving down to the Crawick Multiverse, but we decided it was too far to go, and would involve too much walking. Instead, we spent the whole day sitting out in the glorious sunshine, just hanging out and chatting. In the evening we went out for dinner at the Port-na-Craig restaurant in Pitlochry, and saw the play Thark at the Pitlochry Festival Theatre.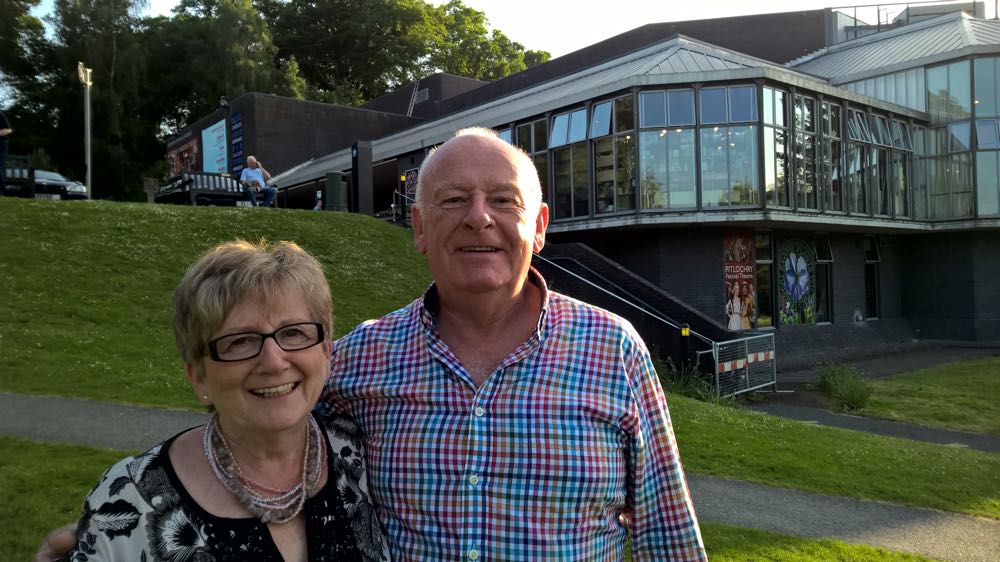 Although I go to a lot of concerts, I honestly can't remember the last time I went to the theatre to see an actual play. The first half was a classic farce of miscommunication, with everyone fibbing to each other about their affairs, and trying desperately to keep their stories straight. The second half relied more on physical comedy, but the engaging cast was adept at both. It was delightful, and we walked out of the theatre beaming from ear to ear.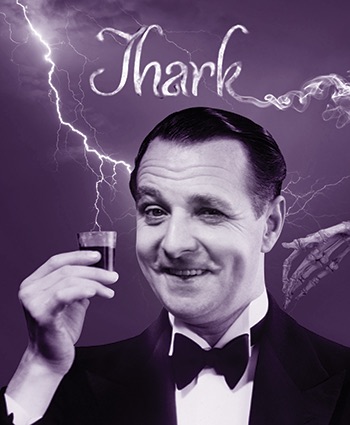 The weather was amazing on Sunday again, and we spent another day sitting outside, listening to the French Open Tennis final between Andy Murray and Novak Djokovic, munching pickled peppers, and sipping gigantic gin and tonics. In the evening we watched the second episode of the new Top Gear, and the first episode of City in the Sky, a fascinating documentary about what it takes to keep over a million passengers in the sky at any given time of day.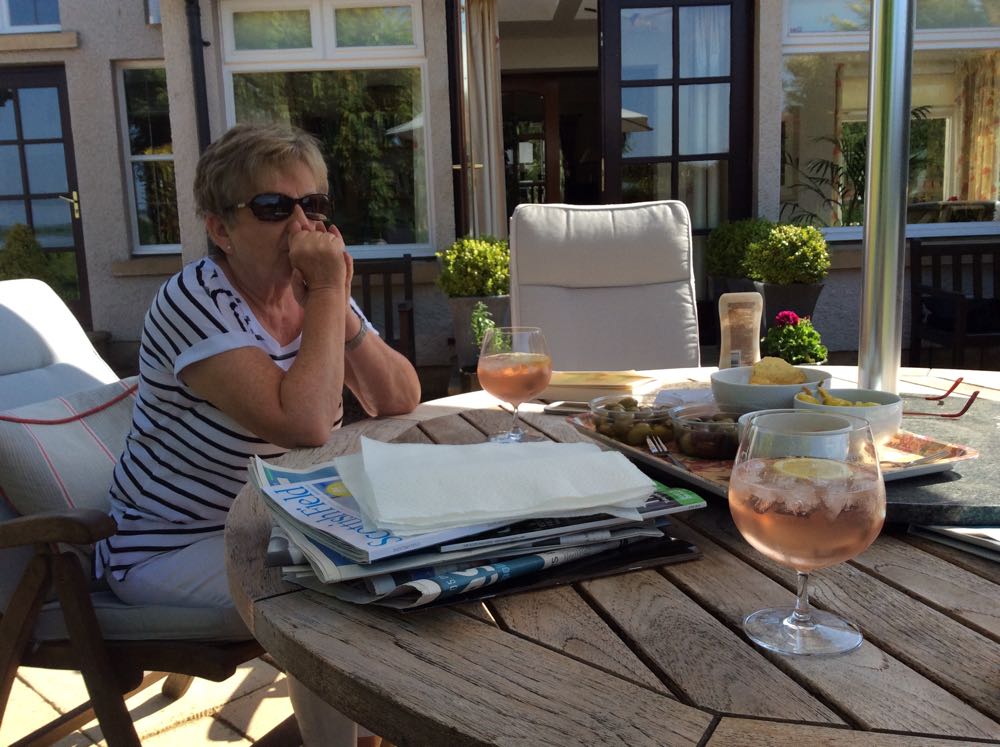 I took the train back down to Edinburgh on Monday morning. In the afternoon after work I dropped my bags at my B&B (Regis Guest House) near Tollcross, and took the train out to Queensferry to meet up with Alan. We had a beer at the Ferry Tap, a curry at the Queen's Spice, and a whisky to finish the evening back at the Ferry Tap. We also took a wander down to the marina so I could ogle at the construction of the new bridge. The tops of the towers were hidden in low clouds, and it looked amazing.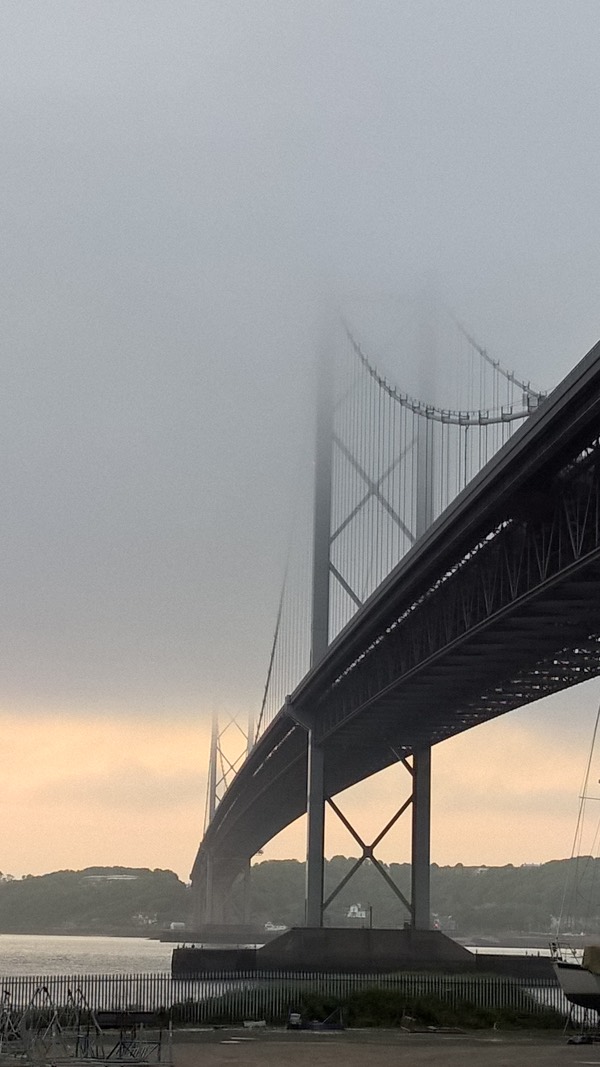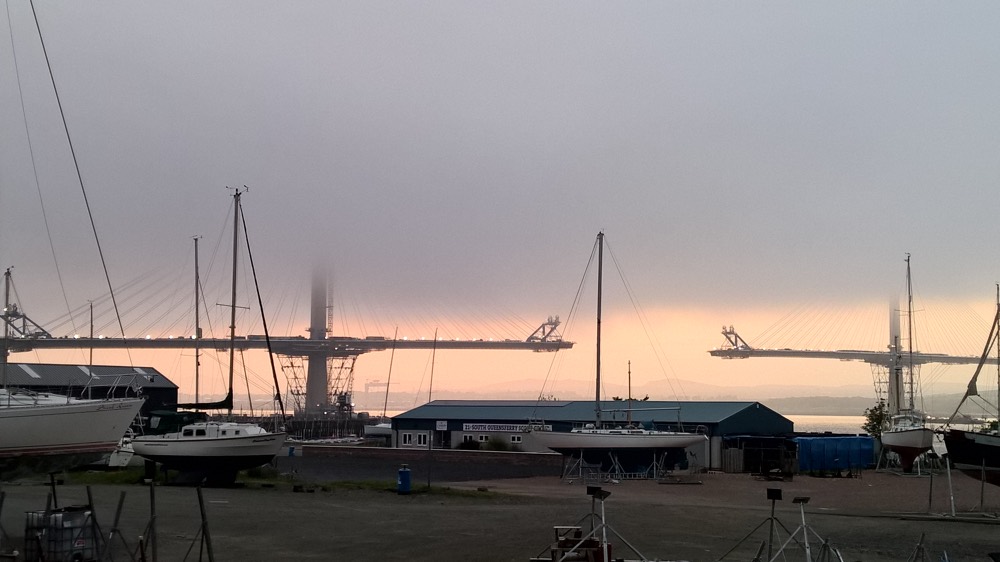 I mis-timed the train, and took the bus back to Edinburgh.
The next day confused me, because I was going to be flying home in the evening, and it felt like Friday all day.