We didn't do, or attempt to do, as much during this years's trip to California as we did in our last trip in 2013. This trip was mostly to hang out with family, anchored by Pat & Susan's party for their 50th wedding anniversary. That's not to say that we did nothing at all, but it was mostly short trips, many just within walking distance. The party was great. I met my new sister-in-law Danielle for the first time, saw Abi's aunt and uncle and cousins from LA who I haven't seen for…many? years, and her aunt from Texas I haven't seen since Mick's wedding. We also met Abi's cousin Travis (and his new wife Carla) for the first time since our wedding. He was six years old then; now he's thirty and just starting law school. Plus lots of other people. Inevitably, there were many conversations that started with, "Brexit, WTF." I'm not normally good with parties, but I thoroughly enjoyed this one.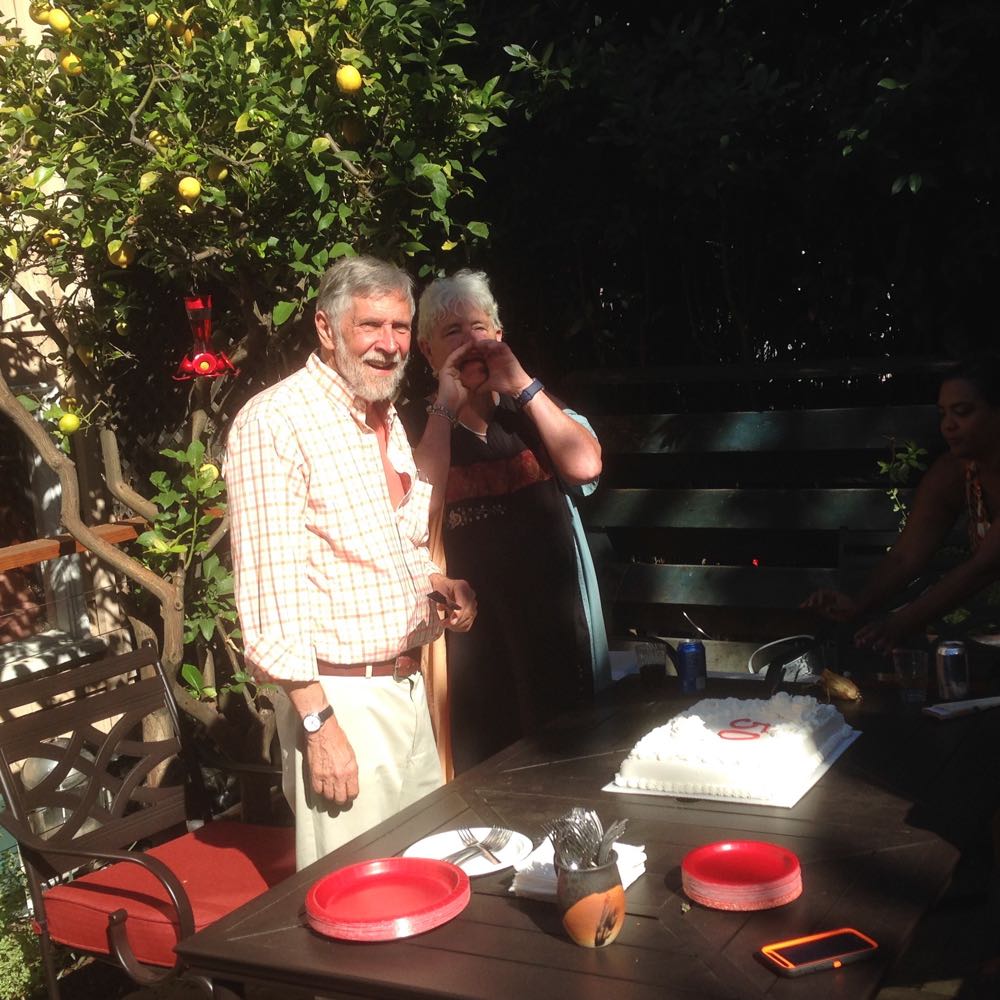 The first day we were there, Alex and I walked down to the T-Mobile shop on Lakeshore to pick up some SIM cards for the whole family. Amazingly, T-Mobile had a perfect offer for us: a "tourist plan" that offers three weeks of phone and (more importantly) data service for $30. We didn't even have to explain what we wanted to a confused shop assistant. Cardboard pop-ups for the tourist plan were right there on the counter. There was a hidden cost in that the $30 doesn't include an actual SIM card, just the service. (Or sales tax — a matter that Alex rolled his eyes at whenever we bought anything.) But still. It was a good deal, considering how much of our California family business is arranged through text messages and group chat. I've hung on to our SIM cards, because I'm going to be back in the US next week, and I'll be able to re-up my data plan for another $30.
On the way back, we bought donuts. The first of many donut runs. The rest of the world — even New York! — doesn't understand old-fashioned donuts, you see. (Maple glaze for me, chocolate for Abi.)
Abi and I walked in to Berkeley one day for lunch, and to snuffle around Telegraph Avenue a bit. I found a copy of Geoff Manaugh's book A Burglar's Guide To The City at Moe's, as well as Charles Fleming's Secret Stairs – East Bay, which I'd heard about on 99% Invisible. I ended up only trying out one of the walks, but throughout the trip I was much more aware of all the stairways that led up and down between houses all along the hilly streets of Oakland.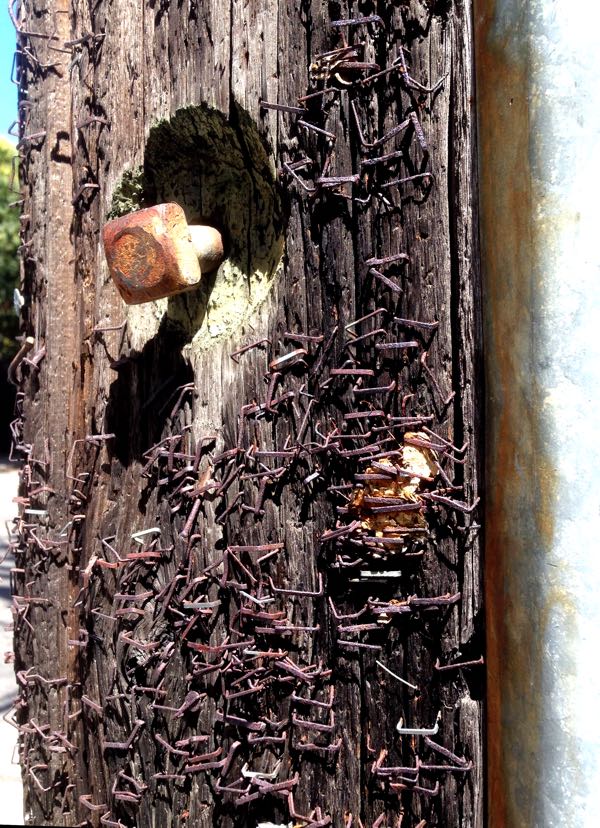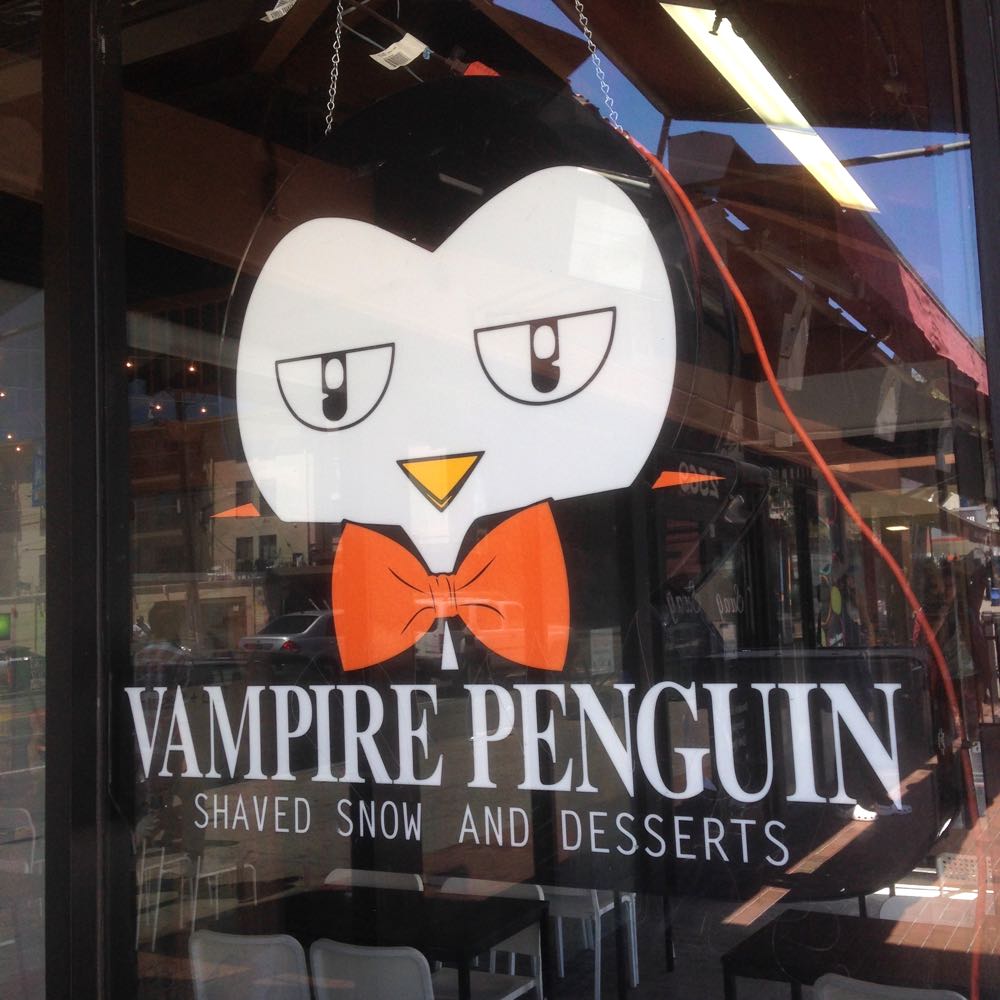 I had wanted to follow up on another 99% Invisible tourist tip, the (base of the) statue of Triumph Of Light statue on Mt Olympus in the heart of San Francisco, but I didn't get round to it. We did, however, take a trip to San Jose to visit the Winchester Mystery House, which is amazing. Of all the things I've talked to people about since we came back, this is the one that has animated me most. It may be the spooky history that lures you there, but it's the story of Sarah Winchester the Architect that I find much more compelling. She was so far ahead of her time that she would not have been out of place as a present-day eccentric Silicon Valley billionaire philanthropist. I need to read Mary Jo Ignoffo's book Captive of the Labyrinth, because that book concentrates entirely on that side of her. There's a film about Sarah Winchester in early production right now, but of course it's going to be a supernatural thriller rather than a biopic of a fascinating woman challenging the restrictions how her time. (It might still be fun, though.)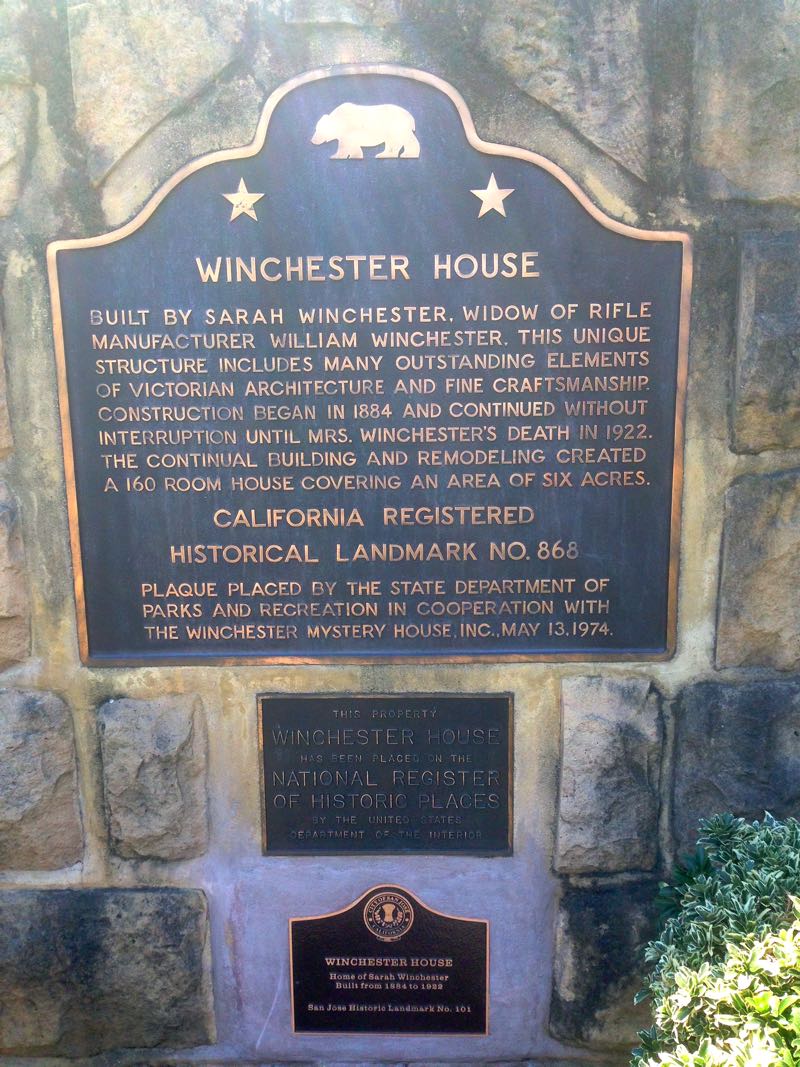 Alex has got a gaming group going with his friends from school, and he was interested in making a start with miniatures. There was a games store in San Francisco that stocked the figures he was looking for. One morning, we walked to Jack London square and caught the ferry to the city. Wow! I had never taken it before, but it was a much more fun way to travel than BART. The ferry stops at Alameda, and then sails past the old naval base that the Mythbusters used for filming many of their iconic segments. You head out over the bay at speed — the ferry is a high-powered catamaran that can get up to 35 knots — cruise past Treasure Island, under the colossal Bay Bridge, and arrive at the picturesque San Francisco Ferry Terminal. I'm a big fan of ferries anyway, but this is a particularly good one.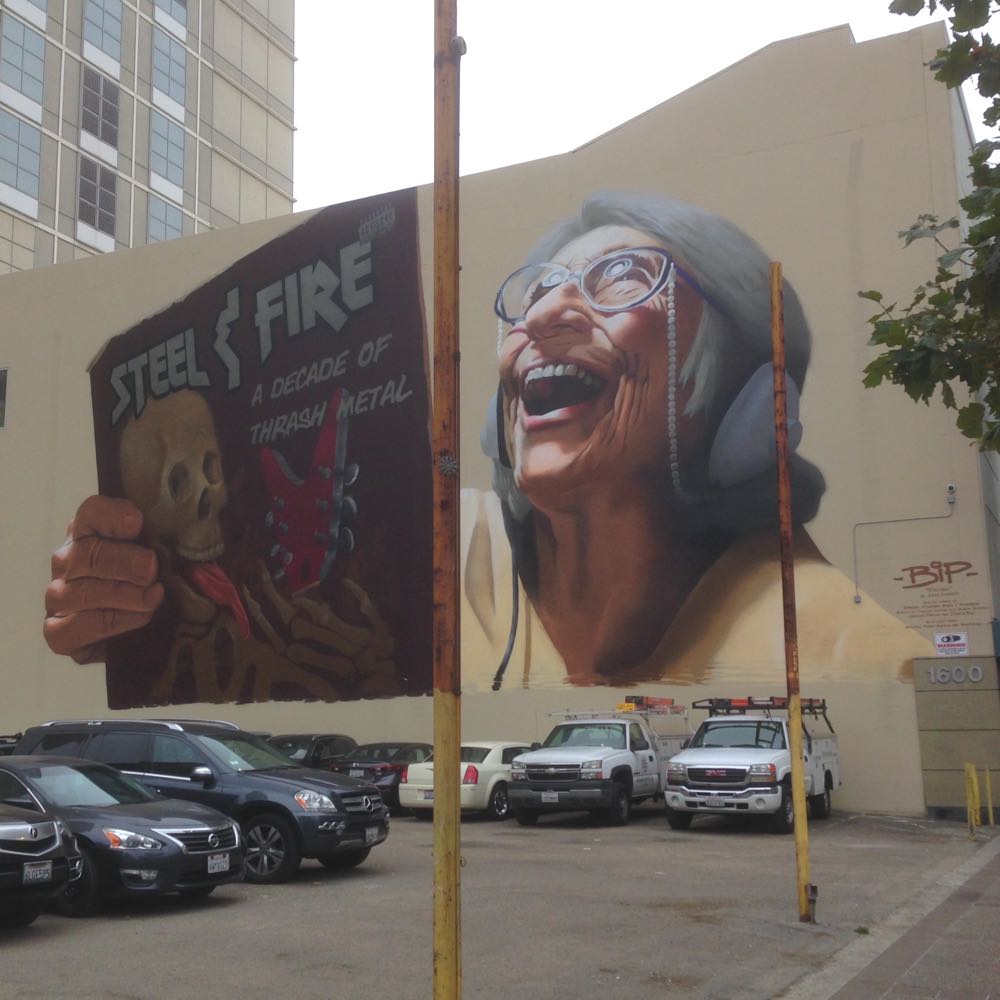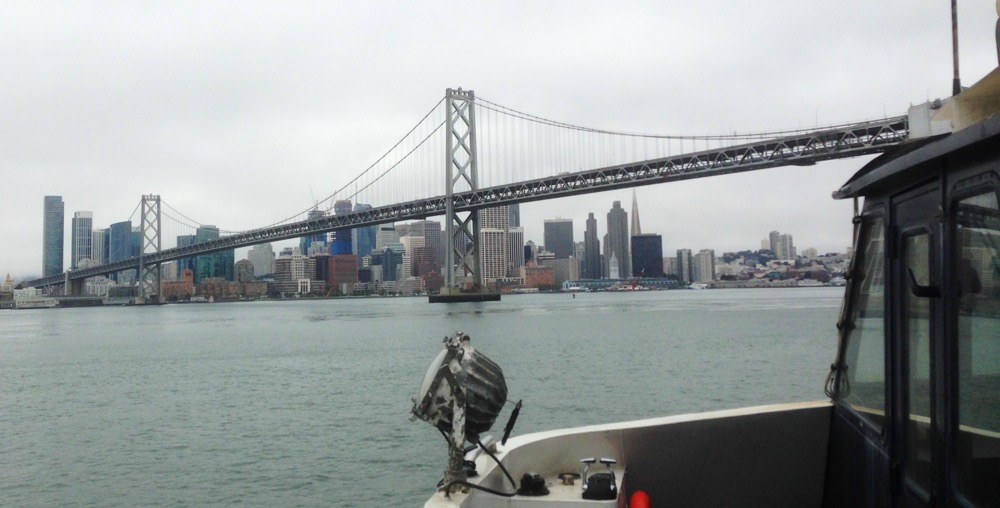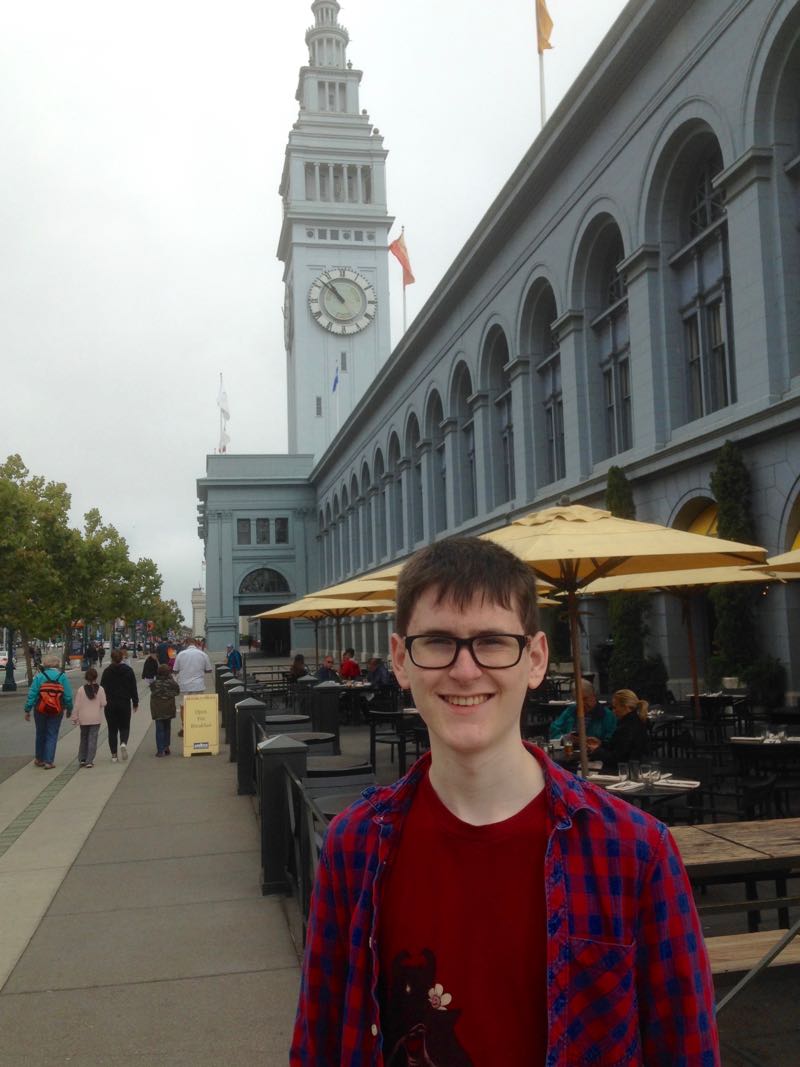 Fiona and I saw Suicide Squad and Jason Bourne at the beautiful Grand Lake theatre.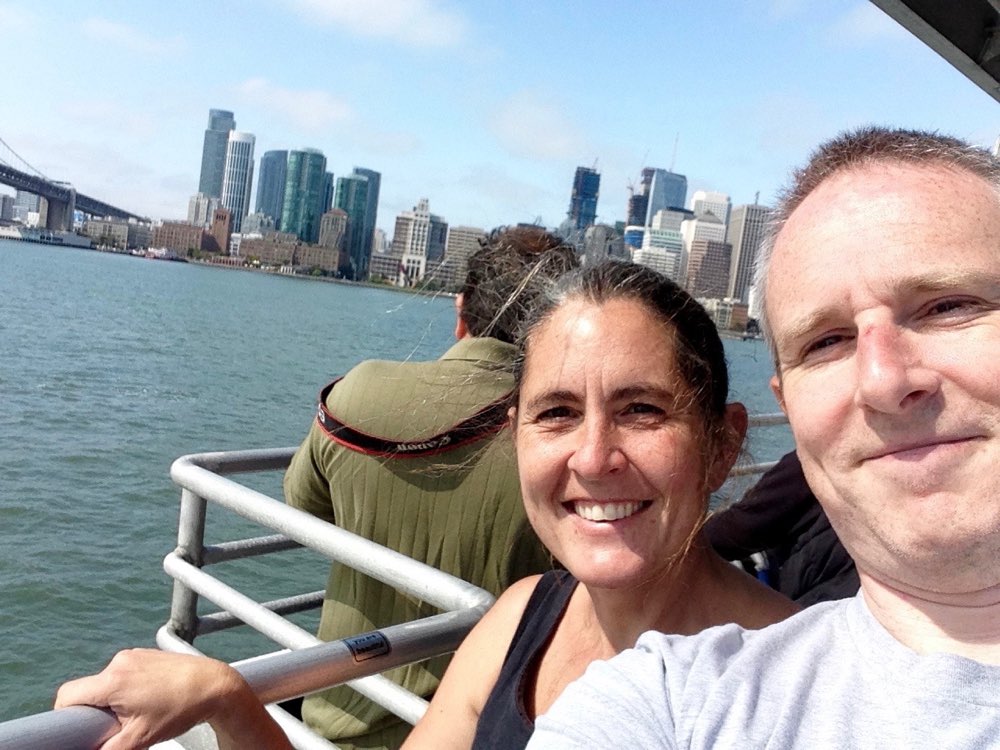 Because the ferry to San Franciso was so much fun, Abi and I took it again when we made a day trip over to the city to visit the newly reopened SFMOMA. It's an amazing museum, from Richard Serra's monumental Sequence at street level to the stark geometry of the Oculus bridge at the top of the building, it's a feast for the senses. We spent hours roaming about, but we could have spent a lot longer. I'm glad we decided to have lunch before we went in, because we were exhausted from all the walking when we finished our tour. If and when we go back, we'll plan our visit with a half-way break for a snack and a sit-down. My favourite work was Lee Krasner's room-scale Polar Stampede, which I'm sure I could sit and stare at for hours.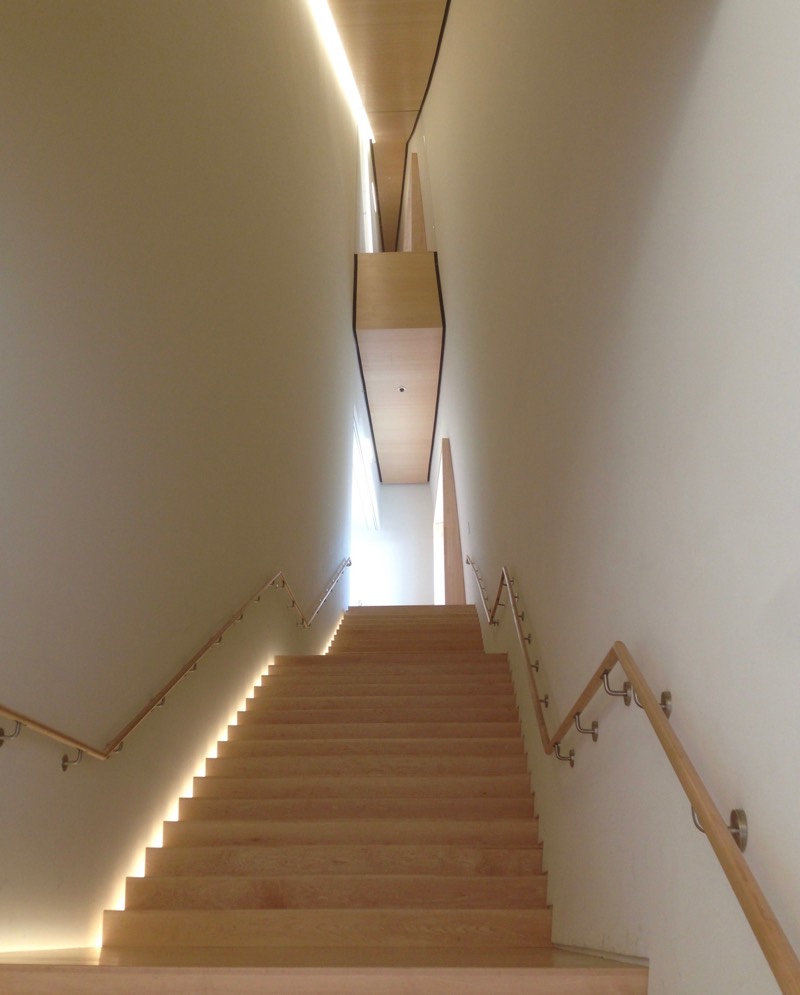 I went along to an Ars Technica Live event, where Leslie Miley talked about diversity in Silicon Valley. Lessons there for tech companies elsewhere, too.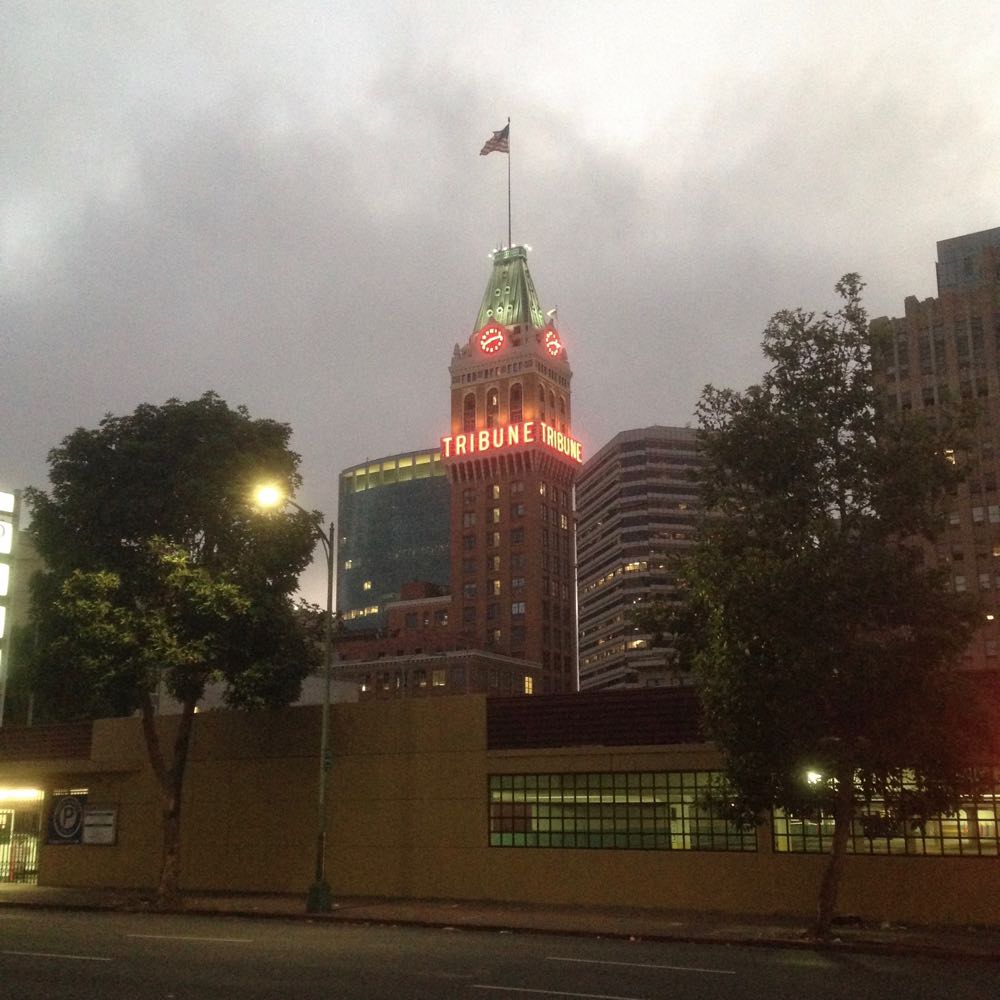 Other than our pre-concert dinner that the Indigo Girls concert, we went out to dinner with our family a few times. With Mick and Sarah we hit Barneys at the start of our stay (a perennial favourite), and Doña Tomas towards the end. With Travis and Carla and Pat and Susan, we ate at Tambo, where I had my first Pisco sour and discovered that Peruvian food is amazing. ("Enjoying Ceviche in Peru and seeing a double rainbow, while listening to Bitches Brew as recorded by Miles Davis.")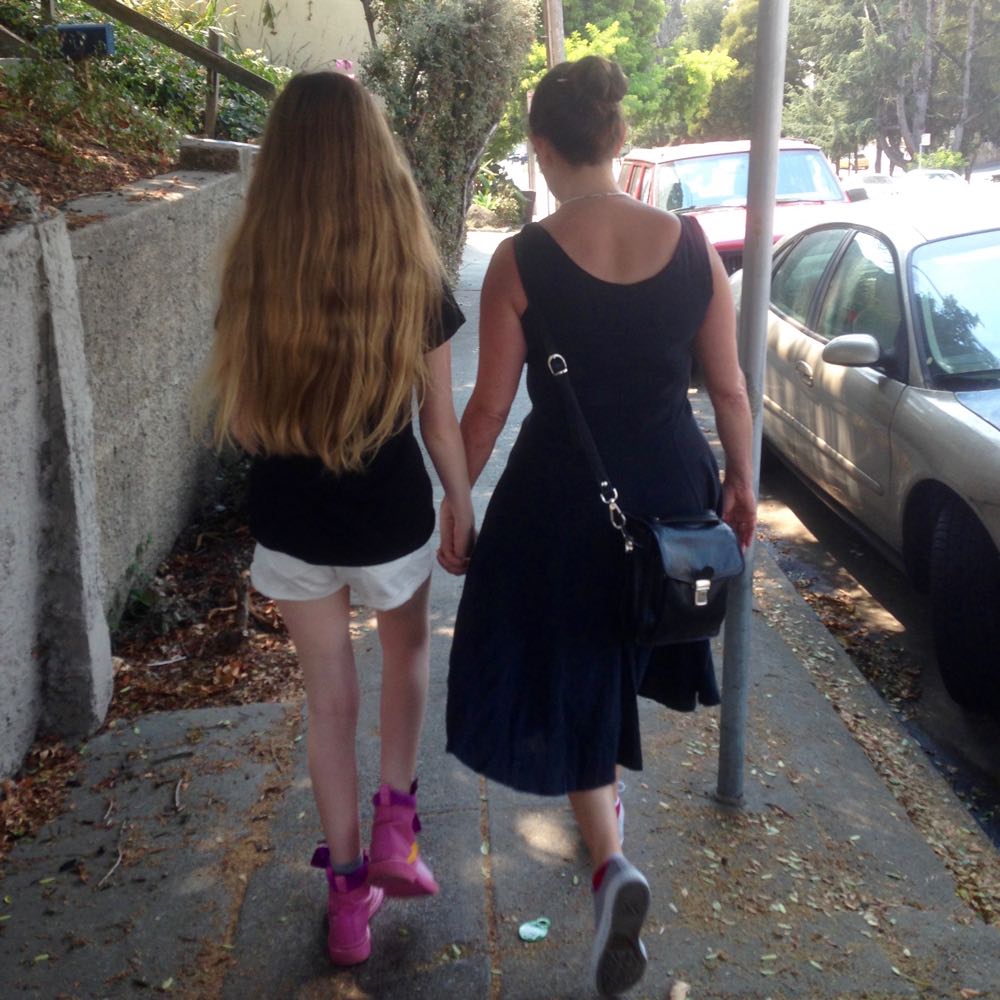 On our last weekend, Abi, Fiona, and I walked to the Art & Soul Festival in beautiful downtown Oakland. Great atmosphere, lots of food, music, and T-shirt vendors. Fiona bought a baseball shirt with an octopus design that she basically has been wearing non-stop ever since. We bumped into Sarah and her mother, and watched a circus and acrobatics performance by the students of the Kinetic Arts Center. We hit the Oaklandish store on Broadway on the way back.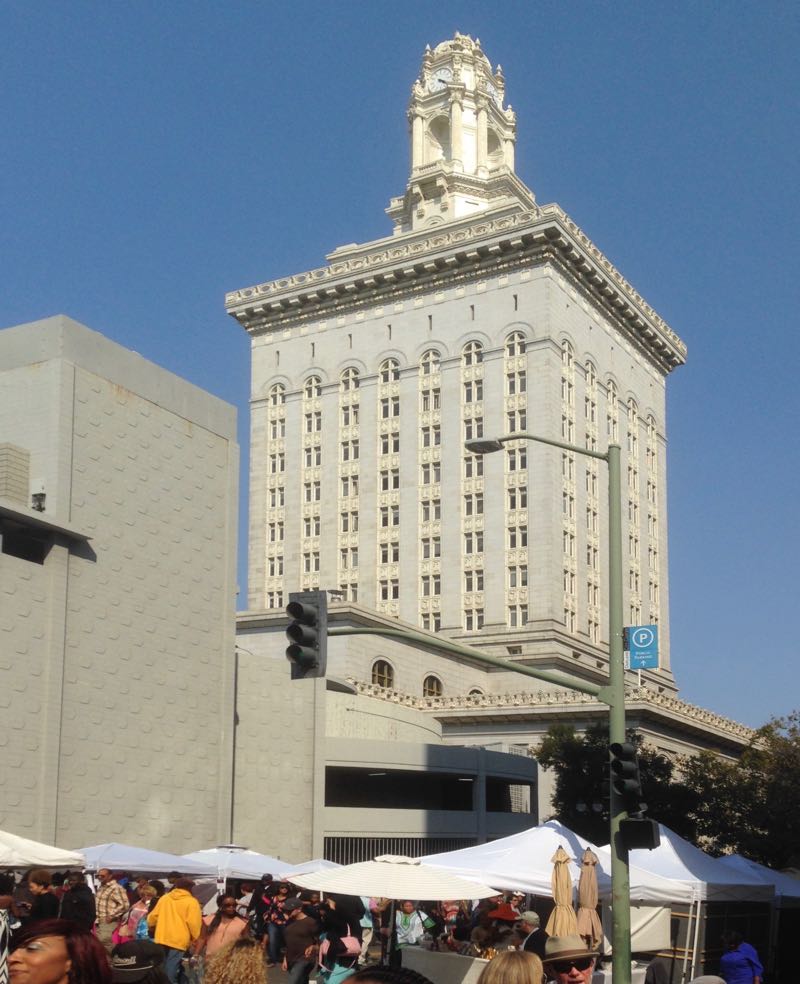 The last day before we flew out, Alex and Fiona wanted to go karting. We went back to K1 Speed in South San Francisco, where they still had our signups on record from three years ago. Fiona still had to ride in the kids' races back then, but she's with the grown-ups now.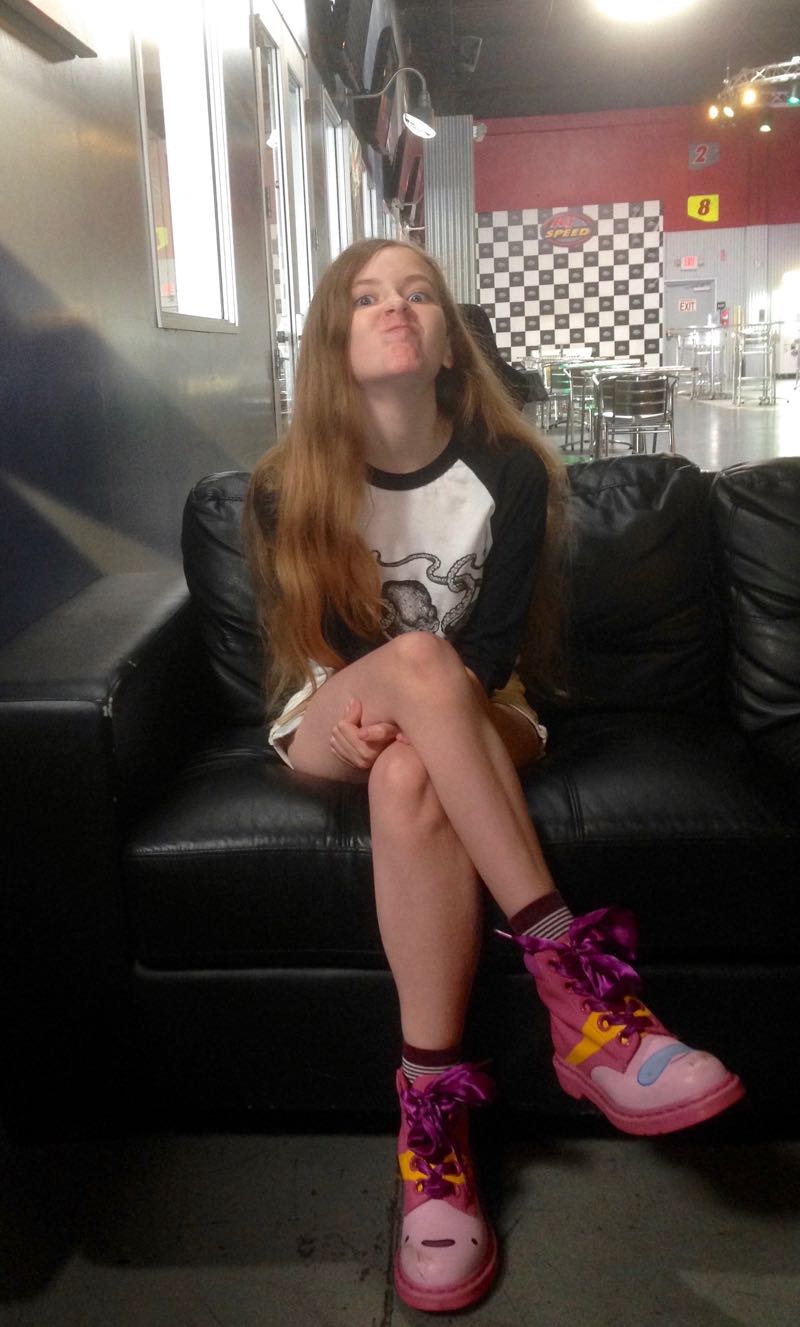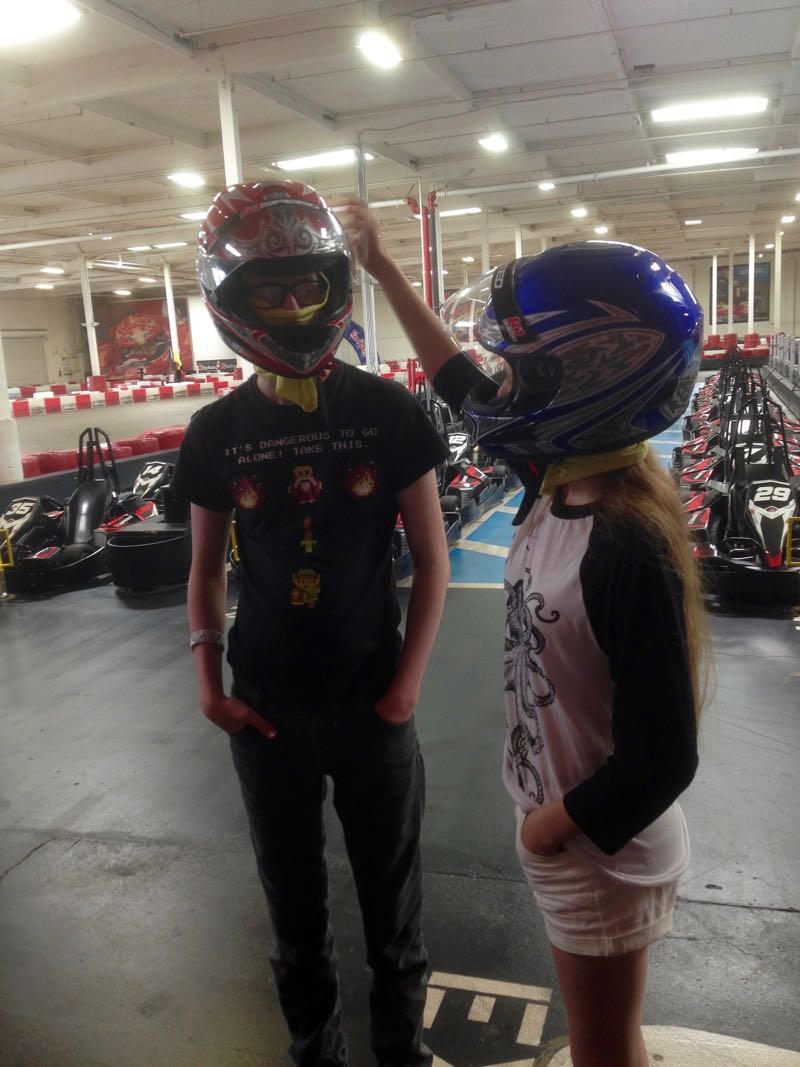 Finally, a quick word about WOW air. We flew with them because they offered the cheapest tickets for the dates we wanted to travel. They may be a "budget" airline, and so you do pay for everything, including a glass of water on the flight, but the quality of service was excellent. The planes were (almost) brand-new A321s and A330 Airbuses with firm but comfortable seats, lots of legroom, and universal AC power sockets between each pair of seats. The seat backs are rigid, which reduces the amount of poking and stabbing from the passengers behind you. There is a layover to change planes in Keflavik airport, but that's worth it for its own sake. The views you get flying on approach to the airport are amazing. If you're of a science-fictional mind, it's more like landing at an outpost on a young colony planet than at a traditional Western airport. But the airport terminal itself is brand new, spacious, with a beautifully stark Nordic design. There's not a lot to see or do in the terminal, and I'm not sure how I'd feel if there had been delays, but for a couple of hours it was just fine.
One thing I did miss on the flight was a map display that tracked the plane's position. On the flight from KEF to SFO, we flew over a tiny remote settlement consisting of a few streets and a small airstrip. I don't know why, but I felt intensely curious about what it must be to live there. I didn't know if we were over Greenland or Canada, though. When we arrived, I spent some time looking up the flight path, and using Google Maps to try to identify the place from mental sketch of the village layout and coastline land from above. I'm pretty sure it was Cape Dorset in Nunavut. No Google Street view, but the satellite imagery is surprisingly detailed. I have no idea what I'd do there, but I find myself drawn to the place.