On Saturday 7 November Abi and I did another Casual Triathlon. The weather forecast for the day was relatively warm, and we thought that we should take the opportunity on what might be the last good weekend of the autumn. True, it wasn't cold, but perhaps next time we'll pay a bit more attention to the wind and precipitation forecasts as well.
Rather than head North-West to the Zaangolf for our swim, this time we cycled South through Amsterdam to the Sloterparkbad. On the way, we passed the construction site at the Oude Houthaven, where they've already dug a hole in the river IJ. It's very Minecraft.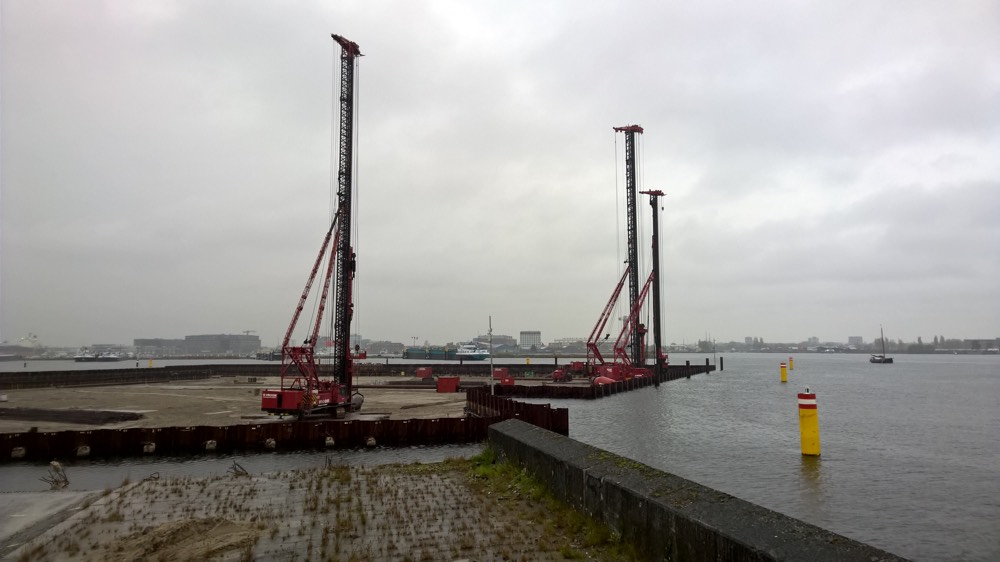 We had got a fairly late start, there was a strong wind, and it was raining. It was after 11 by the time we got to the pool (pre-moistened), and we only just had time for our 1.5km swim before it closed for lessons and clubs. Then we started our 40km cycle. We took a route East through the centre of Amsterdam, past Centraal Station, along the Piet Heinkade, and then onto Zeeburgereiland. We were taking our time, and stopped along the way to take pictures of nice views, buildings, and typography.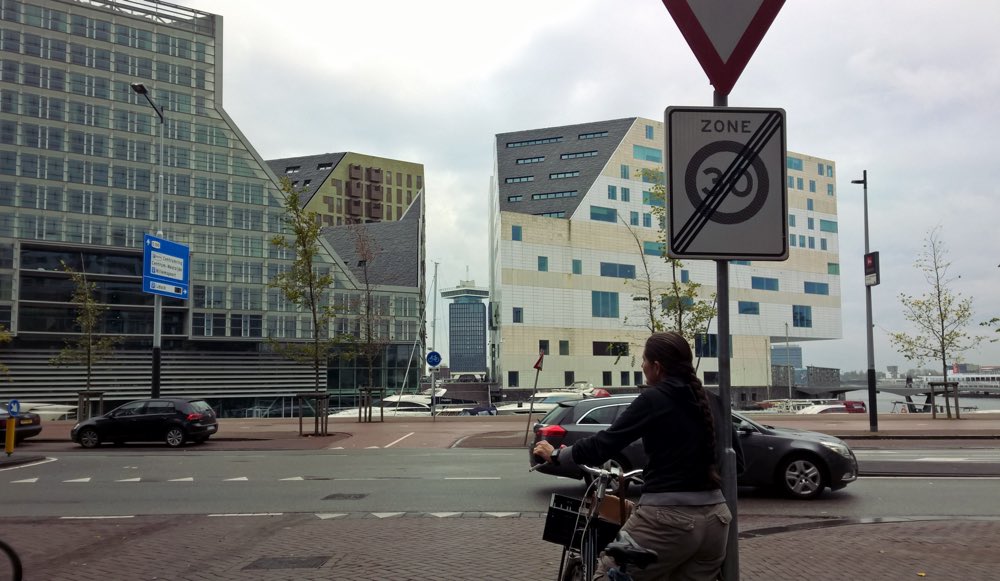 Across the IJ, we took advantage of the northeasterly wind at our backs and followed the road around the coast of the IJsselmeer through Durgerdam and Uitdam. Great views. We didn't go as far as Marken — we only needed to do 40km. We turned West where the Zeedijk splits, and turned onto Gouw towards Zuiderwoude a couple of kilometers later, right into the teeth of the wind.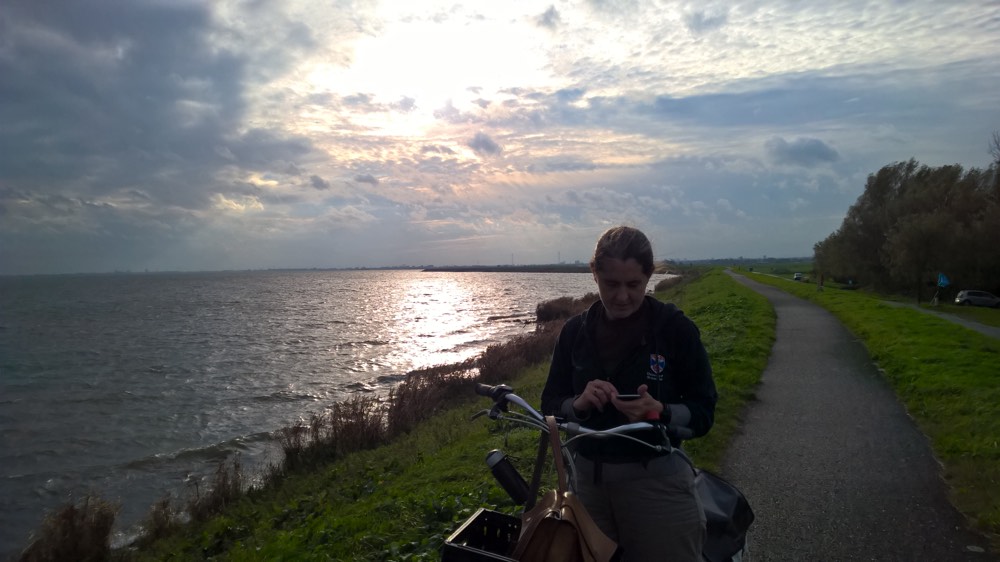 We took a break at Zuiderwoude at about 15:30.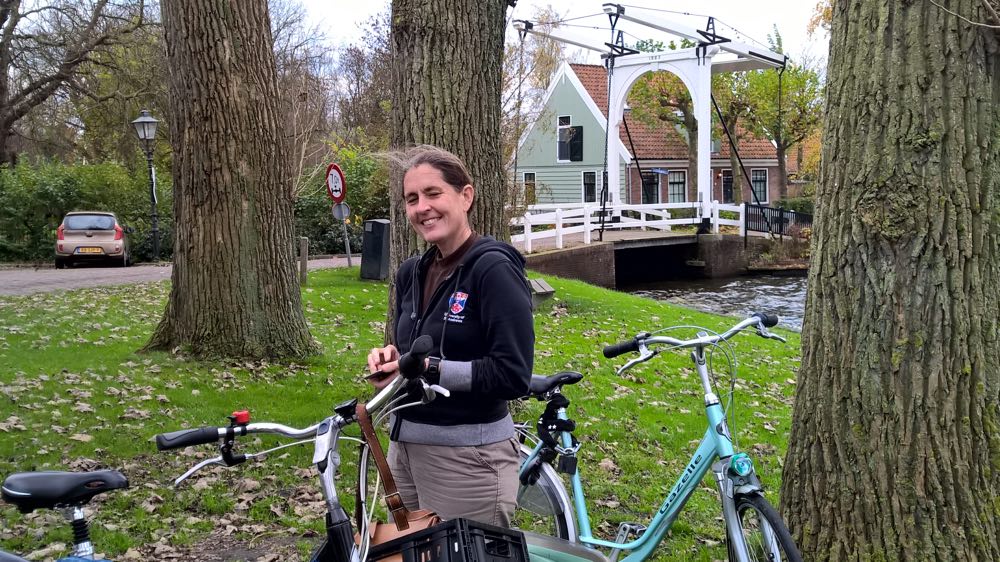 When we do these walks and cycle trips, we both have our limiting factors. Abi's hip starts to hurt on long walks; my knee starts to hurt on long cycle rides. After Zuiderwoude, we our route was still straight into the wind. It was a tough slog all the way to Landsmeer where we hit 40km. Our plan had been to cycle on to het Twiske, park our bikes near the boerderij, and do a 10km loop like we did last year. My knee was bothering me quite a bit by that point, though, so we improvised. We got off our bikes, and started our walk in Landsmeer already. We walked the bikes into het Twiske, and parked them near the windmill where Het Luijendijkje forks. That gave us about 2km.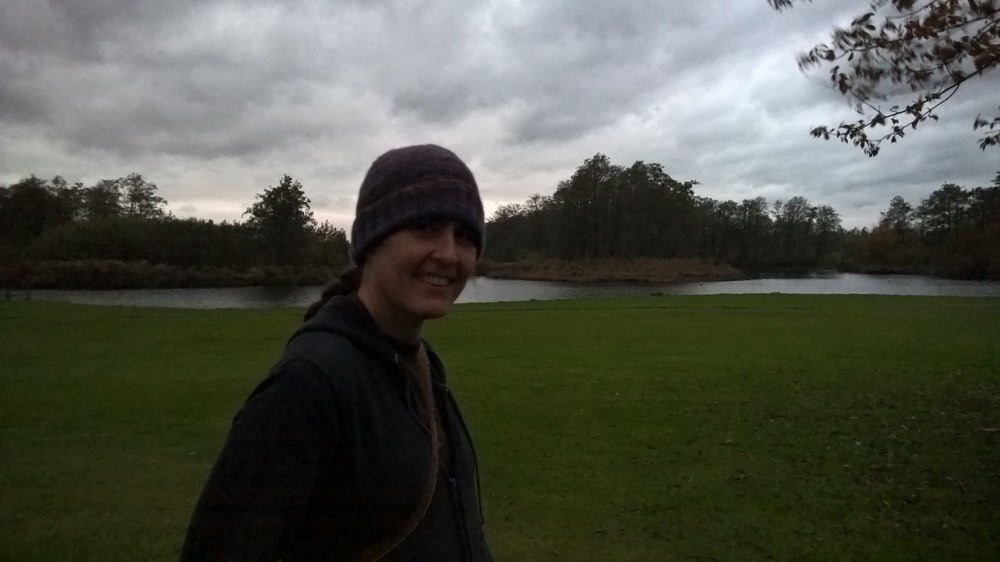 It was after 17:00, and starting to get dark. We figured that we could do a 6-7km loop around the lake, past the sports centre, and then back along the path next to the Ringvaart. Although we had got wet on the ride to the pool in the morning, the rain had stopped by noon, and the wind had blow-dried us very effectively. But part-way through our walk, the clouds hit us with everything they'd been holding back during the day. We weren't wearing rain gear, and we got soaked to the skin.
Because we'd left our bikes beyond the cut-off back to Oostzaan, we didn't have much choice but to trudge wearily onwards in the dark and stormy night. The loop was shorter than we'd thought, and we still had almost 2km left when we reached them. So rather than cycling home quickly, we carried on walking, pushing our bikes and looking rather pathetic to all the people who passed us on the way. We hit our 10km milestone just a couple of hundred meters away from home, and we jumped onto our bikes to kill that last final distance as quickly as possible.
Cold, wet, tired, but we did it again.