"casual triathlon"- like fancy trainers and knife fights?
Dave
Not quite. After walking a marathon two years ago, Abi and I have been doing more long-distance walks. We enjoy the time together and the things we see while we're out, and they're good exercise. We're not athletes by any stretch of the imagination, but it pleases us that we don't have to "get in training" to tackle a 26km walk.
When we go on holiday to France, we're in the habit of swimming 100 lengths of a 10m pool: 1km, albeit with lots of turns. At some point over the summer, inspired by Alan, I checked the wikipedia article about triathlons and learned that the famed "Iron Man" is just the hardest and longest version. There is also a "standard" distance, which involves a 1.5km swim, a 40km cycle, and a 10km run. Hmm, I thought. That actually sounds quite feasible.
So yesterday Abi and I went and did one. Casually. Slowly. Crucially: without paying any attention to time. We did it because we wanted to do the distance, and show to ourselves that we could.
My original idea had been to get an early start, but it turns out that our nearest pool is reserved for swimming lessons on Saturdays, and isn't open to the public. The Zaangolf pool on the other side of Zaandam was open for lane swimming between 12:00 and 13:00, so we decided to make it an afternoon thing. The Zaangolf is about 10km away by bike, so that would be a good warm-up.
We left the house around 11:15, and got to the pool by 12:00. We changed and started our swim at 12:14. I finished my 60 lengths at 12:52. Abi wasn't done yet, though, so I carried on and did another twenty lengths. We got out of the pool at 13:04, so 50 minutes down. We dressed quickly, took a few selfies with our eyes ringed and bruised from the swimming goggles, and had a drink by our bikes before we set off on the second leg.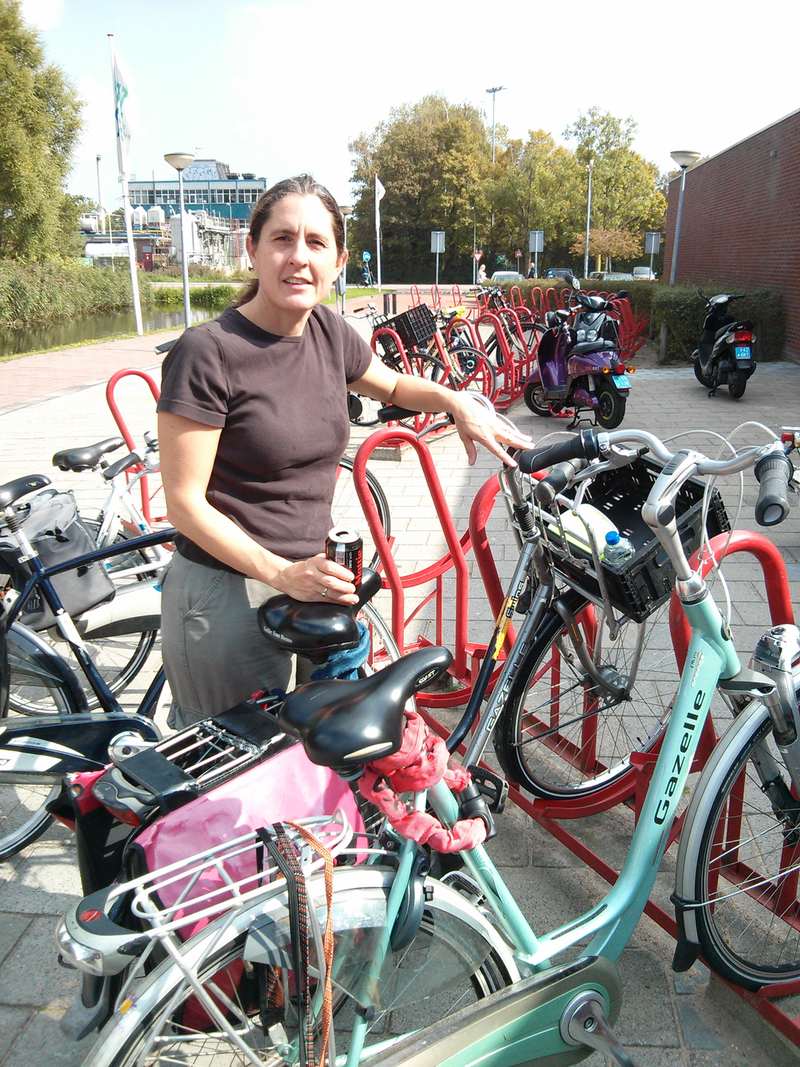 Our cycle route took us through the Zaanse Schans and along the Zuiderweg to Purmerend. Noord-Holland might not have any hills, but it certainly has wind (it's famous for windmills for a reason) and it was directly in our face for that stretch. Going through Purmerend was slow as well, because it was urban stop-start.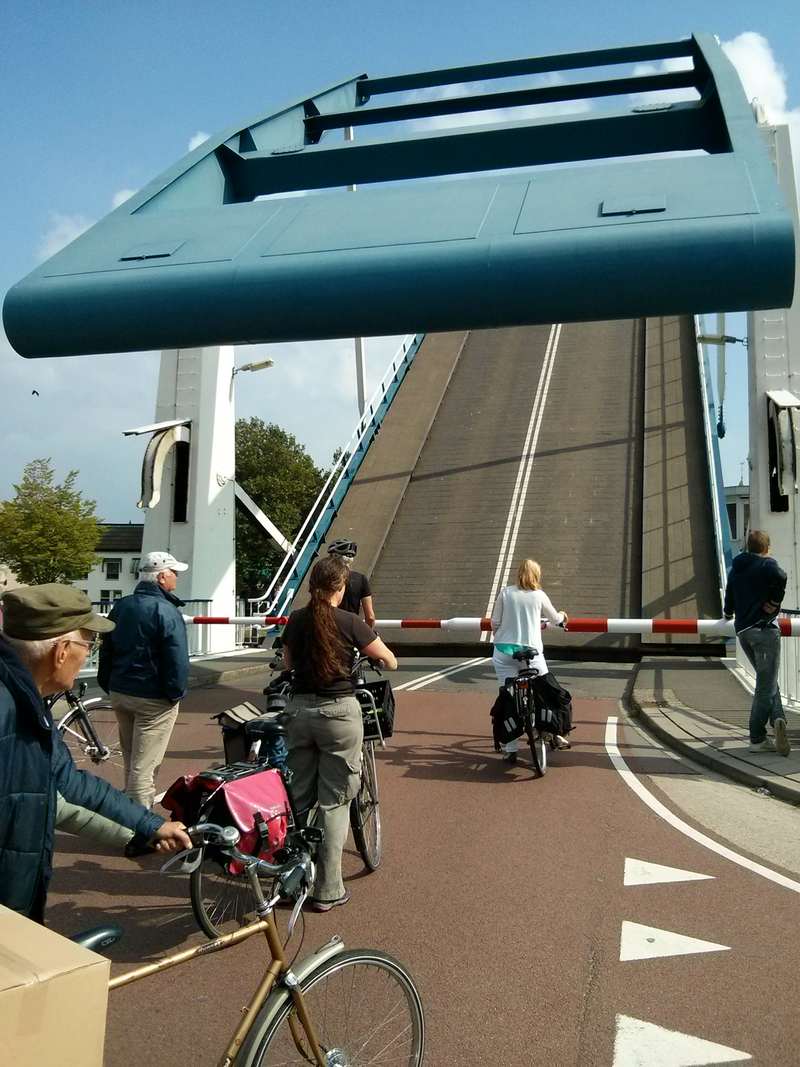 We eventually made our way up onto the Purmerdijk, and followed the curve of the canal round to Edam, just past the half-way point. We didn't enter Edam proper, but hooked back on the Edammerweg to the Oosterweg. At that point we were heading south-east, and had the wind almost directly at our backs. We flew down the that 5km perfectly straight stretch, revelling in the knowledge that the second half was mostly all in this direction.
We took the tiny ferry over the canal at Ilpendam, and almost before I knew it, we were back in Het Twiske. Our plan was to make it to 40km, park our bikes, and then do the last 10km as a big loop around the lake in Het Twiske. We headed for the Marsen Farm, and by excellent coincidence hit 40km almost exactly as we arrived there, in a time of 3 hours and 6 minutes. We parked our bikes, and set off on foot.
Not too much to say about the 10km loop, other than that it was a gorgeous afternoon for a walk: warm, sunny, and with a pleasant breeze. We were a bit tired after the cycle, but the walk gave us another change of pace and a different set of muscles to exercise. 10.23km and 2 hours and 3 minutes later we got back to our bikes at the farm, slightly sweaty and sticky, but happy and satisfied. It was 18:36. From that start of our swim at 12:14, it had taken us 6 hours and 22 minutes.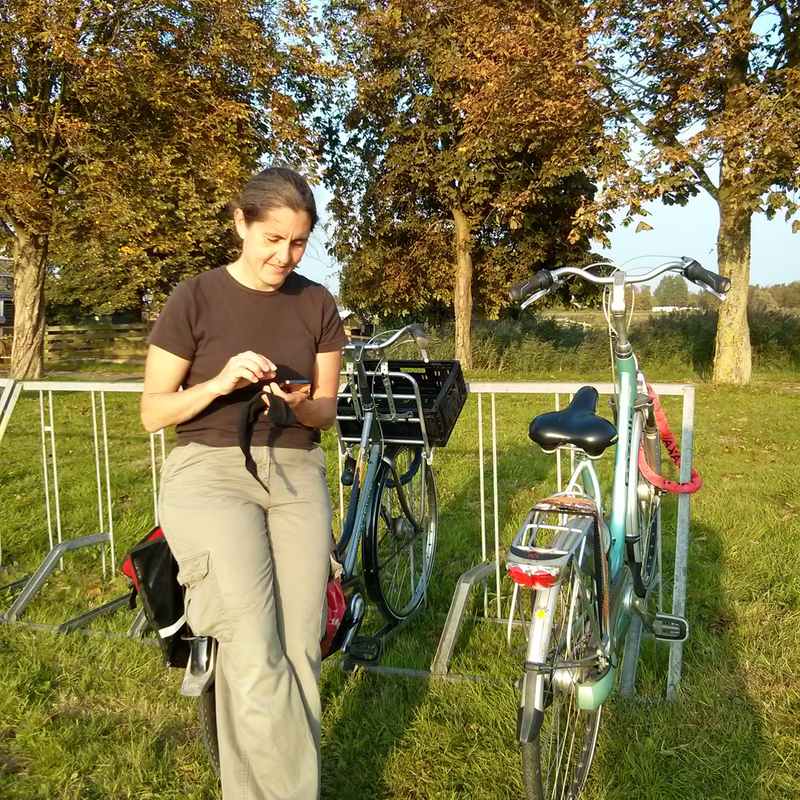 The sun hadn't set, but was sinking in the sky. The leaves of the chestnut trees near the farm were starting to turn, and the golden light brought out all the warm tones in the the greens and browns. We're enjoying a lovely nazomer right now. It would be great if it saw us through to the Dam-tot-Dam walk next weekend.