At very short notice I got tickets for Glen Phillips and Paul Freeman. It was an afternoon gig, and I thought Fiona might find it fun, so I invited her along as well. (Alex: "NOPE") Abi came along, too.
We drove to NDSM, but couldn't get parked quickly enough, so we missed the ferry we'd planned to take to Centraal Station. There was another one ready to leave for the Tasmanstraat, and we took it instead. The Botel has some big new letters up on its roof.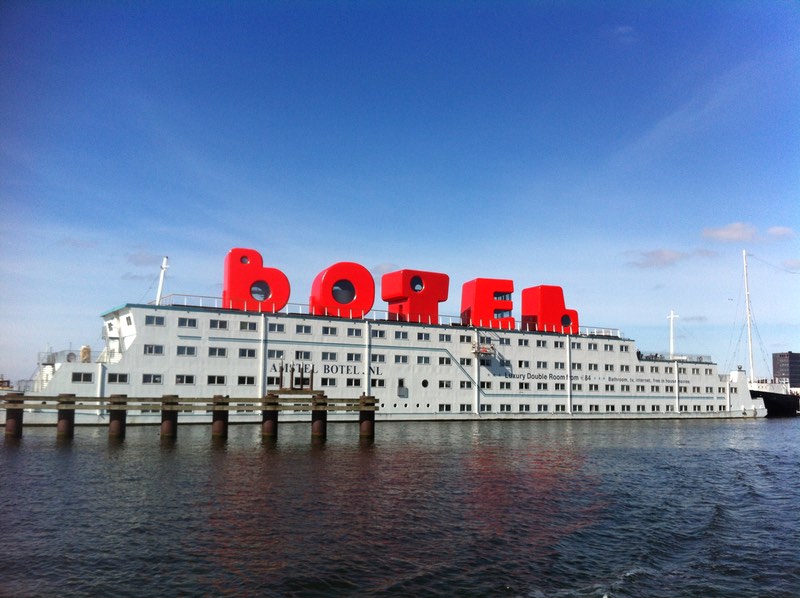 We walked from the Tasmanstraat along the Haarlemmerdijk to the Spuistraat (amazingly, I think that's the first time I've ever been along the Haarlemmerdijk), and then took a tram to the Leidseplein. I had never been to the Sugarfactory before. It's a cute little club venue just across the street from Melkweg. For a laid-back, folk-y afternoon show, there were small tables and chairs on the floor in front of the stage. I guess there were around a hundred people there. We got something to drink, and tucked ourselves away near the stairs in the back right corner.
First Paul Freeman came on for half an hour, then Glen Phillips did half an hour. Then after a break they both came on stage, and traded songs for another hour or so before finishing with a once-rehearsed duet of the Traveling Wilburys "Handle With Care". It was a sweet, relaxed, neat little gig.