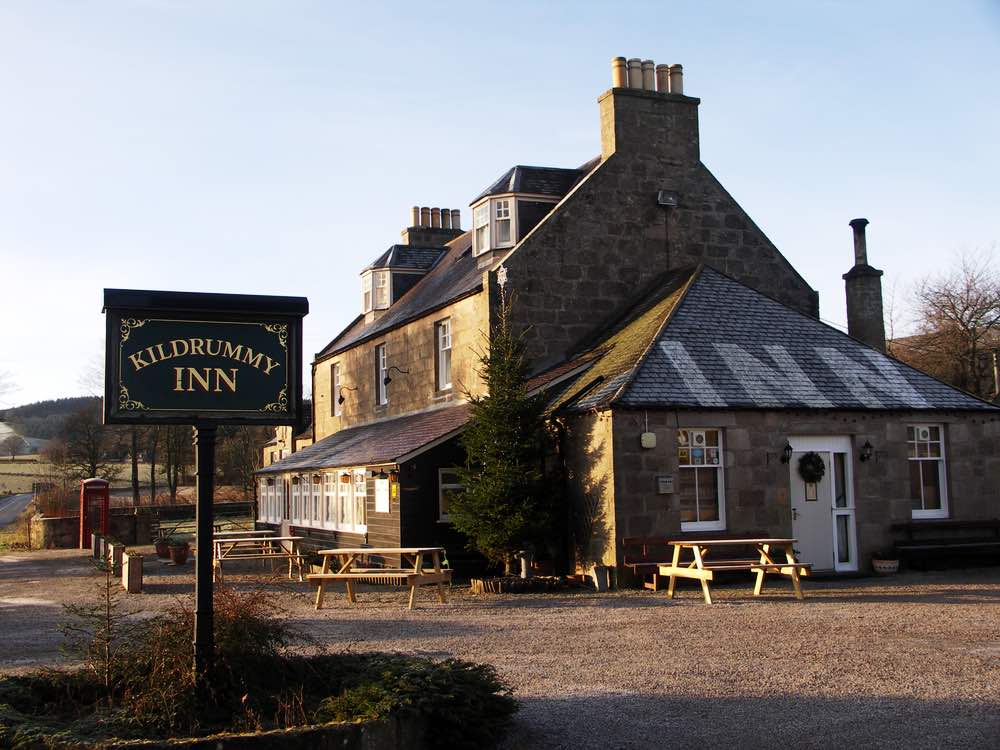 The Sunday after Christmas Abi and I took a short break inside our holiday. We drove North through Glenshee and Braemar to the Kildrummy Inn for an overnight. I'd found the hotel through Hotels.com, searching for accomodation in Aberdeenshire – I hadn't heard of it before. The reviews were excellent, and the photos looked like the kind of place we like to stay in: Scottish rural, slightly old-fashioned, comfortable rather than swanky. The kind of hotel where we would not feel out of place going down to dinner wearing jeans and a sweater instead of "smart casual". And indeed it was!
More than that: co-owner and chef David Littlewood was Scottish Chef of the Year 2013, and the Kildrummy Inn is clearly trying to make a name for itself in culinary circles – they won two AA rosettes in 2014. We arrived shortly after lunch service and were greeted by co-owner Nigel Hake, who saw us to our lovely room on the first floor. We hadn't booked a table for dinner, because we weren't sure what to expect. And to be perfectly honest, I had been thinking about an unpretentious fish and chips takeaway in nearby Alford. But despite not asking for it, he had kept a table aside for us anyway, and as soon as he brought us up the evening's menu we were hooked.
We went down for a drink in the cozy bar shortly after 7, before being ushered through to the long narrow dining area at the front of the hotel. (There's a second room next to the bar as well.) My starter was a chicken and apricot terrine with a black pudding bon-bon on top. The terrine was tender and flaky, but the subtle chicken flavour was overwhelmed by the intensity of the black pudding when I took them together. After the starter, we were served an intermediate course of rich and creamy celeriac soup with truffle oil, and dainty cheesy biscuits on the side.
For my main course…I had fish and chips anyway. I like it when a high-aiming restaurant serves simple food, and it was suitably delicious. The haddock was perfectly tender in a light batter that stayed crisp until the very end. The chips were double-fried, crunchy, and fluffy, and the accompanying pea puree was perfectly judged to lighten the deep fried goodness a hint of vegetable.
My dessert was a lemon posset, topped with burnt orange caramel, and blood orange sorbet on the side. I'd never come across a posset before, so I had to ask what it was: a milk pudding curdled with citrus juice. It was delicious.
My faulty digestion struck again in the middle of the night, and I had to forgo the pleasure of breakfast the next morning. Abi's "Full Kildrummy" looked amazing, though. We had a nice chat with Nigel about computers, networking, and gaming before we headed off shortly after 11. We had originally planned to drive a bit further North-West and head back South via Aviemore, but we decided to just reverse our drive through the ridiculously scenic Glenshee instead. (Clear blue sky, hard frost on the ground, with snow-capped hills.) Abi had never been to the House of Bruar before, and we met Mum & Dad and the kids there for tea and a scone and some shopping in mid-afternoon.