Technically it's the day of the referendum already, but I'm not counting it until I wake up in the morning. I'm in Scotland again until Friday, but I'm not a resident, so I can't vote.
I'm staying at the newly opened Ibis Budget Hotel in South Gyle. It's "budget" along the same lines as the Tune Hotel at Haymarket, but more generous with its space and facilities. Double bed with a high quality, firm mattress, and thick pillows. (And a single bunk above it, too, in case I get restless in the night.) There's a shower pod, a sink, and a toilet cubicle with a Western saloon-style swinging door, which is odd. Some hanging space and a desk/dresser corner with a small plastic stool. The surfaces are all optimized for easy cleaning. Unlike at the Tune, the TV and shit wifi are included in the room price. There doesn't seem to be an option to upgrade from shit to premium. Or a way to turn off the noisy air conditioning.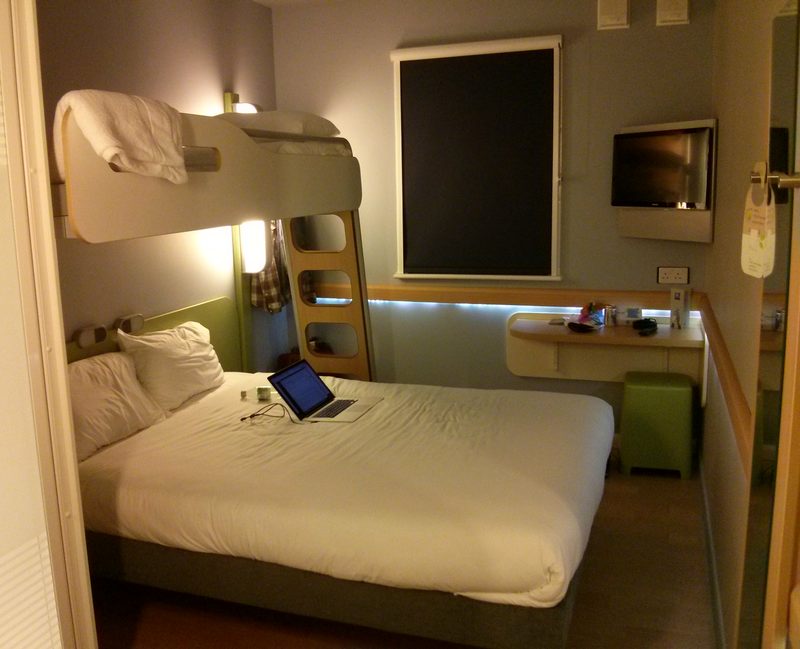 I went out for a quick drink with some folks after work. I left the pub just after 19:30, intending to take a long evening walk back to the hotel. On the bus into town this morning, winding through Stenhouse, Balgreen, and Gorgie I had seen lots of "Yes" posters in windows – far, far more than the indications of "No" support. I wanted to see if the view would be any different on foot.
It was: just across the Meadows, at the foot of Middle Meadow Walk, I ran straight into a Yes rally. I estimated around 500 people, lots of badges, flags (Scottish, Welsh, and even one Frisian), banners, and applause for a speaker I could neither see nor hear.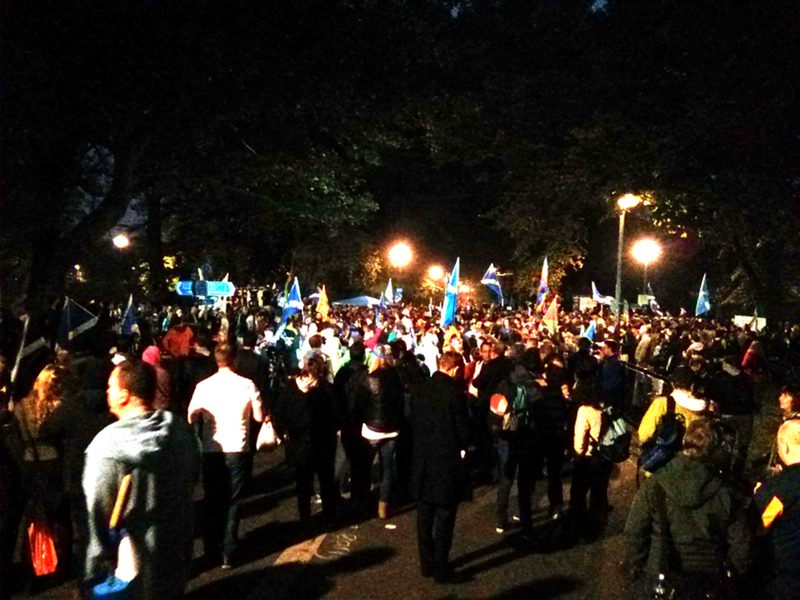 I didn't feel like hanging around, so I carried on towards Tollcross. Last week, while searching for a good burger joint in Edinburgh I had noticed a place just called "Burger" in Fountainbridge, and without intending to I walked right past it this evening. Well, "walked past it" in the sense of also stopping off and ordering a rather delicious bacon and cheese burger with fries. The double burgers on the menu looked tempting, but a single was quite enough. The patty was rich and moist, on a brioche-style bun that absorbed a lot of the juices without going soggy. I had ordered a side of chili sauce, but it was more like a shrimp dipping sauce than something I would want to slather on a burger. Overall verdict: very tasty, and I'd gladly go back again.
Afterwards I walked on…briefly, and found myself at the Cineworld cinema at Fountain Park. I couldn't resist checking what was on, and I found that if I hung around for another twenty minutes I could catch a showing of The Guest. I hadn't even seen a trailer for it, but I'd heard it was fun and John Carpenter-ish, and I was intrigued to see Dan Stevens in something other than Downton Abbey. It lived up to the promise: it's a hoot. Right from the shrieking opening title card, it feels like a throwback to a simpler era of psychological horror film. Without trying to be excessively clever or twisy, it just delivers a boat-load of thrills. Dan Stevens does an excellent five second friendly-to-menacing transition.
After the film, I saw a car driving around with an iluminated blue Statue of Liberty, draped in a Saltire.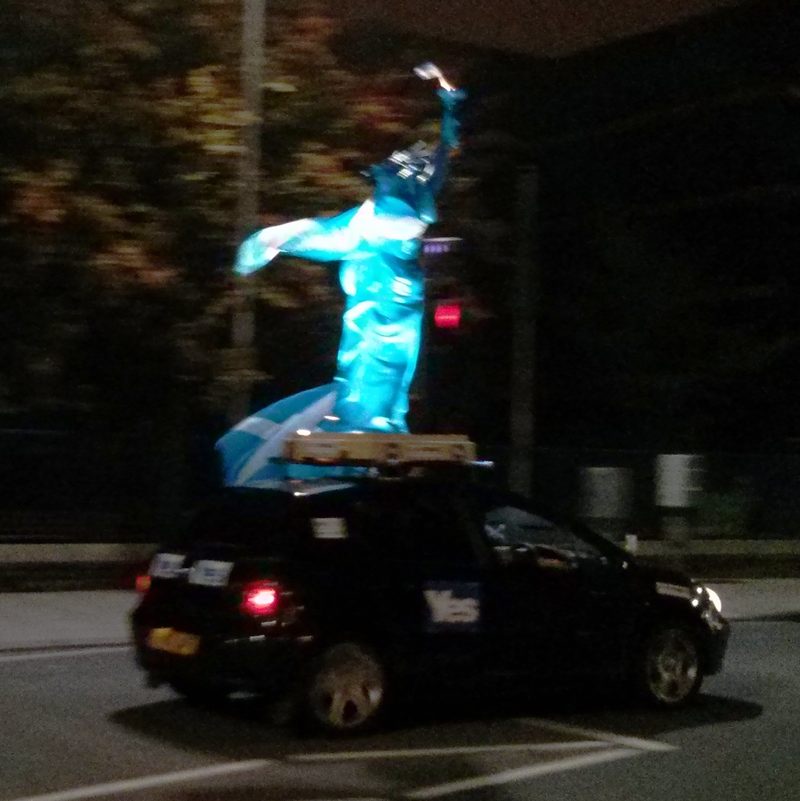 By this point it was 23:30, and I figured it was too late to walk all the rest of the way back to the hotel, so I just took the bus.
How do I think the referendum will go tomorrow? I don't know. That's not to say that I think "it will be close" as the polls are predicting. It's just that I can't separate what I think will happen from what I hope will happen. I think there are good reasons to question the pollsters' methodologies; flaws that might well underestimate the Yes vote. Or maybe the polls are good and accurate, and the outcome will be tight, within their margin of error. What I know, though, is that the polls have shown a big shift towards Yes over the last month. Also, from walking around Perth and Edinburgh, I have seen a lot more support on the ground for Yes than for No. I'm going to ignore Twitter for reasons of availability bias: I follow more yes supporters than no supporters, so I'm obviously in a self-selected bubble of blue and white.
To suck my teeth and say "well, it's going be close!" may be giving in to wishy-washy thinking, showing an unwillingness to commit to a strong position based on my own analysis and observations. To say that I think the vote will go "strongly" Yes may be giving in to all sorts of psychological biases and fallacies. No-one likes to be wrong. The numbers say it will be close. I…just don't know.
Normally on these trips to Scotland I bring back some sweets for Abi, Alex, and Fiona. This week, I hope I can bring them back a whole new country.