(Day 3 of our trip being day 2 of the Con: Friday 15 August.)
Friday was Abi's big day: she was moderating one panel, and speaking on two others. The first one, "The Deeper the Roots, the Stronger the Tree" was a discussion of how non-genre authors such as Arthur Conan Doyle and Jane Austen have inspired and influenced science fiction and fantasy. Abi was really nervous about this one. Despite all her experience moderating online communities, this was her first time in charge of a real-life panel. The kids and I didn't go along to it (it was a bit early, and a bit out of Alex and Fiona's sphere of interest), but Abi said it went well.
While Abi was moderating, the kids and I got ourselves ready and wandered over to the Con. We planned to attend Abi's second panel, "Settling the Alien World" at 12:00. Before then, we had a quick look in the Dealers' Room, located the Tiki Dalek, and hung out in the Fan Lounge again for a bit.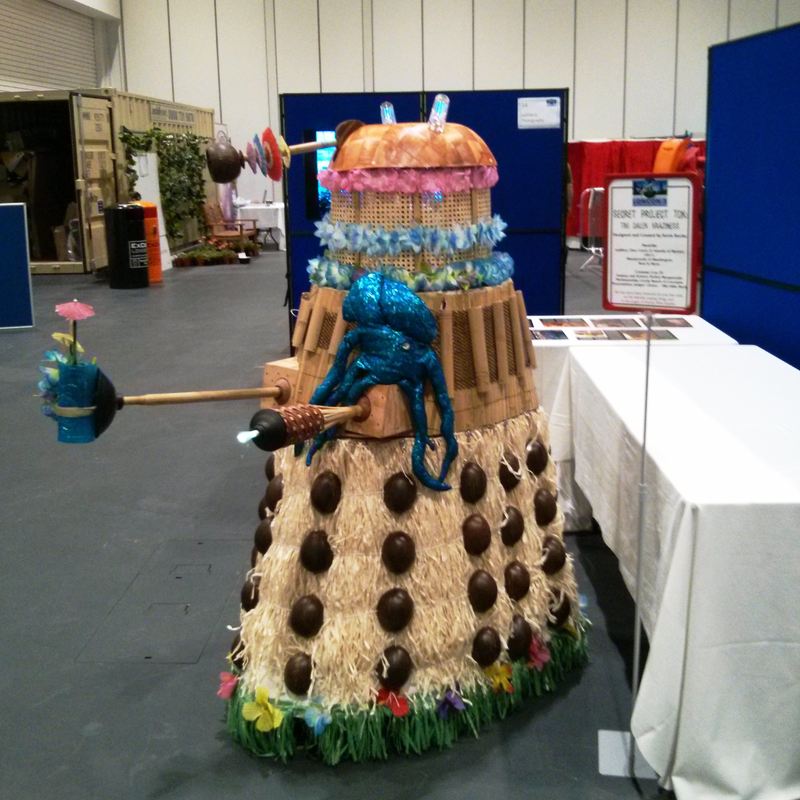 The "Settling the Alien World" panel was neat: a bunch of authors, scientists, and fans talking about the practical and social issues surrounding humanity's potential arrival on three different types of planet. Lots of good discussion.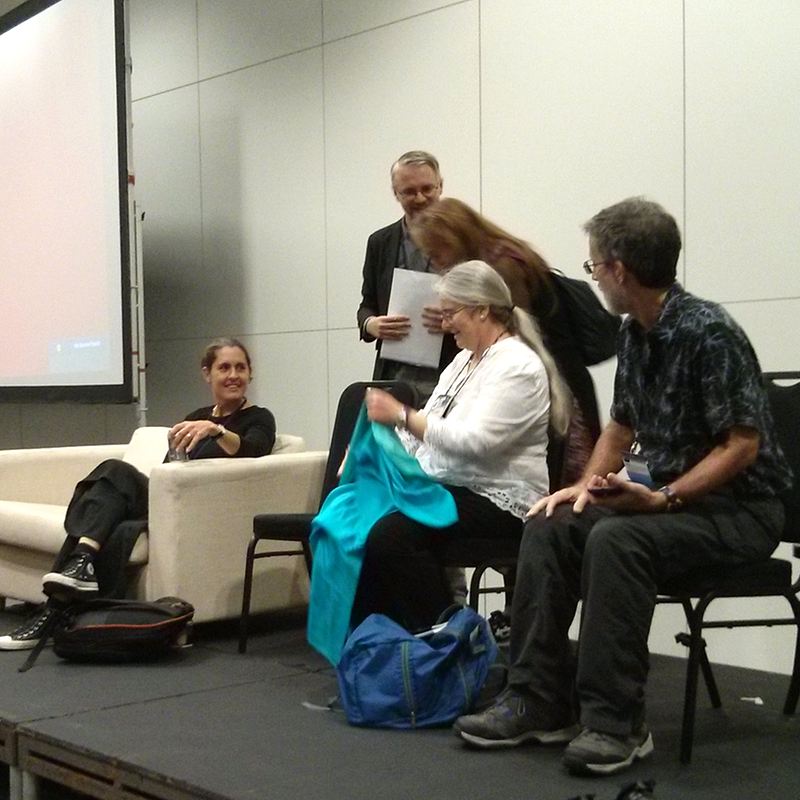 On the previous day (Thursday) Fiona had taken part in the first session of the Tardis build. Before that first session, Abi and Fiona had gone back to the hotel for Fiona to change out of her Merida costume into street clothes that would not be a problem if they got dirty. However, that did leave her in normal clothes afterwards, which was a bit of a let-down after having had so much attention in costume earlier. This was one of the reasons that we went back to the hotel at the end of the afternoon – so that Fiona could change back for the evening.
For the second Tardis session on Friday we had a different plan: I had Fiona's spare clothes with me in my bag, and she just changed into them in the toilets at the ExCel centre.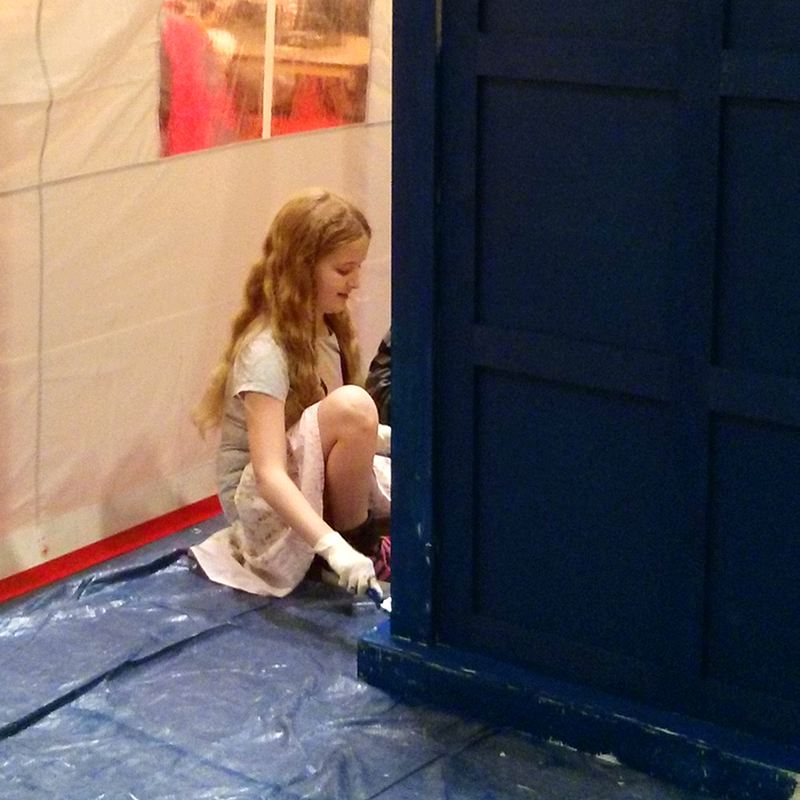 Fiona's new best friends were all involved in the Tardis build as well. After they were done with the day's painting, five of us (Emily, her mom Kristen, Alex, Fiona, and I) wandered up the concourse to the Indian restaurant and had a curry for lunch. Well I say "curry", but Alex and Fiona both only wanted a plate of rice. Eh, it's Worldcon. Whatever.
One of the cornerstones of Alex's Worldcon experience was the role-playing in the gaming tent. At 16:00, Garry Harper of RP Haven ran the workshop "Design and Playtest your own Tabletop Game" to teach tricks of the trade to both new and experienced GMs. Alex felt a bit shy, and wanted me along. I sat in on it too, and it was great. Garry is an excellent and enthusiastic instructor. He got everyone thinking about plot and momentum, characters and crowd management. His most imporant message, though, was: make sure the players are having fun. No matter what your planned outcome was for the session, if everyone had a good time and a laugh, that's a win. Very valuable advice. Alex lapped it up, and it even gave me some ideas for a Chthulhu scenario…
The gaming session overlapped with Abi's third panel of the day, "Saturday Morning Cartoons: The Next Generation" at 16:30. I snuck out of the gaming workshop for a short while to find Fiona and take her up to the panel. (She's perfectly capable of making her own way there, but I'd said I would go with her.)
After both the gaming workshop and Abi's panel were finished, we all met up again to try and figure out a plan for the evening. The kids and I had already had a look at the programme, and hadn't seen anything that really fired us up. One of the alternate proposals was to go out to the cinema to see Guardians of the Galaxy (which hadn't been released in the Netherlands yet). Alex wasn't interested, but Fiona was. There was an early evening showing at the CineWorld West India Quay that we could make if we hurried. Alex practically shooed us off.
We had to run through the ExCeL centre to find a working cash machine (because London taxis don't take cards? WTF, London, get with the century), but we made it to the cinema on time. We bought some sweets and drinks for dinner (eh, it's WorldCon, whatever) and had a blast watching the film. Afterwards we found our way to the nearly DLR station, and took the train back to the hotel. Half an eye on fellow passengers, trying to figure out which were con-goers. Mostly easy to tell.