Not a new discovery for me, but this week I've been listening to a lot of 65daysofstatic. I recognized their track "Debutante" in the new E3 trailer for upcoming game No Man's Sky, and had to dive back in. I haven't listened to much of their earlier stuff, but their last three outings, Wild Light, Heavy Sky, and We Were Exploding Anyway are splendid. Of course, I'm going to miss both of their appearances in the Netherlands in the next few months.
A couple of weeks ago I was sick, and spent a whole day in bed watching season 1 of The Following on Netflix. Good stuff, very intense, though possibly about two episodes too long. The final act could have been more compact, especially seeing as they were clearly planning to leave the door open for a second season.
I watched four (well, three and a half, ish) films while I was in Edinburgh the week before last. Starting on the flight over on Tuesday 3rd (yay electronics during take-off and landing), Jack Ryan: Shadow Recruit was smarter and more intense than I'd expected. Before watching, I had no idea that Kenneth Branagh was in it, let alone had directed it. I liked the low-key espionage, and how it wasn't an all-out action chase movie, at least until the end.
On Wednesday 4th, after a drink and a burger at the Holyrood, I walked up to the Omni with Jim. It was drizzling rain most of the way, but the heavens opened as we crested Calton Road onto Leith St. We were drenched by the time we got to the doors. I hadn't bought a ticket yet, and I deliberated whether I would still enjoy watching X-Men: Days of Future Past with my sleeves damp (I was only wearing a hoodie), shoes squelching, and my trousers plastered to my legs. The alternative was to head back to my room and have a warm shower. The film won. It was good, but not life-altering. I ate too many chocolate buttons.
I was staying at the Pollock Halls of Residence, which is perfectly nice student accomodation for rent as hotel space during the summer months. Unfortunately they seem to be under the misapprehension that summer in Edinburgh is "warm", and the heater in my room wasn't adequate to dry my shoes overnight. Note to self: if there is a hole in the sole, Converse All-Stars are absorbent.
Squelch, squelch.
Thursday evening I had dinner with Mum & Dad at the Whisky Society on Queen Street. I made the mistake of having the burger again. Last time I was there I'd had a venison burger, which, while tasty, was very dry. This time it was a bison (or was it buffalo?) burger, which, while tasty, was very dry. The bun was thick with grainy mustard that I couldn't get rid of by scraping. I only recently learned (to Abi's surprise) that mustard, as well as cabbage, sprouts, broccoli, and cauliflower are all members of the Brassica family. This explains so much. I didn't like vegetables at all as a kid, but over time I have come to even like salads. I still hate all of those brassicas. But knowing they're all connected gives me something to hang on to — like I'm not being inconsistently fussy. They share some common aspect that just tastes vile to me.
After dinner I want back to my room and watched Seven Psychopaths. It is brilliant; the trailer doesn't do it justice. Just like Martin McDonagh's previous film In Bruges it's quirky, funny, thoughtful, and tender in places you wouldn't expect.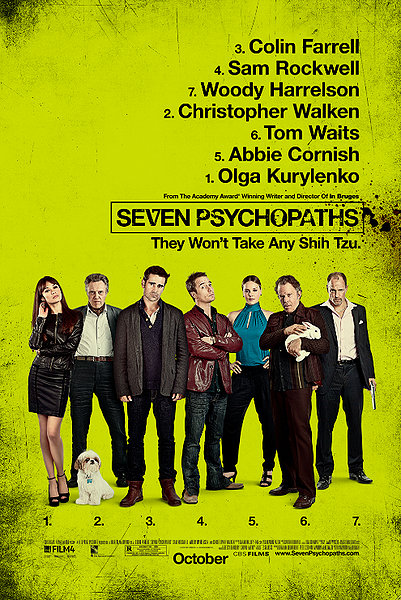 On the flight back I watched the first half of Casino, convinced I'd never seen it before. But it seemed so familiar that I'm sure I must have watched it some other time. For ages now, it has been sitting on my movie to-do list; maybe I just forgot to scratch it off ten years ago. I don't know. (I guess that says enough about how memorable I thought it was.) I watched the rest of it after I got home.
(Or did I?)
More: Archer finally made it to Netflix in NL. I watched seasons 1-3 over various trips to Edinburgh in the winter, and I scarfed down seasons 4 and 5 (Archer Vice!) as soon as I saw they were available here. I feel it has passed its peak, but it's still way funnier than it has any right to be.
Colombiana was a midnight snack one day last week while I was going through a bout of night terrors, and needed something to calm me down. A merciless assassin revenge fantasy was obviously just the trick. Um.
And finally, today we all watched The Lego Movie. I was disappointed to have missed it at the cinema, but delighted to see on Father's Day after a breakfast of home-baked croissants . Great fun.
I think I'm watching a lot of TV and films right now because I'm stuck on books. I'm stuck half-way through Debt (the anthropological history doesn't interest me as much as the earlier economics and sociology), I'm stuck part-way through Confident Ruby (good, but not exactly entertaining), and I don't have the heart to start on Piketty's Monster right now. Fortunately I have Greg Van Eekhout's California Bones to try out. Los Angeles noir urban fantasy heist caper? Yes please.