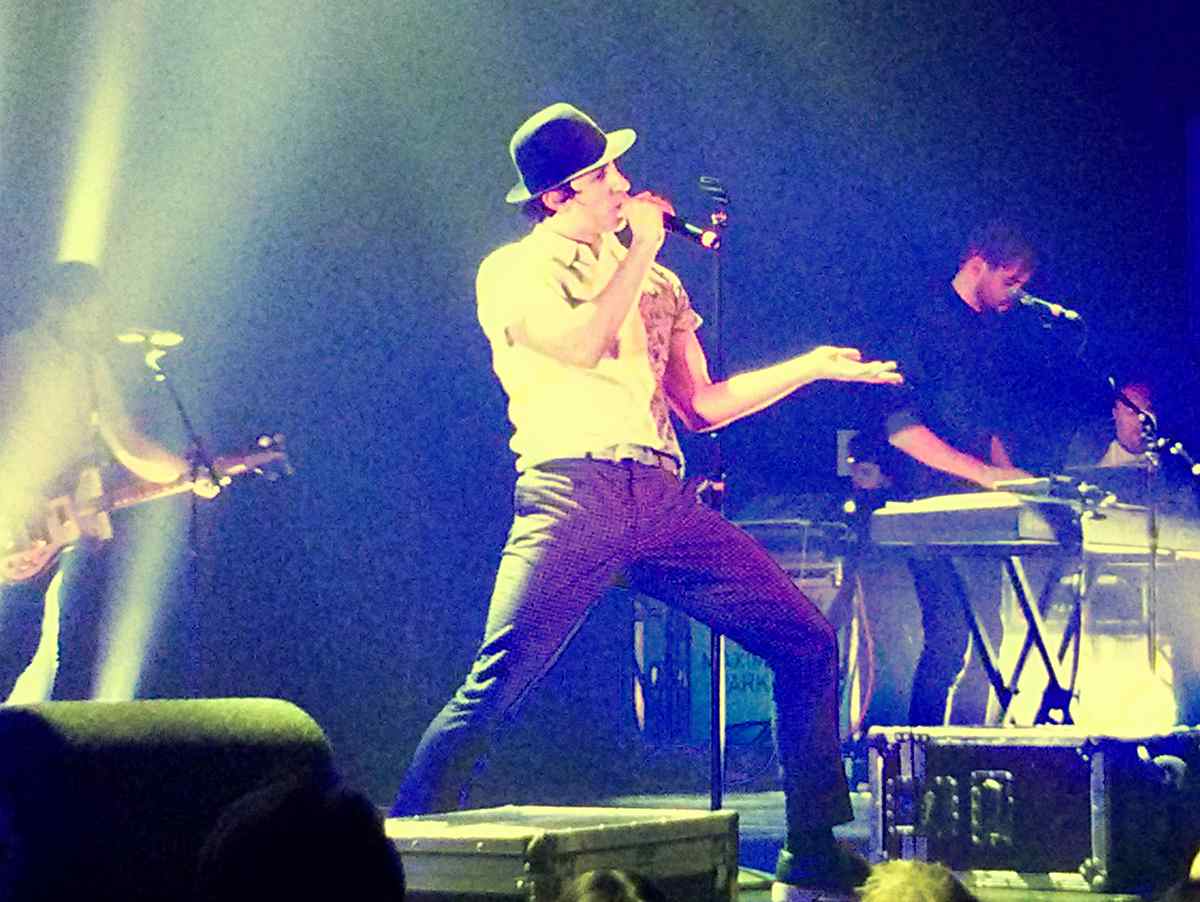 I've loved Maxïmo Park since their stunning debut album A Certain Trigger in 2005. I had heard thay are great live, and I was sorely disappointed to have missed them when they played Utrecht on their National Health tour in 2012. (I had actually–giddy with excitement–bought a ticket before I realized that I was going to be in Scotland with the kids for their autumn break that week.) But yesterday evening I finally caught them at Melkweg in Amsterdam. For the second time today, I'll note:
Holy. Shit.
As usual, I got to the Melkweg way early. (Since missing the first ten minutes of The Tragically Hip in Glasgow a few years ago because I'd foolishly thought that 20:00 on the ticket meant I still had plenty of time, I don't trust venue schedules any more.) At 19:50 the place was practically deserted. The balconies were blocked off, too, which probably meant there was going to be a relatively low turnout. (Melkweg has a capacity of about 1500.) On the plus side, this meant I was easily able to bag myself a great spot close to the stage and up one step, to help me see over the heads of the inevitably tall Dutchies. Also, right in front of one of the massive speaker stacks. Yuss.
His Clancyness came on at 20:00 and played a nice set. More people arrived, and at 21:00 the lights went down and the sound came up. A haunting electronic drone, throbbing with promise, building and breaking in complexity, played over a blue-lit stage for about five minutes while the sound guys stage left made final adjustments, and finally covered up the glowing apple logos on their MacBook Pros.
The the band came on and launched into Give, Get, Take, the opening song from the new album Too Much Information. Paul Smith was dressed in a natty checked suit, white shirt, Doc Martens, and his trademark hat. Right from the start he was electric, dancing around the stage, posing, jumping, and shaking his hips. His voice was so pure and clear, and so like the recordings that I wondered if he was miming, but no: his live delivery is just extraordinary. The first four tracks they played were all loud and hard and fast to get the audience moving.
Sometimes hearing a favourite song live for the first time can be a disappointment. But when they played The National Health, it was just as powerful as I'd hoped. Locking eyes with the audience, shaking his finger for sharp emphasis, Paul Smith put so much power and emotion behind the words that it made me shiver.
Unfortunately the middle part of the set was plagued by technical issues. Lukas Wooller's keyboard died during A Fortnight's Time, and even the replacement keyboard didn't work straight away. It took him and the techs a good twenty minutes to get sound out of it again. In the meantime, Smith was very apologetic, asking the audience for suggestions of songs they could play that didn't involve a keyboard. Graffiti was a popular shouted choice, and they shuffled the set list around to accomodate the disruption. I'm sure it would have been even better with keyboards, but Graffiti was never going to be anything but a huge crowd-pleaser.
It was interesting to see a very different Paul Smith during those unrehearsed, slightly panicked moments after each song ended, wondering if the keyboard was ready yet. When he's singing, he's mesmerizing; when he's thanking the audience between songs, he's charming. But in the face of equipment malfunction he seemed shy and vulnerable. He's a brilliant performer, but not a natural raconteur. (Puns about "sourcy" behaviour backstage notwithstanding.)
Her Name Was Audre was a great little guitar-and-drums punk tune to end the interruption, and things were properly back on track for I Recognise The Light, a funny track from the new album that I hadn't properly appreciated until then. The sound quality at Melkweg was fantastic yesterday evening, with the vocals definitely leading the mix. As well as bopping up and down, I spent a lot of time listening to the lyrics, and hearing and interpreting them in a different context. I usually listen to music as a background to other activities, but at a concert I'm right there, doing only that: listening. I didn't used to like Write This Down much, but the live performance completely changed my perception of it. Likewise, I hadn't found anything special in Drinking Martinis from Too Much Information until the live experience transformed it for me.
Smith introduced By The Monument by saying that they were playing it at the request of Emma who had contacted them, at which point the woman standing next to me went into a squealing fit of utter delight. I can only assume she was Emma. The Undercurrents, another of my favourites from The National Health was glorious. Girls Who Play Guitars had the crowd in a frenzy. And finally, Midnight On The Hill, one of the most emotional tracks on the new album, gave them a truly shining exit.
The encore was playful. The last track on Too Much Information is Where We're Going, and it starts with a simple strummed guitar and the line: "I don't know where we're going." Someone in the crowd shouted, "Going Missing!", which was the obvious response. Paul Smith interrupted the song with a laugh and told us that we'd get there soon enough. Big roar of approciation. So they finished Where We're Going, a delightful, simple song about uncertainty and anticipation, and then segued straight into their big finale, the much-loved Going Missing.
To everyone who told me that Maxïmo Park are a must-see live band: you were right. So awesomely right.
Set list:
Give, Get, Take
Our Velocity
Signal and Sign
The National Health
Brain Cells
Hips and Lips
A Fortnight's Time
The Kids Are Sick Again
Graffiti
Lydia, The Ink Will Never Dry
Leave This Island
Books From Boxes
Her Name Was Audre
I Recognise the Light
My Bloody Mind
Write This Down
Drinking Martinis
By The Monument
The Undercurrents
Girls Who Play Guitars
Apply Some Pressure
Midnight on the Hill
Encore:
Where We're Going
Going Missing