A few weeks ago Abi played laser tag after work on a night out with some colleagues. Fiona latched onto the concept, and decided that she wanted her birthday party to be a laser tag party. I snuffled around the internet a bit, and found the Coronel activity centre in Huizen, about 40 minutes drive away. I recognized the name "Coronel" because Tom Coronel also runs plasma-discounter.nl (and a set of other web shops), which is where we bought our TV five years ago. What I didn't know is that he and his twin brother Tim are also champion racing drivers, and big supporters of junior racing.
The Coronel activity centre's headline activity is indoor karting. The web site shows that there is also a laser tag arena, and an indoor climbing and adventure area. They cater for kids parties, with a variety of packages. It looked worth a visit, so the kids and I decided to go and check it out on Saturday, and, you know, maybe avail ourselves of the facilities while we were there.
Holy. Shit.
I've never seen an activity centre like it. It's enormous. The web site gives you no idea what it's like when you step inside. The front entrance leads to a reception and café area inside the first zone, which houses the full-size indoor karting track. We didn't try it out, but it looks great, with a tunnel and an overpass.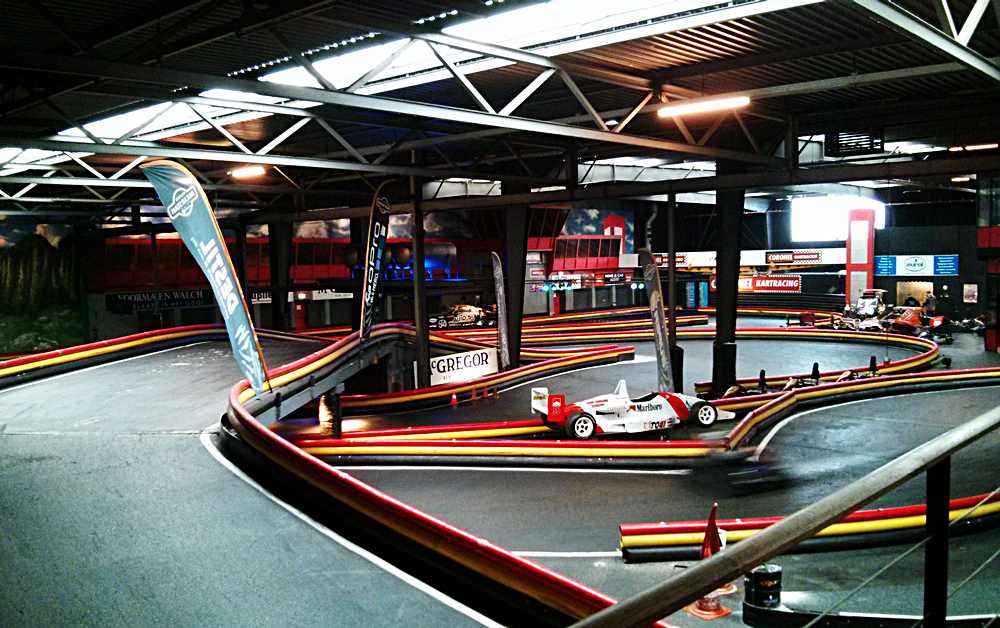 There's a spectators bridge over the race track from the karting café to the second zone. The climbing and adventure area is inside warehouse the same size as the one housing the race track. It's decorated like some kind of pirate island training camp. Climbable tree trunks, punctuated by platforms and crows nests, and connected by wire bridges and cargo nets, stretch up to the ceiling. The floor is sandy like a beach, with picnic tables for thirsty adventurers to enjoy a drink from the tiki bar. There's an archery range.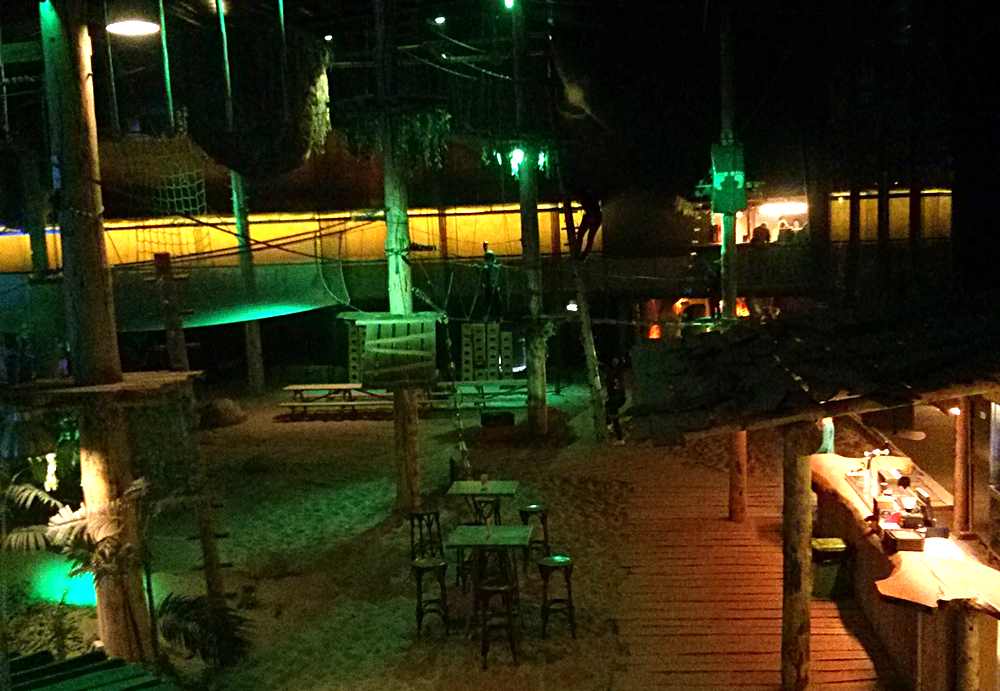 Dazzled by this, we carried on along the bridge to the third zone. This one seems a bit smaller, but I'm not sure if it really is. It houses another bar (of course), but also a full-size bake-your-own pizza restaurant, and a beauty salon where you can host a make-over party. Oh, and a 1000 square meter, two-storey laser tag arena. That too. But because it's behind closed doors and doesn't have a viewing gallery, it's not quite so obvious.
We had a chat with the woman running the bar, and talked about party options. Luckily for us, we'd got there not too long after the 13:00 opening time, and the first party of the afternoon wasn't due until 15:00, so we were able to get slot of laser tag game time just for ourselves to try it out. It was great. The arena was really too big for just the three of us playing a free-for-all deathmatch. There were long stretches where I was just wandering around trying to find someone to shoot. I imagine that with a bundle of 10 year-olds running around, it'll be just fine. (Alex won.)
After the game, we enthusiatically agreed to the party booking, and then walked back to the karting café for a drink. Fiona and Alex were both sweating from the excitement, their hair plastered to their foreheads. Alex was a bit sad that we didn't have time for another game, but we're going to try to head back next weekend to grab a session for Abi's birthday.