A few years ago I briefly worked at Tribune Risk and Insurance Services just outside Dalkeith. It was only "briefly" because five weeks after I joined, the company was shut down by the Financial Services Authority. Over a hundred people lost their jobs, and more than 40,000 homeowners were left without insurance cover–two weeks before Christmas 2003.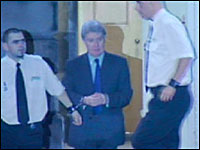 Well, it has taken some time to get to this point, but this afternoon the man behind it all, John Kirke ("Jack") Walker was finally sentenced to 4 years and 10 months in jail for fraud. He pled guilty to the charges in May of this year at Edinburgh Sheriff Court, but Sheriff Kenneth MacIver sent the case to the High Court for sentencing because he felt the five year maximum sentence he had the power to impose was insufficient to punish Walker for the magnitude of his crime.
Jack's wife Evelyn, who founded the company, stood accused of the same crime along with one of his sons, but the court accepted their not guilty pleas. (How???)
In hindsight, Tribune's collapse didn't turn out too badly for me. It gave me the push to start contracting, a move I probably wouldn't have committed to otherwise, and it's where I met Alan Ramsay, who has become my arch-nemesis a good friend. But that doesn't mean I don't feel bitter about it. Convicted criminal Jack Walker (how good it feel to say that–and with no danger of libel, either!) shat all over the people who worked at Tribune, and the tens of thousands of people he duped out of their insurance premiums. It is immensely gratifying to see the Scottish justice system taking a massive dump on him.
Mmmmm, schadenfreude pie.