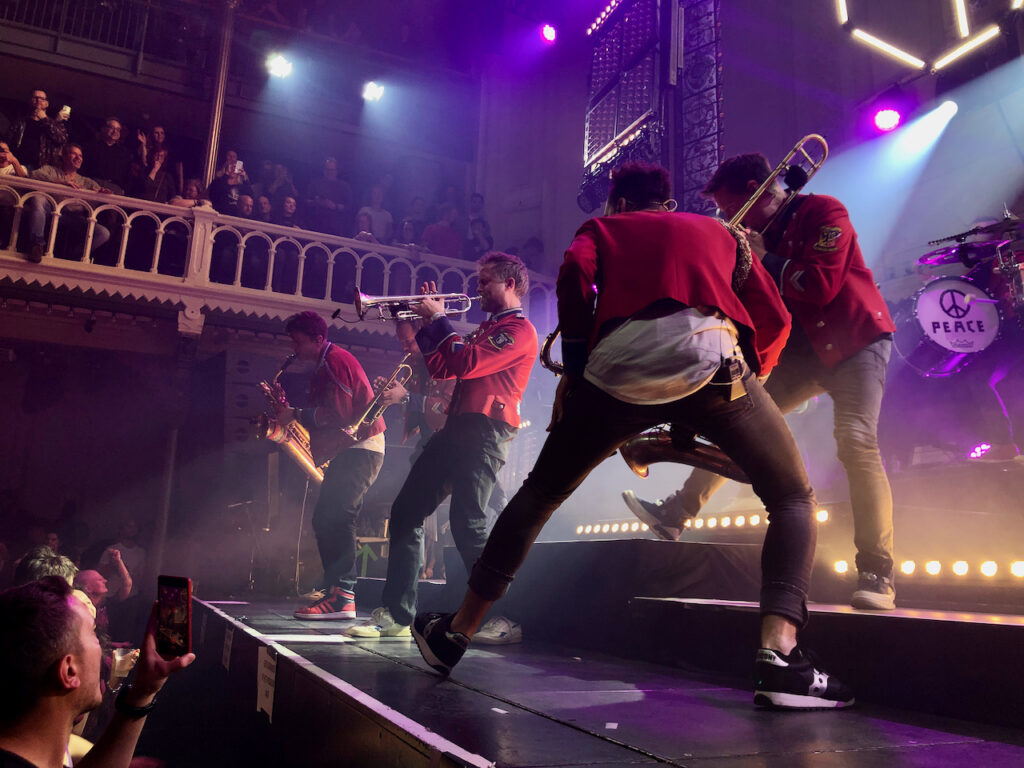 I've been enjoying the band Meute for some time, and I got the chance to see them live at Paradiso a few weeks ago. It was great to be back at Paradiso again. It has an amazing atmosphere, and it's probably my favourite live music venue. ("Probably"… Can I think of any others I enjoy more? King Tut's in Glasgow is good, but I've only been there once.)
There wasn't a warm-up act for the gig. It was a busy day at work and I couldn't leave the house as early as I'd liked but I got there about 19:45 anyway, for a start at 20:30. Just like Hedon in Zwolle, Paradiso has replaced its cloakroom and bag storage with automated lockers. You scan a QR code, pay a small fee for the size of the locker you want (€3.50 or €5.50) and then you get a personal page to a numbered locker that you can open whenever you want throughout the evening. And NO NEED TO DOWNLOAD AN APP. It's a bit more expensive than when I used to hand my coat to a human (con), and obviously the venue doesn't have to pay those humans a wage to operate the clockroom (con). But the venues have had a hard time during the pandemic and lockdowns, and I don't begrudge them trying to optimize to keep things going. There was still at least one human on hand to help out with locker issues.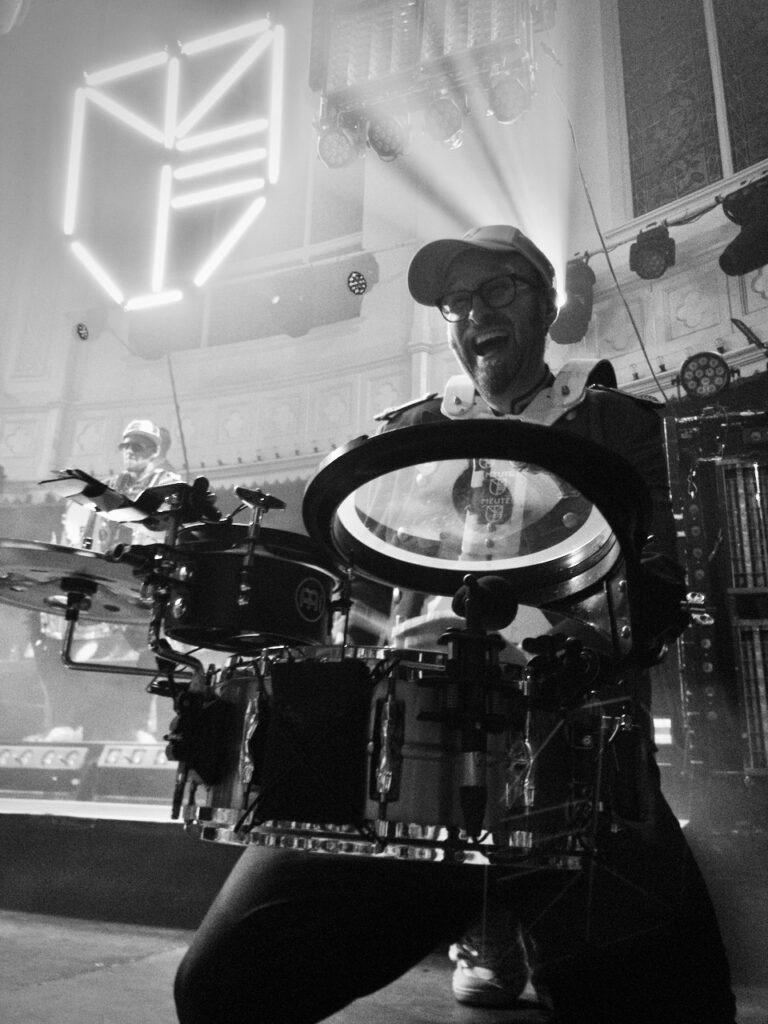 Even though I arrived at a time I felt was quite "late" I was still able to secure myself a spot right up at the stage, where was able to snap a photo of the set list (and peel it off to take home with me at the end of the night… :shiftyeyes:). I've made a habit of memorizing gig sets as they're played so I can add them to setlist.fm afterwards, but I often rely on cues from the lyrics of the songs being played to help me position them in a memory palace. Because most of Meute's repertoire is instrumental, I was glad to have this to fall back on.
The gig itself was good. The band didn't spend much energy on chatting to the audience between songs, but the crowd didn't need them to whip up excitement. The vibe was already there. Everyone was having a great time. I was really glad to have ear protection with me, because I was standing right in front of the enormous speaker stacks, and the bass was booming in my chest the whole night. The band's regular bass drummer, Marco Möller, wasn't there there night, but the guy who replaced him was equally impressive: he maintained a steady 124 BPM on the marching band bass drum the whole night long. Dude was a machine.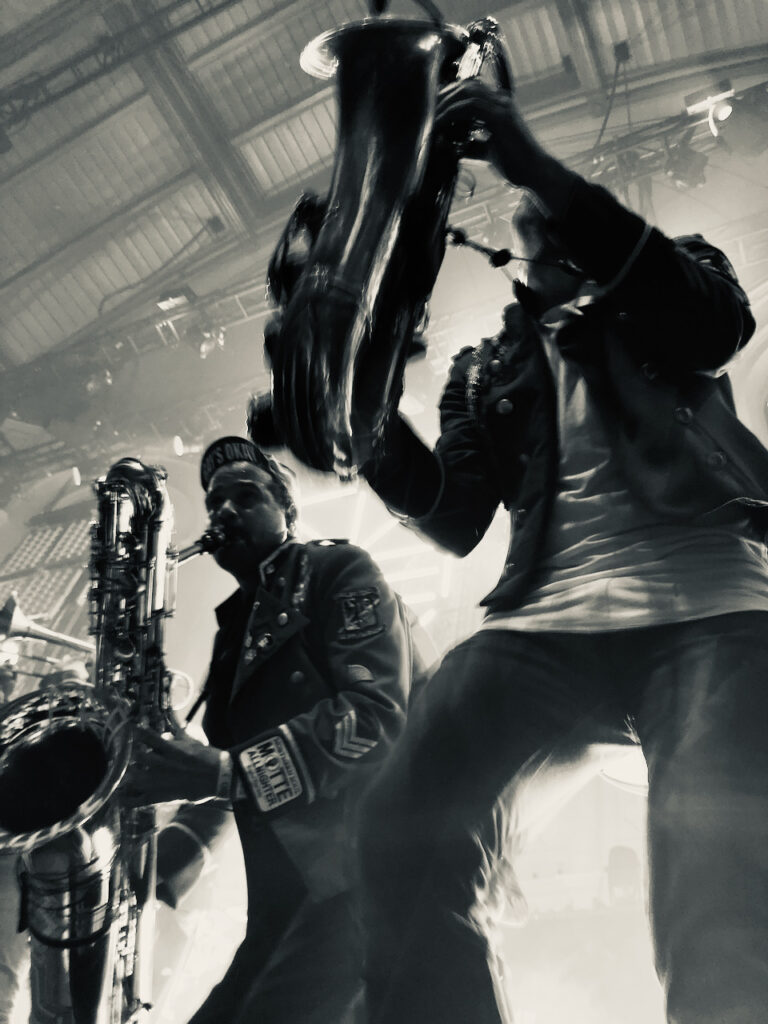 Standing right up close to the stage allowed me to get some nice photos even with my old iPhone X. I was using the Halide app most of the time, so I was able to tweak the pictures a bit more than usual afterwards. Kinda made me wish for something like a Ricoh GR III, though.
Set list:
Slow Loris
Boavista
Infinite
What Else Is There
Holy Harbour
Bridged By A Lightwave
Peace
Expanse
Narkose
Ticino
Rej
Encore:
You & Me
Acamar
Araya