I'm close to wrapping up a project to tag all our old digital photographs with additional metadata that our cameras didn't record at the time: mostly rotation orientation and GPS coordinates. This has involved a lot of internet detective work using Google Maps, Street View, and the various photos and panoramas that people have made publicly available for Google to index and publish. The detail with which I've been able to place our own photos on the map is amazing. It's the kind of project that would have been impossible in 2000 when we bought our first digital camera (an Olympus C3000Z, ironically bought with the proceeds from selling the car we won from buying a pack of film).
I've been working my way back in time, and I've reached 2001. In February of that year Abi and I took a trip to Dumfriesshire to have dinner at the Plumed Horse in Crossmichael. We stayed overnight at the Chipperkyle B&B, and the day after our meal we drove through the Glenkiln Sculpture Trail west of Dumfries. We stopped and took some photos near Henry Moore's sculpture Two Piece Reclining Figure No.1.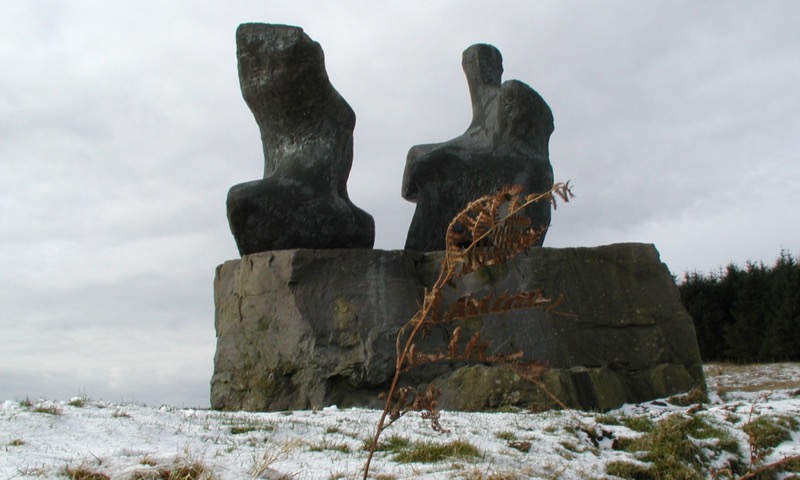 I had a vague recollection that we'd driven through a public sculpture trail on one of our trips to Dumfries, but without the internet and these modern search tools I would have been hard pressed to figure out exactly where it was, or what this particular sculpture was called. It would have taken a lot of library research.
What the internet also showed me was that the original sculptures were removed in 2013 after one of them (Standing Figure) was stolen.
Just like we have a bunch of photos of the old Hewit's tannery on the Lanark Road in Edinburgh when it was still in action, the physical world doesn't stand still. Things move, change, and disappear. Link rot isn't just a digital thing: it applies to the physical world as well.