On his podcasts, CGP Grey sometimes talks about how he occasionally takes a "greycation." This is a kind of working holiday where he books himself a hotel room in a different city, and shuts himself away for a few days without distractions, enjoying the comforts of a nice room to think and write without having to deal with the responsibilities and pressures of everyday life.
I feel like I'm doing something like that right now. I was due to fly back from Edinburgh on Friday evening, but my flight was cancelled. Easyjet couldn't get me on another flight back to Amsterdam until Monday, because it's peak holiday season and everything is busy. But Friday was my last day at work for a while (more on that some other time). Alex and Fiona are on holiday as well, and Abi said it was okay for me to stay away for another few days. So I took advantage of Easyjet's customer care and let them put me up in some nice hotels around Edinburgh for the weekend. On Friday night they had me at Macdonald Houston House in Uphall, and yesterday and tonight I have been at the Marriott Courtyard on the Heriot-Watt campus. The package was for dinner + bed and breakfast, so I've basically been enjoying a fully catered weekend break.
It's nice. I haven't been exerting myself. I'm not taking this as a city break where I feel obliged to go out and see things. Yesterday afternoon I walked to the Odeon cinema in Wester Hailes to see a film. This morning after breakfast I took a stroll around the campus, and stopped for a while at the loch and watched a jackdaw with an injured foot hop around. Its balance was remarkable. Occasionally it would right itself with itself with an outstretched wing. I took a few minutes of video. I spent some time watching bees shopping for pollen on lavender stalks. The campus was very quiet, even for a Sunday in the middle of the summer. I followed the sounds and echoes of some mechanical tones to the sports fields where a football training camp was working out to the orders of a computer controlled loudspeaker. Almost back at the hotel, a trio of chattering magpies chased each other around a tree and in and out of a bush. I've read some. I've watched some TV. I've napped.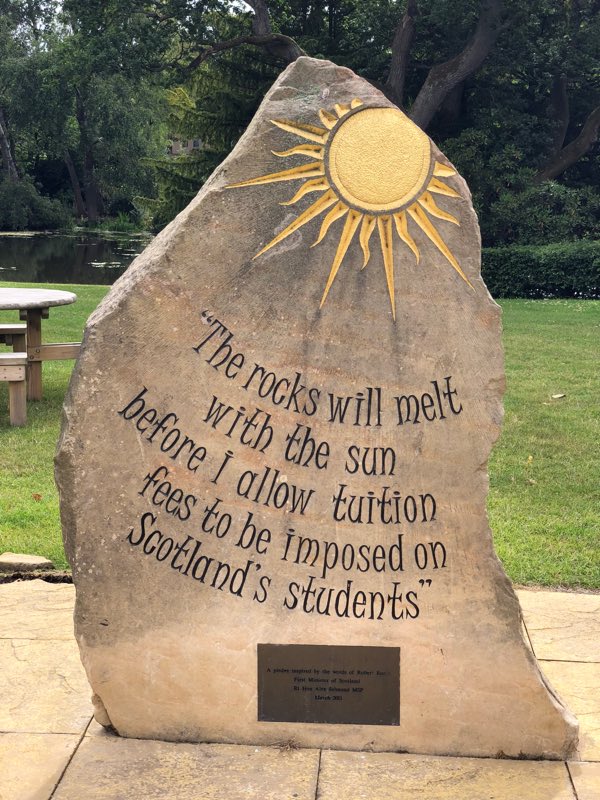 There's a desk here in my room with a seat that isn't uncomfortable. I could do work here. I could write. If I had been paying for this room and this time with my own money, I think I would feel pressure to do more, to make sure the time was well spent, whatever that means. (Productivity, what a terrifying word.) If I'd been in a different city, I would have felt pressure to go out and see it. If I'd been staying with friends or family, I would have had to talk and be sociable. Instead, the fact that this weekend is free has opened my eyes to the liberating possibilities of a getaway like this. I could do this again. I would do this again. I'd pay for this experience of not having to have an experience. It's curious, and serendipitous that this is happening right now, at the start of a work break whose purpose is precisely to not do things. Micro and macro.
Anyway, here's briefly some stuff I've been watching and reading:
TV:
Colony season 1: tense, subtle alien invasion/resistance thriller series. I enjoyed this.
Westworld season 2: slower and more meandering than the first season. The parallel timelines felt like a tradition that had to be respected rather than an innovation this time round. It could have used to be a few episodes shorter. But I appreciated how they took the mystery a level deeper by introducing the idea that the whole thing might not just be artificial, but a complete simulation instead. I'll watch season 3.
Luke Cage season 2: slow moving. It continues Marvel TV's streak of well-defined villains, with Alfre Woodard and Mustafa Shakir being given every opportunity to chew scenery as Mariah Dillard and Bushmaster. They do it so well!
Elementary season 4 (⭐) and 5: John Noble as Sherlock's father in season 4 brings sinister gravitas, and a illuminates the troubled father-son relationship. The Shinwell/gang warfare story arc that covered season 5 didn't really do it for me, though. The show is at its best when it takes snippets of contemporary science and culture, and weaves them into a clever plot that satisfies one's desire for justice, while also commenting on social justice.
Films:
💩 The Maze Runner: The Death Cure: Yawn. Far too long (2h20m) for what it delivers, which isn't much. Gratuitous character deaths designed to be dramatic didn't feel emotionally involving at all.
⭐️ Game Night: Delightful, well-constructed comedy thriller.
⭐️ Mission Impossible: Fallout: Action thrillers don't come better than this. The stunts and set pieces are so well done. Sean Harris as Solomon Lane is the best villain this series has had.
Books:
🤔 The Dark Forest by Cixin Liu: The Three Body Problem was intriguing enough to make me want to read more. Just as that first book, The Dark Forest is in the mould of "classic" SF, with lots of bold ideas but characters somewhat lacking in depth and humanity. I kept reading because I wanted to find out what came next for the world, not for what came next for the characters. The part where Luo Ji asks Shi to go off and find him a real-world equivalent of the ideal woman he has imagined for him is creepy as fuck, but it is portrayed as somehow familial and sweet. I don't have enough background context on Chinese culture, the attitudes of contemporary Chinese SF, and on the author himself to know what this signifies. I don't know how troubled I should be.
🤔 Death's End by Cixin Liu: At least in the finale of the trilogy the main character is a woman, and Cheng Xin is the best written and most convincing character of the whole series. This time, I would have continued reading to find out what happens to her, although she does function a lot of the time as just the set of eyes through which we view the entire future of humanity. Again, the ideas are huge and universe-spanning: very classic science fiction. And again they lack a certain post-new-wave cultural flavour that we take for granted in western SF. (In the case of this book, the complete lack of any kind of nod towards nonbinary relationships even in a future where men and women are explicitly shown as very fluid in their appearance.) All of this just makes me more curious about what's going on in Cixin Liu's head, and in Chinese SF in general.
⭐️ The First Fifteen Lives of Harry August by Claire North: much more of a thriller than I had expected. Fantastically plotted, and rich with imagination and depth of emotion.
The Unbeatable Squirrel Girl vol 8: My Best Friend's Squirrel by Ryan North, Erica Henderson, and Rico Renzi: The Silver Surfer arc is fun, but the ⭐ gem in this volume is the one-issue story #31 where Doreen and Nancy get shunted into hypertime. This is Erica Henderson's farewell to the comic, and to a character she has come to define with her bold artwork. It's a brilliant and emotional goodbye.
Music: my buddy Stuart at work introduced me to And So I Watch You From Afar. They're playing at Summerhall in Edinburgh on August 8th, but I won't be around. I hear they're great live. Maybe some other time!