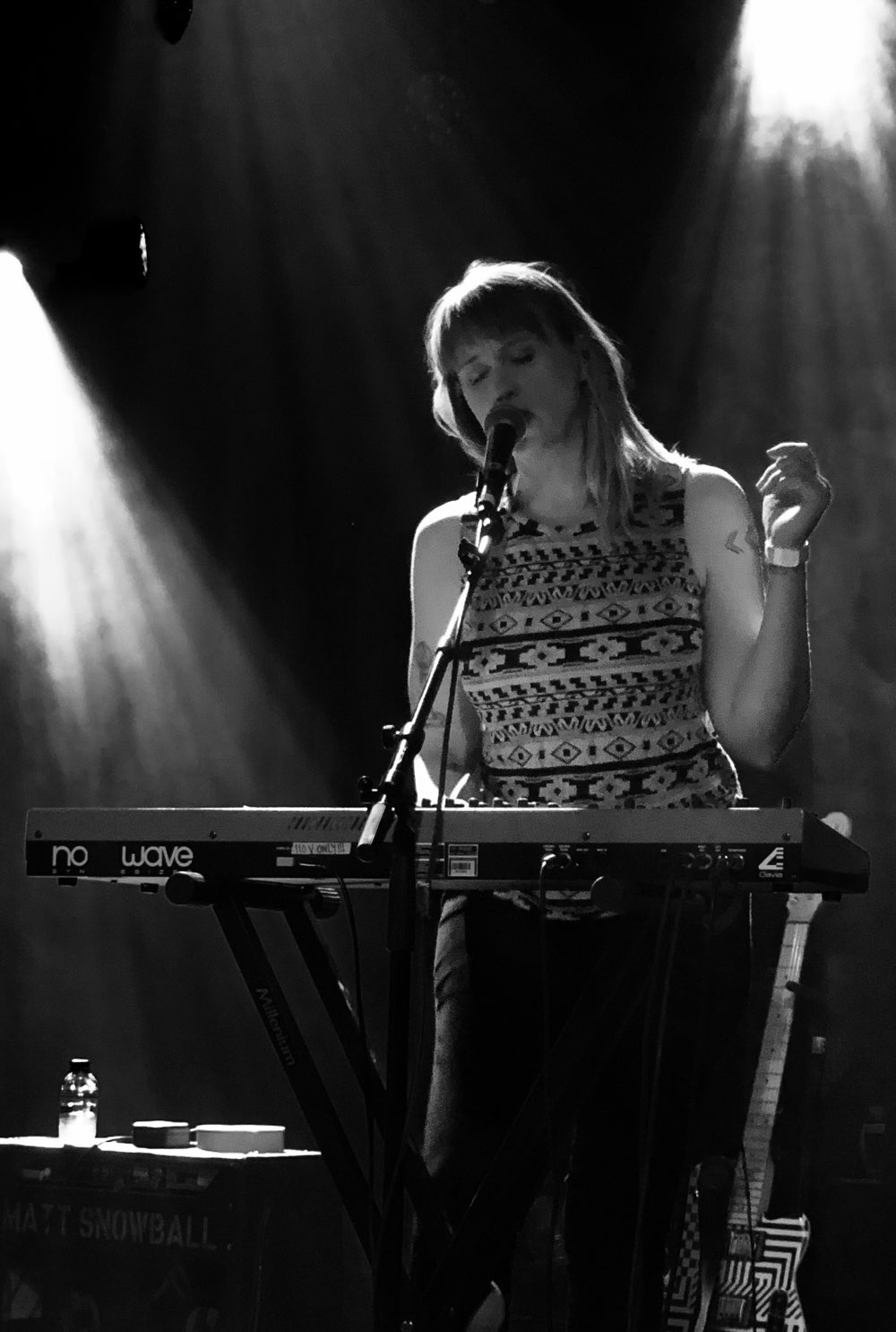 The shows I've been to so far this year have all been big productions (Imagine Dragons, Hamilton, Bastille) or have involved travel to get there (Thumpers, The Cool Quest, Gaz Coombes). This one on what I consider to be my home turf: Paradiso Noord at the Tolhuistuin, on the North bank of the IJ. It was a hot day, and I cycled there without a coat, and enjoyed a cold beer when I arrived super early. Early enough to grab a place right in front of the stage, in touching distance of Andy Stack's drum kit, because I couldn't stand to have another gig where someone squeezed in front of me and blocked my view. Selfish maybe, but I'm working on finding a way to live with myself.
I came to Wye Oak via Jenn Wasner's side project Dungeonesse, which is super-synthy and upbeat as opposed to Wye Oak's more earlier sombre indie/folk/rock-ish outings. But Dungeonesse heralded a change of direction for the duo, and their 2014 album Shriek was much more electronic, experimental, and filled with a kind of heavy beat-driven shimmering menace that is right in my wheelhouse (e.g. "Glory"). Their follow-up Tween in 2016 follows a similar path, but their new album The Louder I Call, The Faster It Runs takes it to another level. The syncopations that Andy Stack lays down on tracks like "The Instrument" and "Symmetry" are intense. There are times when it feels like he's playing for a different song entirely, but then the bass catches up, and Jenn's vocals bring it all together on a soaring chorus.
To be honest, I hadn't really been looking forward to opening act Suno Deko. I had listened to a few tracks on Spotify, and they hadn't grabbed me. They felt too ethereal and abstract. But watching him live was a completely different matter: he loops together guitar and vocals in a thoroughly mesmerising ensemble — a style I first remember from seeing Zoë Keating play.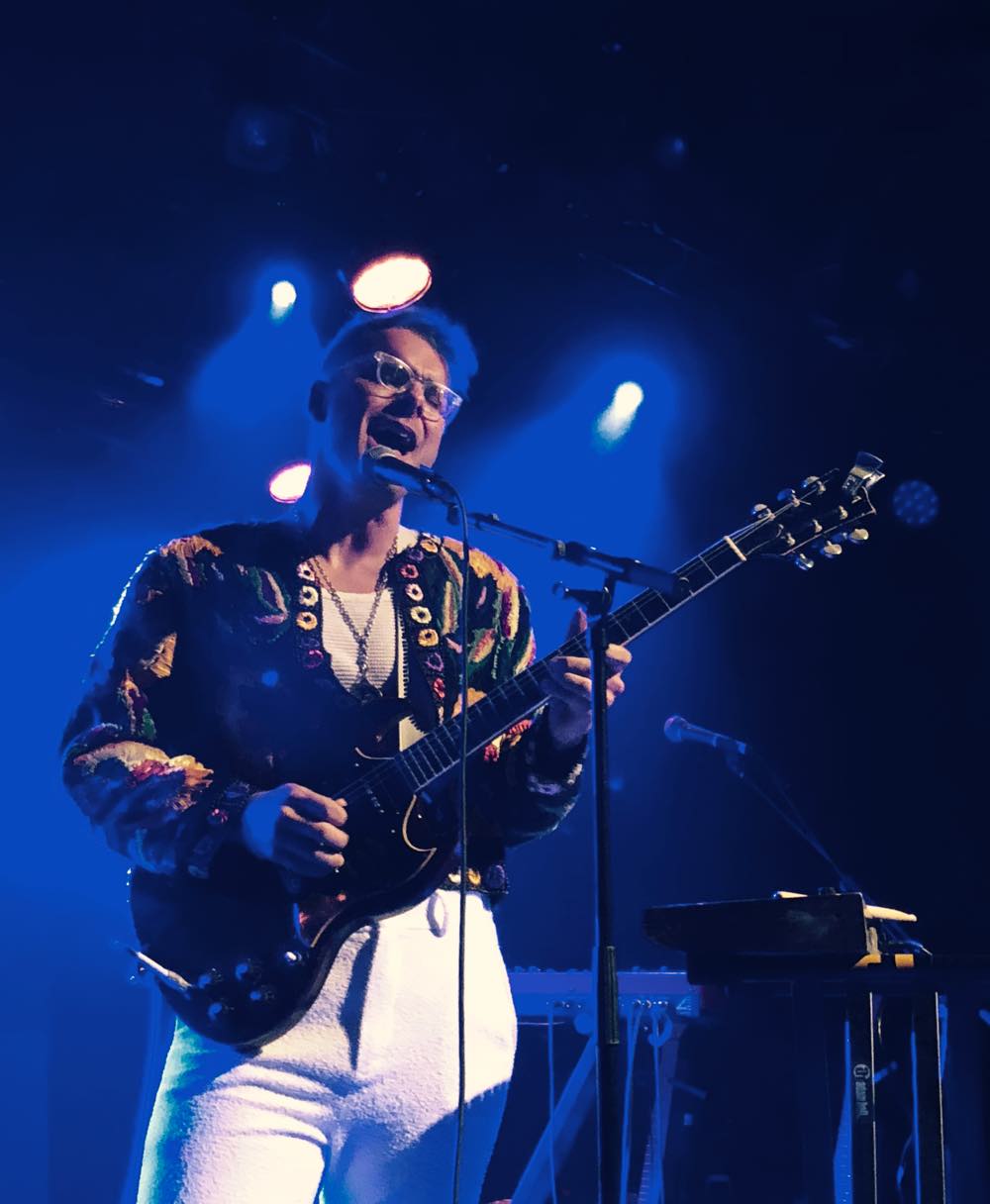 This was the first night of their tour, which was another reason to be excited about it. Jenn, Andy, and their bass player tuned up on stage themselves for a bit after Suno Deko before taking a break and then coming back on stage for their own set. The stage was simple, no fancy light show, and just a large backdrop featuring the iconic sand and sky from the new album.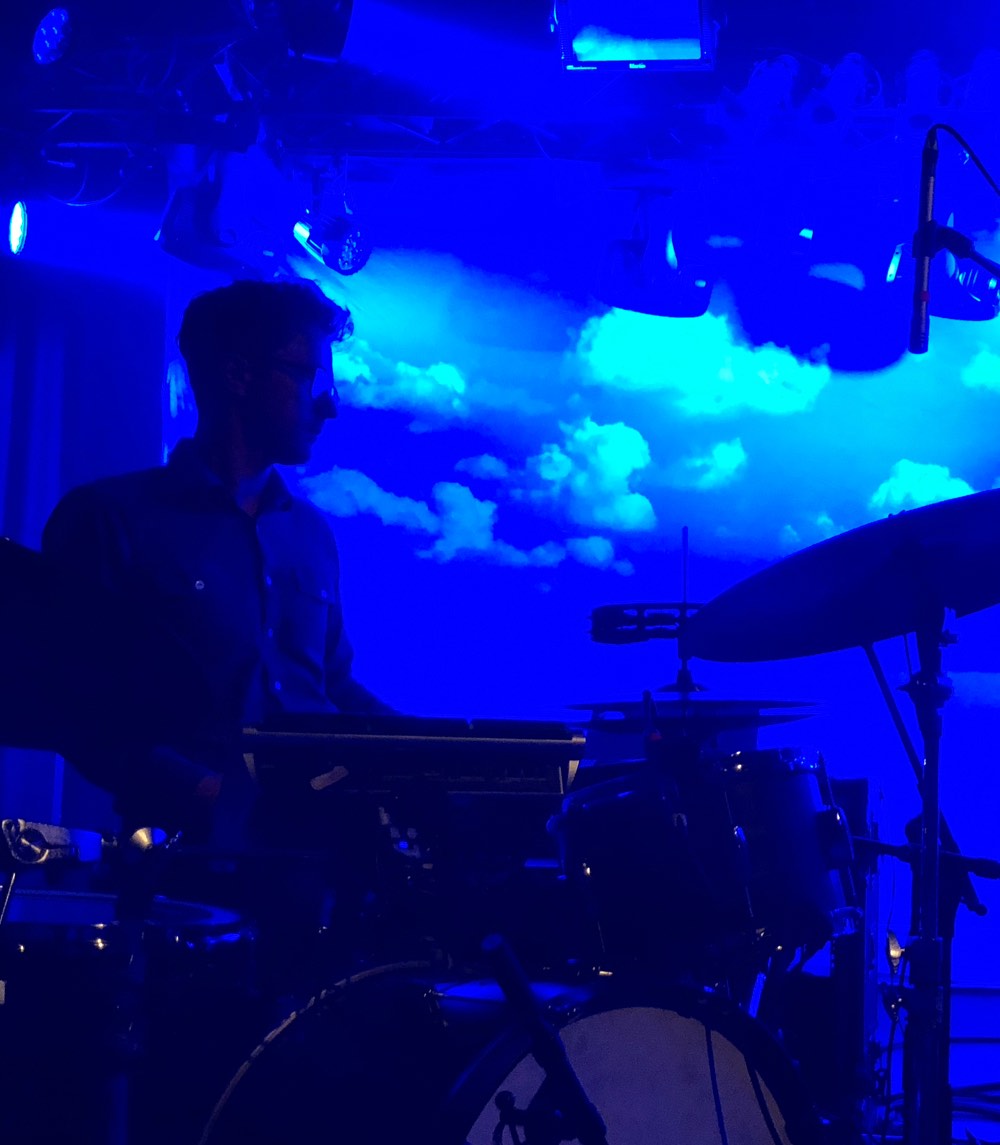 After a prelude of "(tuning)", they launched into "The Instrument" and I was left agog watching Andy play. It's a fast, driving song, but it's really hard to sway and bop along to. Because I had the best spot on the floor I was able to watch him play all of these fabulous rhythms with metronome precision in fabulous close-up the whole time. For some songs he even casually plays a keyboard with his left hand, like "oh, no big deal". When the gig was over, I went over to him at the merch stand and gushed my admiration like a total fanboy. Fortunately, he's just as cool and unflappable off stage as he is behind the drums.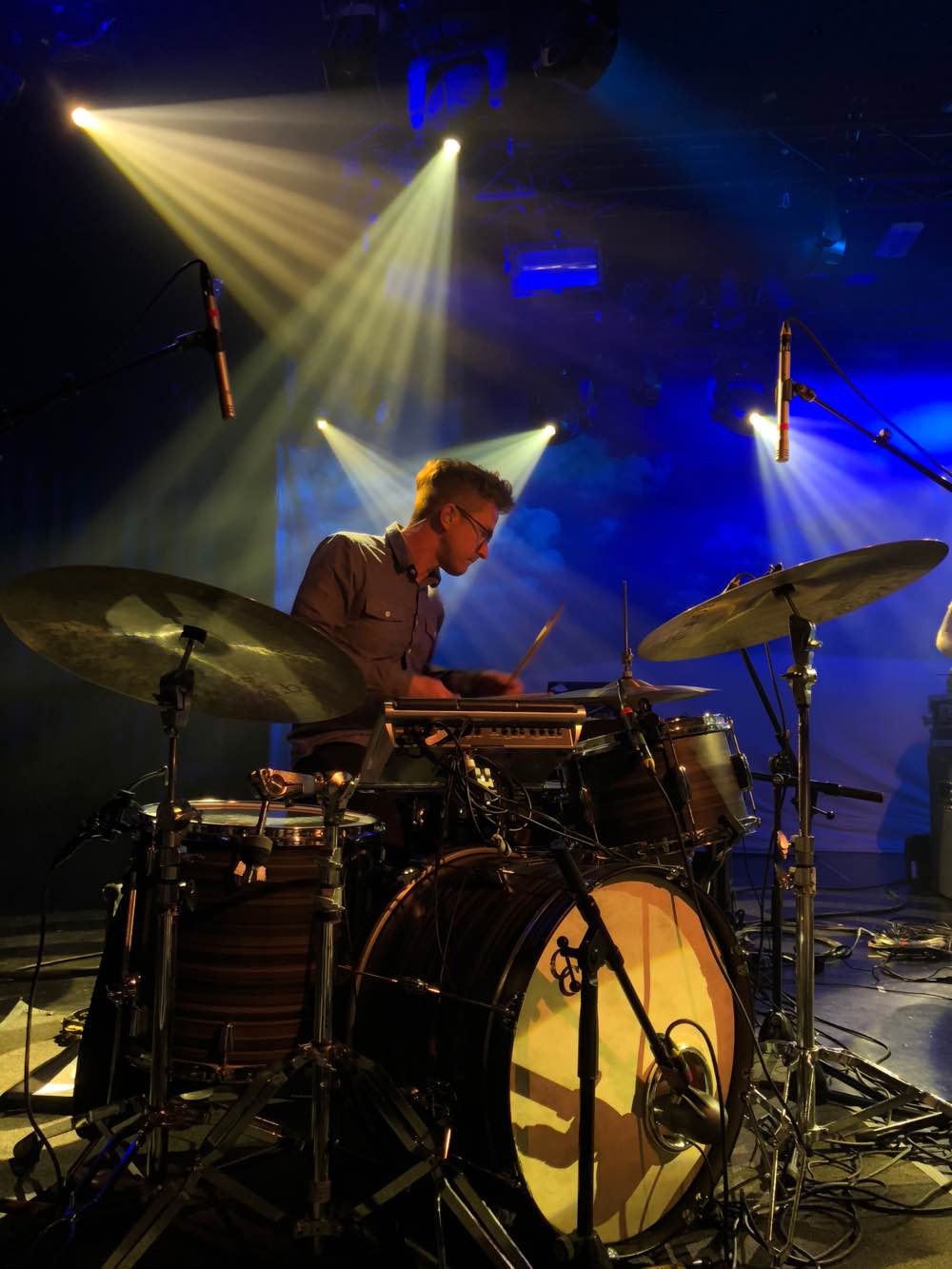 Meanwhile, Jenn was switching between guitar and keyboard as she rendered beautiful vocals throughout, her face animated and alight with expression. When she was digging hard into the guitar solos, she reminded me a bit of Ritzy Bryan of The Joy Formidable. Some songs they played just as a duo, with Jenn picking up the bass on "The Tower" and twanging aggressively through the solo parts. "Watching The Waiting", a favourite of mine, she played in a slowed down version with barely any drum accompaniment at all. It was gorgeous.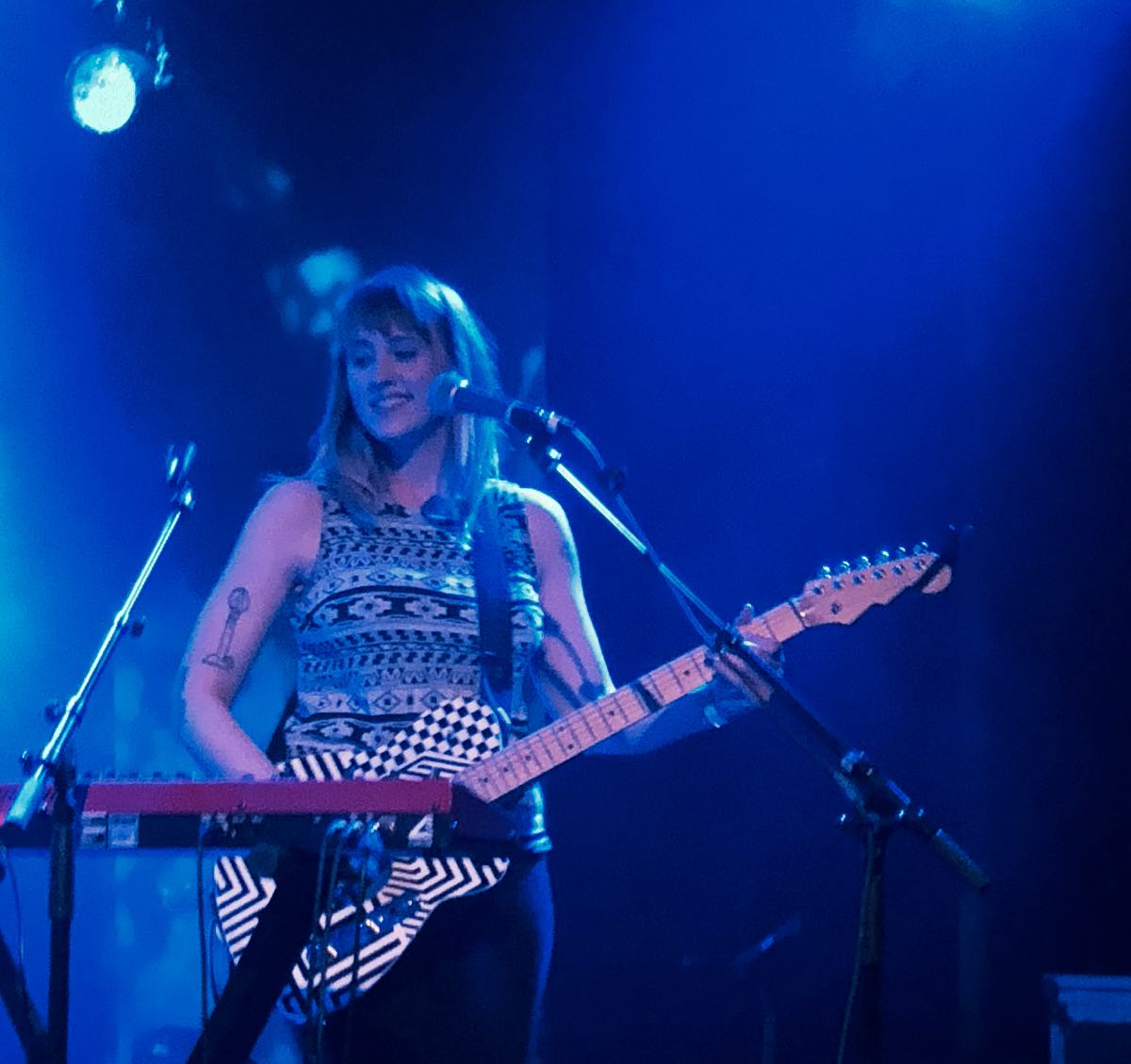 They didn't play an encore. A few songs before the end of their set Jenn said they were just going to play a few more songs, and not bother with the whole leaving the stage, and coming back on again thing. I approve; it often feels a bit silly. They had already played "Civilian", their best-known song, and they closed with "The Louder I Call, The Faster It Runs", ending the show in up-tempo style. I loved the show, and hope I'll get to see them again some time.
Set list:
Tuning
The Instrument
Lifer
It Was Not Natural
Shriek
Spiral
Symmetry
Say Hello
Over And Over
You Of All People
Glory
Holy Holy
Hot As Day
That I Do
Watching The Waiting
The Tower
Civilian
I Know It's Real
The Louder I Call, The Faster It Runs

Wye Oak 420 Hamsterdam. Jenn did comment on the coincidence of being in Amsterdam on this day in particular.