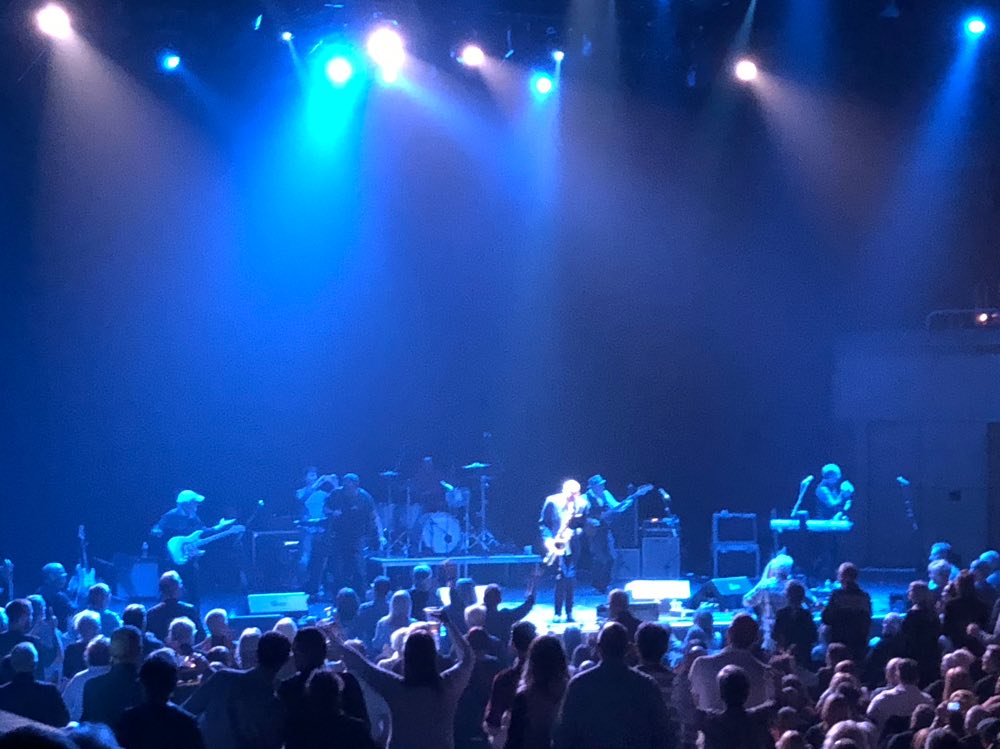 It's five years ago since I saw Hue and Cry at the Queen's Hall in Edinburgh, and that was with my parents, too! I'm on their mailing list, and when they were doing album announcements earlier this year they said they would be playing a special gig with the Average White Band in Glasgow. That sounded amazing, so I made sure to arrange my travel to include a trip to Glasgow last Thursday. I met up with Mum & Dad for dinner at Di Maggios after work, and then we walked up to the Concert Hall.
Hue and Cry had their full band with them, and looked thrilled to be there. They played a 45-minute opening set including "My Salt Heart", "Looking for Linda", "Labour of Love", "Violently", "Little Man", and a couple of tracks from their new album, "The Way She Flies" and title track "Pocketful of Stones". The Average White Band came on around 9 and played for an hour (including "Atlantic Avenue", "Walk on By", "Work to Do", "A Love of Your Own") then brought Pat and Greg and their saxophone and trumpet player back on stage for three songs ("Heading for a Fall" was one of them; I don't remember the other two), before rounding off the night with — what else — "Pick up the Pieces" and "Let's Go Round Again". All the hits. The venue was seated, but they had everyone up and dancing in the aisles before it was over.
We had seats right at the end of one row, and very close to one the doors to the auditorium. We had a lot of standing up to do while other people in the row were taking their seats, but it also mean I was able to make a sharp exit before the final applause had died down and make a beeline for the cloakroom. I passed the merch stand on the way. The attendants were telling everyone that the band were going to be signing CDs shortly. Because I was quick off the mark there was no queue for the cloakroom, and I was able to make it back to the merch stand, buy a CD and a poster, and zip to the signing line at the far end of the Concert Hall café before there was much of a line. By the time I had gathered my autographs from the band, there must have been 200 people behind me. Good timing!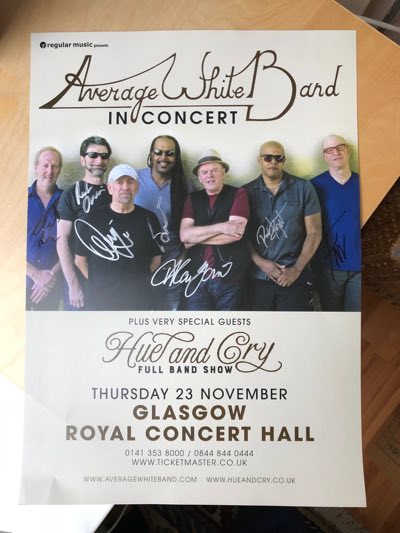 Mum and Dad drove me back to Edinburgh afterwards, which was a kindness! They were staying in Edinburgh overnight because of an early morning appointment the next day, which was a useful coincidence. I don't mind taking the late train back from Glasgow, but it's nicer to travel with family.