The anti-glare coating on my MacBook Pro (late 2013 model) has been wearing off. It started at the top of the screen, around the camera, but over time an area right in the middle of the screen became affected as well. (The area that overlaps the trackpad when the case is closed.) I brought it along to the Apple store this morning, and they immediately took it in for replacement under the relevant Quality Program. The Quality Program isn't shown on Apple's list — you have to take your machine to the store before they will check if it's covered. Apparently the program only runs until October, so if you have a retina screen whose anti-glare coating is delaminating, should should get moving.
Unfortunately, when they replace the screen, I'll also lose the stickers I had built up: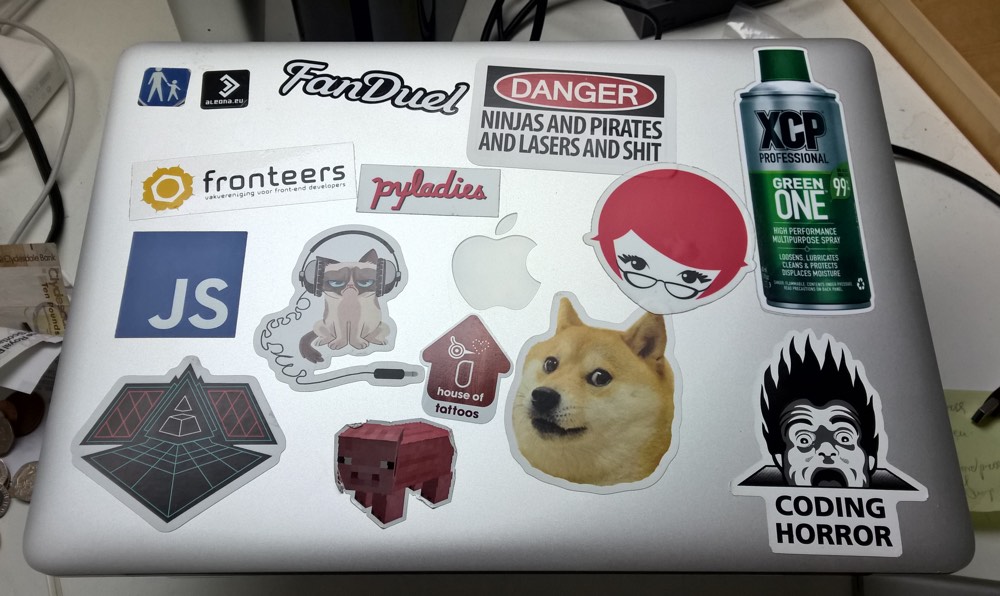 After finishing at the Apple Store, I went to the American Book Center to see if I could find volume 6 of Saga. They didn't have it in stock, but they did have a massive stock-clearing comic book sale on, with boxes of excellent titles on offer for €7.50 each, or 3 for €20. I kinda went bananas, and picked up:
Captain Marvel (2014) vols 1, 2, and 3 (Higher, Further, Faster, More, Stay Fly, and Alis Volat Propriis) by Kelly Sue DeConnick, David Lopez, et al.
She-Hulk (2014) vols 1 and 2 (Law and Disorder and Disorderly Conduct) by Charles Soule, Javier Pulido, et al. (She-Hulk's appearance in Howard The Duck made me want to read more about her.)
Rocket Raccoon: A Chasing Tale by Skottie Young and Jake Parker
Wolverine (2013) vols 1 and 3 (Hunting Season and Killable) by Paul Cornell, Alan Davis, Mirco Pierfederici, et al.
Wolverines (2015) vols 1, 2, 3, and 4 (Dancing With The Devil, Claw, Blade and Fang, The Living and the Dead, and Destiny) by Charles Soule et al.
The Manhattan Projects vol 1 by Jonathan Hickmand and Nick Pitarra
This was on top of vols 0 of both Spider-Gwen and Silk which I had picked up in Edinburgh last week. Uh, so, yeah.