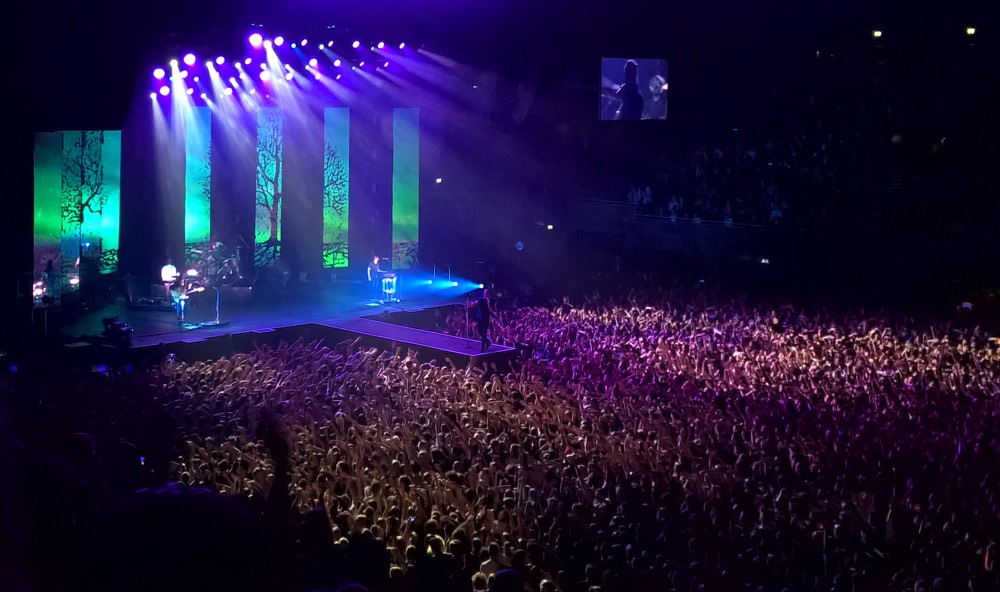 This is the concert that we originally wanted to see in Brussels, because it was the venue nearest to us on their tour. That sold out while I was in the process of booking tickets. Then we were supposed to see them in Copenhagen, but we decided not to go that far afield when we discovered that they had added a date in Amsterdam! This one. Finally.
Curiously, I remember exactly where I was when I first came across Imagine Dragons. It was in a west-facing room at the Apex Haymarket hotel in Edinburgh, with a partial view of the old Donaldson School, at some point in 2013 (April, May?). Their song "Radioactive" was being used in a TV ad campaign for the Defiance video game. (Back in 2013 I was still in the habit of watching TV on my trips to Scotland. The offensive inanity of BBC Breakfast "News" eventually cured me of that habit.) The ad was running during almost every commercial break. The game looked meh, but the song stuck in my head. I tracked down what the song was, and watched the music video:
I knew Alex and Fiona would enjoy the video, and I showed them when I got back home. They loved it, and they adored the rest of the Night Visions album. The band played Melkweg in Amsterdam in November 2013. That would have been an awesome venue to see them in, but I didn't notice it in time. They also played the Lowlands festival in 2014, but that wasn't going to work for us either. I did promise Alex and Fiona that the next time they played the Netherlands, we would definitely go and see them. So that was last Friday.
I had bought five tickets, in case either kid wanted to bring along a friend. Abi was sick on the day, and Alex didn't want to invite anyone, so Fiona got to bring two of her friends. We drove to the Ziggo Dome and almost got lost on the way! We normally come off the A10 at exit S111, but the Spaklerweg was closed for roadworks southbound. Our phone-based navigation systems kept trying to route us back that way. In the end I took a massive detour, and we ended up lost in Diemen and Duivendrecht before we finally convinced Google to send us to the Arena. We parked just before 20:00, and got to our seats shortly after the start of Sunset Sons' opening act. We had listened to some of their songs on the way there, and the teenage girls in the back of the car hard had judged them harshly. I liked them, and thought they played an excellent set. They're in Amsterdam again on 13 April (Melkweg), shortly after the release of their debut album. I might go.
This was the last night of Imagine Dragons' Smoke and Mirrors tour. Of course they played the song "Amsterdam", and the crowd went wild for it. The crowd went wild in general. I'm still not crazy about the Ziggo Dome, but the acts I've seen there all know how to put on a great show.
Shots
Trouble
It's Time
Forever Young
Amsterdam
Roots
Hopeless Opus
Polaroid
I'm So Sorry
Gold
Bleeding Out
Second Chances
Friction
Demons
On Top Of The World
I Bet My Life
Radioactive
Encore:
The Fall
Dream
Finally, an important life lesson! If you're going to see a band on the last night of their tour, they might be running short of tour merch. Some T-shirt sizes may be in very short supply. If you have someplace to stash your goods, go to the merch stand before the gig, not at the end!