Monday travel & Brooklyn for dinner with Patrick & Teresa. Offensively soft bed at the Hyatt Union Square. (Do American hotels compete on how soft they can make their beds?) Sore neck all week as a result.
Tuesday work, work. Quick visit to the Nintendo World Store for souvenirs. Dinner at Mighty Quinn's Barbeque on 2nd and 6th. Barcade on St. Marks Pl. Snuffle at Strand Bookstore and Forbidden Planet just round the corner from hotel.
Wednesday work, work. Sushi at Yama on 17th Street — my first time eating at an actual sushi restaurant rather than supermarket sushi. Also edamame for the first time. Walk to Times Square. So much light. Visit to M&M's World! One product; a million ways of co-branding. Carry on up Broadway to Columbus Circle. Hang out on Umpire Rock & play on the swings at the adjacent playground. Colleagues bar-hop their way back to hotel; I take the subway and skip the booze.
Thursday work, work. Subway to Brooklyn to see the Nets play the 76ers at the Barclays Center. (Jewish Heritage Night.) 100-91 after wasting a 10-point lead in the 3rd quarter. Go Nets! Foam fingers and thundersticks. Strand Bookstore again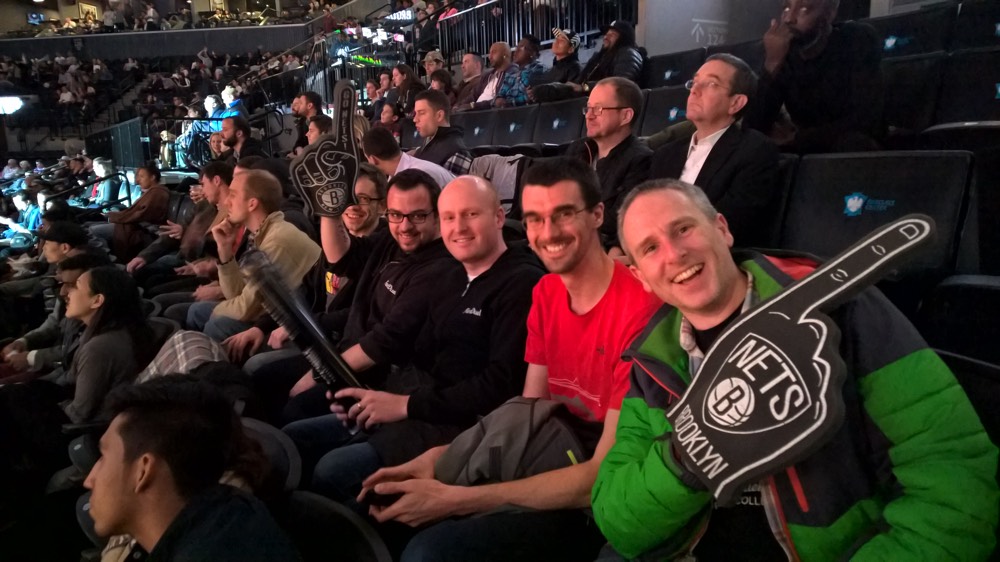 Friday work, work. Retrospective. Walk around the block for donuts and coffee from Dough on 14th. Super-quick last-minute shopping at the Christmas market on Union Square before subway to Penn Station and train to Newark. Plane home.