Alex found Lindsey Stirling on YouTube back in 2012, and got the whole family listening to her infectious pop violin. She was touring in support of her first album, and for Christmas that year I got us tickets for her gig at 013 in Tilburg on 16th January 2013.
I don't remember if it had been snowing that day itself, but the country was white and cold. Alex, Fiona, and I bundled into Turty late in the afternoon and drove around the Amsterdam ring to Breukelen, where we picked up Abi from the station. We stopped off for some food at a McDonalds on the way, and got to Tilburg in time for the concert, but not in time to catch the support act. The place was packed — unpleasantly so, I thought. We struggled to find a spot at the back of the hall with a moderately unobscured view.
The gig itself was great. Lindsey played all of the key songs from her album. She had a keyboard player and a drummer on stage with her, and the act was full of energy. Fiona had been to see the Barenaked Ladies at the Mountain Winery with us in 2010, but it was Alex's first pop concert. We loved it and resolved to catch her whenever she played near us again.
That day was last Tuesday! The concert at 013 in Tilburg again (after originally having been scheduled for the Klokgebouw in Eindhoven). Not wanting to run the risk of Turty's exhaust dropping off (again) on a long trip with a time-critical component, I hired us a bigger car for the drive this time. I picked it up at lunchtime, and we set off on the journey at about 17:30. Just as before, we circled Amsterdam and picked Abi up at Breukelen. No snow this time, just lots of traffic jams.
We got to the centre of Tilburg just before 20:00, parked, and queued to get in. The place was packed again. We tried to get in to the downstairs area, but couldn't even squeeze through the doors. A friendly usher told us that there was still space up on the balcony. It was better up there, but the sight lines weren't great. We bought merch, lots of merch. We caught the second half of Mike Tompkins's opening set, which was energetic and nicely produced, but not quite my thing.
Lindsey Stirling came on at 21:00, and the difference from last year was clear straight away. She still had the same keyboard player and drummer, but she was joined on stage by two dancers for many of the songs. The set was more elaborate, the lighting better, and the choreography was more elaborate. In the pauses between songs, she seemed more self-assured. Her second album, Shatter Me, came out earlier this year, and so she had more material to choose from. Everything was bigger, brighter, and more polished. Fiona was utterly entranced. Alex was somewhat pained by the sheer volume of the music, but enjoyed it too.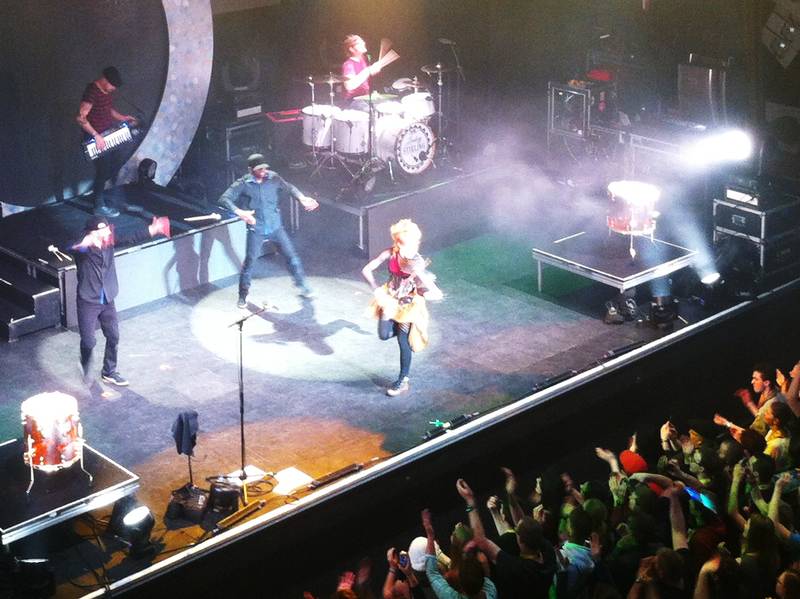 (I confirmed my suspicions that the iPhone 4's low-light performance isn't as good as the Nexus 4. And the Nexus 4 is not that great.) Long drive back afterwards, and we didn't get home until after midnight. Alex and Fiona had brought neck pillows and duvets with them, so they curled up in their seats and slept some. I was up early the next day to get the car back before 08:00. Very worthwhile trip.