Mum & Dad were over for a lovely visit this weekend. They arrived on Friday afternoon, so of course we had frites for dinner. (Friday is frites day.)
On Saturday five of us (no Alex) went in to Zaandam to do some shopping. We snacked on kibbeling (which, I just learned, used to be made from cod cheeks — kabeljauw wang — not just generic cod fillet) and deep-fried mussels from the market while wandering around. Abi and Fiona hit the crafts shop to get materials for crochet projects. Our other goal was for Mum & Dad to get Fiona a birthday present, and we quickly located a prized pink space scooter, although we did some price checking and stopped off for coffee (and hot chocolate) and cakes before actually buying it. Steak and salad for dinner.
In the evening we watched Robot and Frank, which is a sweet and funny film, lined with sadness. I'd seen the trailer, and I'd been too fascinated by the robot-human interaction story; I hadn't realized that Frank's dementia is the twin theme. It's a sweet story, but it was a bit of an emotional trip for us.
Sunday, five of us (no Alex) had a walk around Oostzaan, ending up in at Eetcafé Oostzaan for coffee (and hot chocolate) and warm apple pie.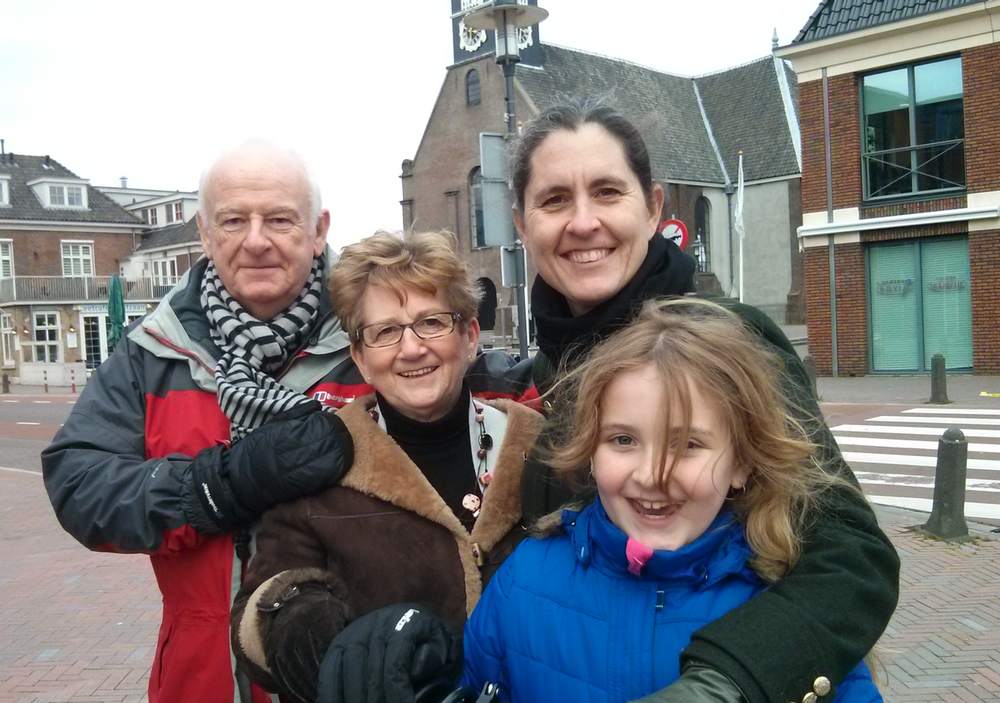 Our plan for the evening had been to order in Chinese-Indonesian from our wonderful local Het Oosten, but I'd forgotten that it was Chinese New Year. Fortunately our fallback take-way in Zaandam was open, so I drove out there to pick us up a minor feast. We played Kill Doctor Lucky after dinner for the first time, and it was a hoot. We'd been burned by the phenomenal complexity of Arkham Horror last year, but Kill Doctor Lucky is much easier, and plays moves nice and fast once you get going. We didn't have time to finish a whole game before the kids had to go to bed, so we just called "sunrise" at 21:30. True to his name, Doctor Lucky lived to see another day.
Then we watched Drive, which was a trip of a whole different kind than Robot and Frank. The sound design of the film has incredible dynamic range, from ear-splitting car chases to long scenes of almost total silence. This matches the plot and emotional content of the story, which goes from calm and passive to brutal, gory violence in jumps you know are coming, but which nevertheless arrive as gut-wrenching shocks. The way the film builds tension is incredible. I loved it.
Monday was back to work and school. Mum and Dad went to Amsterdam for the day. We had burritos in the evening, and played De Mol (The Resistance) after dinner. Tuesday was a beautiful sunny day, and Mum and Dad went to Volendam and Edam, and we all went back out to Eetcafé Oostzaan for dinner in the evening. Alex ran into a classmate, and Fiona experimented with vanilla ice cream (turned out it was too delicious for her).
Departures this morning. But the kids and I will be over in Scotland in a few weeks to see them again soon.