As a tourist in Amsterdam, there's a good chance you will arrive at Centraal Station, leave by the front, and spend most of your time in "the centre" — the concentric canals, bridges, merchant houses, cafés, museums, and sights make it a beautiful place to wander and cycle.
But if you want a slightly different view of the city, try heading out of the station in the opposite direction. Out the back is where you will find the river IJ (pronounce it "eye" or "aye", and you'll be close enough), and the ferries to take you to "Noord" (North).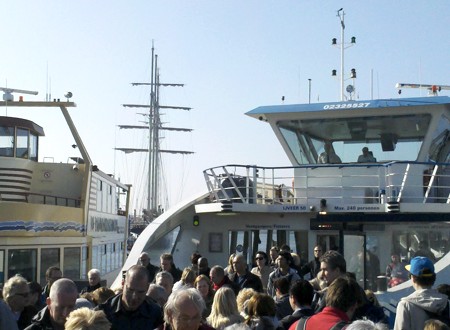 With the exception of the green "Fast Fying Ferry" hydrofoil to IJmuiden, the passenger ferries across the river are completely free. No tickets, no hassle — you just walk on (bikes and scooters are allowed on board), and enjoy the ride. There are various routes, but the ones I take most often are the "short ferry" to Buiksloterweg and the "long ferry" to NDSM.
The short ferry runs at least every 10 minutes day and night, and the crossing only takes a few minutes. The Buiksloterweg is on the other side of the river, directly opposite the station. You can sit yourself down at the very pleasant Café De Pont for a drink or something to eat, and watch the river traffic go by, with a great view of the back of the station. Film (and architecture) buffs may also be interested in the newly opened Dutch Film Museum in the eye-opening EYE building.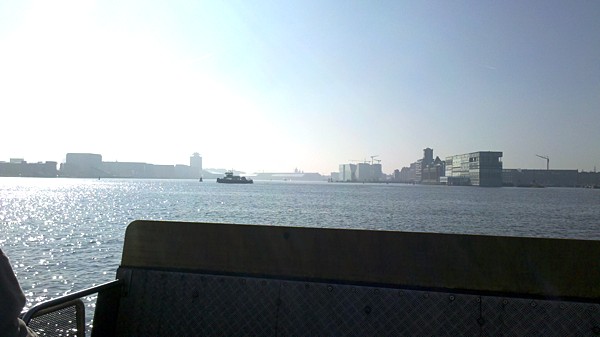 The long ferry is my favourite, though. It leaves once every 30 minutes throughout the day (every 15 minutes during commute hours), and is a relaxing 12-minute trip a couple of kilometers down the IJ to the NDSM Werf, a former shipbuilding an industrial area that is gradually transforming into a hot spot for local festivals and fresh startups. The ferry docks right next to an abandoned Zulu-class Soviet submarine.
Right at the end of the NDSM ferry you can relax at the trendy IJkantine, or walk a bit further to hang out at the more funky and organic Noorderlicht. (Ask for a cup of fresh mint tea if you're into that kind of thing.) Both places have outdoor seating with great views of the river if it's a nice day. NDSM is also a good point for setting off on a cycle ride to the countryside North of the city: Het Twiske, a lovely nature reserve (with a windmill!), is just a few miles away.
NDSM is the home of the Pancake Boat: a small cruise ship that will take you on an hour-long trip up and down the IJ, while serving an all-you-can-eat pancake buffet. Great views of the city, and enough food to choke a horse; fun for all the family.