Back in June I wrote that Hey Everyone by Dananananayroyd was one of my favourite albums of 2010 (it was released in 2009, but I'm slow like that). This was after I'd listened to their second album, There Is A Way, but before I'd seen them live in Paradiso in July.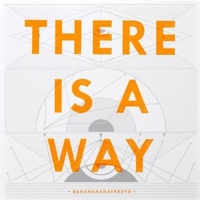 I remember being unsure about There Is A Way when I first listened to it, even though that seems inconceivable now: it is nothing short of brilliant. Like Hey Everyone, the first thing that strikes you are the screamed vocals. Underlying the back-and-forth yelling, though, are a set of songs that are intricately melodic and cleverly structured. The energy the band brings is more under control, with fewer tracks like "Infinity Milk" and "Some Dresses" that bounce off off the furniture in all directions like a hyperactive toddler. But when they do let themselves go, they positively soar. The climactic "Make A Fist" that closes the album is exhausting and ecstatic: an orgasm of a track.
But seeing them live was something else entirely. On 19th July, they played the small upstairs room at Paradiso in Amsterdam, and I have never seen anything like it. It was far from a capacity crowd, and I was right up at the front. They opened with "Reboot" from the new album, which has an instrumental intro lasting about a minute and a half. During the intro, the two singers John and Callum jumped down off the stage and mingled through the bemused audience giving hugs, and treating us all like best friends they hadn't seen for years. And when they were done, they hauled themselves back up onto stage and belted out one of the best live sets I have ever seen.
Dananananaykroyd have two settings: off, and FUCK YEAH! The energy they put out was amazing. There is no barrier between the audience and the stage at Paradiso, and throughout the set they continued to jump in and out of the crowd for particularly animated screaming duels ("The Greater The Symbol And The Hash") and guitar solos, or because they just felt like it. They looked like they were having a great time, and even though the audience was pretty small and relatively timid, they just kept on firing at top volume and top speed. And then there was the Wall Of Cuddles…
The Wall Of Cuddles is what Dananananayroyd does instead of a metal Wall of Death. About half-way through "Some Dresses" they split up the crowd into two halves, and explain how on the count of four both sides should run headlong into each other and…cuddle as many strangers as they can. Because this happens at the end of the gig, everyone is all nice and sweaty and happy and ready go go along with whatever weird instructions they get. I still saw some tentative looks and "er, really?" expressions, but I certainly rushed into it with abandon.
After it was over, I emerged into the Amsterdam evening, my ears ringing, a huge grin on my face, aware that I had just experienced something really special.
I wanted more.
I knew they were playing some more dates in the UK at the end of their tour, and I had been wondering if I could justify a trip across to see them. My rule of live music is, "Never miss an opportunity to see your favourite band, because you never know when they will split up, or die." Cases in point:
Back in 2003 my brother Scott and I took a trip across the Atlantic to see Toad The Wet Sprocket in Boston when they did a small reunion tour. We had never seen them while we they were still together, and it was too good an opportunity to miss. Turns out Toad are semi-back-together again now, and still gig regularly, but I couldn't have known that back then.
I saw the Tragically Hip at Paradiso in November of 2009. While we're on the subject of great live acts: The Hip are amazing. So good that I went to see them again the very next week. I was across on Scotland on business anyway; they were playing the Garage in Glasgow; I couldn't pass it by. Who knows when they'll be back in Europe again?
But when I learned that Dananananaykroyd were splitting up my need became much greater. Now I knew this was going to be my last chance. So I booked two tickets to see them in Glasgow, the cheapest flights I could find (hello, Skyscanner), a twin room at the Holiday Inn Express, and convinced Scott that it would be a great idea for him to come through to Glasgow for a night out.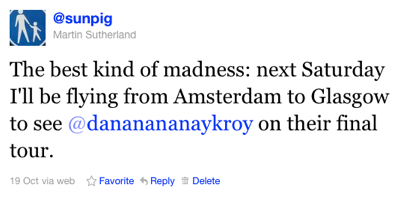 And oh boy was it worth it.
The cheapest flights were crazy early. Abi kindly drove me to Schiphol at 05:30 on the morning of Saturday 29th October so that I could catch the 07:05 to Glasgow. The plane arrived in Glasgow at 07:30, and I was in town by about 08:30, well before anything interesting was open. I nursed a hot chocolate in a Starbucks for an hour or so, and checked cinema listings to see if there were any interesting matinees. No luck, so I decided to take a bit of a walk instead. I wandered down to the Science Centre and back again, then stuck my head in a few music shops to see if I could find some musicians' earplugs — on the recommendation of Mr Grapefruitmoon. After traipsing round Merchant City and down Argyll Street, I finally found some at Biggars on Sauchiehall Street. Then met up with my parents for a late lunch before heading over to the hotel.
It's not very rock 'n roll, but after I had checked in and Scott had joined me a short while later, what we both really wanted to do was…have a nap.
So we were thoroughly refreshed for the gig, of course! We got the the ABC quite early, around 19:15 or so, and the place was dead quiet. We had a beer, and I went a bit mad on merch, buying three T-shirts for myself and a small pink (sabbath) girly one for Fiona. (Can you blame me? Last chance!) United Fruit came on at about 19:45 and played a blinding little set from their new album Fault Lines. Here's a tip: this is another band you should go and see. They're good.
I had tried out the earplugs during United Fruit, but they damped the sound a bit too much, and I wanted to positively bathe in the noise of the main event, so I left them out. We positioned ourselves close to the stage, but not quite on the front lines. This evening they kicked off with "E Numbers"…and David's guitar promptly broke. John and Callum kept up some banter while they got things sorted out, and they carried on with a wild and wonderful hour-long set:
E Numbers
Reboot
All Us Authors
Hey Everyone + Watch This
The Greater Than Symbol & The Hash
Think And Feel
Muscle Memory
Black Wax
Time Capsule
Infinity Milk
Pink Sabbath
(encore) Some Dresses
It's hard to say how this compared to the gig at Paradiso. The crowd, being out in support for a local band, was more energetic and appreciative. The band seemed less rehearsed, looser, more frantic. And knowing what to expect, and knowing that I was in a group of like-minded fans who were all there for a historic final gig, I took part in the Wall Of Cuddles with more gusto than my first time. I was hugging people all over the place.
And then it was over. The band left the stage, the lights came on. As I looked round, I saw that the venue was maybe half full, no more. Dananananaykroyd have received so many plaudits, have been praised to the skies as one of Britain's best live bands, but they didn't sell out their farewell home town concert. I wish I could have been cloned, so I could have appreciated them twice. I'm so glad I went.
It wasn't even 22:00 when we left the venue, so Scott & I did what any right-thinking pair of brothers does in Glasgow on a Saturday night: we had a burger at McDonalds, and hit a pub. Our next move was a little less orthodox (a late-night showing of The Ides Of March at the Cineworld on Renfrew Street), but at least we weren't in bed before midnight. Pure dead radge.
Back on an early flight the next morning. Scott was going to give me a life to the airport, so we were downstairs at reception at just before 07:00 to get me there for my 08:15 flight. As we were checking out, Scott asked the receptionist if she could validate his parking. He had parked his car at Buchanan Galleries the evening before.
"Oh," said the receptionist, "They don't actually open until 9 o'clock on a Sunday…"
Taxiiii!