Mobilism business ideas #1: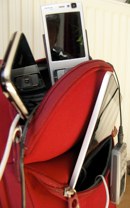 Suppose I were to offer a service where you could book me to show up at your office with a suitcase full of mobile devices. A large spectrum of phones (& tablets), ranging from old to new, smartphones to feature phones, different software levels. iPhones, Androids, Nokias, Blackberries, etc. Let's say about 30 different models, just to give it a number. They'd all be fully charged (spare chargers in my other suitcase), and loaded with SIM cards with data plans. You could then proceed to spend a few hours or a day loading up your app or web site on the ones you are interested in, and running through test scripts.
The benefit of this approach over remote testing, or testing with emulators, or testing with devices connected to local networks, is that you would get to feel the devices in your hand, and experience actual network speeds and latencies. (One of the biggest take-way points from the Mobilism conference was that you really have to use actual devices to understand how your web site will behave in real life.)
Another benefit is that you wouldn't have to buy a suitcase load of phones yourself, and tie yourself to the subscriptions that go with them. You could also use the time to invite along subjects so you could run usability tests. Lots of possibilities!
Questions, then:
Would you (or your company, or your clients) use such a service?
How often, or how frequently do you think you would want to use the service?
How much would you (or your company, or your clients) be willing to pay for this? (Per hour, or per day.)