I don't make a secret of the fact that I don't like Facebook. Where others find it playful, I find it intrusive and annoyingly attention-seeking. I don't like its attitudes towards content ownership and privacy. I particularly don't like its sense of self-importance, and the greedy way it tries to assume control of my social graph. It's not that I don't want to connect with my friends over social networks, but I want it to be on my terms, not theirs.
Additionally, whenever you're dealing with a company that handles anything of value to you (with banks it's money, with Facebook and Google it's personal data), you have to weigh up the trust you have to place in them against the benefit you expect to receive. Google passes that test for me (for now), but I don't trust Facebook not to try and screw me over.
What happens when you try to leave Facebook is emblematic of this. Here's the page you get when you try to disable your account: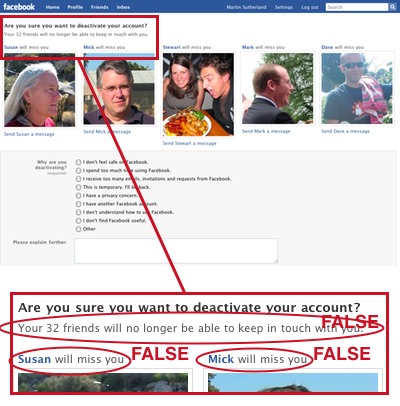 Asking me to confirm that I want to deactivate my account is appropriate. Using my social connections in a clear attempt to trigger an emotional response that will keep me on the service is absolutely not.
"Your 32 friends will no longer be able to keep in touch with you" is nonsense. I assume that since they know how to use a web browser, they're reasonably familiar with a computer, and probably have an email account they can use to reach me.
Below that, they display a random selection of my Facebook contacts with above each one the text "XXX will miss you". Not only are these statements factually incorrect — they won't miss me because I never used Facebook to communicate with them in the first place — but Facebook is almost literally putting words in the mouths of these people. Facebook has not asked them if they will miss me; it is using them as sock puppets to push its own message, which is "don't go." By using the emotional "miss you" phrase, Facebook is using its knowledge of my social connections to make me feel bad about leaving.
They are abusing my social graph for their own ends. It's manipulative, unethical, and downright slimy.
Furthermore, if they are using my contacts to try to make me stay, it follows that if my friends have tried to leave Facebook, then Facebook may have used me, or at least my photo, to try to make them stay — something that I myself would absolutely not do.
Goodbye, Facebook. Martin will not miss you.