Around 2006, we were operating at a local maximum; 2007 was the big disruption. If you look back at Radio Sunpig for 2006 and 2007, you can infer some of this from the music I was listening to. In 2006, I was featuring songs like See The World by Gomez and Use It by the New Pornographers. 2007 was much darker, with harder riffs, melancholy chords, and a significant dose of Malcolm Middleton. The cover I made for Radio Sunpig 2007 captures a lot of my state of mind for the year: not so good.
2008 was still not great, but at least it showed promise. Hence the title for Radio Sunpig 2008.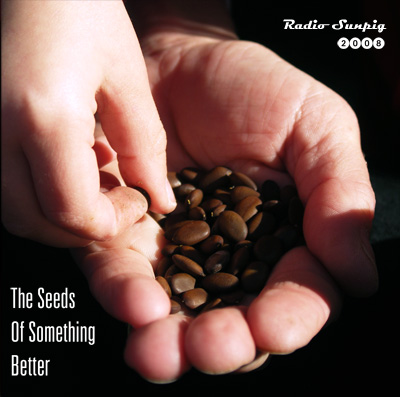 As for the fact that I'm posting this at the end of August 2009, well. I did actually put the compilation together in December 2008 — it has just taken me some time to write about it.
The Bird And The Bee – Again & Again
I first came across the Bird And The Bee by watching Dennis Liu's delightfully playful video for Again & Again. The official video does a better job of capturing the 60s retro tropicalia vibe that suffuses the song, but nonetheless I will always think "Mac" whenever I hear it.
Friendly Fires – Jump In The Pool
Another slice of electro pop with tropicalia influences. The smooth 10cc-ish harmonies and keyboards give the song a laid-back background, while the drums and vocal exhortations to jump in the pool drive it forward. It shouts "summer!" — but in a cool and understated way.
Los Campesinos! – Death To Los Campesinos!
Jangly power-pop chaos! Rainbows! Unicorns! Kittens! Simply awesome.
Mates Of State – My Only Offer
I came across Mates Of State via The Yellow Stereo. They're a husband and wife duo, and here they sing about a marriage that is not going so well. The insistent kick/hat drum beat and simple piano line walk the song forward at a brisk pace, while a glockenspiel drops tiny tinkles of sad tears along the way. Kori and Jason alternate vocals, playing the parts of the couple in question, dealing with the life they feel trapped in. Upbeat and poignant.
Spoon – Finer Feelings
Not my favourite track from their album Ga Ga Ga Ga Ga (that would be the hauntingly sparse The Ghost of you Lingers, but the one that fits best here in this mix. This is comfortably mature indie rock – practiced, but not worn.
Ladyhawke – Paris Is Burning
The first Ladyhawke song I heard was the thumping Magic, which comes at you like a dancefloor zombie, relentless and hungry for synth. Paris Is Burning is a lighter track, but still bursting with shimmering disco flavour.
Tegan And Sara – The Con
A roiling song full of bitter lovesick emotion and heartfelt vocals, harmonizing and clambering over each other.
Deastro – Light Powered
I found Deastro's album Keepers as a special exclusive on eMusic. 2008 was a bit of an electro-rock year for me, and I was blown away by it. Light Powered in particular sounds like a mad experiment from the BBC Radiophonic Workshop. It would not be out of place as as the title music for a bizarre 70s BBC science fiction adventure, filled with classically trained Shakespearean actors, well-intentioned special effects, and lots of Welsh quarries.
Boulder Acoustic Society – Does It Really Matter
You're not going to have heard of this, but it's great. It won the Best Song award in the Americana category of the 7th annual Independent Music Awards. It's a 3 1/2 minute slice of peppy fiddles, guitars and accordions that sounds like it belongs in a Pixar film. In fact, the track sounded so familiar to me even on first listen that I was convinced it must have been used in the credits for one of their animated features…but no.
Of Montreal – A Sentence Of Sorts In Kongsvinger
"I spent the winter on the verge of a total breakdown
while living in Norway" If anything sums up Radio Sunpig 2008, this is it. Crazy sweet electro pop, with spot-on lyrics.
We Are Scientists – After Hours
Just a perfect simple indie pop song built up from a few simple drums and guitar layers, full of easy fills and hooks. The video has a great sense of fun that perfectly matches the track.
Guillemots – Get Over It
The common theme of MASSIVE POWER-POP SOUND is apparent here again. I loved this song from the first time I heard it. Fyfe Dangerfield's shouty vocals are backed by a subtle but insistent drum groove that keeps up the pressure from the opening to the fade.
The Futureheads – The Beginning Of The Twist
This is the Futureheads in all-out rock mode. Great fun.
Attic Lights – Never Get Sick Of The Sea
Guitars, pounding drums, sweet Beach Boys harmonies, full of infectious energy. If this doesn't put a spring in your step, nothing will.
Elbow – One Day Like This
This is a glorious sweeping finale for 2008. Sudden love revealed. The shock of remembering that beauty exists. Eyes wide open to the potential of the road ahead.